Getting the best snake cages requires research. You need to focus on a variety of factors with the best place to start being your snake species.
Not all the cages will be good for your snake. Before getting one, you need to know what you should look for when buying a cage.
All your questions are answered in the article.
Depending on the species, the snake size will vary. Once this is done, other factors come into play.
What To Look For In A Snake Cage
Before you can choose a snake cage, you need to know the requirements of the snake species that you want to keep.
These requirements will determine your snake cage size and dimensions.
When choosing a cage, you also need to consider other factors like access for cleaning and feeding and also ventilation. Some of the things that you need to look for in a snake cage are listed below.
Cage Size
The size of your cage depends on the snake species that you want to keep. You will need a cage that is about 10 to 20 gallons in size for juvenile snakes, while larger snakes will need bigger cages.
Heat/Humidity Retention
Most snakes need a heated tank. This means you will need to look for a tank that can retain heat very well. If you are keeping tropical snake species, you will also need to consider the humidity of the tank.
Accessibility
You will need to choose a cage that you can easily clean or feed the animal. It would help if you also looked for a cage that is not easy for a snake to escape from.
Ventilation
Most snakes require a hot and humid environment but also need fresh air to breathe. You also need to choose a snake cage with proper ventilation without giving them the chance to escape.
Hiding Spots
Snakes are shy and private animals, and they sometimes need their privacy. It is best to look for a tank that you can create a shelter or cave in the warm and cool sides for them to hide. You should also know that as snakes grow, you will need to enlarge their hiding places. This means you will need a tank that is big enough for their size and different accessories.
Best Snake Cages Reviews
Last update on 2020-07-05 / Affiliate links / Images from Amazon Product Advertising API
When it comes to the top snake cages on Amazon, we focused on different properties including:
Price
Material
Secure
Ratings by other reviewers.
Furthermore, we focused on three different providers instead of taking three products from the same provider.
Selecting the top 3 cages entailed conducting an in-depth analysis of available products on Amazon.
It took over a week to get all the details, and make a conclusion from over 20 reptile cages available for sale.
The products were both new market entrants and some classic products made of glass, wood wire mesh, and plastic.
Our concluded by selecting products from Exo Terra, Zoo Med, and Carolina Custom Cages.
Exo Terra AllGlass Terrarium
Last update on 2020-07-05 / Affiliate links / Images from Amazon Product Advertising API
Exo-Terra manufactures high-quality terrariums and is popular among reptile owners.
This snake terrarium has a raised bottom frame where a substrate heater can be placed. Its doors have a dual lock, which make the tub escape-proof for your pet snake.
As such, you do not have to worry about the snake escaping or children opening the tub. Its front window has ventilation which promotes your pet's overall health and comfort.
The Exo Terra Allglass Terrarium has closable inlets that keep wires and tubes at bay. It keeps them from hanging all over the place. Not only does it mean that they will not get damaged, but it also adds to the aesthetic appeal of the tub.
The Allglass Terrarium from Exo Terra comes in three different sizes, and we selected the medium size, which measures 18 x 18 x 24 inches.
The medium sized snake tub comes with a removable stainless steel cover. There are 12 alternative sizes of this tub that you can select.
This model weighs 40.9 pounds and has a total shipping weight of 48.6 pounds. It has a 4.3-star rating from 173 customer ratings. 77% of the reviews are 5 stars. It is priced at $169.99. 
Features
Comes with dual doors that allow easy access for maintenance, feeding and misting.
Lockable hence preventing unwanted opening by children or other pets.
Has a removable stainless steel cover hence allowing UVB and infrared light penetration. It is also removable hence easing decorating and cleaning.
Its base is waterproof and extra high fixed front lower panel allowing deep substrate layers.
The bottom frame is raised allowing substrate mounting.
Enlarged ground surface making it ideal for a wide range of snake species to thrive.
It has a natural looking rock background.
Last update on 2020-07-05 / Affiliate links / Images from Amazon Product Advertising API
Pros and Cons
Pros
✅ You can find a tub that is of the ideal size. With 12 different sizes ranging from small to large, and tall to wide, you will find your preferred size.
✅ Can handle stress well as its frame is made of stainless steel.
✅ Possess a beautiful natural rock background that accentuates your pet snake's beauty.
✅ Perfect for different reptiles, and it makes it perfect for your pet snake.
✅ Front dual doors that make it easy to feed and access the tub.
✅ Well designed to promote good ventilation.
Cons
❌ Unfortunately from the reviews, there is a chance that your tub may arrive with broken glass.
❌ Heavier than plastic and wooden cages.
❌ Has a space between the foam background and the back glass that allows small-sized pets to get in and may get stuck, and if not rescued in time, it may die.
❌The glass may also crack from the heater if you install one.
Zoo Med Naturalistic Terrarium
Zoo Med is also a leading manufacturer in high-quality reptile products. It is great for different types of snakes. Such as the non-venomous like corn snakes, milk snakes, or a venomous species like a rattlesnake.
This snake tub review indicated the natural looking of it.
Last update on 2020-07-05 / Affiliate links / Images from Amazon Product Advertising API
Depending on the size, it is reasonably priced and offers a wide range of features that other more expensive assessed varieties provide.
This snake tub from Zoo Med comes in three sizes: small, medium, and large.
It has a large front door that gives easy access to the interior for cleaning and substrate removal. It is also easy to assemble using a simple screwdriver.
This snake cage also provides plenty of ventilation for your pet using its glass windows. The windows make it possible and easy to view your snake pet snake in its natural habitat.
There are three sizes available: small, medium, and large sizes.
The large option measures 18 x 18 x 18 inches. Due to the limited size of the cages, they may not be ideal for very large pet snakes. In that case, you may select a different larger sized tub.
However, the large size can accommodate a numerous pet snake species.
Last update on 2020-07-05 / Affiliate links / Images from Amazon Product Advertising API
The tub allows penetration of both UVA and UVB penetration into its interior for the enjoyment and comfort of your snake.
It also allows for the fixture of a lamp for heating and lighting.
Furthermore, it comes with six power cords and tubing slots that allow the attachment of electrical appliances.
The front and top airing or ventilations allow the free flow of air to keep your pet snake comfortable and healthy. The front opening comes with a snap closure to secure the pet. Furthermore, the screen top is made from stainless steel, which prevents erosion and rusting. The large-sized one costs $147.02.
Features
Measures 18 x 18 x 18 inches and has a shipping weight of 41 pounds.
Rated 3.9-stars from 63 client ratings, with 51% reviewing it as a 5-star product.
Stainless steel tip.
Comes with a lockable door.
Full glass opening door at the front with snap closure.
Ventilations at the top and front of the tub.
Pros And Cons
Pros
✅ Holds humidity well and it makes it ideal for your tropical rain forest and other snake pets that need high humidity.
✅ Relatively lowly priced than other close alternative brands.
✅ Comes with heat and light source attachments.
✅ Attractive décor.
✅ Numerous positive reviews on amazon
Cons
❌ Back wall may come off soon.
❌ The product may come broken.
❌ A baby corn snake may get stuck on the rails and die if not rescued in time.
❌ Unfortunately it is not eligible for shipping outside the United States.
Carolina Custom Cages Terrarium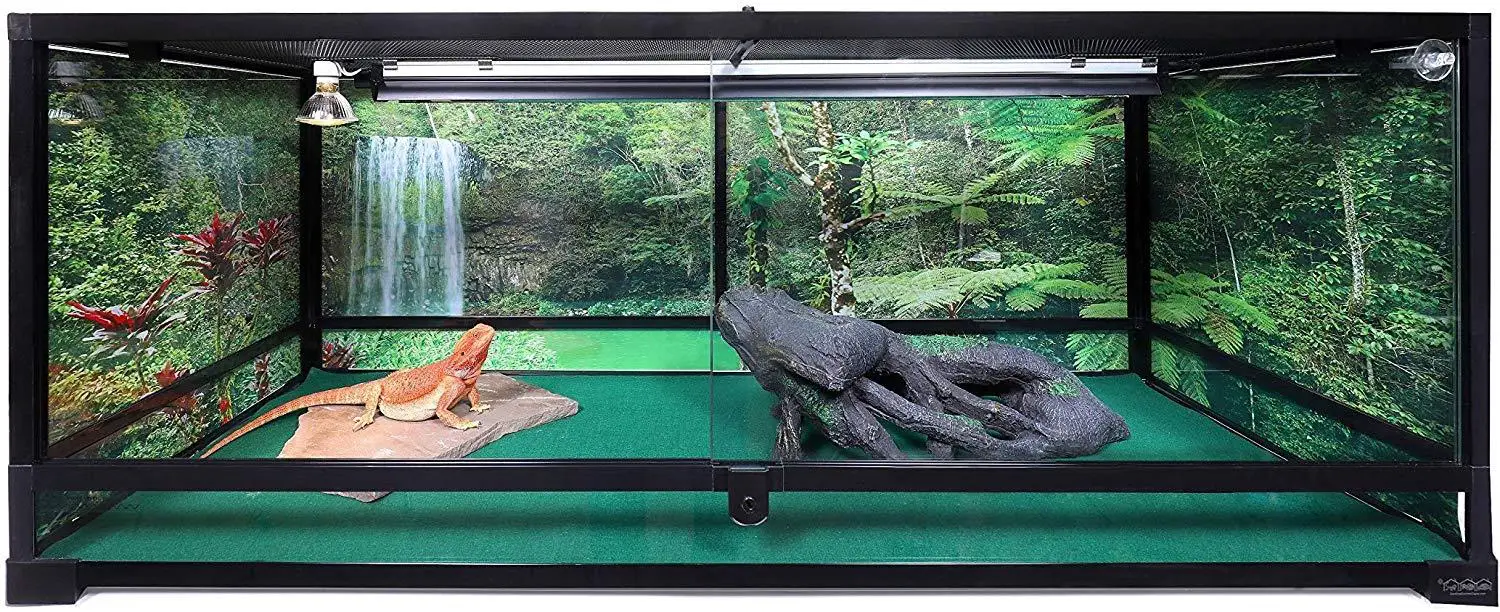 It is the largest in this list and comes in 18 different models that can house more than one pet snake.
The cage delivery comes in tough cardboard and additional Styrofoam to protect the package from abuse due to handling. It ensures that the product arrives ready to use.
Last update on 2020-07-05 / Affiliate links / Images from Amazon Product Advertising API
It features a hinged door with a key-lock security. Its sliding doors are made for large terrariums and make access easy even in the space-restricted areas.
It has a deep waterproof base that allows as much substrate as your pet snake needs.
With the large space, it is necessary for all the accessories that your pet snake needs in the cage for comfort. It has a mesh screen that promotes aeration within the snake tub.
Features
Made from glass and mesh.
Large size measuring 47.2 x 17.8 x 17.8 inches.
A sliding door and a waterproof base.
Priced at $389.99.
Easy to assemble.
Pros And Cons
Pros
✅ Rated 4.6 stars by 80 customer ratings with 82% rating it 5 stars.
✅ Delivered in a good package to prevent damage.
✅ Extra space to hold substrate.
✅ Easy to put together.
✅ Sliding doors make access easy.
✅ Ample space for the movement and growth of your pet.
✅ The construction materials used are high quality and ideal for pet snakes.
✅ Well aerated to provide an ideal environment for your pet snake.
✅ It is durable.
Cons
❌ Comparatively more expensive than other available snake tubs.
Aqueon Aquarium 20 Gallon Long
Last update on 2020-11-20 / Affiliate links / Images from Amazon Product Advertising API
20-gallon long aquariums are a perfect tank for both amateur and experienced pet owners.
The tank has a great space to accommodate most setups and will fit in the right amount of space.
It is also an excellent home for lots of beautiful fish and snakes. a 20-gallon long tank offers a stunning stocking option for pet owners. Another great thing is that it is large enough to keep a stable water parameter.
Features of Aqueon Aquarium 20 Gallon Long
Aqueon is a popular brand in the aquarium industry and is well known for producing high-quality fishkeeping and snake rearing equipment.
The Aqueon Aquarium, 20 Gallon Long, is made from high-quality glass, and it is a suitable tank for both beginners and experts pet owners. The tank can be used for both freshwater and marine setups. You can also use it as a breeding tank, show tank, or a species only tank.
The edge of the tank is sealed with clear silicone, and you can choose between black or oak trim when you order.
The tank has a 90-day warranty, and it measures 30.5 x 12.5 x 12.75 inches.
It also has a one-piece center-braced frame that eliminates glass Bowing. It is best to place the tank on a standing table that can bear its weight. Some of the accessories that you can use with this tank are quiet filtration, fishnet, thermometer, 100-watt heater, energy-saving low profile hood, etc.
Pros and Cons of Aqueon Aquarium 20 Gallon Long
Pros
It gives pets owners more space lengthways than the regular 20-gallon tank
It is made with quality materials
It can be used for various purposes.
A wide range of accessories can be used with the tank
It is a suitable tank for beginners
Cons
It is quite expensive
The sealant can be a little messy
A beginner can find it hard to choose the appropriate equipment for the tank.
There are no built-in windows on the tank which makes feeding and cleaning hard if you are keeping a snake.
Zoo Med Starter Kit For Snakes
Last update on 2020-06-13 / Affiliate links / Images from Amazon Product Advertising API
There is a wide range of snake accessories that you can buy for your pet. This is why most new snake owners use a complete kit, which includes a terrarium and the basic accessories needed.
Starter kits are a perfect way to get all the accessories needed, but you should ensure you do not overlook anything.
Features of Zoo Med Starter Kit
One of the recommended starter kits that you can get is the 20-gallon kit from Zoo Med.
It is a great starter kit for beginners. Zoo Med Starter Kit is a suitable kit for small snakes, and you can use the kit for habitats that are about 20 Gallons in size.
It is also included with all the things you need to get started.
The kit has a 20-gallon tank, which measures 30 x 12 x 12 inches. The tank is then equipped with a heater, log shelter, substrate, rock water dish, plastic bush, water conditioner, snake heat lamp with a fixture, and guide book on reptile care.
It also includes a thermometer and Aspen Snake Bedding. Aspen Snake Bedding is popular bedding used by the professional herpetoculturists all over the world. It offers your snake a safe and naturalistic substrate that it can burrow and nests just like it is in the wild.
The best thing is that all the materials are well made, and you can use them. The weight of the Zoo Med starter kit is 5.7 pounds.
Pros and Cons of Zoo Med Starter Kit
Pros
It is available at a great price
It is an excellent kit for beginners as it is equipped with everything you need.
The components are of high quality.
Cons
It is only suitable for small snakes.
According to customers' reviews, the bottom of the log has holes, a design flaw, because your snake can get stuck in it.
Most customers do not like the design of some of the accessories like a hideout, bush or water dish, etc.
Bonus: Reptile Transparent Container Box
✅ PERFECT FOR LEOPARD GECKO. No problem eating the worms from the dish.
✅ Good looking and Functional: SIMPLE, MINIMALIST DESIGN.
✅ 2-IN-1: It keeps the meal worms in. It also holds water.
✅ Unit SIZE: 6.69″x4.13″x2.76″
✅ 5 Pack Breeding Boxes [The small dishes inside the containers are not included]
Sometimes, you need a tub like this to move snakes out of the cage. Cleaning a snake cage is an example of this. This tub helps you make the cleaning more convenient.
This product is not idea to cage for venomous snakes. If you are cleaning a venomous snake cage. You better choose another option.
You can move the venomous snakes to an empty if you have. In case all the slots are not available, a secure plastic tub is the best choice for you.
Last update on 2020-07-05 / Affiliate links / Images from Amazon Product Advertising API
It is another best plastic snake cage, but it is bigger than the previous one. It can be used as a terrarium, nursery, animal pen, or a pet carrier.
The product is solid and durable and can last for years.
This tub comes with pre-perforated ventilation holes. It has a double-sided door that makes feeding and maintaining the enclosure easy.
Final Thought
In summary, your pet snake will grow healthy if they are placed in the best snake enclosures.
Last update on 2020-07-05 / Affiliate links / Images from Amazon Product Advertising API
You need to ensure that the essential needs of your pet snake species are met by the selected terrarium.
When conducting these reviews, we came across more than 20 alternatives. We selected three options based on their durability, material, and price, as well as, snake's wellness.
Consider a proper cage for your snake as a first-time keeper to avoid the disappointment that comes with a stressed or uncomfortable snake.
You can use these options as guides for you to create a snake tub on your own.
The end goal is to get a comfortable residence for your snake.
In the end, you can select a different option based on your specific needs, but the list above gives you the top three best snake tubs available on Amazon today.
The highlighted options give you different options to select from depending on the needs of your pet. Some of the factors to consider when selecting include:
Durability of the material used
The size of the cage
The cost of the cage
Whether it can be used permanently or only temporary
Whether it allows heating if the pet needs the same