Guinea pigs are classified into breeds based on their genetics, size, habitat, and basic physical traits. More than 16 guinea pig breeds have been discovered, and most of them can be domesticated.
It is critical for guinea pig enthusiasts and adopters to understand the breeds they want to retain as pets.
The traits and behaviors of each guinea pig breed are unique. Pet parents can ensure that their guinea pigs have a happy and healthy life by conducting thorough studies before domestication.
Readers will also learn about the largest and smallest guinea pigs that can be kept as pets in this article. So, to learn intriguing facts and information about big guinea pigs, read the post o the conclusion.
What is a large guinea pig called?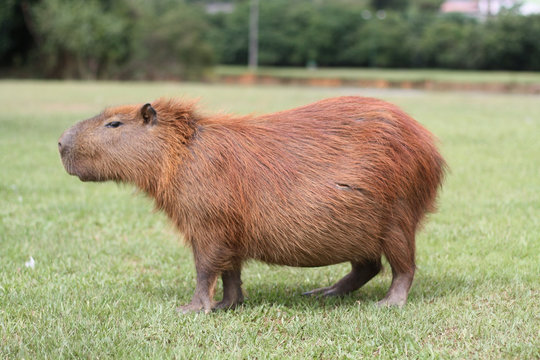 A large guinea pig is 12 to 19 inches long and weighs between 800 and 2000 grams. However, some large guinea pigs, such as Capybara, have been discovered that can grow to be the size of a goat or sheep.
Capybaras are herbivores that eat aquatic plants and are classified as giant guinea pigs.
People who keep guinea pigs as pets can have them weigh up to 2100 grams. The Cuy Criollo is a guinea pig breed. It was first sold as a pet in northern California.
It can gain up to 6 pounds in weight. It has a longer lifespan than most guinea pig breeds, and it is now accessible at pet stores.
| | | |
| --- | --- | --- |
| Big guinea pig breeds | Appearance (body and color) | Max size |
| Capybara | Reddish-brown, yellowish-brown, and grayish.  | 4 to 4.5 feet and 100 to 150 pounds. |
| Rex | Brown and white | 16 to 18 inches and 1800 grams. |
| Cuy Criolla | White or red+white | 5 to 6 pounds |
| Magpie  | Black and white | 17 inches and 1600 to 1750 grams. |
| Abyssinian  | Black, brown, and albino | 16.5 inches and 1650 grams |
Comparison of Guinea Pig Breeds
How Big Are Guinea Pigs?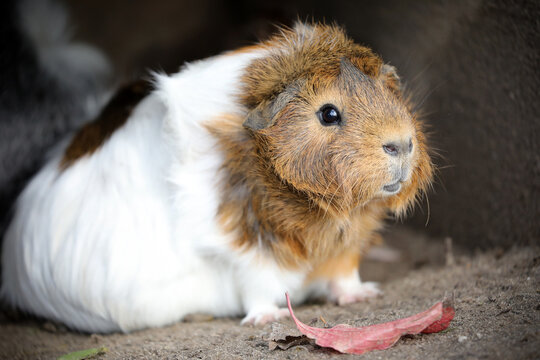 Guinea pigs typically grow to be between 8 and 16 inches long, although some can grow to be as large as 19 inches. A guinea pig's normal body weight ranges from 500 to 1500 grams, however, this is the average.
Some guinea pigs can even reach a weight of 2200 grams. Rex and Skinny guineas, for example, can gain up to 2.2kg in weight, but at this point, they are vulnerable to heart disease.
The length and weight ranges listed above represent ordinary or standard guinea pig size. Overfeeding can lead to obesity in guinea pigs, with weights exceeding 2600 grams.
So, rather than being labeled as a large guinea pig, an obese guinea pig should take steps to lose weight.
Also read: How Big Do Guinea Pigs Get?
Largest Guinea Pig on The Books
A species of guinea pig that has once lived in the world but has become extinct centuries ago is known as a guinea pig in the book. Goya is the book's biggest guinea pig.
It has a length of 8 to 10 feet and a weight of 1300 to 1500 pounds. This was the world's largest guinea pig ever discovered.
Goya was as big as a cow or buffalo, according to researchers, and stood like sheep and goats. Goya was a guinea pig for a semi-aquatic herbivore. It used to live near waters and feed on aquatic plants, large fishes, grass, and leaves.
Biggest Guinea Pig Breed as Pets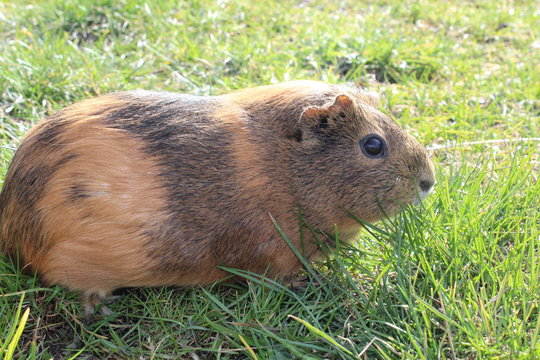 Rex is the largest breed of guinea pig that can be kept as a pet. It is appealing because to its short and wavy fur. The average rex grows up to 18 inches in length and weighs 1800 kilos.
The rounded tailless body of the Rex guinea pig distinguishes it from other guinea pig breeds.
Rex is a fantastic pet for new pet parents since he is cute, kind, gentle, and loveable. Because it isn't violent and enjoys being petted by its family and owner.
If you desire one, you can purchase Rex from any local pet store or from online stores such as Petco, PETSMART, and others. Its cost might be between 35 and 45 dollars.
Guinea Habitat Guinea Pig Cage by Midwest
Sale
Guinea Habitat Guinea Pig Cage by MidWest, 47L x 24W x 14H Inches
Provides 8 square feet of living area for guinea pigs as recommended by veterinarians and breeders
Durable, leak proof, washable and easily removable PVC lined canvas bottom allows for easy care and maintenance while providing traction and protection for Guinea Pig's sensitive feet; No divider panel included
14 inches high sides provide for secure and convenient access to guinea pigs; great for indoor or outdoor use
Sets up in minutes, no tools required for assembly
Last update on 2022-08-02 / Affiliate links / Images from Amazon Product Advertising API
Giant Guinea Pig or Cuy Criollo
Cuy Criollo, often known as the giant guinea pig, is a type of guinea pig that is bred for meat in some countries due to its capacity to acquire weight faster than other guinea pig varieties.
It could weigh up to 6 pounds. Cuy Criollo guinea pigs kept as pets in the United States and Europe are smaller than cuys grown for meat production.
They're either white or a blend of red and white. They are excellent family pets, particularly for children. They are strong and do not become harmed easily.
The majority of people maintain small guinea pigs as pets and are unaware of the existence of this massive guinea pig. This guinea pig breed may be purchased at Petco for between $40 and $50.
Should You Keep a Huge Guinea Pig as a Pet?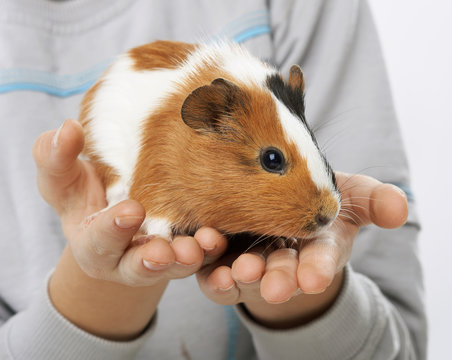 Yes, you should maintain a large guinea pig as a pet because they are less prone to physical issues than small guinea pigs. Petting small guinea pigs, such as American guinea pigs, can result in limb fractures or neck injuries.
These issues are particularly prevalent in homes with children who like playing with guinea pigs.
The legs and necks of giant guinea pigs like Rex and Cuy Criollo are strong. They cannot get neck or leg fractures while simply petting and grooming.
Huge guinea pigs that can be kept as pets can gain weight up to 6 or 8 pounds. Apart from that, giant guinea pigs are more social than little ones. 
The only disadvantage of having huge guinea pigs as pets is that they eat excessively and require a large cage.
Huge guinea pigs cannot be kept with small guinea pigs because they may attack them in order to assert their dominance. So, think about these considerations before getting a big guinea pig.
How to Tell If a Guinea Pig Is Giant or Not?
Counting a guinea pig's toes is a simple way to determine whether it is giant or not. Guinea pigs have four toes on the forefeet and three on the hind feet, whereas giant guinea pigs have six.
This is due to a genetic difference that causes the inclusion of one recessive gene. Even if you feed them the same diet as other pets, giant guinea pigs develop quicker than little guinea pigs.
The active and quicker metabolism of giant guinea pigs accounts for their rapid development rate. If you have one, you may discover that they eat more and require more frequent feedings.
Giant guinea pigs have big noses and skulls in addition to these features. So, based on these characteristics, you may determine whether a guinea pig is huge or not.
FAQs
What's the biggest guinea pig you can get?
Rex is the largest guinea pig available for adoption as a pet. It is tailless and can grow to be 12 to 18 inches long.
Its usual weight is 1600 grams; however, some individuals can grow to 1800 grams. In comparison to other little guinea pigs, these are thought to be good, loving, peaceful, and tranquil pets.
Are there large guinea pigs?
There are large breeds of guinea pigs as well such as Goya and capybara. Goya is the world's largest guinea pig, with a length of 10 feet and a weight of 1500 pounds.
Large guinea pigs that can be maintained as pets, on the other hand, are little, measuring 16 inches in length and weighing 1500 grams on average.
Why is my guinea pig massive?
You may have a large guinea pig such as Cuy Criollo which is also called a giant guinea pig. However, feeding a small guinea pig too much feed and allowing him/her low exercise can cause obesity.
As a result, your guinea pig might appear to be quite large.
Are they Cuy bigger than guinea pigs?
Cuy Criollo is a guinea pig breed that originated in the United States. They are considerably larger than guinea pigs. In comparison to other guinea pigs, they have huge heads, noses, and eyes.
They are excellent pets and can also be farmed for meat. If you have Cuy at home, you'll notice that it doesn't require nearly as much attention as small guinea pigs.
Amakunft Small Animals C&C Cage Tent
Sale
Small Animals C&C Cage Tent, Breathable & Transparent Pet Playpen Pop Open Outdoor/Indoor Exercise Fence, Portable Yard Fence for Guinea Pig, Rabbits, Hamster, Chinchillas and Hedgehogs (Pink)
【Transparent & Breathable】Surrounded by nets, you could watch your pets at all times, as well as ensure the ventilation of the playpen.
【Automatic Opening】No need for complex splicing, built in frame, opened in seconds. Folds back flat when not in use for easy storing. When it is opened under spring pressure, it should be away from children and face.
【Outdoor/ Indoor】The Pet Exercise Fence is easy to carry, and you don't need to carry a huge cage when you take your pet out. It can limit the range of pet activities (It may not be suitable for pets with jumping, climbing and biting habits).
【Size & Material】Width & Height after expansion 47 in*15 in (120 cm*38 cm), 10sq.ft; Durable polyester fabric, easy to clean.
【Suitable For】Small animals pet playpen, suitable for hamsters, chinchillas, guinea-pigs, gerbils, ferrets, squirrel, bunny, reptile or other small animals.
Last update on 2022-08-02 / Affiliate links / Images from Amazon Product Advertising API
Wrapping Up
It can be good for you to learn about giant guinea pig breeds and adopt one after comparing small and large guinea pigs. It will also assist you in caring for, feeding, and dealing with your guinea pig.
If you don't know what kind of guinea pig you have at home, it will be tough to properly pet him or her.
So now you know that Goya was the world's largest guinea pig. The Rex is also the largest breed of guinea pig that may be kept as a pet. Cuy Criollo is another excellent choice if you want to raise a large guinea pig.
You can now tell if your guinea pig is giant or not by counting its toes and looking at other characteristics.
Also read: 13 Best Guinea Pig Breeds