You probably want to get a new guinea pig but wondering which breed and color will be the best for you? Will a black hairless guinea pig make an ideal choice, or should you go for something different?
Getting a new pet or buying a pet for the first time can be exhausting, which is why this blog is focused on making your buying decision an easy one. 
One of the most unique and beautiful-looking guinea pigs is the black hairless guinea pig. There are not many of them around, and when you do find one, they are quite expensive. 
This blog is going to answer questions around the black hairless guinea pig – which include "what do they look like, are they really hairless, and how much do they cost?" In the end, you will know whether you can afford one or not.
How Much Is a Black Hairless Guinea Pig?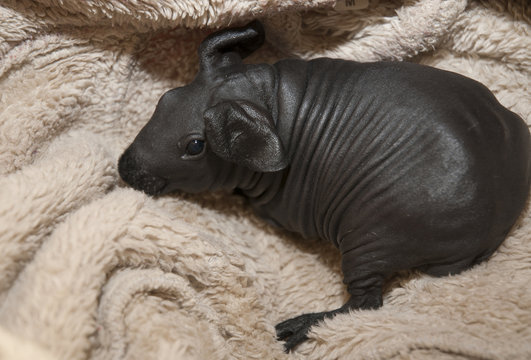 Generally, a hairless guinea pig will likely cost you about $100 – $300 since they are not a regular-haired guinea pig breed and are rare to come by.
The black hairless guinea pigs being more common than other color variations, will cost you between $100 – $200, which is a bit more than the average price.
However, this depends on the age of the animal, health condition, and where you're buying it from. 
But please keep in mind that the average life expectancy for these small creatures is about five to eight years.
That means you'll be looking at potentially having to pay for food and veterinarian visits over the course of its life. This will cost you at least an additional $40 a month. 
Also read: How Much Are Guinea Pigs?
Where to Buy a Black Hairless Guinea Pig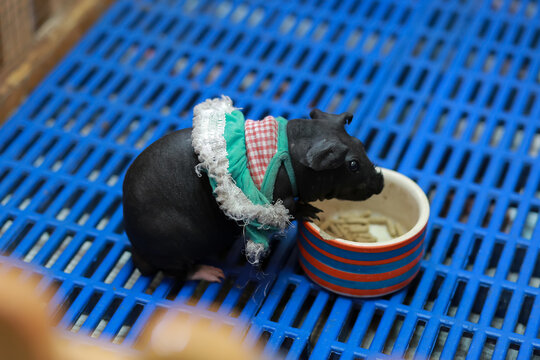 There are many places called "pet stores" from which you can buy pet animals. But the issue with using most of these outlets is knowing if they sell viable animals or not.
To take the burden off your shoulders, we have carefully researched the best vendors you can use with peace of mind. 
A couple of these credible vendors you can buy black hairless guinea pigs from with ease of mind include:
Hairless Guinea Pig Colors Range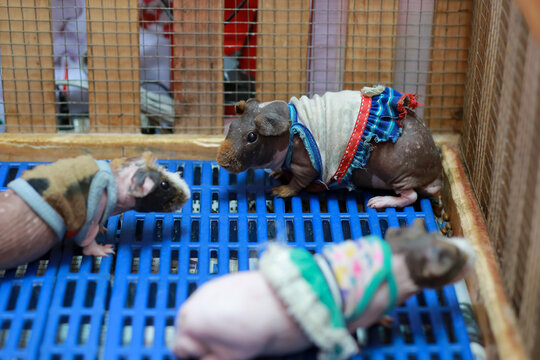 Even without having luxurious hair, the hairless guinea pigs are just as colorful as their haired counterparts. They are commonly available in white, black, chocolate brown, golden, cinnamon, gray, pink, and a variety of other colors. 
Being products of a genetic mutation which do not occur naturally on its own, the hairless guinea pig breeds are often not common to come by. And when you do find one, they are usually expensive. 
However, among the color variations listed above, black is still common compared to others.
Check out: The Ultimate Guide to Hairless Guinea Pigs
HYLYUN Guinea Pig Clothes 2 Packs
HYLYUN Guinea Pig Clothes 2 Packs - Small Animal Rabbit Warm Vest Cozy T-Shirt for Guinea Pig Ferret Bunny Kitten Chihuahua and Other Small Animals
Size 3XS : Neck Girth:5.9"/15CM, Chest Girth:9.0"/23CM, Back Length:5.9"/15CM, Suggest pet weight: under 1lbs, suitable for for guinea pig, bunny, baby ferrets, chinchillas, kitten, chihuahua and other similar sized small pets.
COMFORTABLE MATERIAL: Made of soft fleece, breathable and comfortable, keep your pet warm in the cold winter.
Cute strawberry design, suit for daily activities, holiday, Christmas and any party.
Soft material won't hurt your pet's skin, and elastic design is easy to put on and take off.
Adorable cute costume for your family's furry best friend, please don't forget your pet love beauty too, sharing love and happiness together in the party.
Last update on 2022-08-02 / Affiliate links / Images from Amazon Product Advertising API
Black Hairless Guinea Pig FAQs
Do hairless guinea pigs like to be held?
Whether hairless or with hairs, Guinea pigs have the same personality and care requirement, which is – they like to be held.
For this reason, they are often referred to as "lap pets" (this is because they enjoy lap time – petting, stroking, and playing). However, avoid holding your pet for too long at a time, especially when you are just trying to bond with them.
Check out: Do Guinea Pigs Like to Be Held?
How much are hairless guinea pigs worth?
Guinea pigs are one of the cheapest pet animals. They are sold for as low as $10 with an average price of $25.
They can sell for as high as $40. Nonetheless, this cannot be compared to the exorbitant cost of $100 – $300 you will likely pay for a hairless guinea pig breed.
Do hairless guinea pigs make good pets?
Yes, hairless guinea pig breeds make excellent pets just as their haired counterparts.
What is a werewolf skinny pig?
The term "Werewolf" is used to describe skinny pigs with more hairs than normal. These hairs usually extend up over the face, neck, and shoulders.
Werewolf skinny pigs with lots of hairs will have hairs all the way down to their rump (the upper rounded part of the hindquarters). Typically, these hairs are supposed to fall off as they grow, but this often doesn't happen.
Small Animal Soft Warm Pet Fluffy Fur Blanket
2 Packs Hamster Guinea Pig Rabbit Chinchilla Hedgehog Small Animal Soft Warm Pet Fluffy Fur Blanket, Reversible Double Layer Washable, Suitable for Parrots, Mice, Gerbils, Disposable Diapers (style-1)
❤【Size】: 11.8X9.8inches (35X20cm), perfect for hamster Squirrel,Guinea Pig,rat,Chinchilla and other small animal. Please check the size of your pet before ordering.
❤【Keep Your Pet Warm and Cozy】: Solid double layer blanket is super soft fuzzy cozy lightweight to Keeps pets warm and comfort. Indoor or Outdoor, light weight. To Rest, or Sleep, a perfecy Blanket for your little Pet.
❤【High Quality and Modern Design】: Well made by double-sided reversible microfiber flannel material, the pet blanket is skin-friendly and odor free. The modern design and neutral colors will complement the décor of any home.
❤【Easy to Wash and Care】: The pet throw blanket is machine washable and dryable, so it's easy to keep clean and fresh for snoozing. The premium material will not fade, pill and shed for easy cleaning and care.
❤【All Season Use】Soft pet blankets are suitable for pets in every season and many situations, such as warm blanket, mat pad, bath towel, picnic blanket and so on.
Last update on 2022-08-02 / Affiliate links / Images from Amazon Product Advertising API
Wrapping Up
If you're looking for a cuddly pet that's easy to take care of, the hairless guinea pig is the pet for you. They don't require much maintenance, especially when compared to a dog or a cat, and they're very affectionate once they get to know you. 
Talking of how much you can get them – there is a wide range of prices for these little pets, depending on the breeder you purchase from, their health condition, and the color you are looking for.
Some breeders will sell their hairless guinea pigs for as low as $100, while others will be closer to $500 or more. 
Of course, these prices may vary based on the color of the guinea pig and the health condition as well. For example, pink, golden, or cinnamon hairless guinea pigs are going to be more expensive than the typical black hairless guinea pig.