When it comes to staring contests, you can bet your guinea pigs will sweep the board every time.
If you have a guinea pig as a pet, you've probably never seen it close its eyes or blink. But you're not the only one who has wondered if guinea pigs can do either.
After reading this, you'll realize why you rarely see the eyelids of a Guinea pig, as well as many other things!
Do Guinea Pigs Have Eyelids?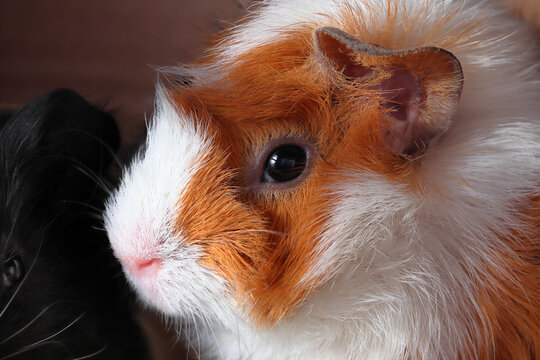 Yes, Guinea pigs do indeed have eyelids, which is a frequently asked question. But because guinea pigs rarely close their eyes entirely, it may be difficult to notice. Even though they don't appear to be able to see, they truly do.
Why Don't You See the Guinea Pig's Eyelids?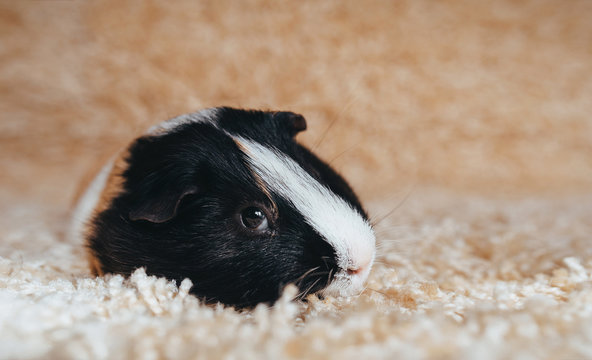 Guinea pigs have eyelids just like humans. However, because guinea pigs rarely cover their eyes fully, it is unlikely that you will detect them right away. 
Eyelids have kept out dust and grime, so their eyes blink quickly. As a result, it's not surprising that it's difficult to discern if they have eyelids when they close their eyes.
Do Guinea Pigs Blink?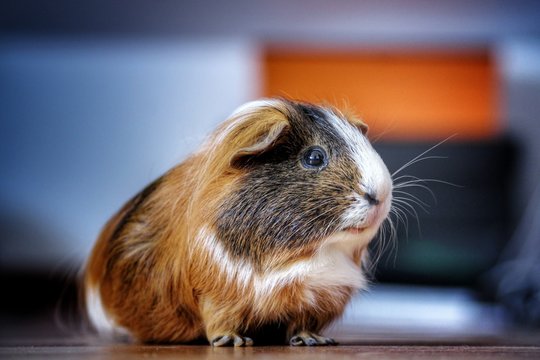 The answer is yes, guinea pigs blink. However, they don't do so very often. Guinea pigs blink out of outside stimuli such as let's say a sound or a fast-moving object that catches them off-guard.
This blinking is also triggered by humid or dry environment and weather temperatures and even outside objects such as debris that comes into contact with their eyes.
Guinea pigs kept in captivity are more likely to blink more frequently than those kept in their natural environment. This is more likely to occur when your pet is comfortable and feels safe. 
Many ideas that your guinea pigs blink a lot of times could be an indicator or sign of an infection. This is most especially when accompanied by other signs like swollen or having red eyes.
Also read: Guinea Pig Eye Infection: Signs, Causes, and Treatment
How Guinea Pig Eyelids Work?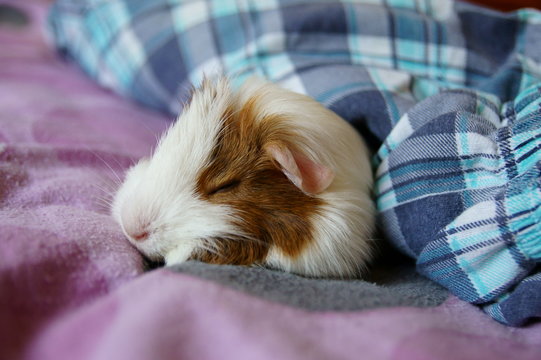 Guinea Pigs have a specialized system that manages their eye movement and their blinking, this is also called their oculomotor system. This technique allows guinea pigs to reduce blinking when it is hazardous or disruptive to their eyes.
Guinea pigs may also blink with only one eye due to their sophisticated oculomotor system. If something bothers only one of their eyes, they will usually blink in that eye while the other eye remains open.
Guinea Pig Bed Accessories Cage Toys
JanYoo Animal Bed Guinea Pig Accessories Cage Habitat Toy Hideout House Washable
【SUPER SOFT】 short velvet + high precision PP cotton filling,super soft and cozy thick materials,sturdy in it's structure,stitching craftsmanship will keep this bed looking great for years to come.it's very fit for guinea pig,chinchilla, hedgehog,rabbit,hamsters,breaded dragon,rat,ferret,squirrel and other similar sized small animal
【3 SIZE OPTIONS】Small is fit for a baby guinea pig (Weigh no more than 1 pound); Large is fit for a young guinea pig (Weigh no more than 1.8 pounds); X-Large is fit for a larger animal or two adults guinea pig to share space ( The total weight does not exceed 3.8 pounds). We recommend X-Large, pets grow fast and they like to roll and play in spacious spaces
【HIDEOUT SPACE】Cushion keeps the guinea pig warm and you can pull out for more space.Hideout design makes them feel safe, there is plenty of room in it to curl up and nap.it's fun pattern and adorable cartoon shapes,it would make a really great gift
【USEFUL FUNCTIONS】①opening is shaped in a way for small pets to easily find their way into it②the non-slip bottom design is helpful when pet tries to push his bed③It's also very convenient to carry or folds them in
【EASY TO CLEAN】The pillowcase can be removed and washed separately, and the bed is also suitable for machine washing(Must use a laundry bag, otherwise it will be easily damaged )
Last update on 2022-08-02 / Affiliate links / Images from Amazon Product Advertising API
FAQs
Do guinea pigs close their eyes?
Although guinea pigs have the ability to close their eyes, this is a rare occurrence. It is unusual for humans to sleep with their eyes closed, but guinea pigs prefer to keep their eyes open the majority of the time.
In order for them to close their eyes, they must feel secure in their surroundings.
Do guinea pigs recognize their owners?
They want to be able to see, smell and hear us when we are in their company. This demonstrates that, sure, guinea pigs are aware of their owners' presence.
Do guinea pigs sleep with their eyes open?
It is totally natural for them to sleep with their eyes open on a regular basis. Guinea pigs are prey animals, so it is natural for them to behave in this manner.
Do guinea pigs like the dark?
Guinea pigs do enjoy the darkness, as seen by your cavy's evening antics. However, it is true that in the twilight hours of the day, guinea pigs are at their most energetic. So it's very normal for your guinea pig to want to play and explore at night.
Sky Blue, Pink, Purple, Green & Strawberry Red Guinea Pig Hideout
Sale
Beewarm Guinea Pig Hideout Accessories Small Animals House for Hamster Rat Mice - Lifetime Replacement - Tunnel for Hedgehogs Chinchillas Sugar Gliders Degus Bearded Dragons Bunny Geckos (Small Pink)
Comfortable and Safe Home-The Guinea Pig House is made with high-quality fleece comes with a removable pad to go inside the tunnel. Fleece house is the perfect addition to any cage accessories. The small animals hideout is a great little cozy place for your little friends to hideout, sleep or just use as a playground.
Suitable for Small Animals -Guinea Pig Hideout House measures approximately 11.02" length, 7.78" width and 6.29" height. It is good for guinea pigs, hedgehogs, hamsters, rats, mice, chinchillas, sugar gliders, degus, bearded dragons, bunny, geckos, small birds or similar size pets.
Two Entrances with Fleece Forest -Two large entrances at both ends of the house keep your pet has less difficulty going in and out of it. You can still see them and they can see outside if they want to. Fleece forest curtain at the end for your pets to hideaway, sleep and snuggle keep warm which helps them feel safe and secure.
Durable & Washable - Take out the sticks and ropes and wash the fleece house gently with cold water and dry on low or air dry. We suggest Hand Wash it that can keep the mat not easily destroyed. Great Birthday, Christmas, New Year gift for your lovely pet.
Lifetime Replacement Guarantee - If you have any issues about our small animals hideout, please contact us in time, we will provide free replacement after-sales service for our dear customers.
Last update on 2022-08-02 / Affiliate links / Images from Amazon Product Advertising API
Conclusion
In conclusion, guinea pigs have eyelids, and given their extraordinary capacities, Guinea Pigs do not blink their eyes as frequently as humans do.
As opposed to this, they have eyelids, but they keep their eyes open wide while sleeping.
We hope that the information on this article has helped you and your guinea pig research!
Also read: