Many guinea pig owners wonder what type of bedding they should choose for their furry friends.
While there are many options out there, choosing the right bedding for guinea pigs is harder than it sounds. Different types of bedding have their pros and cons.
The goal of this post is to shed light on the products used to make guinea pig bedding, and help you make an informed buying decision. 
Why do Guinea Pigs Need Bedding?
Bedding is essential for the health and comfort of guinea pigs. The proper type of bedding can absorb spilled water and urine, and slow down bacterial growth. 
Bedding also reduces the production of ammonia, carbon dioxide and other harmful gasses, and the buildup of bacterial toxins. 
Guinea pigs are prey animals that love to hide. They find bedding cozy and comfortable in which they can hide. Bedding serves another very important purpose: it helps guinea pigs maintain their relatively high body temperature. 
Buyer's Guide: What to Look For in a Good Guinea Pig Bedding?
Before you make a buying decision, it is important to know what to look for in guinea pig bedding. Choosing a product is easy if you know what features make it good. Here are the factors that should be taken into consideration when choosing guinea pig bedding: 
Comfort and Safety
Comfort and safety should be the most important considerations. How do you know that the bedding you are choosing is safe for your piggy?
Well, first of all, it should be non-toxic and free of chemicals. The material used to manufacture the bedding should be 100% natural and biodegradable. 
Dust can adversely affect the comfort and well-being of guinea pigs. It can cause stomach issues. Your family members can also be allergic to dust, and therefore the bedding should be dust-free. 
It should also be odor-resistant. The material should be formulated to resist odor, at least to some extent.
There are some materials that can resist odor for up to a couple of weeks. And above all, the bedding should be soft because guinea pigs have sensitive feet. 
Moisture Absorbent
This is another important factor to consider. Opt for a highly absorbent bedding, because moisture can lead to various infections in guinea pigs.
You can solve the problem of poor hygiene to a great extent just by using moisture-absorbent bedding. 
Before you buy, read the product description carefully. Besides having the absorbing abilities, the bedding should also contain antibacterial properties, and be healthy and natural. 
Reasonable Price and Readily Available
Guinea pig bedding is not something you buy just one time and forget. As a guinea pig owner, you need this product on a regular basis.
That is why price is an important consideration. You do not want to spend an unusually large amount of money on this stuff. 
It is to be noted here that there are many guinea pig products on the market with high price tags. Do you need them? No. Also, make sure the bedding you choose is readily available.
If you replace the bedding with a different type of bedding, your piggy will take time to adapt to the new type of bedding. 
4 Guinea Pig Bedding and Their Reviews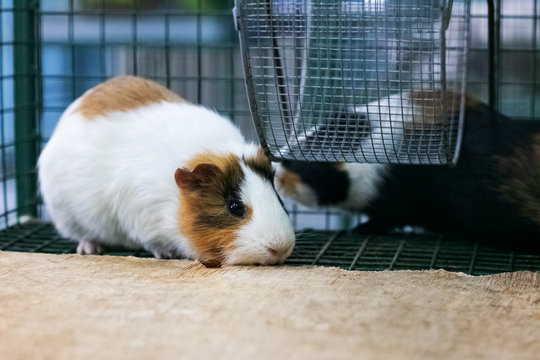 With so many options for guinea pig bedding out there, narrowing down the options can be a bit tricky. Nevertheless, we have conducted some research and narrowed down the list.
While picking these products we have taken multiple factors into consideration: the materials the products are made of, how comfortable they are, and their price. 
Here are our top 4 picks: 
| | | | |
| --- | --- | --- | --- |
| | Comfort and Safety | Absorbency Moisture | Cost (around) |
| #1 GuineaDad Liner | Very comfortable | High | $54 |
| #2 Kaytee Clean & Cozy | Pretty soft and comfortable | High | $16 |
| #3 RIOUSSI Guinea Pig Cage Liners | Satisfactorily comfortable | Takes a little bit of time to absorb urine | $17 |
| #4 Geegoods Guinea Pig Cage Liners | Comfortable | Pretty good | $17 |
Comparison of top 4 guinea pig bedding
GuineaDad Liner
GuineaDad Liner
Last update on 2022-08-02 / Affiliate links / Images from Amazon Product Advertising API
If you are looking for guinea pig bedding with zero dust, GuineaDad fleece liner is the best option out there. It is odor-free and super absorbent, and in the long run it is also an economical choice. 
The waterproof bottom of this bedding will keep your piggy's cage dry. The main ingredient of the product is natural bamboo blend, which is safe for rodents.
Bamboo blend is also odor-resistant and antibacterial. This GuineaDad liner is also characterized by a durable and precise finish. 
It has three layers. The first, second and third layers are respectively made up  of polyester, bamboo blend, and a polyester-made waterproof back. The bedding is designed to keep the base of the cage completely dry. 
Consider watching this video to learn more about GuineaDad fleece liner:
GuineaDad fleece liner pros and cons:
Pros
Cons
Super absorbent
Comfy
Odor-free
Economical
Easy to maintain
Relatively high upfront cost
Always an extra pair is needed
GuineaDad fleece liner pros and cons
Last update on 2022-08-02 / Affiliate links / Images from Amazon Product Advertising API
---
Paper Bedding
Kaytee Clean & Cozy Super Absorbent Paper Bedding
Sale
Last update on 2022-08-02 / Affiliate links / Images from Amazon Product Advertising API
This is another absorbent and super-soft bedding. Compared to wood shavings, this fluffy bedding has a shredded texture, and can absorb significantly more liquid. It is dust-free, and ensures odor-resistance, thanks to its lavender scent. 
Kaytee Clean & Cozy bedding is available in several colors. If you stick to white, it may look dirty after a few days. So, consider choosing other colors. The bedding is tightly packed, and lasts a long time if you change once a week. 
Expandability is another notable feature of this product. In fact, it expands up to 3 times. Most users of Kaytee Clean and Cozy bedding report that they do not want to try any other bedding. 
Here is a review that does justice to this bedding: https://www.youtube.com/watch?v=xOF6AXpEQPI
Kaytee Clean & Cozy pros and cons:
Pros
Cons
Easy to use
Odor control
99% dust-free
The material meets FDA standards
Not washable
The lavender scent does not sufficiently hide odor.
The bedding starts to stink after a few days. 
Kaytee Clean & Cozy pros and cons
If you are looking for a washable guinea pig cage liner, this one is probably the best option out there. This reusable pad  has a pretty good absorbent property, in part because it has three layers.
The top layer is a very short fleece, the middle layer is made from highly absorbent material, and the bottom layer is waterproof and anti-slip. 
This liner eliminates the need for an extra bottom layer or tray. The product is manufactured with guinea pigs in mind, so you will find it very easy to use and convenient. 
After the initial washes, these liners shrink a little bit. To compensate for it, the manufacturers have made the liners a bit larger. 
The most important thing about this bedding is that it is machine-washable. To help reduce the odor, you can add some white vinegar to the detergent you use for washing. 
RIOUSSI Guinea Pig Cage Liners Pros and Cons: 
Pros
Cons
Large sizes
Waterproof
Easy maintenance
Environment-friendly
A bit sticky
Shrinks a bit after the initial washes
RIOUSSI Guinea Pig Cage Liners Pros and Cons
---
Geegoods Guinea Pig Cage Liners
Geegoods Guinea Pig Cage Liners Guinea Pig Bedding
Here is another washable and eco-friendly bedding for your guinea pigs. This reusable bedding is a great option for guinea pig owners who do not want to invest in bedding too frequently. These liners are easy to clean. 
The top surface, which is made up of warm, soft and cozy fabric, will provide the ultimate comfort for your piggies.
The liners stay dry and warm even after use, thanks to the moisture-wicking fabric. The absorbent property of this liner is greatly indebted to its bamboo filler blend. 
The leak-proof bottom will prevent the pee from reaching the floor and keep the cage dry and neat. The bedding makes the process of cleaning the cage quick and easy. Your piggies will love the cute burrow pockets.
These cage liners can be used not only for guinea pigs but also for rats, ferrets, chinchillas, bunnies, and rabbits. 
GeeGoods Guinea Pig Cage Liners Pros and Cons: 
Pros
Cons
Easy to use 
Leak resistant
Easy to use
Eco-friendly
Odor-free
Relatively cheap
Washing may be time-consuming
Takes time to dry
GeeGoods Guinea Pig Cage Liners Pros and Cons 
---
5 Worst Guinea Pig Bedding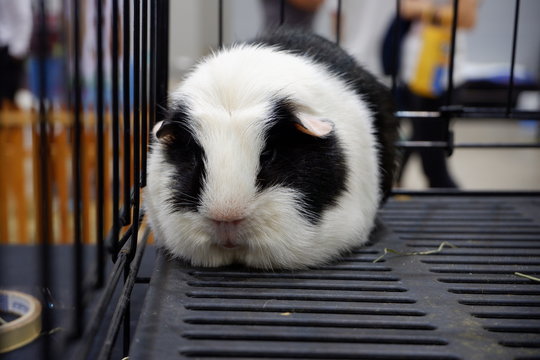 Choosing inappropriate bedding is one of the most common mistakes guinea pig owners make. It is not just about the comfort of your guinea pigs; it is also about their safety.
Some types of bedding are outright harmful for your piggies. That's why it is important to learn what to avoid. Stay away from products made from the following materials. 
Cedar Bedding and Pine Bedding (Softwood Shaving)
Both cedar and pine are popular, in part because they have natural insecticidal properties, and are good at controlling odor.
However, these softwood shavings are toxic to guinea pigs, and can pose health risks such as asthma, allergic responses, and inflammation. Avoid these bedding materials at all costs!
Newspaper, Straw, Corn Cob, Pellet and Hay
Newspaper bedding is bad for guinea pigs mainly because it contains ink. When newspaper gets wet, this ink tends to disperse, and that can be harmful for guinea pigs.
Straw, corn cob and hay have molding. And if your guinea pig eats them, they can cause intestinal blockage and swelling. 
Guinea pigs have sensitive feet, and therefore need adequate cushioning. These materials fail to provide an adequate amount of cushioning, and that is another reason you should avoid these bedding materials. 
Aspen Shaving (Hardwood Shaving) / Kiln-Dried Pine
While aspen shaving is not toxic, it is not as absorbent as pine. It is an important thing to notice, because absorbency is necessary for guinea pig bedding.
If urine is not properly absorbed by the bedding, your guinea pig is vulnerable to a host of health issues, not to mention the issue of horrible smell. 
Kiln-dried pine shavings are available, with reduced levels of volatile oil and smell. However, even after this special treatment, pine shavings are still harmful for guinea pigs. 
Kiln-dried pine shavings and aspen bedding do not contain dangerous chemicals, but they should still be avoided due to their low absorbency rates. 
Cat Litter
Cat litter should be avoided for guinea pigs, in part because crystal and clay, which are harmful for cavies, are commonly used as litter materials.
Your piggy will chew the litter box, and swallow these materials. Guinea pigs are not able to digest clay and crystals. They are also known to cause GI problems in rodents. 
Corn Cob 
The problem with corn cob bedding is that it does not control odors, and often has mold. Corn cob bedding is not comfortable for guinea pigs, because these rodents have sensitive feet. Your piggy may eat this bedding. 
And when inside the stomach, corn cob swells, and causes digestive issues. Male guinea pigs are likely to develop impaction problems due to corn cob bedding. 
Guinea Pig Bedding FAQs 
Do guinea pigs really need bedding?
Guinea pigs need bedding in their cages, where they spend lots of time. A proper type of bedding is very important for the health and comfort of your guinea pigs. Bedding absorbs urine and helps keep the cage clean and odorless. 
What bedding is best for a guinea pig?
If you are new to guinea pigs, opt for paper bedding or aspen. Bedding made from a blend of paper and aspen is also a good option. Fleece is fine, just make sure you sweep your guinea pig's poop off the fleece at least once every couple of days. 
What bedding is bad for guinea pigs?
Don't be fooled by the odor-repellent properties of cedar and pine wood shavings.
They can cause problems with your piggy's respiratory system. Even if the bedding is made from kiln-dried pine, stay away from it. Also, avoid bedding made from aspen shavings because they have low absorbency rates. 
Don't buy cat litter, as it may contain clay and crystals, which guinea pigs are unable to digest. Corn cob bedding should be avoided because your guinea pig will not find it adequately comfortable. 
What kind of bedding do you use for a guinea pig hutch?
Fleece cage liners, wood shavings, paper, and cloth are the best options. You can't go wrong with a guinea pig bedding made from any of these four materials. 
What do you put at the bottom of a guinea pig cage? 
Put soft, absorbent and odorless bedding at the bottom of a guinea pig cage.
Guinea pig bedding can be made from many different things, but not all of them are healthy for these rodents. Some good materials include paper, hay, fleece, and aspen shavings. 
Final Verdict 
When it comes to choosing the appropriate bedding for your guinea pigs, making an informed decision is the key. Learn about your options and you will end up choosing a good product.
We have reviewed four of the best options available on the market, and hopefully you have found the discussion helpful. 
If you need just one recommendation, feel free to choose GuineaDad Liner. It is super absorbent, and safe for your piggy. While the upfront cost is a bit high, the liners last really long.
And if you are one a budget, you can't go wrong with Geegoods Guinea Pig Cage Liners.