Exactly eight months as a guinea pig owner, I was doing the dishes when I suddenly heard this hooting noise coming from my living room. 
At first, I thought it was the humidifier, so I turned it off – but no, it was my guinea pig, Berky. She was under the dining table, making this strange, heavy, snoring sound as though struggling to breathe. 
I quickly knew something was wrong. You might be facing the same issue right now. But it's nothing to worry about because I'll walk you through everything about guinea pig hooting noises that you need to know. 
A guinea pig making hooting noises most often are allergic reactions to dust. This dusty irritation can come from their hay (bedding) or pollen. 
When this happens, it blocks their narrow airways in the nose, causing them to give out hooting noises when breathing. This usually doesn't last long and is not something to worry about much unless the hooting noises persist for over a week. 
That said, whether you're a newbie or an experienced owner, you'll get to learn why your guinea pig is making a hooting noise and how best to treat or even prevent hooting noises in guinea pigs.
Stick with me!
3 Common Causes Guinea Pig Making Hooting Noises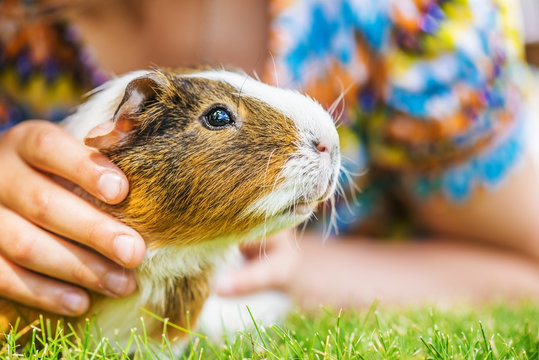 Before we head on to the causes of guinea pig hooting noise, let's talk briefly about what hooting noise sounds like. Is what you heard a hooting sound or a different sound? How can you tell the difference? Let's get into it. 
A guinea pig hooting sound is just like the cry of an owl or the sound of a horn. So, if your guinea pig sounded like a crying owl or like the one played in the video below, then your pet sure was making the sound.
One thing you should understand is that a hooting noise is not a normal sound.
It's oftentimes a nasal obstruction that is supposed to stop by itself. However, if it keeps on recurring, you should get it checked out by your vet.
Something Irritating The Nose
Irritation in the nasal pathway or airways – something like a blockage is often the most common cause of hooting noises in pet guinea pigs. This nasal irritation can come from hay dust or pollen. 
Hooting noises caused by nose blockage or nasal irritation generally disappear after a few hours. But if it persists and intensifies over time, it's something more serious like heart disease or an infection.
Dry Air Can Be An Irritant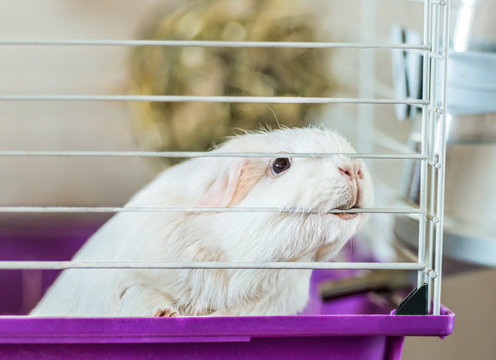 Dry air can also irritate your piggie to make some hooting sounds, and like in nose blockage, it is a common cause of hooting noises in guinea pigs. 
This too can go away on its own without treatment but you need to increase the humidity of your house. Using a pet-friendly humidifier can resolve this. 
Heart Disease or Perhaps Could Mean Congestion In The Lungs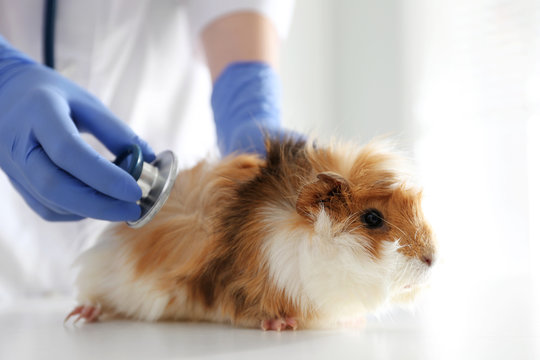 Aside from nasal irritation, certain pulmonary conditions such as congestion in the lungs or cardiovascular disease can make it difficult for a guinea pig to breathe properly. 
This is why you'll hear your guinea pig making the hooting sound when breathing. Hooting noises caused by heart disease or congestion in the lungs often isn't common. 
But if your piggie is diagnosed with heart disease or respiratory infection, then you need to evaluate your husbandry to know where the problem came from. Most often, it's poor hygiene that gives room for bacteria-causing infections to thrive. 
Treatment for hooting noises caused by cardiovascular disease or respiratory infection is usually administered by a vet upon examination. That said, for hooting that persisted for over a week, go see a veterinarian.
HOPEME Cute Pet Humidifier
HOPEME Cute Pet Humidifier with Two Spray Modes, 300ml Water Tank Lasts Up to 10 Hours, 7 Color LED Lights Changing, Waterless Auto Shut-off for Bedroom, Home, Office (Pink )
【COOL MIST HUMIDIFIER】300ml water tank, Size 3.46 x 5.63 Inch, 50ml/h spray volume, 2 working modes: Intermittent Mist (3 seconds on/3 seconds off) & Continuous Mist. Working Time 4 hours automatic power-off; A full water tank could support 5-6 hours in continuous mode, 7-8 hours in intermittent mode.
【AUTO SHUT-OFF PROTECTION】Humidifier automatically shut-off when the water level is low or 4 hours automatic power-off protection. New ultrasonic technology supports an extremely quiet working noise <30 dB.
【7 CHANGINE MOOD LIGHTS】Great night light for young children scared of the dark at bedtime, the colorful lighting creates a nice ambiance. Colors include: green, dark blue, red, yellow, pink, light blue, white.
【UNIVERSAL POWER SOLUTION】Powered by Micro USB 5V=1A, compatible with any device with USB port (laptop, desktop, power bank, socket, power outlet).
【After Sales Service】 Non-toxic material, CE Certification, RoHS qualified. 30-day full refund if you have any problems with the humidifier. Please don't hesitate to contact us for any other issues regarding our products or services!
Last update on 2022-08-02 / Affiliate links / Images from Amazon Product Advertising API
FAQs
What are unhappy guinea pig noises?
Some noises to know that your guinea pig is unhappy include teeth chattering, whining, hissing, and growling. They make one or all of these noises when they are in pain, discomfort, or just annoyed with another piggie.
How do I know if my guinea pig is in pain?
You can tell your guinea pig is in pain if it exhibits the following:
Grinding teeth or teeth chattering.
Unwillingness to move (lethargy).
Shivers or quivers.
Sits hunched, with hair spiky.
Squealing or excessive noise.
Not eating or drinking.
Shallow, rapid breathing.
How can I help my guinea pig with pain?
If you notice your guinea pig is in pain go see a vet as soon as you can. Depending on what causes the pain, prolonged untreated pain can lead to death. 
How can you tell if your guinea pig is depressed?
Depressed guinea pigs are lethargic, inactive, don't respond as usual, stop being curious, hide for long hours, stop eating, and may display some aggressive behaviors such as teeth chattering, head tossing, and fidgeting.
LEVOIT Humidifiers for Bedroom
LEVOIT 4L Humidifiers for Bedroom Large Room & Essential Oil Diffuser, Ultrasonic Quiet Cool Mist for Baby, Plants, Last up to 40Hours, Dual 360° Rotation Nozzles, Handle Design, Auto Shut Off, Blue
YOU DESERVE THE BEST: With an effec range of up to 376 ft² / 35 m², the Classic 200 Humidifier provides fast, comfortable relief from the effects of dry air. Experience alleviation of allergies, congestion, sinus headaches, snoring, and dry skin.
40-HOUR MIST: Smaller humidifiers require frequent refills. The Classic 200's 4-liter tank delivers hassle-free humidifying all day and all night, and automatically shuts off before it runs dry. Just fill the tank, turn it on, and enjoy healthy humidity.
CUSTOMIZED MIST: Direct the dual 360-degree rotating nozzle wherever you like and select your preferred mist level with the simple one touch control. Create the ideal indoor climate for the nursery, family room, your bedroom, or anywhere else you like.
AROMATHERAPY: Add your favorite essential oils to the aroma tray to spread relaxing aromas along with healthy humidity. Ready for bed. Turn off the display lights and enjoy soothing aromatherapy for the best sleep environment.
BEST HUMIDIFIER FOR BABIES: Made with BPA-free materials and featuring quiet operation, the Classic 200 is perfect for nurseries. With noise levels as low as 25dB, the Classic 200 is quieter than many other leading humidifiers.
Last update on 2022-08-02 / Affiliate links / Images from Amazon Product Advertising API
Wrapping Up
When a guinea pig hoots, it sounds just like an owl. Now, keep in mind that not all guinea pig hooting noises mean URI (upper respiratory infection) or heart disease. 
In many cases, the hooting sound is a show of irritation from dust or its hay, especially if you had changed from what it's used to. While mild cases of hooting noises will always go away on their own, recurring hooting noises should be checked out by a vet. 
Hooting noises caused by heart disease or a respiratory infection can lead to death if not treated on time. 
Furthermore, guinea pigs are prey animals in the wild and for this reason, they hide symptoms of sickness as they don't want to appear weak and vulnerable to their predators. This means that your guinea pig is most likely to hide symptoms of illness till it becomes worse before showing it. 
Therefore, you need to constantly and regularly check your guinea pig to ensure it's in good health. This way, you're sure to detect abnormalities on time.