Wait! Diapers for guinea pigs? I was dumbfounded to see my neighbor's guinea pigs with diapers. I probed to understand why, and she said "I can't just deal with the poops and urine anymore". 
This was just one of many scenarios. I have seen many pet owners do away with their adorable pets to others or even rescue centers just because they feel they couldn't handle the poops and regular clean-up again. 
For this reason, most pet lovers choose to wear their pet diapers. But is it safe? Should pet animals wear diapers? Do guinea pigs wear diapers? Well, this article aims at answering these questions and expounding on the subject. 
Every exotic animal in captivity requires special care and attention to thrive. They need a standard cage with regular clean-up, proper care, diet, and many more.
Therefore, while you can wear your guinea pig diapers, it is not advisable. So how do you manage its poops and urine? Read on to learn more!
Do Guinea Pigs Wear Diapers?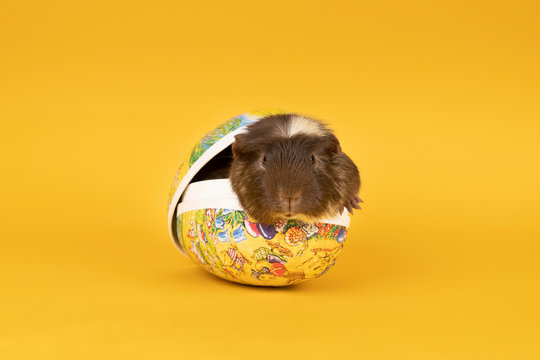 Yes, guinea pigs can wear diapers and many piggie owners do wear their pets diapers. However, should you wear them diapers? No!
We all know that guinea pigs tend to poop and wee more often than other kinds of animals. While some pet types such as cats and dogs have a poop schedule, guinea pigs do not. They poop and urinate anywhere and as they feel the need to.
However, it is not ideal to wear guinea pigs diapers for a number of reasons to include the discomfort it'll cause them. Guinea pigs should only wear diapers occasionally and for a short period. 
Outdoor events such as shopping in the mall or attending a family party with your piggie will demand that you wear it diapers.
How Do Guinea Pig Diapers Work?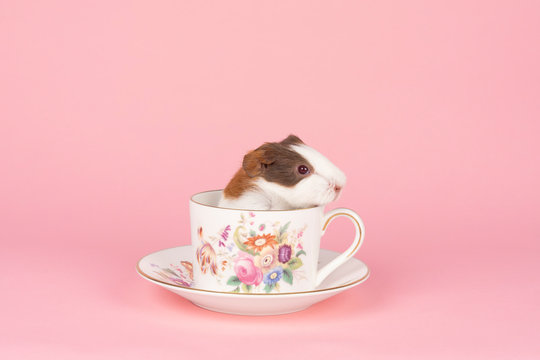 Diapers, whether made for humans or made-for-pets serve the same purpose – to collect wastes (poops, urine). The idea of wearing guinea pigs diapers is to prevent them from pooping anywhere and messing up everywhere. 
It is simply a piece of cloth with cotton inside which is taped to the bottom of a guinea pig to keep poop and urine from falling out. Diapers can absorb urine with just cottony fuzz or cloth. The way it works is the same as baby diapers.
Diapers for guinea pigs can come in handy when going out with your piggie to a social place. However, as this will cause discomfort to the animal, it shouldn't be used frequently. 
If you must wear your guinea pigs nappies, you must ensure it's a quality product from reputable brands such as Rodeys Room Piggy Pant Diapers and Bunnytime USA. 
Alternatively, you can custom-made the diapers for your piggies yourself, and it's not rocket science to do this. Read on to the next section to learn how.
How To Make Guinea Pig Diapers: Basic Instructions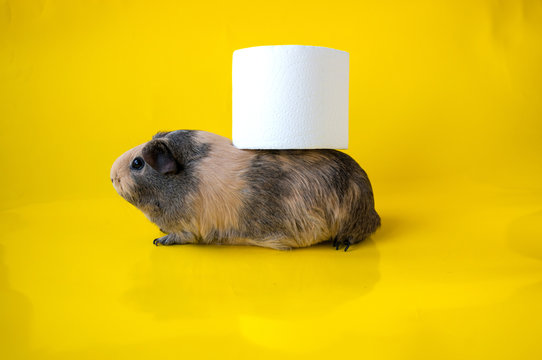 Making diapers for your pet guinea pigs isn't difficult. You just have to follow the basic instructions and steps that'll be discussed in this section. 
Although we do not recommend using diapers on your guinea pigs, if you must use them for any reason, a simple DIY diaper is your best bet. This way, you have total control of what material you use and are sure of what gets to your piggies' skin. 
Note that you can bring in your creativity while working on it.
What You'll Need:
Sanitary pads or small size panty liners.
A reusable baby diaper with a hole cut in it for your pig's head. Preferably, get the one with straps.
Amazon Basics Ultra Thin Pads
Amazon Basics Ultra Thin Pads with Flexi-Wings for Periods, Overnight Absorbency, Unscented, Size 4, 28 Count, 1 Pack (Previously Solimo)
Includes 28 overnight absorbency pads with flexi-wings
Same product, new look—This product is identical in manufacturing and formulation as the Solimo brand
Absorbent core provides up to 8 hours of leakage protection, and Dri-Fit cotton enhanced and breathable outer layers which wick away moisture to help keep your skin dry and comfortable
Flexi-Wings to help pad stay in place, and individually wrapped for discreetness, protection, and convenience
Find your best size with our sizing chart to find coverage that best fits your needs
Last update on 2022-08-02 / Affiliate links / Images from Amazon Product Advertising API
Steps:
First, cut the baby diaper to a size appropriate for your guinea pig. Note that the diaper should not be so big that it swallows your guinea pig whole, nor should it be too small that it restricts its movement.
Secondly, create a hole big enough for your guinea pig's head to fit through.
Stick the panty liner just below the hole through which you will pass your guinea pig's head. While on this story, if you're using a sanitary pad, use the smallest size or cut it to fit the diaper. 
Your guinea pig diaper is now complete. Now watch this video to know how to wear the diaper on your guinea pig.
Risks when Guinea Pigs Wear Diapers
As helpful as you may think diapers are to guinea pigs, they still pose a threat to their comfortability and freedom. In the wild, guinea pigs do not go about with diapers on their butts, thus, they will feel so uncomfortable doing so as pets.
Guinea pigs are flexible little creatures that can fold themselves into little balls, so when they're in diapers, they can pull their legs into their body and wiggle out of a diaper in 10 seconds. 
Also, guinea pigs enjoy sniffing one another's butt, hence, wearing diapers would interfere with their butt-sniffing activity. Because of this other piggies would want to get it off their friend by chewing on it and in doing so, they may get choked.
Your guinea pigs also stand the risk of getting bad sores and urinary tract infections resulting from wearing diapers. 
We all know that guinea pigs poop and urinate a lot, but wearing diapers and having to change and clean them every often will be so impractical and unhygienic than cleaning their cage when they poop.
For example, Piggies poop every 15 minutes and more than 150 times per day. What do you think will happen if you keep that diaper for 30 minutes and many hours? 
Besides the cost of having to change their diapers every 20 – 30 minutes, cleaning their butt each time they are changed can inflict sores on their butt. 
Also read: Why Do Guinea Pigs Poop So Much?
Tips To Avoid Guinea Pigs Poop or Pee on You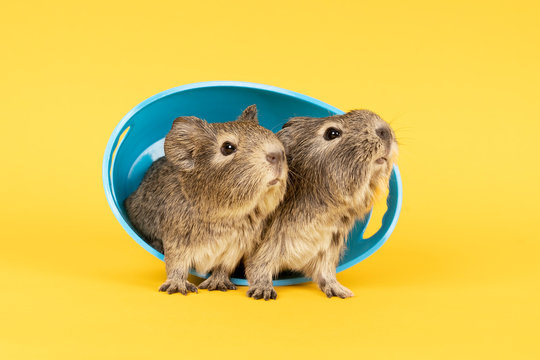 Understanding their pooping habits will help you get prepared when holding them. Now you know that guinea pigs poop many times a day, also that wearing them diapers isn't an option, you should prepare yourself to hold them and not look or smell messy. 
To achieve that do the following:
When you hold them, you can just put a fluffy, folded towel on your lap or your shoulder.
Also, try not to hold them for so long.
If you need to go out with them for longer than 20 minutes, you should use a pet carrier.
You can monitor their diet and pooping behavior to know when they likely poop. If they usually poop a few minutes after a meal, then avoid holding them that period.
Also read: 7 Steps To Transport Guinea Pig
FAQs
Can you put nappies on a guinea pig?
Yes, you can make your guinea pigs put on nappies when you're going out with them to avoid mess. But you shouldn't wear them nappies all the time at home. Wearing them nappies will discomfort them.
How do you potty train a guinea pig?
The first thing you should do is to get them a litter box that has walls where they can snuggle against and fill it with beddings. Then strategically position the litter box in places they would feel comfortable to use. 
One of the best ways to potty train them is to give them rewards and treats each time they use the litter box. This way, they'll get used to it. 
However, one thing you should note is that even after you have potty trained your guinea pigs, you should not get irritated if they still poop outside the litter box, chances are that they might have forgotten or it happened by accident and they couldn't help it.
Check out: How To Potty Train A Guinea Pig
How do you know if your guinea pig is crying?
Many guinea pig owners believe that their sharp pitch screech sound is a crying sound. Others say that they are crying when they squeak.
This might be true as guinea pigs can use one sound to mean a bunch of different things and express different emotions. 
However, what you shouldn't expect to see from your piggies is crying with tears in their eyes like humans. Any watery discharge from the eyes other than a whitish or milky discharge should be looked into by a vet.
Litter Bedding Box Pet Pan for Guinea Pigs
Hamiledyi Small Animal Rabbit Litter Toilet,Plastic Square Cage Box Rat Potty Trainer Corner Grate Litter Bedding Box Pet Pan for Guinea Pigs, Chinchilla, Ferret,Galesaur,Bunny
High Quality Material - High quality pet rectangular toilet, using the best quality safety plastic, strong and odorless. And it is durable and sturdy.The special design is also stain and odour resistant which is hygienic and easy to clean.
Humanized design - Rabbit litter box comes with one buckles designed to hold the litter tray securely to your cage.The two sides of the toilet is the smooth guardrail and it can prevent urine splashing to other places, make the cage cleaner.Comes with attached cage hooks to hold the litter tray securely to our cage.
Healthier - The design of the gridding in this mat avoid our little pet contact their waste,easy cleaning will prevent our little one from feeling sick of foot. Non-stick surface for easy maintenance.
Easy to Clean -The mesh is the right size, so pet poop can easily fall into the box. When the toilet needs to be cleaned,we just separate the top board from the box and rinse it with water.
Appropriate Volume: Large Volume: It is 10.23"x8.7"x5.7"(26*22*15cm).Toilets are large,suitable for Small Animals,Rabbits,Guinea Pigs,Chinchilla,Ferret,Galesaur.Please pay attention,it is not suitable for adult rabbits or large mice to use.
Last update on 2022-08-02 / Affiliate links / Images from Amazon Product Advertising API
Some Thoughts
Given how much and how often guinea pigs poop, most owners have wondered at some point if they can wear diapers. 
While this will solve the problem of no littered poop everywhere, it'll certainly create other problems such as causing discomfort to the animal, urinary tract infection, sores, and many more. For these reasons, your pet guinea pigs should not wear diapers. 
Diapers for guinea pigs may be an option in emergency cases such as going to the mall, visiting your vet, or if your piggie is having diarrhea. 
But wearing your guinea pigs diapers because you're tired of cleaning its poops and perhaps changing its beddings should not be a daily thing. 
Caring for your chosen pet shouldn't be a daunting task. It should be enjoyable and fulfilling to the owner. 
Moreover, until you're ready for the task of caring for an exotic animal, keeping them shouldn't come to your mind.  In fact, by all means, you should avoid wearing your piggie diapers.