⭐⭐⭐⭐⭐
Value For Money
⭐⭐⭐⭐
Features
⭐⭐⭐⭐⭐
Ease Of Use
⭐⭐⭐⭐⭐
Quality Of Build
The price is on the cheaper side for beginners but you can get all you need for your buck
The standard features are as expected but an interior thermometer to measure humidity would be nice. 
It is quick and easy to set-up without any fuss
It is durably and can last a long time if looked after well
ReptiPro 5000 Incubator Review
What I like
What I don't like
– The large size
– The glass door
– Easy to set-up and use
– Stylish design that does not take up too much space

– No interior thermometer or way to measure humidity 
– Not too easy to find


Pros And Cons Of ReptiPro 5000 Incubator
Summery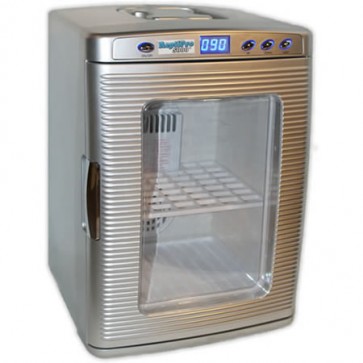 The ReptiPro 5000 Digital Reptile Incubator is a great product for beginners since it is easy to use and offers a lot.
While it lacks certain accessories this should not decrease the value of how much you can get for the price of such an item.
The incubator is lightweight, easy to control, and offers a lot of space in a stylish design.
Great for reptile and bird lovers that are starting the process of hatching their eggs.
Experts can even have a go at it since it is so simple to sue. Plus, the glass door and LED white light make it easy to keep an eye on how your eggs are doing.  
This incubator is one of the best reptile incubator in the market.
ReptiPro 5000 Digital Reptile Incubator Detailed Review
The ReptiPro 5000 Digital Reptile Incubator is a high- quality product that can cater to your egg growing and hatching needs.
It not only handles reptiles but bird eggs as well. This product can be viewed as an industry standard.
Plus, it is easy to use and looks good in your home. 
The product description
The ReptiPro 5000 Digital Incubator is a first-class product, that has not seemed to have gone through too many stylist changes, for those that wish to hatch their reptile or bird's eggs.
Size
This beauty has been on the market since about 2011 and has an interior of 9.5″x10.5″x14.5″ (24, 13 cm by 26, 67 cm by 36, 83 cm) with the full size coming in at 13″x15″x19″ (33, 02 cm by 38, 1cm by 48, 26 cm).
Weight
It weighs about 15 lbs (6, 8 kg) making it quite a lightweight item. This can make it fairly easy to lift and move around if need be.
Features
It comes in chrome with a large glass door so that you can look in and see how your eggs are doing.
Plus, it can go from a temperature of 36 to 104 degrees Fahrenheit (2, 22 to 40 degrees Celsius).
There is an on and off button for the item as well as a button to control the white LED interior light inside the item.
It also has a shelf that you can adjust to three levels. 
Who Is This Reptile Incubator For?
This particular product is for anyone that wants to grow their pets. Certainly birds or reptiles.
The ReptiPro 5000 can hold above 50 chicken eggs and 100 gecko lizard eggs. This should indicate how big the eggs can be to fit comfortably inside as well as how many pets you can hatch.
It would be great for pet owners who would like a large number of animals in their homes. It is easy to use and it also has a clear LED screen where you can see the temperature that you can set with a push of a button.
The item is not only easy to use but it is easy to maintain and keep clean. The large glass door is great to keep an eye on your growing eggs. Therefore, it would be perfect for those that are starting the egg growing hobby.
It also comes with a water tray. The handle is on the side of the door making it easy to open and it locks when it closes so that the door does not accidentally swing open disturbing the interior temperature of the incubator.
The cost of the item as it is can go up to about 200 USD which is not too bad of a price for beginners. 
What's Included inside ReptiPro 5000 Incubator
The item comes with what you will need to start using it. It is quite large and can fit nicely on a standard-sized, flat surface such as a table.
ReptiPro 5000 has a power cable that you can plug directing into an outlet.
Included is a plug that you can use in your car in case you need to travel while your eggs are incubating.
This is handy for those that have to move houses. Inside the item itself, there is a quiet fan to help regulate the temperature for the eggs. There is a shelf and a water tray that you can move around inside the item.
At the top of the item, there are four buttons. One to power it on and off, another to increase the temperature, while a third is to decrease it, and the final button is to operate the LED white light inside the item.
Extra accessories that you may want to invest in is a thermometer that measures the temperature and humidity of the water by your eggs.
This can give you a more accurate reading of what is happening inside. This is separate and can be any thermometer, even a standard one that you use in your kitchen.    
Overview Of Features
As mentioned before about the Reptipro 5000 description. The highlight of this item is that you can adjust the level of the shelf giving you more space for larger eggs.
It is suggested that you store the younger eggs at the bottom with the ones that are about to hatch can go on the top.
The water tray is easy to remove and can gather quite a bit of water. Another good feature of this great item is the glass door that you can look into with the LED white light to make the inside look clearer.
A downside is getting a separate thermometer for the interior of the item as well as an egg turner. But overall it is a good choice for people who are starting since it is easy to set up and use. 
How To Set-Up and Use ReptiPro 5000 Digital Reptile Incubator
The set up of this nice item is fairly easy all you would need it the incubator, the power cable, and a power supply.
You set the item on a flat, balanced surface making sure that it is close to a power outlet. You then plug it in and turn it on by press the power button.
Once it is one you can adjust the temperature of the whole item. The temperature will depend on the type of pets you wish to hatch. As soon as you plug in the item the fan should start going.
However, before you adjust the temperature of the item you should let it sit for about a minute.
This is so that the item can show you its current temperature.
Then you can adjust it by press the down or up buttons. This item can heat and cool which is a good thing to control create a healthy environment for your future pets to hatch in.
After you set the temperature the item will turn off when it reaches the temperature that you want it to be at. This should happen after a few minutes.    
Alternatives of ReptiPro 5000 Digital Reptile Incubator
Since a lot of incubators sell egg turners and humidity thermometer separate it is challenging to find a product that has both built it.
However, an alternative to the ReptiPro 5000 Incubator that can automatically turn the eggs is the Liusin Digital 24 Eggs Incubators with an automatic turner.
This item also comes with a humidity control as well as an alarm to tell you when the temperature or humidity gets too high. However, it only seems to be catered to bird eggs which can be a problem for the reptile lovers out there. 
Conclusion
The ReptiPro 5000 Incubator is a great buy for those that want to start growing their pets. It is easy to set up and simple to use.
Plus, you can get a lot of eggs inside for a decent price.