Did you know you can train your guinea pigs to respond when you call out its name? That is not all! It can also learn to play a ball, move in circles, stand on its back legs, and do other fun tricks.
Your bond with guinea pigs becomes strong if you have something to do in common or just spend time together. That is the opportunity to teach it a few fun tricks.
We will discuss a few fun tricks you can train your guinea pig and some tips to make it a success. Read for details!
Are Guinea Pigs Easy to Train?
Yes. Just like dogs and other pets, guinea pigs are also intelligent enough to be trained to do a few things. However, the training sessions should be shorter and only be done after the guinea pig has settled.
If the pet is new in your home, you may need to give it a few days to get used to you and the surroundings. You can then start training sessions after building that trust between you and the pet.
Make each lesion no more than 15 minutes. Guinea pigs have a short concentration ability.
7 Fun Tricks You Can Train Your Guinea Pig
You can teach your guinea pigs a few fun tricks to strengthen the bond between you and the pet. Think of giving it a name and training it to respond when called or training the pet to go round in circles. These are just a few examples, but your piggies can learn quite a lot more.
Come When They Are Called
As with other pets, give your newly acquired guinea pig a name. But how does it respond to that name when called? This is one of the easiest tricks that will take you just a few days to teach your pet.
First, start by giving the guinea pig a name. The next step is to look for its favorite snack and use that to attract the pet to you. Hold the snack in your hand.
Call the guinea pig by its name as you show it the food in your hand. Start by a short distance between you and the guinea pig and then increase it slowly.
You need to repeat these steps several times for a few more days. Monitor the progress of your guinea pig and stop the training when the skill is fully mastered.
Guinea Pig to Turn Circles
Since this technique requires space, take the guinea pig out of its cage if possible. You will have much more room on the floor or lawn.
But before training, make sure your guinea pig is comfortable in the outside environment. You may need to take it out of the cage several times.
After completing the pre-training, get to the bolts and nuts of this trick by following these steps:
Hold the snack in your hand where the guinea pig can see it. As it comes towards you to snatch it, rotate the hand holding the snack in circles while saying the word "circle." Repeat it many times before finally rewarding the guinea pig with the snack.
You need to repeat the procedure daily for a couple of days for the pet to learn it. This method is equally easy, but it will take the guinea pig some time to master it.
Push A Ball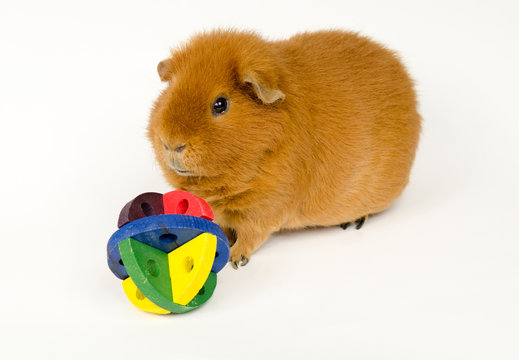 Playing a ball with your guinea pig is the best exercise it desperately needs. After the training, you will have a playmate to keep you busy on weekends or evenings after work. As part of pre-training, your guinea pig should get used to the environment outside the cage.
A tennis ball is the most recommended for this trick because of its appropriate size. Place the snack below the ball. Do that as the guinea pigs watch or find a way of making it aware. As the pet moves towards the ball, say "push the ball." That has to be audible.
Like all other tricks, you need to repeat this for a couple of days until the skill is mastered.
Stands on Back Legs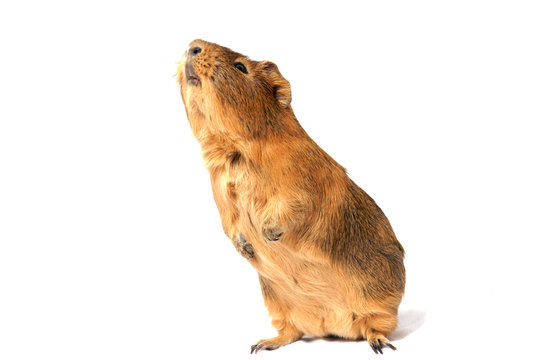 This pet skill is fun and can make you have the best moments with your pet. What you need for this trick to work is just a real connection between you and your pet. Also, look for its favorite snack.
Hold the snack with your hand just above the head of your guinea pig. Let it know that the food is there and then say "stand up." You may need to help the pet stand on its back legs as you give it the snack. Repeat the process until you are satisfied with the results.
This method is one of the most challenging and can take up to months before your guinea pig perfects it. With regular training, your piggy friend should stand up when you say so without the snack.
Teach Your Pet To Jump Through A Hoop
You will need a hoop of about 6-10 inches in diameter. It should have a smooth loop or be free from sharp edges.
Put the hoop between the pet and snack and call out its name to see the snack. As the guinea pig begins to move, say "through the loop." When it is through to the other side, give the snack as a reward.
This is one of the most challenging tricks to teach your guinea pig. You may need more patience for it to learn.
Return to Their Cage
Returning to the cage or home trick only requires a favorite snack. Before training, ensure the guinea pig cage is safe and comfortable, and the pet is always willing to go back in there.
Toss the favorite snack in the cage and let the pet see it. As it begins to move, say "go home." Repeat the steps for many more days until your pet is ready to return to the cage on command.
This is also an equally easy trick for your guinea pig. Just ensure the cage deserves to be called home. It will save you the time of running around to catch the pet and return it home.
Consider Training Them to Use A Litter Box
This is the last trick and the most challenging to many pet owners, especially guinea pig trainers. The pet will poop on the wrong spots many times. As a pet trainer, your patience will be tested here. Guinea pigs will get it wrong more often than not.
Look for a sizable litter box and hold a delicious snack close to it.
Point out the specific spot in the cage where the guinea pig usually poops.
Cover that spot with some hay.
You can sit back and wait for your guinea pig to use the litter box as a toilet. If it does, give it the snack to appreciate its efforts. Continue rewarding your furry friend until using a litter box toilet becomes a habit.
There are quite a few articles about this trick. We basically see it might not seem possible. The reason is that the guinea pig's behavior is to poop a lot.
So, I really don't think it's good for him if he learns to poop in a litter box. Poor them. They poop more than 100 droppings per day! Instead of spending time and effort on this trick, be diligent in clearing the substrate for it.
Oncpcare Guinea Pig Litter Pan with Grate
15x12 Guinea Pig Litter Pan with Grid, Small Animal Litter Box for Cage, Bunny Restroom Litter Tray Toilet Potty Trainer for Ferret Chinchilla Rat
SIZE S --- Length x Width x Height: 15*11.8*2.5 in (38*30*6.4 cm),1in(2.7cm) depth, made of the durable PP plastic. Suitable for guinea pigs, adult rats, ferrets, squirrels, bunny, kittens.
KEEPS PAWS DRY --- Guinea pig litter box with high quality perforated grate, durable and sturdy, will allow pee or waste to flow directly below your pets feet into the pee pad or the tray underneath, keeping your pets feet dry and clean, no mess any more. Its highten grid design could keep more litter and poop inside.
SAVE SPACE --- Our flat bunny litter pan has more surface area than most litter box. This rabbit filtering tray can just put on the bottom of the cage, put in C&C Cages, or just put it on the floor, save a lot of space. A perfect place to put your hay and bedding, it has no walls to constrict your pets from their hanging hay basket.
EASY TO USE AND CLEAN --- Its low entry design is easy for your small pet to enter and leave. Our small animal toilet can potty train your small animal,makes the cage easier to keep clean, it consists of 3 parts, the pan is easy to clean daily, especially with a liner down. You can fill with litter when you go on vacation and it will keeps smell down.
Great Use For: Rabbit toilet/Guinea pig toilet/hamster toilet/bunny potty box/cage toilet/rat toilet/small animal toilet/potty box.
Last update on 2022-08-02 / Affiliate links / Images from Amazon Product Advertising API
6 Tips To Train Guinea Pigs
Training a guinea pig different tricks requires the best approach. How do you ensure your pet becomes that first learner to save you time? Also, you need the skill to be mastered well. How do you do that? Your success depends on a few tips, including the following:
Make Sure He Is Settled Into His Home
Consider how you usually behave when you go to a new place with new people. You stay quiet and quite reluctant to do some things.
The same thing happens with guinea pigs. It will not be easy for them to interact with you in the training when they have just come to their new home.
Give new guinea pigs some time to get used to the environment and develop strong bonds with you. Also, sick ones should be given medication and only trained after recovery. A comfortable and healthy guinea pig will save you time and reward your effort because they learn faster.
Comfortable With You: Bond first, Train later
Spend considerable time with your guinea pig before you start training it. Use that chance to develop attachment and connection. Your bonds matter and should be a priority. Don't start training your pet if it does not trust you or still fear interacting with you.
Immediately Stop All Activities If There Are Any Signs Of Stress Or Discomfort
Suspend all training sessions if your guinea pig shows some signs of discomfort. No one can learn if they don't feel up to it, and pets are not different. Attend to the matter first and ensure you only return to training when the guinea pig feels easy and comfortable again.
Repetition Is Key
Unlike human beings, pets cannot just grab a concept once. Regardless of the trick you want the pet to master, you should repeat it severally until you are satisfied with the result.
HAYPIGS 3-in-1 Circus Themed Guinea Pig Treat Ball
HAYPIGS 1x Circus Themed Guinea Pig Treat Ball - Guinea Pig Toys and Accessories - Rabbit Enrichment Toys Small Animal Toy - Small Pet Activity Ball - Pet Entertainment
HayPigs - The Treat Ball is part of the award winning circus themed small animal enrichment toys from HayPigs. Designed and tested in the UK by UK Rabbits and Guinea Pigs this 3-in-1 enrichment toy is also suitable for Ferrets, Rats, Chinchilla, Degu and even hedgehog ! Search the whole HayPigs matching range of feeding, bedding and toy accessories.
3-in-1 - As a whole ball fill with finely chopped vegetables, fruit or portion controlled pellets and let your small fury discover how to get their treats. With the ball in 2 halves hide food or forage underneath for them to discover or thirdly fill the 6 treat releasing circus stars with herbs and leaves for them to tug away at.
Boredom Breaker - The HayPigs Treat Ball will provide hours of boredom breaking stimulation and enrichment through interaction, play and exercise. Perfect for one or more Rabbits, Hamsters or Guinea Pigs to share ! It's also great for humans to watch their small animals enjoying themselves by pushing the ball around to access their treats !
Secret Place For Treats - Sized at a diameter of 3.5 inches the Circus Treat Ball filled with treats will encourage them to explore their new toy. Not only is this great stimulation it will encourage them to interact and become comfortable with it while they nibble on food.
Super Safe - Rabbits, Hamsters,Guinea Pigs and other small furys just love to chew and its inevitable that they will have a taste of their new fun toy. Rest assured that the Treat Ball is made from pet-safe ABS plastic and non-toxic materials so no need to worry when they have a nibble !
Last update on 2022-08-02 / Affiliate links / Images from Amazon Product Advertising API
Patience for Success
It will take time for a guinea pig to learn a trick as simple as responding when called. If you are impatient, you can never be the best trainer your pet had hoped for.
Also, never force your guinea pig to learn using threats. It will only get scared and will avoid you. Instead, reward it at every milestone by giving it a favorite treat.
Only Reward After A Successful Trick
Who rewards a failure? Give your guinea pet a treat only when they get it right. This encourages and helps them to see the difference. Consider pellets and fresh vegetables and fruits for every training session.
FAQs
How do you train a guinea pig?
You can train the guinea pig different tricks, and the procedure varies depending on what you want to teach it. Many fun skills you can help them learn involve snack rewards and repetition. Call it out for the treat and use that opportunity to demonstrate the trick. Give the snack only if it gets it right.
Can guinea pigs be trained to come when called?
Yes. This is one of the simplest tricks to consider. Just hold a treat in your hand close to the guinea pig and call its name to come for it. Repeat the process several times as you increase the distance between you and the pet.
How do you teach a guinea pig to high five?
This trick seems tricky as it sounds, but actually one of the fun skills that you will be pleased with if your guinea pig can learn it. Place a treat in your palm and place your hand on the floor with the palm facing upwards. Call the pet to come for the snack.
The guinea pig is likely to place all its paws on your hand to grab the food. If that happens, move the pet back and let it try until it does it with just one. As soon as it does that, say "high five." Repeat the steps until you are satisfied with the result.
Where does a guinea pig like to be petted?
Petting a guinea pig is a way of strengthening your bond with it, but where should it be? Start by the head or under the chin. Start petting as you monitor the body language of your pet. Try to avoid petting feet, underside, and back.
Can guinea pigs learn their name?
Yes. These pets are intelligent. When trained, they can recognize their names and respond when called. However, the training takes time. Just follow the procedure and be patient. Do not tire from repeating that many times.
Last Sentences
Guinea pigs are equally intelligent. They can learn a few tricks such as moving in circles, returning to their cages on command, high-five, tossing a ball, among others.
Learning, however, takes time. The trainer has to be very patient and always reward the pet with a treat whenever it gets a trick right.
We appreciate your time reading this article at the Petsive. Thank you! You may also view previous posts on related topics to gain knowledge on keeping and handling guinea pigs.