Pronounced 'ak-suh-law -tuh' – axolotls are cute smiling salamanders who make fabulous pets. These fascinating aquatic creatures are fun to watch and are also relatively easy to care for.
If you've recently become the proud owner of an axolotl, then the thing foremost on your mind may be its food. If you're thinking of buying commercial food pellets for your little pet, then this guide is for you.
Here we will discuss why axolotls need pellets, how to select the best axolotl food pellets, and also present honest reviews of 4 of the best commercial axolotl food pellets available in the market.
Here goes…
Why Do Axolotls Need Pellets?
Axies (as proud axolotl parents fondly call them) need high-quality pelleted foods to keep them strong and healthy.
While natural or live food like worms is the best choice for Axies, it may not always be feasible. After all, in the summer months, worms tend to dry up, and even finding them in pet shops can be difficult.
The best-rated commercial axolotl food pellets are not only convenient to feed; they also provide your pet with immunity-building nutrients like vitamins, minerals, omegas, and proteins to help your pets thrive.
Buyer's Guide: What To Look For In A Good Pellet for Axolotl?
In their natural habitats, which is Lake Xochimilco in Mexico, axolotls eat worms, small fish, snails, tadpoles, and mollusks. In short, axolotls eat protein and omega-rich diets in the wild.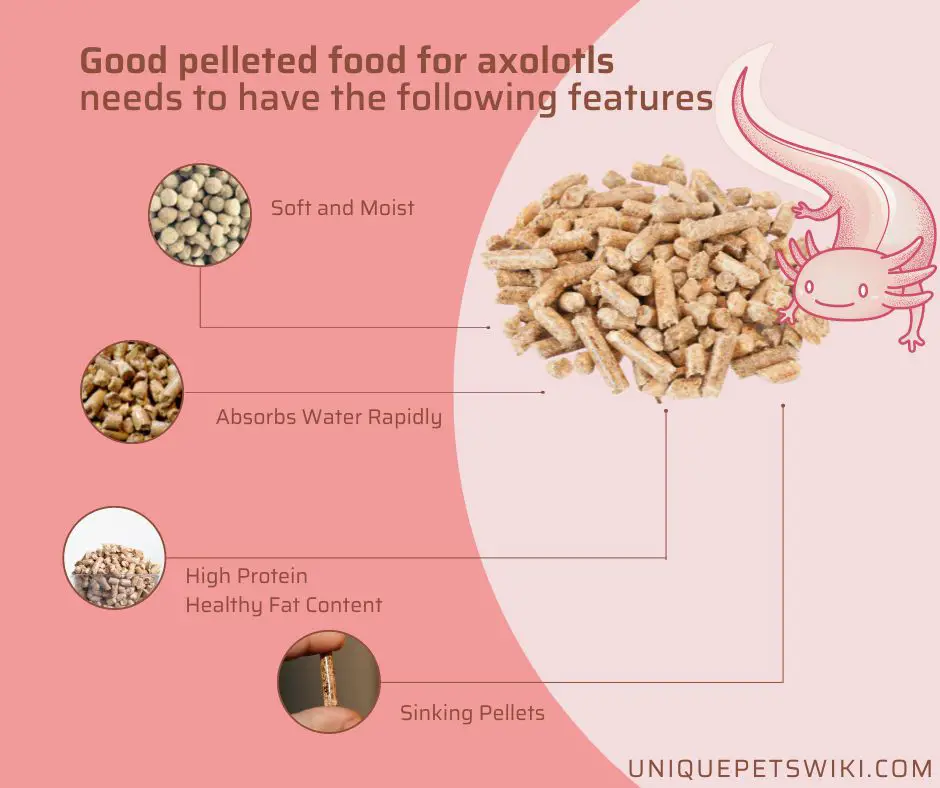 Based on this, we know that good pelleted food for axolotls needs to have the following features:
Soft and Moist
Axolotls need soft and moist food that is easy to eat. Ideally, you should feed your pet whatever it can eat within minutes and immediately remove the uneaten food. Soft and moist food is especially important if you have juveniles or baby axolotls.
Absorbs Water Rapidly
The pellets you select should absorb water so they resemble live food like worms or small fish – food that Axies eat in their natural habitats. 
In their natural habitats, axolotls eat live foods that are naturally rich in moisture content. So it makes sense that their diet in captivity emulates the same too.
High Protein and Healthy Fat Content
Axies need at least 40-45% protein so look for pellets that can provide them this high-protein content. The food should also contain fish oil or fish meal/salmon/shrimp to provide healthy omega fats to your buddy.
Sinking Pellets
Fish food is available either as sinking or floating pellets. As the name indicates, sinking pellets sink to the floor of the tank while floating or extruded pellets remain afloat. 
Both types of pellets have their pros and cons. For example, sinking pellets tend to remain intact and keep the tank's water clean.
On the downside, uneaten sunken pellets may remain at the bottom of the tank and eventually rot leading to diseases. Floating pellets disintegrate easily but they could also dirty the tank water.
Based on these features, we have 4 top-rated axolotl pellets for you.
4 Axolotl Food Pellets Reviews
We have chosen these 4 best-rated axolotl food pellets because they are soft, moist, rich in nutrients, and especially protein-rich.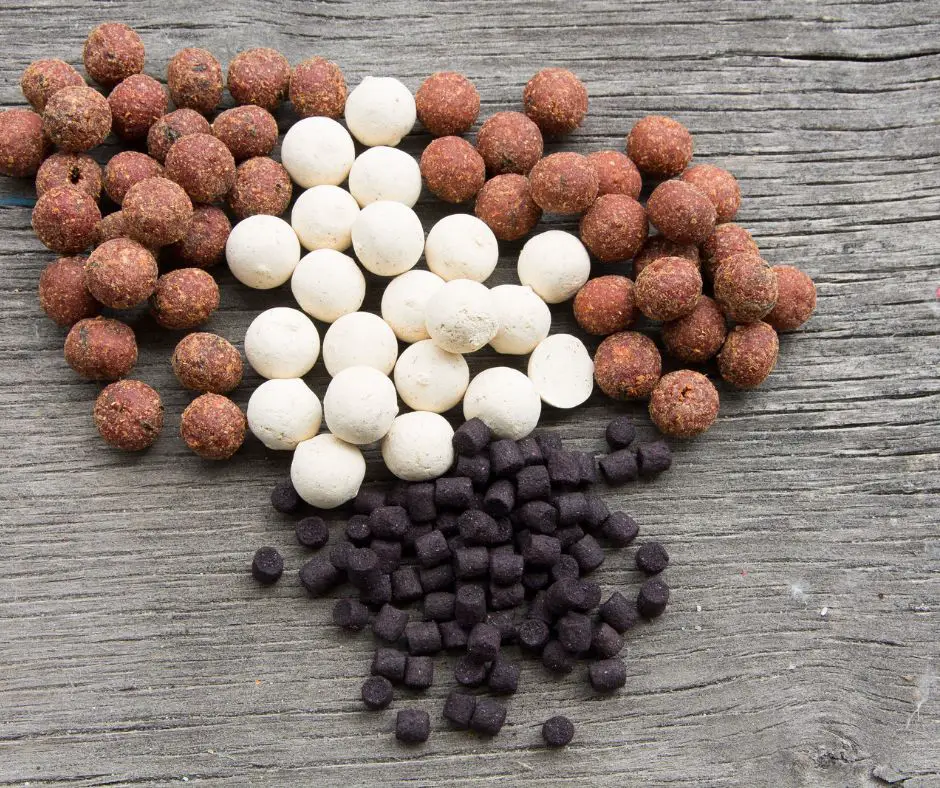 Here are our 4 best axolotl food pellets:
| | | | | |
| --- | --- | --- | --- | --- |
| Products | Soft and Moist | Absorbs Water Rapidly | High Protein Content | Cost (around) |
| #1 Invert Aquatics Soft Pellets for Axolotls | Yes | Yes | Yes – crude protein 45% min | $4.7/ounce |
| #2 Hikari Fish Food  | Yes | Yes | Yes – min crude protein 47% | $3.45/ounce |
| #3 Aquatic Food Inc Axolotl Food | Yes | Yes | Yes, min crude protein 45% | $1.12/ounce |
| #4 ABF Gourmet Axolotl Soft Food Pellet  | Yes | Yes | Yes, min crude protein 44% | $4.75/ounce |
Comparison of best axolotl food pellets
Top Pick: Invert Aquatics Soft & Moist Sinking Pellets
Invert Aquatics have specially formulated these Rangen pellets for small amphibians like axolotls.
They sink quickly and have a stimulating and delicious taste which your Axies are sure to love. You can use these as a daily diet for your axolotls while feeding them worms and shrimp from time to time.
Invert Aquatic pellets are rich in nutrients that can help keep your Axie strong and healthy.
Overview
Nutrient-rich – contain spirulina, calcium, fish oil, niacin, riboflavin, biotin, folic acid, as well as 45% protein.
These moisture-rich pellets contain 12% moisture.
They sink to the bottom and do not dirty the tank water.
Invert Aquatics sinking pellets are easy to break for small or juvenile axolotls
The main reason why thousands of axolotl owners have chosen these pellets for their smiling pets is that they are packed with vital nourishment.
Moreover, these sinking pellets are very tasty and delicious and even the pickiest of Axies is known to have loved them.
You can even add these pellets to your tank's feeder when you have to travel. They will dry out a little but will soften and regain their shape as soon as they are in the water. Your pet can get moist delicious and nutritious food even when you're away.
You will also love these pellets because you don't have to break them up into pieces – they are of the optimum size and even the younger or juvenile Axies can eat them easily. The best part is that they keep the tank's water clean.
Pros and Cons – Invert Aquatics Soft & Moist Axolotl Food Pellets
Pros
Cons
Nutrient-rich – high protein
Keep the tank water clean
Flavorful even for picky eaters
Affordable
Some batches are very dry and brittle
Sometimes, there is a lot of wastage as the pellets crumble into a powder during transport.
Pros and Cons – Invert Aquatics Soft & Moist Axolotl Food Pellets
Last update on 2022-12-30 / Affiliate links / Images from Amazon Product Advertising API
---
Best Overall – Hikari Fish Food
Want axolotl food pellets that are a perfect alternative to live food? Want a high-quality commercial pelleted food that is packed with nourishment and has superb flavor and texture? Then you and your Axies are sure to love Hikari.
Hikari food pellets for Axolotls are perfectly balanced in nutrition. They are rich in carotenoids which help in providing antioxidants and varied color to your pet's diet.
Overview
Sinking food pellets
Absorb water rapidly
Nutritionally balanced with almost 47% crude protein
Undergo rigid quality testing to prevent parasites and bacteria
Great flavor
Premium ingredients
Color-enhancing daily diet for axolotls
Hikari products are known for their quality as they undergo rigorous testing. Many axolotl owners have chosen this as their Axie's daily food thanks to its balanced nutrition content. 
The texture of the food is also optimum for small Axies. It absorbs moisture quickly, swells up to twice its size, and becomes very easy to swallow for young Axies. Whatever your pet does not eat remains intact so you can easily clean the tank later.
Pros and Cons – Hikari Fish Food
Pros
Cons
Color-rich daily diet with balanced nutrition and optimum protein
Mimics the diet of axolotls in their natural habitat
Makes tank clean up easy by retaining shape
Some picky eaters refuse to eat these
They stink up the aquarium water
Pros and Cons – Hikari Fish Food
Sale
Hikari Sinking Carnivore Pellets for Pets, 2.61-Ounce
Perfectly balanced to offer a daily diet most carnivores love
Higher levels of carotenoids promote brilliant colors
Free of unwanted parasites and bacteria common with live foods
Higher digestible protein levels that carnivores need
Absorbs water rapidly taking on a texture of a live fish
Last update on 2022-12-29 / Affiliate links / Images from Amazon Product Advertising API
---
Best Low-Odor Axolotl Food Pellets: Aquatic Foods Inc. Pellets
Aquatic Foods Inc. pellets are odorless and won't cause a stink in your aquarium water, unlike some of the other axolotl foods.
These sinking pellets are freeze-dried which helps remove dust, unwanted pieces, and other impurities so your axolotls get nothing but the best.
Aquatic Foods Inc. is also a leading provider of various types of fish foods. They carry more than 400 varieties of foods for amphibians, shrimp, salamanders, and other aquatic pets.
Overview
Crude protein content 45%
Contains spirulina, vitamin E, and other antioxidants
Suitable for feeding juveniles and adults axolotls
Soft moist texture
Rigorously tested
Most axolotls loved this soft, moist, sinking pellet food. It is convenient to feed even for the younger Axies – simply crush them before feeding.
The pellets are optimally sized and help keep your pet full. They are firm when dry but soften up very quickly in the water. You can mix them with worms for added nutrition or feed them as a standalone daily diet.
Pros and Cons – Aquatic Foods Inc. Axolotl Food Pellets
Pros
Cons
Great protein content
Low-odor
Easy to crumble for juvies
Can be mixed with earthworms
Some picky eaters did not touch this food.
Tend to cloudy up the water.
Pros and Cons – Aquatic Foods Inc. Axolotl Food Pellets
Axolotl Food Soft Moist Sinking Pellets for Axolotls, Shrimp, Snails & Tropical Fish 1/8" Rangen Salmon Sinking Pellets. Aquatic Foods Premium Tropical Fish Pellet Foods. 1-lb
Visit Our Aquatic Foods & Blackworm Co. Amazon Storefront Where We Have More than 400 Tropical Fish Foods to Choose From.
We at Aquatic Foods sift all of our Freeze Dried Foods, Spirulina Algae Wafers, Floating Pellets, Sinking Pellets to remove most Dust, Pieces and Particles prior to shipping to ensure you receive the highest quality Tropical Fish Food.
Please note: All product photos are not exact, product color and sizes may vary a little.
Tropical Fish Foods for Cichlids, Discus, Angel Fish, Bettas, Koi, Tetras, Goldfish, Parrot Fish, Marine Fish, Axolotls, Snails, Shrimp, Pelcos, Flower Horns, Gourami, Loaches, Catfish
We are Aquatic Foods & Blackworm Co. A 3rd generation Aquarium Hobbyist, Tropical Fish Store, Online Sales Family Owned Business selling and shipping quality Tropical Fish Foods to fellow Fish Keepers
Last update on 2022-12-29 / Affiliate links / Images from Amazon Product Advertising API
---
Best Gourmet Food for Axolotls: Aquatic Blended Foods (ABF) Food Pellets
The primary difference between other pellets and Aquatic Blended Food pellets for Axolotls is that they are heat-sealed and shipped within 24 hours to maintain their freshness.
The brand also uses First Class airmail to ensure that your Axies get the freshest of pellets.
Overview
Sinking pellet mix made of spirulina, shrimp, bloodworms, and squid.
Packed with nutrition – contains biotin, lecithin, and other vitamins
Contains crude protein of almost 44%
There are two different pellet types in ABF axolotl food and most Axies love both kinds. You can also squish 4-5 pellets into one big pellet and feed them to your pets as treats.
This food is also great as a staple daily diet although you can supplement them with worms and shrimp.
The seller- ABF – is also highly dedicated to providing the best customer service to all its users.
Pros and Cons – ABF Gourmet Axolotl Food
Pros
Cons
Great for picky eaters
Reliable customer service
Packed with nutrition
Smells like eggs and stinks up the water.
Pros and Cons – ABF Gourmet Axolotl Food
Last update on 2022-12-29 / Affiliate links / Images from Amazon Product Advertising API
---
How much to feed you axolotl depends on the size of the pellets.
If the pellet is ½ to 1 cm in diameter, feed your adult axolotl one or two pellets a day.
You can simply add a handful of sinking pellets to the bottom of the tank. Simply clean up the remaining ones that your Axies do not eat.
You must also add bloodworms/tubifex worms to your pet's diet about once or twice a week.
How often to feed your axolotls depends on the following factors:
Size of your Axolotl
Up to 10 cm – feed it 2 to 3 pellets one or two times a day. If the pellet is big, crush it or break it into multiple pieces and feed.
Up to 15 cm – feed it one or two pellets once a day
Up to 20 cm – feed it one or two pellets once in 2 days with worms.
Above 20 cm – feed it one or two pellets once in 3-4 days with earthworms every other day.
Temperature
The cooler the water around your axolotls, the less they need to eat.
Conclusion –  Best Axolotl Food Pellets 
The best axolotl food pellets are designed to provide your pets with optimum nutrition for their health and well-being. Sinking pellets containing salmon, spirulina, squid, shrimp, and other nutrients are ideal for feeding Axies.
We recommend the Invert Aquatics Soft & Moist Sinking Pellets as they are affordable, rich in nutrients, keep the tank water clean, and tasty enough for picky axolotls.
Do check out our other recommendations as well.