You are considering giving someone an axolotl as a gift, but the receiver is not yet ready to take care of a live salamander. You may consider buying a plush toy that resembles an axolotl, in such a case. 
Giant stuffed axolotls are so cute that they appeal to adults and children alike. To help you make an informed buying decision, we have researched and chosen the top four stuffed axolotls available. 
This post will discuss the four best giant stuffed axolotls, offer some tips to help you choose good ones, and answer some frequently asked questions about these toys. Keep reading!
What to Look for in a Good Axolotl Plush?
An axolotl plush can be a terrific gift for children and adults alike. Unlike a real axolotl, a plush requires no upkeep or commitment.
Playing with stuffed axolotls is a great way for children to learn about an endangered species, and the natural world. When choosing an axolotl plush, make sure it mirrors the real thing, has proper stitching, and is visually appealing.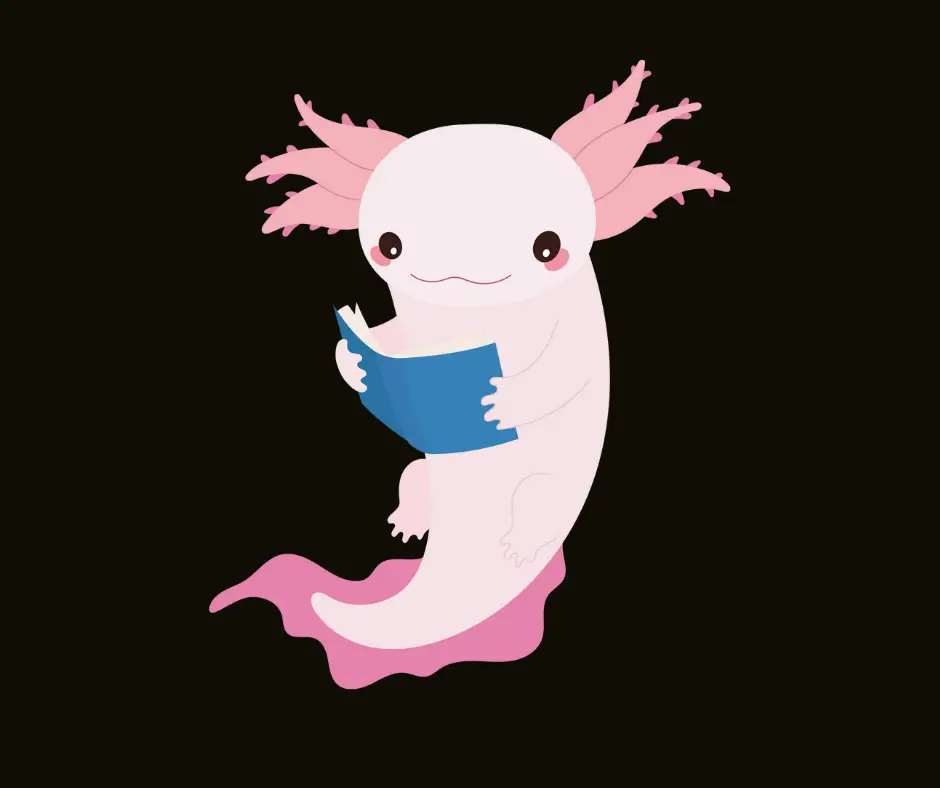 Simulation Gets Axolotl
Choose an axolotl plush that mirrors a real axolotl. For this, you have to be familiar with the characteristics of a real axolotl. Observe a real axolotl and identify its characteristic features, such as a sleek body, gills, and tails. 
Then opt for a plush that has these parts. At least the most important parts should be present unless the plush is deliberately designed to look different from a real axolotl. Reputable manufacturers pay attention to details. 
Proper Stitching
Take this factor into consideration when buying any stuffed animal. Make sure the stitching is even and all parts are attached properly. The durability of the stuffed axolotl depends on the quality of the stitching. 
Don't choose a plushie that uses felt as a material because it has no stretch. Smooth stitching also adds to the visual appeal of the plush. The threads used for stitching should be of the same color as the plush. 
Unique
Not all axolotl plushes are created equal. They vary in terms of size, materials, and features. 
People choose to purchase a unique stuffed animal because they want something that will stand out from the rest. It also represents a truly memorable gift that is a great way to show someone how much you care.
No matter how simple the plush is, its basic features should mimic a real axolotl. Choose a soft plush that serves as a cuddly companion for the gift receiver. 
4 Best Giant Stuffed Axolotl
We have done some research and chosen the four best giant stuffed axolotls. When choosing these products, we have considered all relevant factors such as resemblance, stitching, and features.
Learn about these four products and feel free to choose one.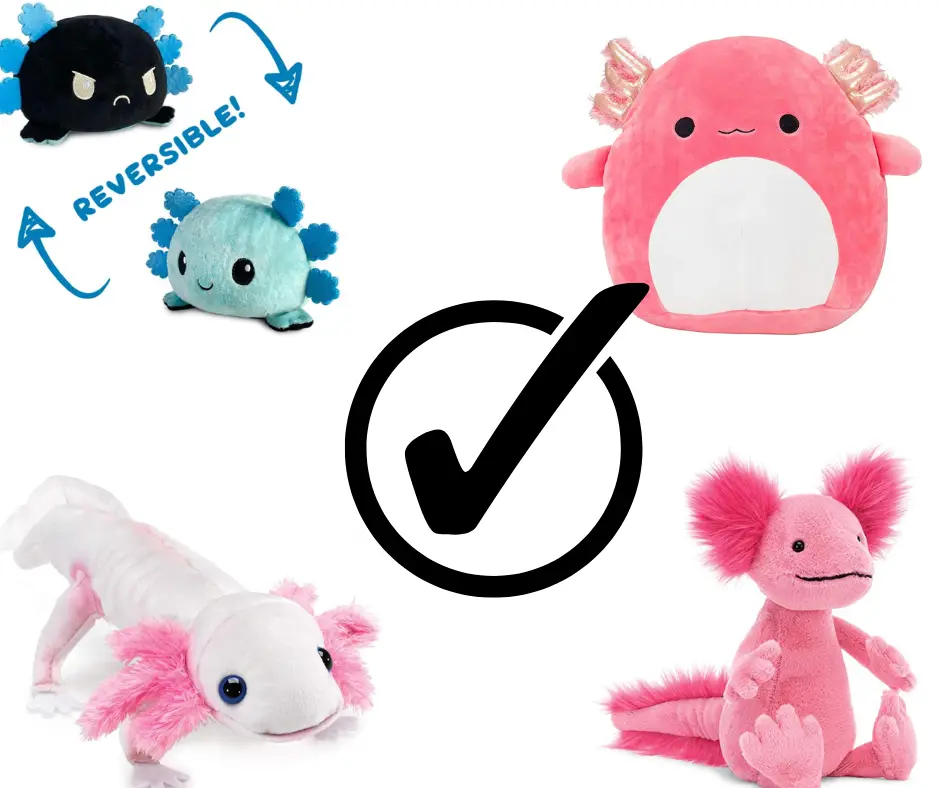 The Original Reversible Axolotl Plushie 
If you are looking for a reversible axolotl plushie, TeeTurtle is probably the best option. This plushie is great for playing and cuddling, and very easy to flip inside out. The outer fabric of the product is super soft, and it looks just like an axolotl. 
It's an amazing gift for birthdays, holidays, Christmas, baby showers, and Valentine's day. Many creators on TikTok are using these plushies to express their moods without saying a word. The super-soft fabric of this plushie will appeal to both kids and adults alike. 
A great thing about this axolotl plushie is it's practical purpose. When you're at work, just put it on your desk and your co-workers will know when you are approachable and when to stay away. 
The embroidery and stitching are good, and the colors are vibrant. The little fins are made of good quality material. However, we do not recommend putting the product in a washing machine. The product may lose its luster if washed in a machine. 
This axolotl plush measures 6 x 5 x 3 inches, weighs 1.9 ounces, and is available in multiple colors. It costs around $15. 
The Original Reversible Axolotl Plushie Pros and cons:
Pros 
Cons
– Cute and adorable
– Durable
– Super soft
– Reversible design
– Fins have a rough finish
– Should be hand-washed only
TeeTurtle | The Original Reversible Axolotl Plushie | Patented Design | Blue and Black | Show Your Mood Without Saying a Word!
This award-winning, #1 best-selling plushie is super soft, portable, and satisfying to flip!
Finally, an easy (and cuddly) tool for effective emotional communication. Relieve stress by letting the Reversible Plushie tell friends, family, or coworkers how you are feeling.
The perfect work-from-home tool to let friends and family know when not to bother you! Happy= come on in, and Angry= come back later!
Collect all the Reversible Plushie stuffed animals, including unicorns, narwhals, cats, dogs, pandas, turtles, and more, in tons of different colors!
TeeTurtle Reversible Plushies are a viral TikTok sensation! Your favorite creators have them, and now you can too!
Last update on 2022-12-29 / Affiliate links / Images from Amazon Product Advertising API
Made with high-quality, ultra-soft materials, this stuffed axolotl is an amazing gift for kids and adults alike.
This adorable plush is a source of pure joy for kids, more so if your kid is already familiar with Archie the Axolotl. For adults, it can serve as a great therapy aid! Bring it on airplanes, long car rides, and movie marathons.
While this stuffed axolotl does not exactly resemble a real axolotl, the toy is so cute! The product measures 12 x 11 x 10 inches, weighs 1.14 pounds, and is recommended for all ages. It's available in many colors. 
This super huggable plush can also serve as a cushion or pillow. It comes in a factory-sealed bag that's remarkably sturdy. 
While the manufacturers deserve praise for this amazing plush, its stitching is not good. The stitching is, however, pretty smooth and perfectly aligned. The product is also easily washable and dries pretty quickly. 
The authenticity of the product is guaranteed if you buy it from Amazon. Kelly Toys is known for producing some of the most beautiful toys with marshmallow-like polyester and texture, and Archie the Axolotl is probably the cutest of them. It costs around $27. 
Archie The Axolotl Pros and Cons:
Pros 
Con
– Super soft
– Guaranteed authenticity
– Easy to wash and dry
– Durable
– Stitching is not very good
– A bit expensive
Squishmallows Official Kellytoy Plush 12" Archie The Axolotl- Ultrasoft Stuffed Animal Plush Toy
SQUAD UP: Grow your Squishmallows Squad with this 12-inch plush.
SNUGGLE, SQUEEZE, AND PLAY: Bring this adorable plush on long car rides, airplanes, movie marathons and more.
MUST-HAVE: Bring the fun home with this Squishmallow, made with ultrasoft, high-quality materials.
ULTRA-SOFT: Squishmallows plush are made with high quality, ultra-soft materials.
AUTHENTIC AND ORIGINAL SQUISHMALLOWS: Please be careful who you buy from and what you pay.
Last update on 2022-12-29 / Affiliate links / Images from Amazon Product Advertising API
Jellycat Alice Axolotl Stuffed Animal
Established in 1999, the London-based brand Jellycat is known for creating quirky, soft toys for both kids and adults. Alice Axolotl is one of the brand's cutest soft plush stuffed animals. 
You will instantly fall in love with the luxurious fabrics and textures of this plush. The product is made with 100% polyester, measures 10 inches, and weighs 8 ounces. 
This irresistibly cuddly toy is an amazing gift for people of all ages. The plush is not suitable for machine washing. So, you will have to wash it by hand. The toy costs around $25. 
Jellycat Alice Axolotl Stuffed Animal Pros and Cons:
Pros
Con
– Soft and fluffy
– Resembles a real axolotl
100% polyester
– Should be hand-washed only
Jellycat Alice Axolotl Stuffed Animal
Stuffed animal size is 10 inches tall
Recommended for ages 12+ months
Made of 90% Polyester, 10% Acrylic
Spot clean only
Designed by Jellycat in London, UK
Last update on 2022-12-29 / Affiliate links / Images from Amazon Product Advertising API
This toy is the best option for those looking for something that looks like an axolotl. This fascinating salamander has soulful eyes, feathery pink gills, and a movable head and tail. 
This adorable toy will inspire your child's curiosity regarding the natural world. The plush measures 9 x 4 x 3 inches and weighs 0.81 ounces. 
The product is ideal for storytelling, puppet theater, daycare, teaching, pretend day, preschool teaching, presentations, role-playing, parties, collectibles, and gifts. This axolotl plush is available in pink and white. 
Made from high-quality materials, the puppet has exceptionally realistic details. Just slip it onto your finger and your child will start giggling. Yes, it can contribute to your child's development. This amazing axolotl toy costs $13. 
Folkmanis Axolotl Pros and Cons: 
Pros
Cons
– Soft, realistic and adorable
– Made of high-quality material
– Durable
– Not machine-washable
Folkmanis Axolotl, White, Pink
Easily animate the antics of this engaging axolotl finger puppet
Ideal for stage and puppet theater, storytelling, teaching, daycare, Pre-School, pretend play, role-playing, presentations, games, Collectibles, parties and gifts
Slip on to your finger to express This interactive salamander puppet
Constructed from high-quality materials with exceptionally realistic details; easy to care for years of play
Comfortably slips over finger; measures 9 x 4 x 3 inches (LxWxH)
Last update on 2022-12-29 / Affiliate links / Images from Amazon Product Advertising API
How Do You Make Stuffed Axolotls?
Making a stuffed axolotl is not difficult. Try doing it with your kids and they will get familiar with the art of sewing. For this you will need some plush fabric, toy safety eyes, wool felt, and scissors. 
If this is the first time you will make a stuffed axolotl, choose a simple pattern and then print the patterns out. Now trace the patterns on felt and cut the patterns out.
To sew the pieces together, use embroidery floss. Then stitch the plushie smoothly. 
Conclusion
There are thousands of plush toys on the market, which is one reason why choosing a high-quality toy can be tricky. However, unlike other toys, stuffed axolotls are not abundantly available.
We have presented some of the best products, and we hope you will be able to make an informed buying decision.