Axolotls are among the animals debated to be nocturnal. They tend to be more active at night and live in dark environments. Does that make them nocturnal?
Nocturnal creatures are active during the night and sleep during the day. They have heightened senses such as smell, sight, and hearing due to their activities in the dark.
Do axolotls sleep during the day? What are their sleeping habits? How do they locate their food in the dark? Keep on reading this article for insights.
Are Axolotls Nocturnal?
Axolotls cannot be considered nocturnal. This is because the behavior of amphibians is so unpredictable, even though they are more active during the night.
Axolotls have weak eyesight compared to other nocturnal animals. Therefore, the darkness will be advantageous for them.
Due to their poor eyesight, they hide in dark environments during the day to avoid being prey to their predator.
Thus, the slogan, 'if we don't see the predator, they shouldn't see us either. Axolotls survive best in very dark environments with streams or water bodies.
Can Axolotls See in The Dark?
Axolotls have weak eyesight and hence cannot see properly in the dark. However, having weak eyesight does not prevent them from performing their activities in the dark. They can mate, fight and even find food.
Axolotls have a great sense of smell; they can find food through smell. They also have a lateral line organ located along the side of their head and trunk, which is a sensory organ.
Do Axolotls Sleep at Night? 
Most axolotls tend to be active at night and sleep during the day. This is because their activity rate is high during the night compared to daytime.
Axolotls sleep during the darkest hours of the night and the day. During their sleep, they maintain certain habits to avoid detection from the predators, including;
They sleep with their eyes open since their eyes lack eyelids.
Retreat to dark hiding environments to avoid being seen.
Remaining still and lowering gill movement to avoid detection
Their body color turns pale.
During their sleep, they generally become dormant.
Are Axolotls More Active at Night?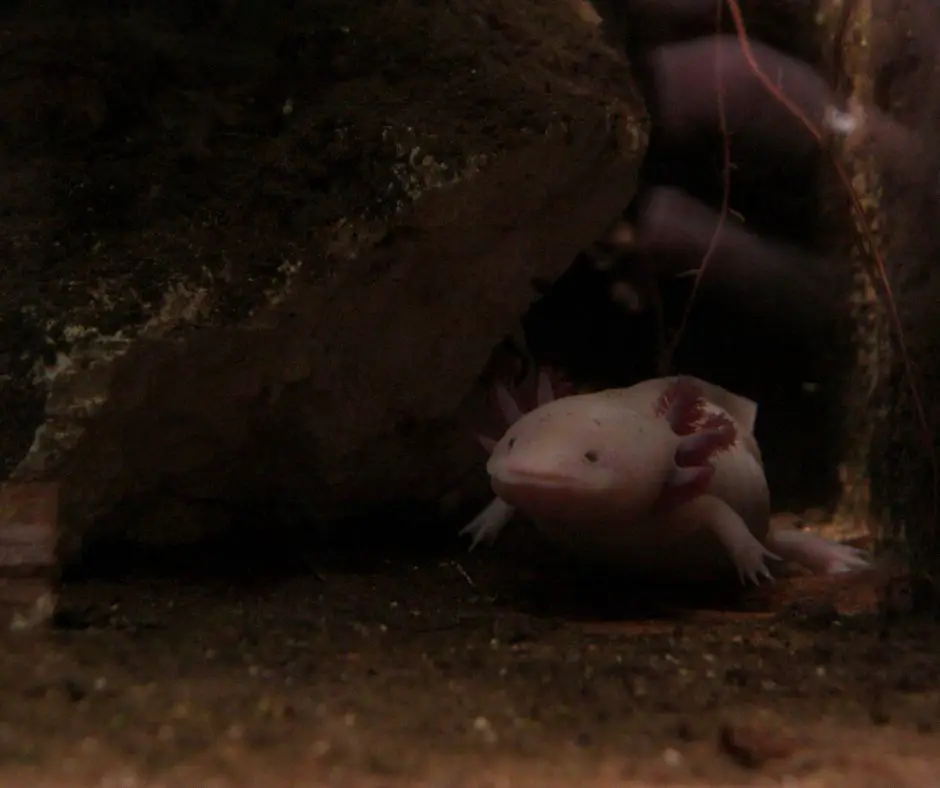 Axolotls are mostly active during the night, and this is when they tend to perform most of their activities. Axolotls are native to dark waters in their natural habitats, where they typically stay at the bottom of lakes.
An axolotl is happy when exposed to the dark. If an axolotl appears less active during this period, some factors need to be considered.
Your axolotls inactive could be because of a decrease in temperature or sickness. Moreover, your axolotl may become inactive if you introduce a larger axolotl than your axolotl in the habitat and intimidate it.
Conclusion
Axolotls' behavior is unpredictable. Older axolotls can get slightly active during the day and sleep during the night. This is different as compared to younger axolotl's characteristics.
Sleeping during the day and being active at night helps them avoid being preyed on. This character and also their sleeping habits keep them away from their predators.
Axolotls are greatly endangered because they are prey to many animals, water pollution, and climate change. These activities have resulted in the decrease of the axolotls' population.
Axolotls are not completely nocturnal animals; they slumber at mid-day and those hours at night when it's quite dark.