Most homes in the world have more than one pet. Dogs are the most popular pets. However, people are gradually adapting garter snakes. Their small size makes them idle pet snakes.
Nowadays, garter snakes are bought from pet shops. Having many pets can be awesome. The question many may ask. Can snakes and dogs live together as pets in one home, are garter snakes poisonous to dogs?
Are Garter Snakes Dangerous?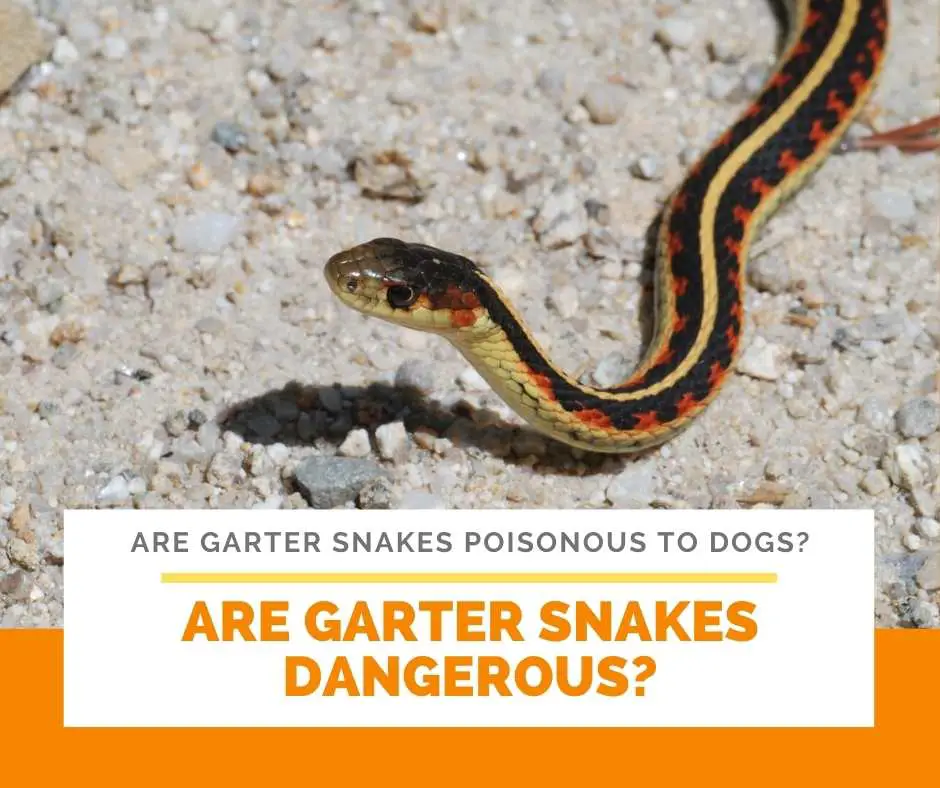 Garter snakes are generic names given to small to medium-sized snakes found in the north and central parts of America. They are striped snakes with lengths ranging from 18 to 54 inches and weighing averagely 140 grams. 
Most wild garter snakes are found in a small bush in your backyard. They usually search for food during summertime. However, they hibernate during winter. Kids might find them and start playing with the snake thinking it's a small moving pipe.
For a long time, people thought garter is a non-poisonous and docile snake. Recently, studies have found that they are not entirely non-dangerous. Garter snakes still have the behavior observed in other snakes. They can bite or run away when threatened. Sometimes they spit a musk when in danger.
When threatened, they will either bite or spite a musk on your body. The snake's bit has a mild toxin, but no worries, it only causes itching and sometimes swelling in the bitten area. When it bites, you disinfect to prevent bacterial infections.
Symptoms of Bite Allergies
Some people can be allergic to the bites. Although allergies are rare, Mayo Clinic recommends that anyone with symptoms of anaphylaxis, which includes nausea, dizziness, hives, and vomiting, you should call your local medical emergency number.
The most vital infection a garter snake can cause is an inflammation. The snakes feed on many items that carry many bacteria types. If they bite, bacterium in the snake's mouth is transferred in the bloodstream.
If not treated well following the guidelines mentioned by Dr. Troy E. Madsen, MD, from the University of Utah. He further said that, the bitten area may become infected and cause unwanted health problems.
Once the snake bites you because they thought you are food, they might get stuck in your body. Don't panic. Just push the head forward slowly; check to make sure the teeth are disengaged. Be careful not to damage the snake's head and your body after removing the snake, cleaning the bitten area, and letting the snake go to its habit.
Most garter snakes will emit foul-smell musk accompanied with faeces stored in its glands when feeling threatened. Pet garter snakes should be handled with care; fortunately, they are not like constrictor snakes like python. They should be treated gently to avoid them feeling threatened.
Are Garter Snake Toxic To Dogs?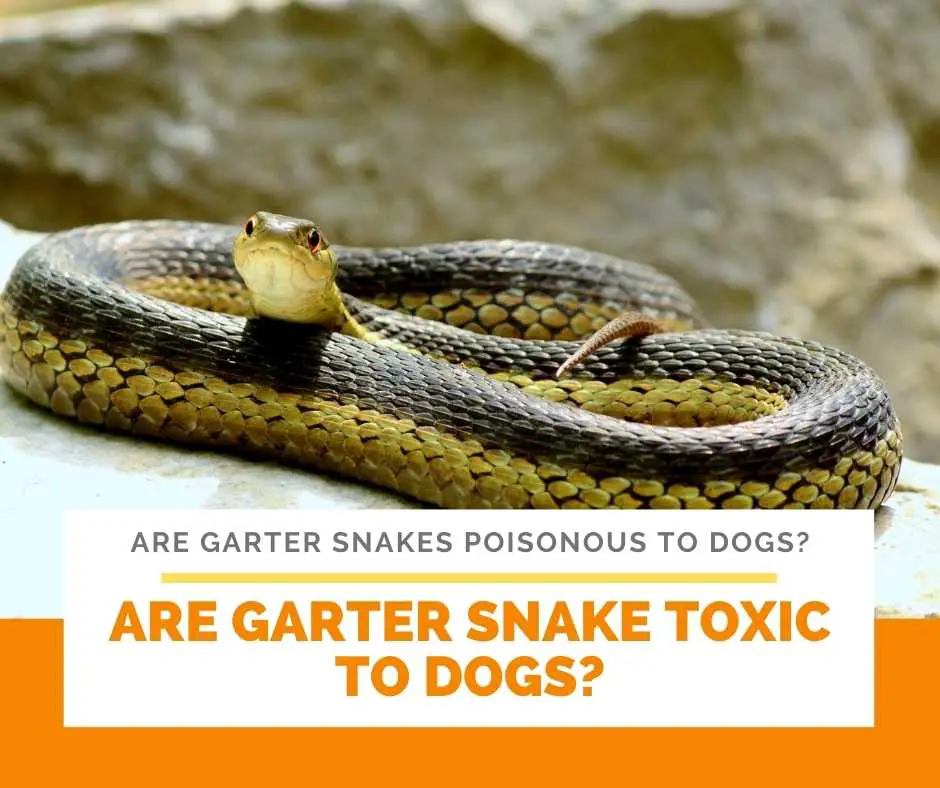 Most dogs like playing with other animals; sometimes, our dogs cannot differentiate harmful and dangerous pets. What may linger in the pet owner's minds are garter snakes poisonous to dogs.
The reaction a garter snake will have on your dog will depend on the encounter. Did your dog grasp, lick, or kill the snake? These aspects will determine the kind of action you will take. Whether it is an emergency or not.
Garter snakes are known to emit pungent venom that keeps predators away. Don't be shocked to see your dog having mild dizziness, increased salivation, pain, and swelling in the bitten area. Smaller dogs can vomit and have diarrhea.
Most times, a snake bites your dog either on the head or around the neck. An attack on the body is fatal. It doesn't matter whether the snake is poisonous or non-poisonous. Most snake bites affect the cardiopulmonary systems and causing blood clots.
Can A Garter Snake Hurt A Small Dog?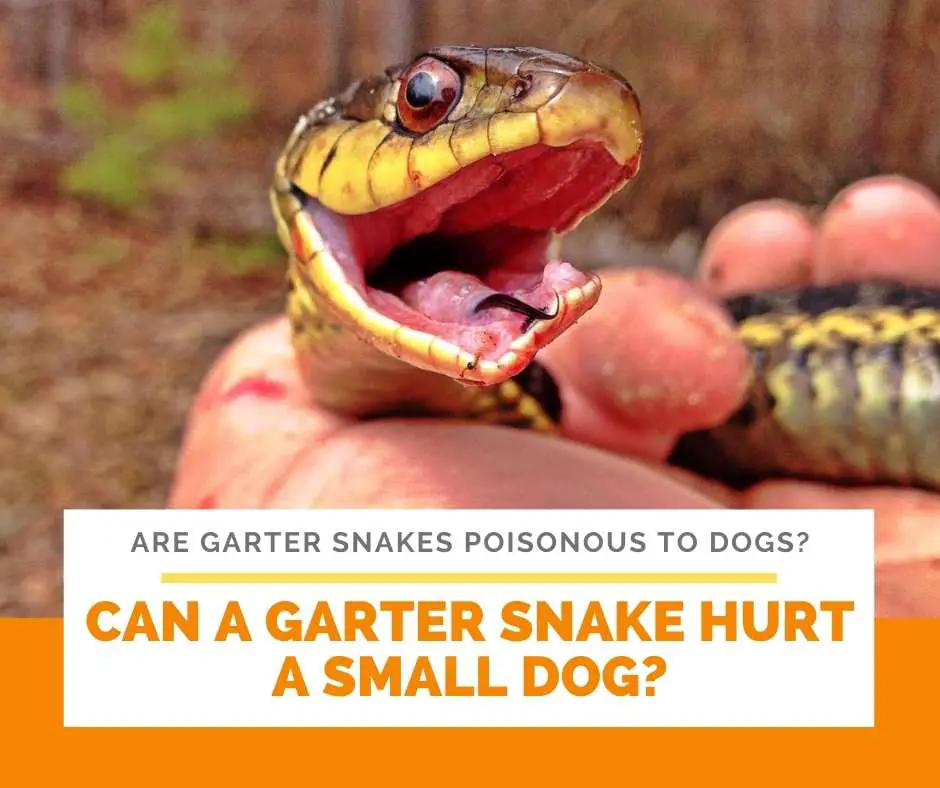 The severity of a snake bite depends on the size of the dog. Small dogs tend to be more affected by snakes compared to big dogs. Smaller dogs weigh between 7 to 35 pounds. Many people like keeping small dogs in their apartments.
Small dogs can be either puppies or small breed types; however, the question still arises: Are garter snakes poisonous to dogs?
Both Garter snake and Smaller dogs like a chihuahua, Jack Russell terrier, and Maltese, can be found in our houses as pets. Dogs are naturally human friendly and can easily be trained and tamed.
Your garter snake whether bought from a pet shop or caught from the wild, sometimes can never fully adapt to your home environment
Wild Garter snakes are known to hibernate in large groups. During winter and come out during summer looking for food. If you are living near thickets, don't be surprised to see garter snakes come to look for food in your backyard. Sometimes they come along with other more dangerous snake types.
Your small dog will quickly notice them and start playing with them. Wild garters are highly defensive; they will first spit a nasty smelling liquid on your dog's face or eyes. They can also easily bite. Your dog might suffer from dizziness and vomiting. Garter snakes use this mildly venomous spite to kill small insects before eating. 
Venomous and Non-Venomous Snakes
Non- venomous snakes like garter mainly cause inflammation and pain. Look for the bitten area—either a swelling and punctured wound in the skin. Snake bites cause intense pain, but less pain from a non-poisonous snake. You need to be cautious when touching the infected area because you never know which kind of snake has bitten your dog.
Never try to suck the venom out of the bitten area. Put ice on it to ease the pain. If you are not sure of what you are doing. You can try to keep the affected area below heart rate level, so that the poison do not spread to other parts of the body quickly, as you look for a veterinary.
What To Do For Safety Measures
As noted, the Garter snake never tends to bit. Usually, you will only need to perform a simple safety measure when your dog is bitten.
Start by cleansing the wound with running water, don't use soap. The injury needs to be cleaned to prevent bacterial infection. After rinsing the wound, you can now use mild anti-bacterial soap.
Don't use hydrogen peroxide in this scenario because it might prevent skin cells from healing quickly. Next, try to make the dog's wound dry.
Sometimes you might be required to tie the wound to stop the dog injuring itself while playing. You should avoid using bandages to cover the injury. If you tie a bandage, it will encourage the build-up of bacteria in the infected area.
Observe the wound keenly over the next few days to see if it is showing any signs of infection. If it develops complications, seek advice from your veterinary.
If you are sure, it is a garter snake that has bitten your dog, just clean the infected area. What if your dog eats the snake, what should you do? In this scenario, just call a veterinary.
What To Remember
Remember, dogs are not protected from snakes like humans who have knowledge of the harm to be caused. It is your responsibility as a pup parent to know how to keep your dog safe. During summer and dryer conditions, snakes thrive. All these conditions will drive snakes into your house and apartment.
How do you differentiate poisonous snake from non-poisonous: venomous snakes have pronounced jaws making the snakes head have arrow-shaped because the venom is lodged in the snakes head.
Non-venomous snakes have round-shaped head due to lack of venomous. But how can you tell if the snake is a garter snake? Generally, the snakes' color varies between reds and oranges and yellows, blues, and browns.
The essential characteristic is their striping pattern. They have three longitudinal stripes down their backs. They also have two-toned tongues that are red to the base and black on the tip.
Ways To Prevent Your Dog Getting Bitten By Snake
Let's see some ways you can prevent your puppy or small dog from being bitten by snakes:
Vaccination – if you live in an area infested with snakes, this is more of a pre-emptive measure. Most snakes will bite your dog and run away, becoming difficult to know whether it was non-venomous or venomous. It is better to get your dog vaccinated.
Leash your dog – keeping your puppy tied helps them not to roam and look for snakes to sniff. If you have a gutter snake pet, keep the leash shorter if you feel your dog might encounter the snake.
Avoid dense grass and rocks– snakes like hiding in thickets, they love cool places like thick grass and under stones because they are cold-blooded animals.
Keep on trails– when you are out hiking or roaming the neighborhood with your dog. Don't wander off the trail. Snakes are known to avoid human beings. It is rare to find snakes in paths.
Train your dog to avoid wild snakes-dogs are intelligent creatures. Train them to avoid snakes. You can make it a habit to call them when they see snakes. Reinforce the idea that snakes are dangerous.
Last update on 2022-12-29 / Affiliate links / Images from Amazon Product Advertising API
Are garter snakes poisonous to dogs?
Generally, garter snakes are found in many parts of America, especially North America. They are the most common pet snakes, although many are in the wild. They are small, timid snakes that are non-poisonous.
Like other snakes, they can quickly defend themselves under threat since they are sometimes found in our homes and yards. Your puppy can easily encounter them.
If provoked, they can easily bite your dog or emit a pungent-smelling substance. Their bite is not poisonous but can give your dog a bacterial infection or an allergy. Disinfect the bitten area and monitor your dog. In case of complications, call your veterinary.
Can a garter snake bit through your jeans?
Wearing jeans can partially prevent snake bites. It all depends on many factors: The snake bite speed, the size of the snake, and the type of jeans you are wearing.
In an experiment done on denim jeans, it was found that. Smaller snakes had difficulty biting through the jeans compared to large snakes.
Garter snake has small teeth compared to bigger snakes like a cobra. A bit from the garter snake is unlikely to penetrate a pair of jeans.
Garter snakes usually bruise and try to run away from perceived danger. People often wonder why Cowboys wear long jeans during the dry season. The long jeans pants help them reduce the impact of snake bites.