One of the most common questions that come up between axolotl owners is "which is the best axolotl commercial food?"
After all, every responsible axolotl owner wants to feed the best to their pet. This is very important for your pet's overall health and well-being. 
Axolotls need high-quality commercial pellets in addition to live and frozen foods. The pellets you choose should be high in protein and low in fats. They should be sinking and small-sized for your pet's tiny jaws.
With these features in mind, check out the list of the best axolotl commercial foods to feed your pet.
Why do Axolotls Need Commercial Food?
Well, axolotls love commercial food. Commercially prepared food products provide a complete diet for axolotls, so you will have some peace of mind, knowing that your little monster is not going to have nutritional deficiencies.
There are several reasons why axolotls can benefit from commercial food pellets: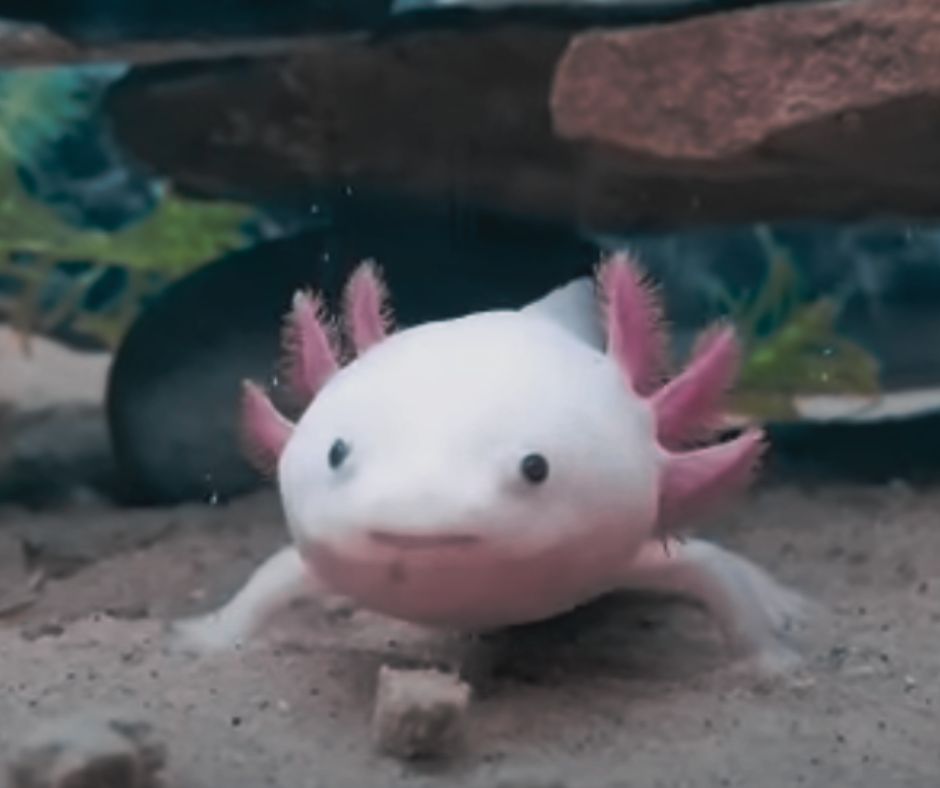 Pellets Provide a Balanced Nutrition
High-quality commercial foods for axolotls can provide your axolotl with balanced nourishment. They provide nutrition to your pet in a stable and concentrated form. This helps them feed to efficiently and grow to their highest potential.
Good-quality commercial axolotl feed contains protein in the range of 40-52% which is necessary for your carnivorous pet to repair worn-out tissues, enhance growth, and maintain body mass.
They Are Easy to Digest
The heat generated in conditioning and pelleting commercial foods break down the feedstuffs making them easier to digest for your pet.
Axolotls Love Their Taste 
Another reason why commercial diets are beneficial for axolotls is that they love them. High-quality pellets contain fish meal, fish oil, krill, herring, shrimp, pork, wheat gluten, maize, and other ingredients. These ingredients impart a delicious taste to the feed which even picky axolotls love.
Convenient to Feed
Pelleted commercial diets are easy and convenient to feed. Sometimes, bringing and chopping live mealworms and earthworms can be tedious, especially in peak winters. 
Even pet shops are unable to supply live food in freezing conditions. In such cases, you can easily feed pellets. Pellets are especially convenient when you have to travel and leave your axolotl in the care of a friend.
Please note that pellets should not be the only diet your axolotls eat- they need a balance of frozen, live, and pelleted food.
Buyer's Guide: What to Look For in a Good Commercial Food for Axolotl?
When choosing a commercial diet or pellets for your axolotl, please learn to read food labels. Your pet needs premium food that provides balanced nourishment to your pet. Here are the guidelines to consider when selecting commercial axolotl food:
It Should Contain Meat
Avoid vegetarian or plant-based foods since axolotls are carnivores. Without meat-based diets, your axolotls won't thrive. 
It Should Have Over 40% Protein
According to experts, axolotls need pellets with at least 40% protein and less than 25% fat.
Look for foods with fish meals as the first ingredient.
It Should Not Change The Water Hardness
Some salt-based pellets may change your water parameters by making the water too salty. Some pellets break and crumble where they muddy up the water. Avoid such pellets.
They Should Sink – not Float
Expert axolotl keepers recommend using sinking pellets since wild axolotls spend most of their time resting at the bottom of lakes and canals. Larvae swim better than adults, but most are also benthic.
If you choose floating pellets, you may need to specially train your axolotls to take it. Also, you might have to hand-feed these floating pellets or sticks which can be time-consuming.
Choose a Food That Your Pet Eats within a Few Minutes
It is important to choose food that your axolotl enjoys and eats up within a couple of minutes. Discard uneaten food to prevent ammonia spikes. Uneaten food can spread diseases and can be a hassle to clean. 
With these in mind, here are 5 best commercial axolotl foods.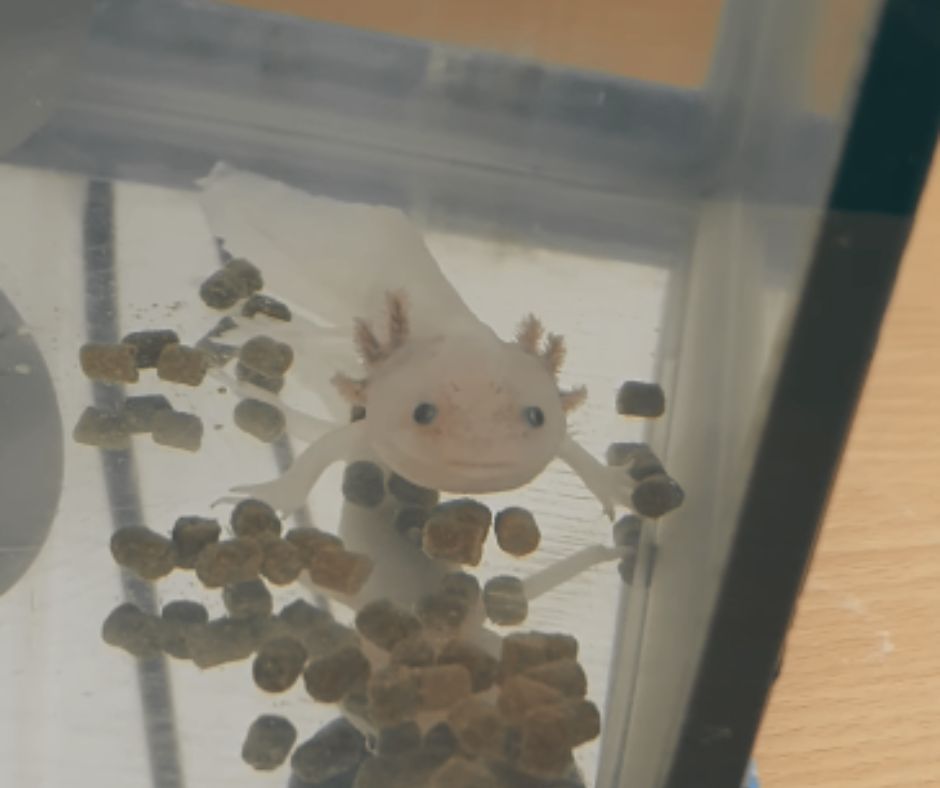 5 Best Axolotl Commercial Food and Their Reviews
We have selected these 5 top-rated axolotl foods based on honest reviews from real axolotl owners. They contain over 40% protein and are low in fat content. They are highly palatable and most axolotls have thrived on these foods.
Let's dive in. 
| | | | |
| --- | --- | --- | --- |
| Products | Meaty Sources | Protein Content(40% or Above) | Change the Hardness of Water |
| Invert Aquatics Soft Pellets for Axolotls | Fish and shrimp meals | 45% | May or may not change water chemistry since some pets quickly ate them up. In other cases, the pellets crumbled and led to messy water. |
| Hikari Sinking Carnivore Pellets for Pets | Fish and krill meal | 47% | Does not dissolve, so doesn't make water cloudy. |
| A Lotl Axolotls – Axolotl Pellets – Carnivore Food | Fish, herring, pork, kelp and poultry meals | 48% | The taste is great so most picky axolotls gobbled them quickly. This reduces cloudiness, hardness and odor in the water. |
| Freeze Dried California Blackworms | Blackworms | 68% | You may have to wash them before feeding to prevent tank clouding. |
| Aquatic Foods Inc. Soft Moist Sinking Pellets | Salmon meal | 45% | Sinking pellets with great taste that reduce cleanup hassle |
1. Our Top Pick – Invert Aquatics Soft Pellets for Axolotls
The reasons why we chose Invert Aquatic soft and moist pellets as our top pick is because it contains 45% protein without too much fat. The pellets are also suitable for juveniles and adult axolotls. 
Furthermore, these quick-sinking pellets provide optimum and blanced nourishment to your axolotl. They also taste great which makes it easy to feed picky eaters and reduces cleanup hassle of uneaten food from the tank.
Overview
Invert Aquatics Soft Pellets for Axolotls don't normally change your water chemistry as most axolotls quickly gobbled the delicious, soft, and moist pellets.
Since they sink, they are easier to feed than floating pellets.
The pellets are high in protein and low in fat as required for balanced axolotl nutrition. 
Small-sized trial packets available so you can experiment and see if your picky axolotl likes them. Also, for most users, a small bag lasted for over 4-6 months.
Many users report that their axolotls have better color and fluffier and longer gills after switching to these pellets.
Invert Aquatics Soft Pellets for Axolotls Pros and Cons: 
Pros
Cons
Soft, moist, and sinking pellets
Great daily nutrition for baby, juvies, and adult axolotls
Fortified with vitamins A, B12, and D
Protein-rich with 45% crude protein
Less than 20% fat
Most axolotls thrived on this nutritioous food.
A few picky axolotls refused to eat them
Invert Aquatics Soft Pellets
Last update on 2022-12-30 / Affiliate links / Images from Amazon Product Advertising API
---
 Your axolotl won't be able to resist the delicious taste of Hikari sinking pellets. They are also fortified wtih Vitamin C which is essential to build immunity and prevent stress in axolotls.
Hikari pellets contain fish and krill meals as the first two ingredients. This provides your pet with 47% crude protein. Moreover, the fat content of Hikari pellets is just 5%.
Overview 
Hikari Sinking Carnivore Pellets are completely balanced nutrition for axolotls. The brand uses bio-technology which helps add stable vitamin C as well as carotenoids to provide your pet with vitamin A.
This food can be made a part of daily diet or rotation diet for your axie
The tasty mix of fish, krill, and other ingredients ensure that your pet eats the food as soon as you add it to the tank. This prevents water cloudiness and ammonia spikes.
Hikari pellets do not crumble and most axolotls eat them quickly – so water chemistry is preserved.
Pros
Cons
Excellent flavor for picky eaters
Sinking pellets ideal for balanced daily diet
Fortified with vitamins and stabilzied using bio-technology
High protein and minimum fat content
Do not crumble or dissolve which prevents water cloudiness and hardness.
Reduces stress and enhances immunity in axolotls
Expensive with small sized bag
Organically Grown Earthworms
Last update on 2022-12-29 / Affiliate links / Images from Amazon Product Advertising API
---
3. Best Budget- A Lotl Axolotls – Axolotl Pellets – Carnivore Food
A Lotl Axolotl Pellets are an excellent food choice for axolotls if you cannot feed them earthworms for some reason. They contain nutritious protein-rich fish meal, pork meal, poultry meal, and herring meal which provide your axolotl with 48% protein and just 20% fat.
Alotl pellets also contain bloodmeal and kelp meals. They are also fortified with vitamins and minerals to keep your pet thriving.
Overview
 A Lotl Axolotls – Axolotl Pellets  are suitable for axolotls 4" or larger.
These high protein pellets can be used as daily food or treats for axolotls. They are packed with tons of nutrition including vitamins, and minerals to keep your axolotl healthy and happy.
They have a great flavor for picky eaters who gobble it up quickly. This helps keep the water clean, clear, and odor-free
Pros
Cons
High-protein meaty sources with great variety- fish, herring, poultry, and pork
Can be fed standalone or with other diets
Quick, convenient resealable pouch
Less than 3mm pellet size
Some axolotls did not like the taste.
Some users found these pellets too hard.
The fat content is slightly higher than the other products listed here.
A Lotl Axolotls
Last update on 2022-12-29 / Affiliate links / Images from Amazon Product Advertising API
---
4. High-Protein Floating Pellets – Aquatic Foods Inc. California Freeze-Dried Blackworms
There is a reason why many axolotl keepers keep ordering this high-quality freeze-dried food for their pets.
It contains over 65% of protein with very little fat. The freeze-dried black worms are sized between 1mm to 3mm – especially convenient to feed trained axolotls that eat floating pellets.
Overview
Aquatic Foods Inc. California Freeze-Dried Blackworms floating pellets are a mix of small and medium-sized pellets.
Aquatic Foods Inc, farm-raises these blackworms that are raised on special diets. This enhances their size so your pet gets maximum protein.
The worms are clean and safe so you need not worry about your pet's health.
They are perfect to feed axolotls over 3".
One tip for use is to wash them ina  fine-mesh net before feeding so they won't cloudy up your tank.
Pros
Cons
Processed in the USA
Very high protein – almost 65-68%
Mixture of small and medium-sized pellets
Tend to float so you may have to feed by hand or train your axies to eat them.
Freeze Dried California Blackworms
Last update on 2022-12-29 / Affiliate links / Images from Amazon Product Advertising API
---
5. Best Premium – Aquatic Foods Inc. Soft Moist Sinking Pellets
If you don't mind paying slightly more for your axolotl's food, these Aquatic Foods salmon pellets are a great choice. They come in a 5-lb jar which can last you for several months and are a value for money.
The pellets are small in size – about ⅛" in diameter, and they sink quickly. They are also tasty, so your pet will gobble them up immediately. They also provide your pet with 45% protein.
Overview
Aquatic Foods Inc. Soft Moist Sinking Pellets are manufactured by a top brand that is a pioneer in all kinds of aquatic pet care products. The manufacturer even removes dust before shipping. This preserves your water quality and prevents interfering with its hardness.
These rangen salmon pellets are high in protein- 45% and low in fat – 12%
They are ideal size for all life stages of axolotls
The pellets don't crumble or break easily. They sink to the bottom for easy feeding.
Pros
Cons
High-quality pellets. 
No cruumbing, dust, or mess
Large jar is value for money for multiple pets
Daily diet or treats
Higher price
Hikari Sinking Carnivore Pellets
Hikari Sinking Carnivore Pellets for Pets, 2.61-Ounce 2 pack by HIKARI
2-Pack (2.61 oz per pack) Outstanding palatability, most carnivorous fish attack this unique diet
High in stabilized vitamin C to reduce stress and build immunity to diseases
A well balanced combination of nutritious ingredients fortified with vitamins and minerals to provide protein levels consistent with live foods
Bio-Technology allows us to use the highest grade of carotenoids available today
Will Not Dissolve Nor Cloud The Water
Last update on 2022-12-29 / Affiliate links / Images from Amazon Product Advertising API
---
What Do Axolotls Eat in Captivity?
In captivity, axolotls eat smaller animals and water-based insects. Different types of worms, brine shrimp, daphnia, and nightcrawlers, are also used as food for axolotls.
Luckily, all these animals and insects are available on the market. According to experts, axolotls eat the following in captivity:
Live Foods – Insects and Worms
Live foods like insects and worms are an excellent source of protein for your axolotl.  The best worms for your pet are earthworms, mealworms, bloodworms, night crawlers, wax worms, and black worms. You can easily find these in pet stores or even farm them.
Always cut the worms into around 1 cm bit pieces for your baby axolotl. As your pet grows, you can feed slightly larger pieces.
Insects are also a great food choice; you may feed your pet crickets, mosquitoes, and their larvae.
Many people also feed frozen or freeze-dried worms to their pet axolotls. However, these are not nutrient-rich and may only be fed as occasional treats or snacks.
Brine Shrimp and Daphnia
Baby axolotls can thrive on live brine shrimp. Here is a video showing a baby axolotl eating freshly hatched brine shrimp. 
Pellets
Pelleted food is a great option on the days when you don't feel like chopping up worms. There are plenty of great choices and you can select one of the foods above. Just make sure to choose food with over 40% protein and low in fat.
What is axolotls main food source?
Axolotls main food source is live worms. They may also eat live shrimp, insects, small fish, and anything else that can fit in their mouths.
What can you feed your axolotl if out of food?
Lean pieces of beef or cooked chicken are a good choice of food for axolotls but only occasionally. Please feed some live worms or insects to your pet.
How often do you feed axolotls?
Most axolotls need to feed two to three times a week. You can feed your nocturnal pet around dusk to adhere to its natural feeding cycle and circadian rhythm.
In Conclusion
The best commercial food for axolotls is Invert Aquatics Soft Pellets for Axolotls. It is protein rich, does not affect water chemistry, and most axolotls love its taste. Its moist sinking pellets provide optimum daily nutrition for your baby, juvenile, and adult axoltols. 
You can also consider Hikari Sinking Carnivore Pellets which contain tons of vitamin C to keep your pet healthy and thriving.
We hope this guide helps you select the best axolotl commercial food.