Where do bearded dragons live? Do we need to set up a completely bearded dragon habitat? Wild dragons occupy diverse habitats, including warm and arid areas like deserts, dry forests, arid and rocky areas, and scrubland. 
Many bearded dragons today act as perfect pets, and they live with humans. To increase the survivability of our beardies, we need to provide the best environment that emulates their natural habitat.
In this article, you are going to see what you need for a bearded dragon habitat, how you can easily create the best habitat for your beardie and more.  
If you are ready to assimilate a surfeit of amazing bearded dragon's habitat setup ideas, you are in the right place, keep reading the article. 
The Best Bearded Dragon Habitat Setup at a Glance
What Your Beardie Needs in their Habitat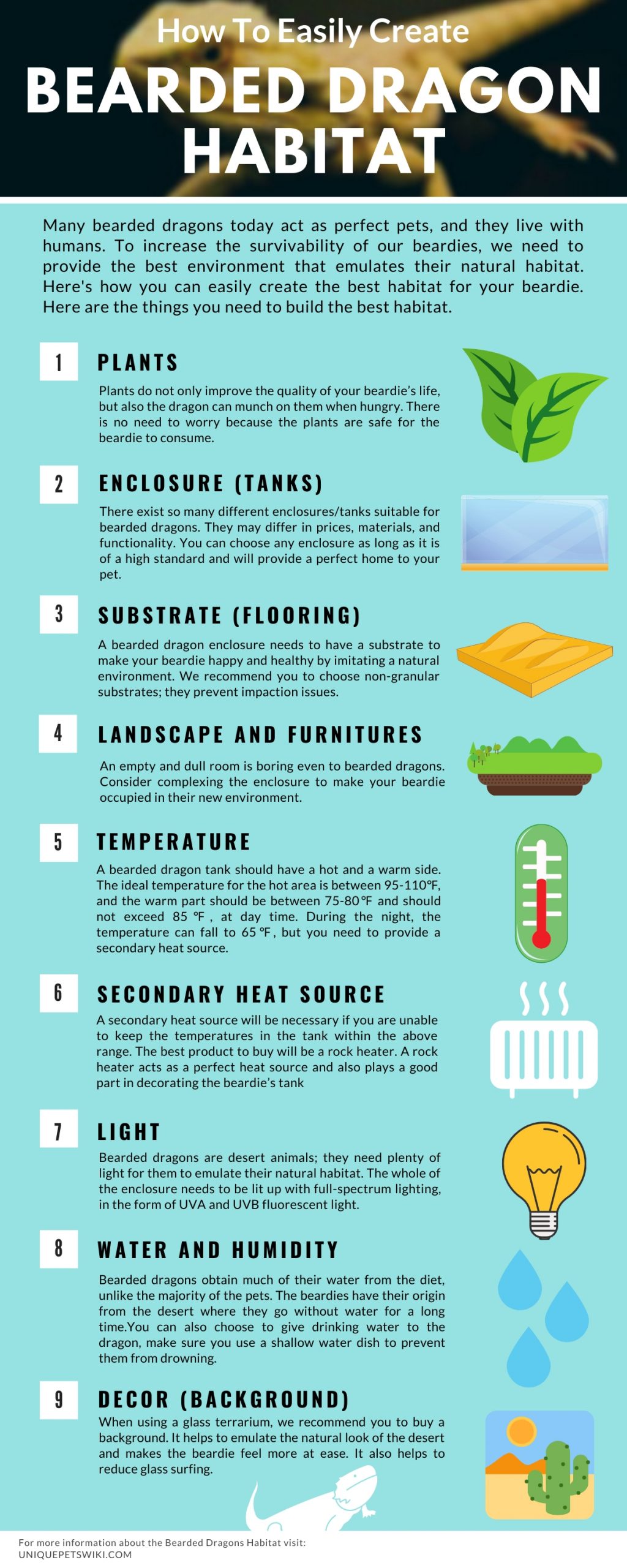 What do you need for a bearded dragon habitat? Do you already have your beardie, or are you planning to get one, and you are wondering what the ideal habitat for the beardie is? Well, you don't need to worry again, you will get all the answers just here. 
When you want your beardie to have a fantastic cage, design it bearing in mind that the beardie is a desert animal from Australia.
The fact that beardies originate from arid areas they require warmth (a basking light), low humidity and sufficient light (full spectrum UVA/UVB). 
When buying an enclosure for your pet, please avoid all in one reptile cages; they are not perfect options for beardies. 
It is simpler to obtain all the accessories at once, and people will be enticed to buy such a product. However, the thermometer from all in one product does not give reliable and accurate temperature readings. Their UVB light is rarely efficient enough. 
Plants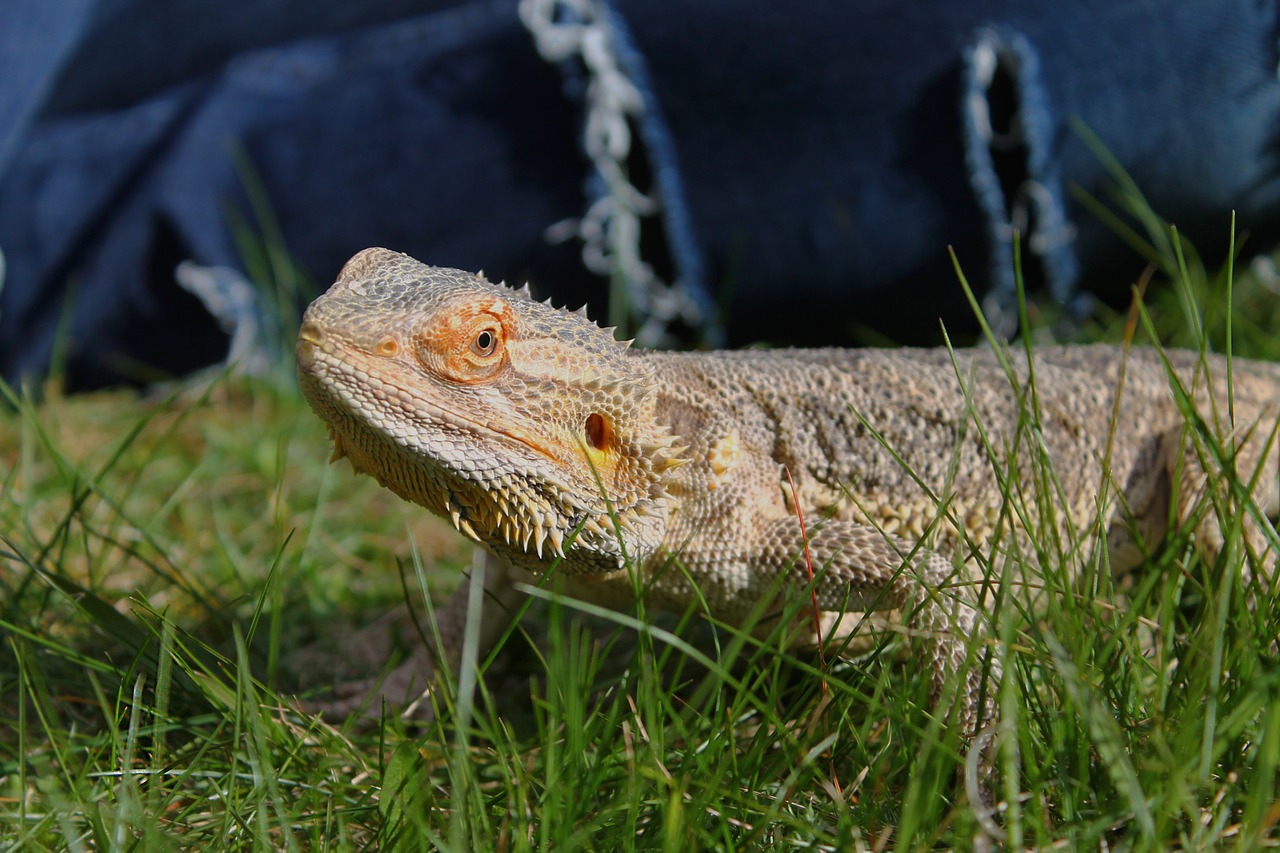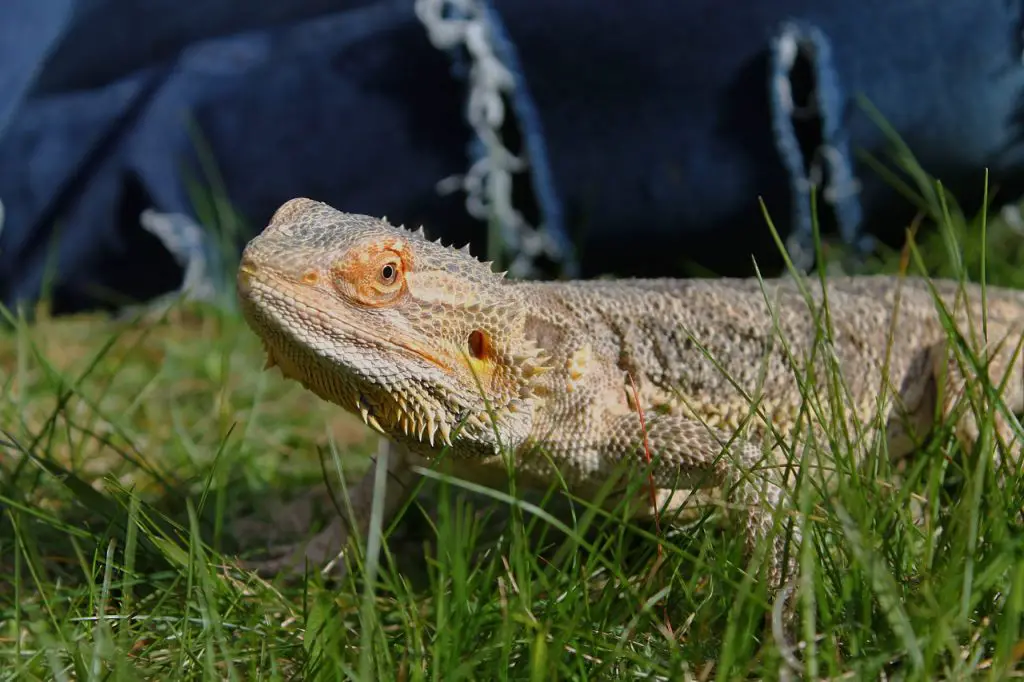 It is always a good idea to have the necessary knowledge about caring for bearded dragons to prevent you from complicating their habitat. 
The same way you will not want to stay in a dull and ugly environment, consider the same for your adorable little friend. It will also hate to be in the uninteresting surroundings, and this can tremendously affect your beardie's life. 
Bearded dragons are very fussy reptiles when it comes to their habitat. If they are not comfortable and happy in the place they are living, they will experience a substandard life. 
There are ideal plants for bearded dragon habitat that will help you to achieve your decorating endeavors. You can choose to use live or plastic plants to make your beardie fall in love with its home. The plants add personality to the enclosure and enable the beardie to enjoy living there. 
Plastic Plants
You can install plastic/fake plants in your beardie's habitat. Many people opt to use artificial plants because of their unlimited advantages. Let's see some of the reasons that can attract you to go for plastic plants. 
You can quickly move plastic plants to different locations in the enclosure.
You can always wash them to remove any dirt. 
Fake plants do not die. 
They don't require special lighting and water. 
No risks of diarrhea.
Plastic plants are safe to use in your beardie's enclosure as long as the beardie will not be stimulated to eat its foliage. It is dangerous if ingested because it can cause blockage of the pet's digestive tract. Make sure to feed your beardie well. Provide enough vegetables frequently. 
However, fake plants are successfully used in bearded dragon cages, and they are safe to use. It doesn't mean that the beardie is going to eat the plant. They don't taste real or smell, not even the most realistic looking plants.
Fake plants are the best alternatives for the enclosure; they can also make a perfect décor for your house. 
Best Plastic Plants for Bearded Dragon Habitat
There is a wide variety of fake plants available to use in decorating a bearded dragon habitat. It is quite a challenge to choose the best type for your beardie if it is the first time to buy it, but don't worry. 
Here, I have the best fake plants that are excellent options to use in your pet's habitat. 
Hanging Silk Terrarium Plant
Hanging silk terrarium plant by SLSON brand is an exact copy of its natural counterpart, with its green and shiny leaves. It is a superb plant in decorating, enlarging the dwelling area, and creating hiding spots in the enclosure. Try it for natural-looking decoration. 
Product Highlight
The silk makes this beautiful plant easy to clean, and it is easy to maintain it. It is a perfect choice even in places where live plants cannot thrive, do not require necessities like water and light. It gives your pet a sense of being at home in the wild. Buy from Amazon. 
What I Like
Beautiful and full looking plant.
It is light and easy to install.
You can cut the stems apart as you wish.
Safe material for your beardie.
It has a super-strong suction
What I Don't Like
LOVIVER Plastic Reptile Terrarium Plants
These plants are life-like looking and are a great option in relieving stress for your beardie. It is suitable for use in the terrarium, aquarium, household decoration, and reptile tanks. 
It creates a natural hiding place for your pet and makes its life even more fun. 
Product Highlight
It does not require water, food, or lighting; thus, you can easily use it in those areas where real plants can't survive. Buy the material from Amazon.
What I Like
A single package comes with two pieces of artificial plants. 
Fluker's Repta Vines-Pothos for Reptiles and Amphibians
Fluker's Repta Vines for reptiles and amphibians is an excellent fake plant for bearded dragon cages. The product comes with suction cups; it will easily stick to any glass terrarium and gives a beautiful look. 
There are different styles of the product, including everything from Pothos and other forms like purple coleus, red coleus, and English ivy. Thus, it gives you a chance to choose the type that pleases you. 
Product Highlight
The product is made of non-toxic plastic material that is easy to clean and disinfect. It has a perfect length, low price, and looks great. 
What I Like
It is more natural and flexible, giving you a chance to position it wherever you want. 
You can drape the material around hides or branches. 
They look pretty nice for decoration.
What I Don't Like
It may give you a tough time to hang the material because the cups may provide less suction. 
Last update on 2022-12-30 / Affiliate links / Images from Amazon Product Advertising API
Live Plants
Under proper care, live plants can thrive and survive in a bearded dragon habitat. Live plants, together with other items, create a fascinating and complex surrounding for your beardie to enjoy. 
Live plants do not only improve the quality of your beardie's life, but also the dragon can munch on them when hungry. There is no need to worry because the plants are safe for the beardie to consume. Be ready for that; you will just need to replace the plants regularly. 
Generally, having live plants in the enclosure means that there is more work for you. Make sure you are prepared to give extra energy and time before you purchase a live plant. 
Be watchful on your pet's stool; some plants can escalate its water intake and make the poop runny. If that is the case, don't hesitate to remove the plant and try a different one. 
Best Live Plants for a Bearded Dragon Cage
There are many different live plants available to use in the beardie's habitat; our list contains only the safe plants. 
5 Large Tillandsia Ionantha Live Plant
Tillandsia Ionantha is a popular and beautiful plant for desert-like habitats. It is effortless to care for and maintain these plants. They don't need soil, require moderate light and low amounts of water, a single watering in a week is enough. 
It is an excellent choice material to bring life to your beardie's habitat. The plant comes in different sizes allowing you to choose the one that meets your needs. 
Product Highlight
The plant can turn a pink-red and have purple flowers that make it even more attractive. It stays pretty small and will not occupy much space in the enclosure. 
It will adhere to your pet's background, rocks, and anywhere. 
New to bearded dragon? Check out the bearded dragon care sheet now! We had listed out all the things you need to know about bearded dragons as pets. Check it now!
What I Like
The plant is lovely.
It is easy to maintain.
It requires minimal water. 
What I Don't Like
The plant stays relatively small, and cannot fill a specific place fully. 
Edible Herbs
Edible herbs such as basil, chives, cilantro, rosemary, and parsley are a superb option for bearded dragon's enclosures. They have a great taste that your pet enjoys every munch on the leaves. 
You can buy the seeds and start to grow the plant yourself, or you can purchase already started plants.
Product Highlight
Edible herbs can grow well indoors all-year-round. They have a 100% growth success promise. It is simple to plant the herbs and is super convenient. It is a great value product and is cost-effective. 
What I Like
It is readily available.
Easy to grow.
Great price. 
The beardies enjoy munching on the herbs; they make life more fun. 
What I Don't Like
It will not last for a long time since the beardies tend to eat the leaves faster more than they can grow. 
The plants do not perform well under high temperatures; you need to remove or switch them out every few days.
Echeveria 
Echeveria succulent plant offers a great and safe option when it comes to introducing plants in your beardie's cage. They will do well in bright light in the enclosure, keep them on the cooler side of the habitat. 
The product comes in a variety of colors, texture, shapes, and sizes, and they grow as globe-shaped species. 
Product Highlight
Echeveria adds a colorful and exotic natural beauty to your beardie's cage; it is also an ideal option to use in offices and other places you wish. The plant does not require much of your effort to thrive; they have very minimal care requirements. It is very flexible. 
What I Like
It can survive without water for quite a long time than the majority of the enclosure's plants.
It comes in different colors, shape, texture, and size and allows you to choose what you want. 
The plant requires low maintenance. 
What I Don't Like
Enclosure (Tanks)
There exist so many different enclosures/tanks suitable for bearded dragons. They may differ in prices, materials, and functionality. You can choose any enclosure as long as it is of a high standard and will provide a perfect home to your pet. 
Remember to have a screen lid in any product you choose. It helps to keep the humidity level down and enhances the proper flow of the air. 
Moreover, every enclosure must contain UVA, UVB, and basking lights; the three are necessities in the habitat. Also, do leave out a ceramic heat emitter to warm the tank at night if necessary. 
Let's explore different enclosures you can use for your beardie. 
Glass Enclosures 
Glass Terrarium
Are you looking forward to providing the best habitat for your beardie? Glass terrariums are a good option. Glass terrariums are safe and secure tanks that allow you to look through.
It is also useful in retaining heat and keeping a high temperature required by bearded dragons. 
Using a glass terrarium means that you have to clean the cage regularly since it does not allow the free circulation of air. It could lead to respiratory infections.
You also cannot use a heating pad because the glass can crack if it comes in direct contact with it. 
Now, let's jump direct into discussing the best glass terrarium for your bearded dragon. 
Carolina Custom Cages Terrarium, Extra-Long
Carolina custom cages terrarium is high quality and ideal bearded dragon terrarium. You will get it at a very affordable price and is the right choice terrarium to be used by your beardie for its entire life. 
It is a naturally beautiful cage and can accommodate both old and young bearded dragons; it has a perfect amount of space. 
Product Highlight
Carolina custom cages terrarium is very easy to assemble, and it comes in 18 different models. It is great news because you choose what you want. All the terrariums have a waterproof base and key-lock security. The 27 inches model and 36 inches model have a sliding hinge. 
Its top mesh can perfectly accommodate the lamps and glass, which superbly retains heat. The overall enclosure holds in heat well. 
What I Like
Long-life and durable terrarium.
The presence of the top screen makes it superb in ventilation. 
Reliable product and company.
It is a great size and premium product. 
REPTI ZOO Reptile Glass Terrarium
This high-quality glass terrarium by REPTI ZOO brand provides an enjoyable and comfortable home to juveniles and adults that are approximately 10-16 inches long.
It has many accessories for the best setup for beardies already built-in. 
It comes in two different sizes, has glass sides to retain heat and a strengthened screen on top for ventilation and security purposes. 
Product Highlight
The front doors can easily open to facilitate feeding and prevent the pet from escaping. Its raised bottom frame allows you to install a substrate heater, and the bottom is waterproof. 
What I Like
It is easy to install.
It has a screen top for ventilation.
It is durable and well structured.
A raised bottom for heating mat/substrate. 
Secure windows and doors.
What I Don't Like
It can be hard to connect the terrarium. 
Exo Terra Outback Terrarium
If you are looking for a pocket-friendly terrarium that is suitable for baby and juvenile bearded dragons, this is the right product for you. It is an awesome terrarium, allows excellent circulation of air, and retains the necessary warmth. 
Product Highlight
It has front doors that freely open to allow easy access into the cage for feeding and maintenance. It also has specially designed locks to prevent escape, and the doors can open separately.
The product comes with closable wires or tube inlets on the sides, which allows you to install sensors, heatwave rocks on the inside. 
It has a painted outback 3D rock background, and the raised bottom allows you to fix a substrate heater. 
What I Like
Great value product.
It is durable.
Its 3D background makes it look great.
It has dual doors for easy access to the terrarium and security purposes. 
What I Don't Like
The terrarium is minimal for adult bearded dragons. 
Exo Terra Glass Terrarium Kit, Mini Wide
This is a premium glass terrarium that is suitable for reptiles and amphibians. It provides a perfect depth enough for the substrate. Don't be afraid to try this beautiful terrarium for your beardie. 
Product Highlight
It is secure with locking glass panels and screen tops. The product has a raised bottom to mount the substrate heater, and it is waterproof. 
What I Like
The presence of the escape-proof dual locks helps to prevent your pet from escaping. 
A raised and waterproof bottom. 
What I Don't Like
The lock may be quite hard to operate. 
Last update on 2022-12-29 / Affiliate links / Images from Amazon Product Advertising API
Plastic Enclosures
Plastic terrariums are becoming popular as perfect enclosures for the beardies due to their latest improvements. They look more like glass terrariums that it is even hard to tell the differences. They are cheaper and long-lasting. 
Unlike glass terrariums that crack in case of damage, these enclosures only develop scratches. 
PVC Cages
48*23.5*18 inches tall bearded dragon, large snake PVC cage
These cages are made of PVC plastics; they are light in weight and have a beautiful smooth finish to them. They are lighter than the melamine cages. 
PVC is a poor heat conductor; therefore, it plays a perfect role in heat insulation. They will serve you for a very long time. 
The downside of PVC is that it is expensive; they require proper aeration to ensure that humidity does not spike.
Vision Cages
Vision Cages Model 734- Reptile, Lizard, Snake Cages.
Vision Cages Model 622- Reptile, Lizard, Snake Cages.
Vision Cages Model 415-Reptile, Lizard, Snake Cages.
Vision Cages Model 322-Reptile, Lizard, Snake Cages.
Vision cages are made from a single piece of plastic, and they feature inbuilt fixtures like heating, lighting, etc. 
They are easy to clean, and are resistant to heat from heating lamps, and chemicals. They are lightweight products and stackable. 
As for the cons, vision cages tend to be very costly. 
ABS Cages
ABS cages are not very different from PVC and vision cages; the only difference is that they are made of ABS plastic. ABS cages are light in weight and can easily be moved and cleaned. They are non-toxic plastics. 
ABS downside- they are costly, and they need proper ventilation. 
Wood Enclosures
Melamine cages
Reptile enclosures white melamine.
Reptile enclosures black melamine.
4ft 48*24* 24 Screen Top melamine cage. 
Melamine is a strong wood that provides excellent heat insulation, durable, and fire-resistant. A white melamine surface ensures a great reflection of light and makes your pet colorful; you can see them well. 
The downside of melamine is that under poor maintenance, the wood can rot due to water, and it is costly. 
Plywood Cage For Bearded Dragons(And Other Reptiles)
Many people prefer to make their own custom bearded dragon cage; it helps to save money, is lightweight and easy to use, and retains heat. Plywood cages have glasses to allow you to see your reptile. 
One con about plywood is that it can rot under poor maintenance and when it gets wet continually. 
Recommended Tank Size For Bearded Dragon
The size of the bearded dragon tank to buy will depend on the size of your beardie. Every beardie needs a flexible space to thrive. 
Take a look at the following sizes for the bearded dragon tank.
Baby bearded dragons need a 20-gallon tank. 
Juvenile bearded dragons need a 40-gallon tank.
Adult bearded dragons require at least a 50-gallon tank, but an ideal one would be 75-gallon.
A large adult bearded dragon(giant) over 20 inches need at least a 75-gallon tank, but a 125-gallon tank would be a great one to go.
Substrate (Flooring) Or Bedding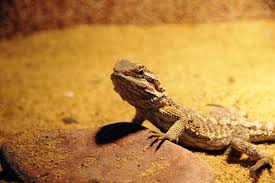 A bearded dragon enclosure needs to have a substrate to make your beardie maintain happy and healthy by simulating a natural environment. 
There are so many options available for suitable bearded dragon's substrates. People will also have different preferences about what product to choose.
But I recommend you to choose non-granular substrates; they prevent impaction issues. 
Let's have a look at what is a loose particle (granular) and non- particle substrate. 
First substrate Option: Loose Particle Based
Loose particle based-substrates are free and are associated with dust and debris. The good thing about loose substrates is that it enables the beardie to express its instinct of burrowing. 
However, these substates expose your pet to many risks such as gut impaction when ingested, it can get into your pet's nose or eye, the dust can cause respiratory infections. 
The following are some examples of the popular loose substrates, if possible, avoid them all. 
Gravel.
Wood shavings/chips because wood is toxic to beardies.
Millet.
Calcium sand.
Alfalfa pellets.
Walnut shells.
Play sand.
Second substrate Option: Non-particle Substrates
Non-particle substrates are safe to use in bearded dragon enclosures. They eliminate impaction because the beardie cannot ingest them. 
These substrates have many advantages over the particle substrates; they are easy to clean and use, durable, dust-free, enhance the beauty in the enclosure, among others. 
Here are the popular kinds of non-particle substrates. 
Paper towels.
Newspapers.
Ceramic tile.
Non-adhesive linoleum. 
Reptile carpets. 
Each product tends to have its downsides. For example, the beardie's nail can get stuck in reptile carpets. Ceramic tiles can be slippery. To avoid such a problem, keep your pet's nails cut, provide some plants or other items for climbing. 
New to bearded dragon? Check out the bearded dragon care sheet now! We had listed out all the things you need to know about bearded dragons as pets. Check it now!
Landscaping, Furniture, Decor Needs (Branches, Plants, Rocks, etc.)
An empty and dull room is boring even to bearded dragons. Consider complexing the enclosure to make your beardie occupied in their new environment. 
A Large Rock, Branch, or Some Type of Platform
A large rock, branch, or some type of platform will be necessary to allow a place for the beardie to climb and come close, about 10 inches to the basking light. Lighting helps to keep the beardie healthy and aids in the digestion. 
Safe Plants For Bearded Dragon
At least you are now aware of the safe and best plants to keep in the enclosure; they act as splendid decors. 
Good Hides For Your Bearded Dragon
The beardies need a little reptile hide where it can sleep inside or sneak. During brumation, the beardies spend the majority of their life in these hides. During this period, bearded dragons remain inactive to escape extreme colds when the temperatures are low. 
Hammock(Nice Decor That Must Have)
Look for a hammock specifically designed for bearded dragons. They are unique furniture ideal for use in the dragon's cages. 
Bearded dragons like to lounge in the hammock. You can get a hammock that hangs in your pet's habitat. They are available from local pet stores or online. 
Temperature For Bearded Dragon Habitat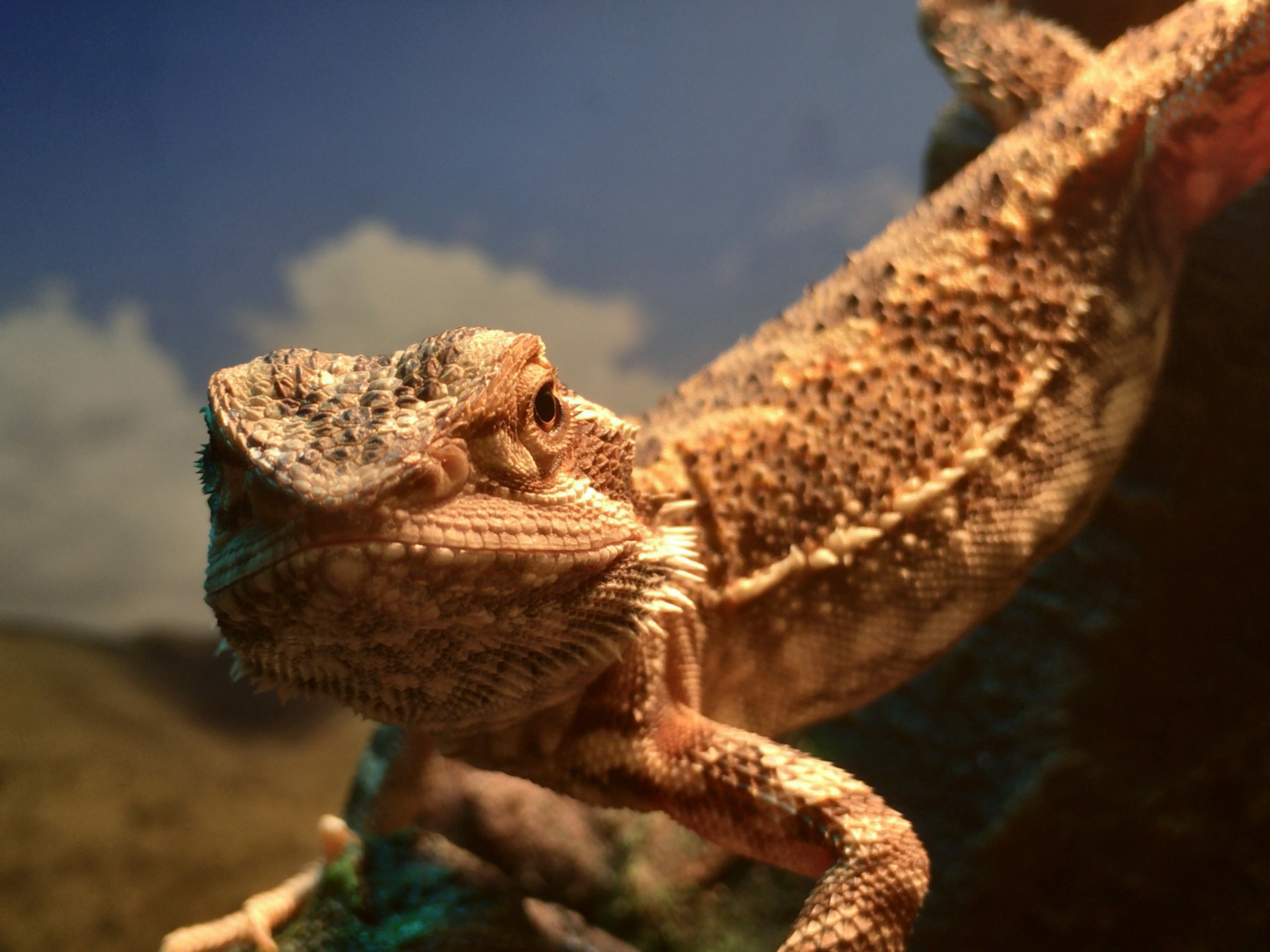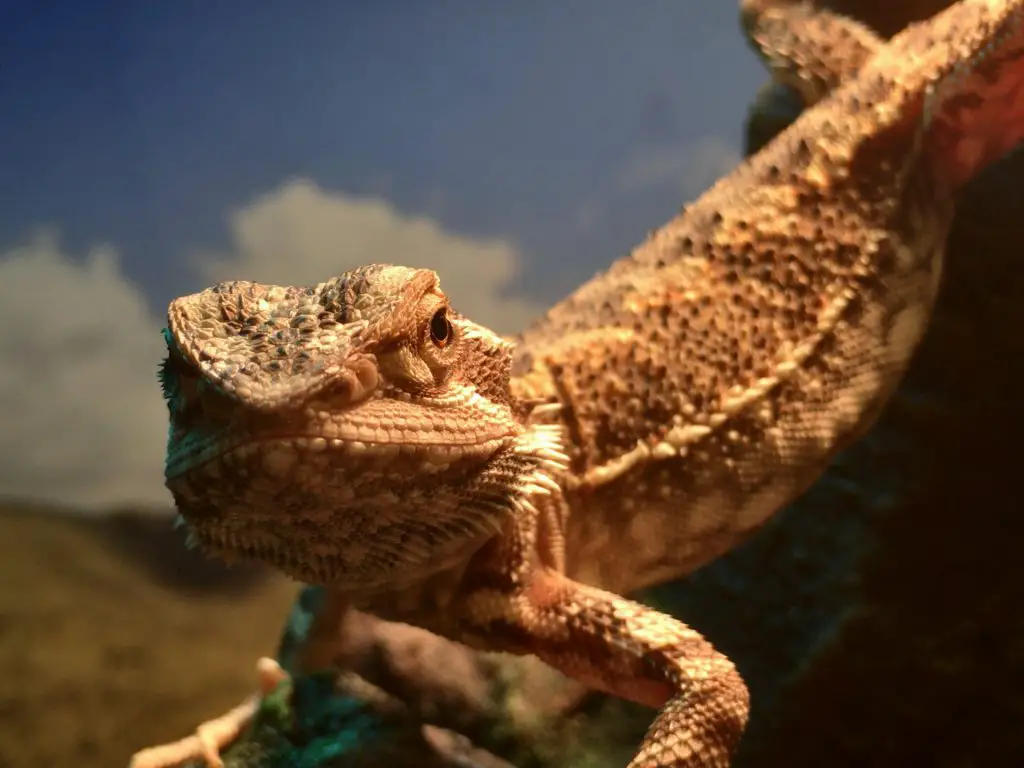 A bearded dragon tank should have a hot and a warm side. The ideal temperature for the hot area is between 95-110℉, and the warm part should be between 75-80℉ and should not exceed 85℉, at day time. 
During the night, the temperature can fall to 65℉, but you need to provide a secondary heat source. We are going to see examples of a secondary heat source shortly. 
When it comes to basking, adults need a basking temperature of about 100℉, and juveniles perform well at a warm temperature of around 110℉. 
You need to have two separate thermometers, one installed at the hot side and the side on the warm side. They will ensure that the temperatures from both sides are ideal. 
How to Set Up Automatic Temperature Control for Your Bearded Dragon Tank?
Immediately after setting up your beardie's enclosure, the foremost thing to do is find out how to maintain the adequate temperature. It will be vital for the welfare of your pet and to keep her healthy and active. 
If the temperatures go below 65℉, especially at night, the beardie tends to be lethargic. A further drop in temperature causes their body to shut down, and may die if you don't warm them up to adequate temperature. 
The best thing is to control the heating system in your pet's enclosure to maintain the day and night temperatures. Using a thermostat and a timer will help you to achieve the best control over the temperatures in the tank automatically. 
Why a Thermostat?
Choosing a thermostat is the right option to keep the correct temperature in the tank. It regulates the temperature in the enclosure by dimming the basking light down when it is extremely hot. It will also switch the lamp on when temperatures decline. 
Owning a thermostat saves you from constantly going to the enclosure to check the temperatures and putting the lamp off and on manually. It ensures that the tank has correct temperatures throughout. Check out this quality thermostat that you can safely use. 
Why a Timer?
A timer is a piece of significant equipment and will greatly help you in regulating the environment in the tank. Setting the timer helps to provide your pet with both heat and light in the daytime and put them off at night. 
The timer helps you to create a day and night cycle automatically; you don't have to be around or depend on your watch to do it manually. Check here the timer that I recommend you to use.
Having both the timer and thermostat makes your work simple and saves you a lot of time. 
Step by Step on How to Set Up Automatic Temperature Control for Your Bearded Dragon Tank.
Step 1: Setting up the tank.
Ensure you have a well-set tank with a substrate. 
Step 2: Lighting and heating set up
Set up the basking light bulb on one side of the enclosure that will supply heat. Here is the best basking light bulb to use. You can use any other available bright white light; soft white light tends to irritate the eyes. 
The place with the bulb is the hottest spot, while the furthest end is the cool place. The next thing is to install a UVB bulb such as this. 
Step 4: Placement of a timer, thermostat, and thermometer. 
After setting the necessary electrical devices, you will be required to control and automate the system. First, insert the thermostat sensor (probe) through the back of the tank and place it underneath the heat source. 
Secondly, set the required temperature on the hot spot on the thermostat. You will need to connect the timer with the thermostat. Some thermostats come with a timer. 
Install one thermometer in the hottest place and another in the cool end. 
The final step will be to add any other accessory that is needed in the enclosure. Here I have a video for you.
Secondary Heat Source 
A secondary heat source will be necessary if you are unable to keep the temperatures in the tank within the above range. The best product to buy will be a rock heater. A rock heater acts as a perfect heat source and also plays a good part in decorating the beardie's tank
It is recommended you use a rock heater as a supplement in supplying heat in addition to other heating elements like basking lamps. 
The rock heater provides a warm area where your beardie can lay on; it helps the beardie to maintain its body temperature. You can buy a rock heater of any size you want from the market; they come in different sizes. Here is a rock heater that I recommend you to use. 
Under tank heaters are not recommended because they can short out and burn your pet. 
How to Avoid Burns When Using a Rock Heater
The rock heater can get hotter 10-20℉ above the ambient temperature in the enclosure. It is a conductive heat transfer; the beardie obtains the heat only when it is in contact with the rock. 
Since the beardie gets into physical contact with the rocks, they are popular in burning the beardies when they are used inappropriately. When it becomes too hot, then there is a possibility that your beardie will be burned.  
Also, putting the rock on a moist substrate makes it crack and displays the bare heating element. The beardie will get burnt when it touches the material. 
So, how can we avoid the rock heater burns? You can easily prevent burns from the rock by controlling its temperature using a rheostat and placing it in the dry area in the tank. Also, ensure to follow the instructions on the package. 
Light For Bearded Dragon Habitat (Different Kinds of Light)
Bearded dragons are desert animals; they need plenty of light for them to emulate their natural habitat. The whole of the enclosure needs to be lit up with full-spectrum lighting, in the form of UVA and UVB fluorescent light. 
Your beardie depends on you to provide to them what they will need in their natural home. So, when buying a bulb, choose the one that emits UVB. These are the rays which the sun emits, and they help in the digestion. 
UVA is what we see, and it just helps to keep your beardie happy. Don't forget to provide a proper basking light for the beardie to warm itself.
A bearded dragon can become sick if it lacks the vital UVA, UVB, and a basking light. Always keep that in mind.
Make sure the beardie is getting the necessary light by providing a large rock or a branch to bring it close, about 10-12 inches to basking light. 
Water and Humidity
Bearded dragons obtain much of their water from the diet, unlike the majority of the pets. The beardies have their origin from the desert where they go without water for a long time. 
Dark green vegetables and fruits have a lot of water that is sufficient for the bearded dragons. But you can also spray them moderately with some water; it will help to keep the beardie hydrated also. 
You can also choose to give drinking water to the dragon, make sure you use a shallow water dish to prevent them from drowning. Wash the bowl and use clean water every time you are watering the beardie.
In case the water is chlorinated, remove the chlorine using a water conditioner to keep your pet healthy. 
Don't leave the water dish in the cage; remove it after a couple of hours. Consistent water sources in the enclosure increase the humidity and expose the dragon to respiratory infections. 
Adding a bit of strawberry or some fruit juice to the water enhances its taste; it is an excellent way to make the beardie drink more water. 
Another way to hydrate your beardie is by bathing them at least once a week; they absorb water through the skin. 
Bearded dragons require an excellent and dry habitat when it comes to humidity. The tank you are using should allow free circulation of air to keep the correct humidity level. 
Tank Decor (Background) 
When using a glass terrarium, I recommend you to buy a background. It helps to emulate the natural look of the desert and makes the beardie feel more at ease. It also helps to reduce glass surfing. 
Step to Step DIY a Habitat Enclosure for Your Bearded Dragon. 
Do you wish to save money with your beardie habitat? Are you looking forward to stretching your DIY muscles and making your beardie cage yourself? Well, it is a great thought. You may need to learn how to make a custom habitat for bearded dragons. 
Here, I will show you how to make a habitat enclosure for your bearded dragon step by step. 
Step 1: Design
First, you need to design how you want your cage to look. You can use Google SketchUp in designing; it is an excellent option to help you with your sketching.
Step 2: Gather all the materials
Gather all the materials and tools. Here is what you will need: Box/container, Tile Grout, Box cutter, Non-toxic paint, Spray foam, Hinges, insulation board, and Acrylic sheets.
Step 3: It's time to start building
The first thing is to set up space. Here you will need an empty box space. If possible, you can use any available container that is at least 4 by 2 by 2 inches. You can use the opening from the box for the top or front. 
Step 4: Shape the Insulation board
How do you want your case to look inside? Have the picture of how you want the cage to look in mind or or revisit the sketch, use a box cutter to cut the board the way you want it.
The insulation board helps to create different levels such as floors, or just some places to climb. 
Use the glue to attach the board where necessary. Use the pieces cut from the board to make stairs. Put an insulation layer on the sides of the container. You can use the spray foam to make a bumpy look in the space (optional). 
Step 5: Grout and Paint
Apply grout in 3-4 layers over the inside foam and at the bottom of the cage. The grout improves the texture of the insulation to give it a natural look. The color of the grout should be similar to the bumpy look you may be going for. 
Follow the manufacturer's instructions when using the grout. Apply the non-toxic paint in two layers. 
Step 6: Cut and Install the Top
The size of the top will depend on what you are planning to use it for; larger tops will help to access inside and get your pet. Introduce hooks if you are planning to use the top as an access point. 
Introduce the Acrylic sheet on the top, use the glue to attach the hinges in the Acrylic side, and screw the other side. 
Step 7: Finish Outside
Paint the outer parts of the cage.
Step 8: Put Doors
Put the Acrylic sheet on the front, as you did at the top. Attach the hinges with glue on the Acrylic sheet, and use screws on the wood. The sheet allows you to see inside the cage. 
If you intend to use the front part as the area to get your beardie from the cage, add hooks to prevent your pet from escaping. I also have a video for you here- DIY bearded dragon Cage.
Wrapping Up
Well, you have everything you need to consider when setting up a bearded dragon habitat with you now, and I hope you found the article helpful. 
Always make sure that your bearded dragon has all it needs in the habitat. Ensure that your beardie is getting the required temperatures, humidity, and the right lighting. Having all these in place, makes your beardie safe, and avoid any health issues.