Ensuring your pet snake is comfortable in its cage entails getting the best amenities and furnishings. Among these items is a snake hide for its privacy.
For this purpose, we have compiled a list of the best snake hides that you can purchase on Amazon. The compilation entailed researching more than 25 snake hides and only picking the best. 
It took about a week to research the products and decide what the best to feature on this list. The assessment included looking at the material, price, size, customer reviews, and availability. This also comes to another sharing about things you do need in a snake cage.
While looking at the famous names in the reptile products industry, we also searched for new entrants that could be offering better products.
07 Best Snake Hides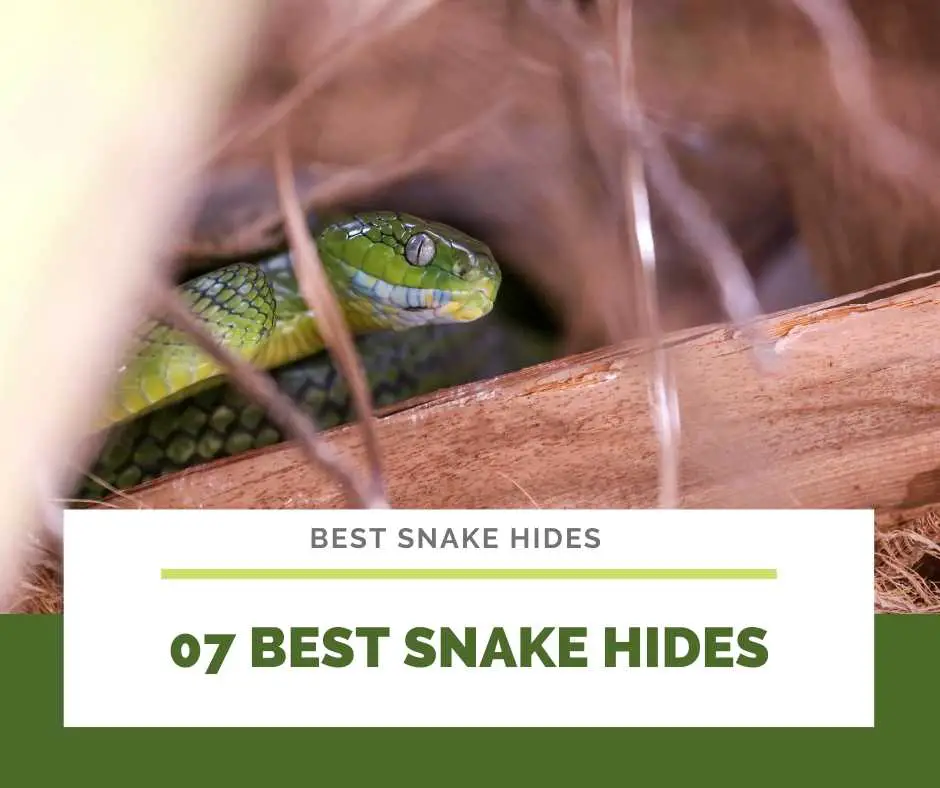 Penn-Plax Shale Step Ledge and Cave Hide-Out Medium Aquarium Resin
Last update on 2022-12-30 / Affiliate links / Images from Amazon Product Advertising API
If you are keeping a small-sized pet snake, this hideout from Penn-Plax is the ideal tool for you. It perfectly mimics the natural environment through its material and design. It will make your snake comfortable and, at the same time, increase the beauty of the terrarium.
Penn-Plax makes the hideout by arranging and gluing rocks together in a professional design. Each of the edges forms an entrance and an exit for the snake. However, the hide's small size may make it not ideal for some snake breeds. One can also make a similar structure large enough to accommodate big snakes, but it would not be easy to transport it. 
Nonetheless, what makes this cave even better is its ability to adapt and usefulness in both dry and wet conditions. The rocks can withstand high temperatures and precipitation. You can also use it for other small reptiles, including geckos. You can also use it in a fish terrarium. The hide's design is also ideal for your snake to bask on it, and seek privacy inside.
It is rated 3.9 stars after 421 customer ratings on Amazon, and it is inexpensive at $14.49 plus shipping each. You can have it shipped in different parts of the world. These factors and its features make it the number one seller on Amazon in the reptile and amphibian habitat hideouts category.
Last update on 2022-12-30 / Affiliate links / Images from Amazon Product Advertising API
Features
This hideout mimics a realistic rock formation available in the natural habitat of your pet snake
It has space on the top for resting, and within for hiding
 Different types of reptiles and amphibians can use this hideout
Ideal for small-sized reptiles and aquatic pets
It measures 7 x 9 x 3.5 inches and weighs 13.1 ounces with a shipping weight of 1.2 pounds
Pros
✅ Inexpensive accessory for your pet's cage
✅ Natural-looking for added cage aesthetics
✅ Ideal hide for different reptiles and amphibians
✅ It ships to any part of the world through Amazon
✅ Ample space for both hiding and basking
Cons
❌ Sharp edges will require you to take some time sanding for the sake of your pet's safety
❌ Depending on the shipping, it may arrive broken
Zilla Reptile Habitat Décor Shale Rock Den
Last update on 2022-12-29 / Affiliate links / Images from Amazon Product Advertising API
There are three activities that your snake likes most. They are basking, climbing, and relaxing in a burrow for privacy and cooling. The Zilla reptile habitat enables your snake to enjoy these activities in its cage. 
The product has a non-porous exterior surface that can be cleaned easily with soapy water. It is designed not to retain water or promote bacteria growth. As a result, your terrarium will smell fresh and stay healthy for long.
Your pet will enjoy a natural hide in cleverly designed rick niches, which will satisfy their desire for privacy, protection, and coolness. It is a safe product for both aquatic and terrestrial environments. Your visitors will not be able to differentiate the naturalistic décor from a real one.
The Zilla hideout is rated 4.1 stars from 122 customer reviews on Amazon. It costs $21.40 plus shipping, and they deliver it to multiple destinations in the world. This hideout is 10th among the reptile and amphibian hideouts on Amazon.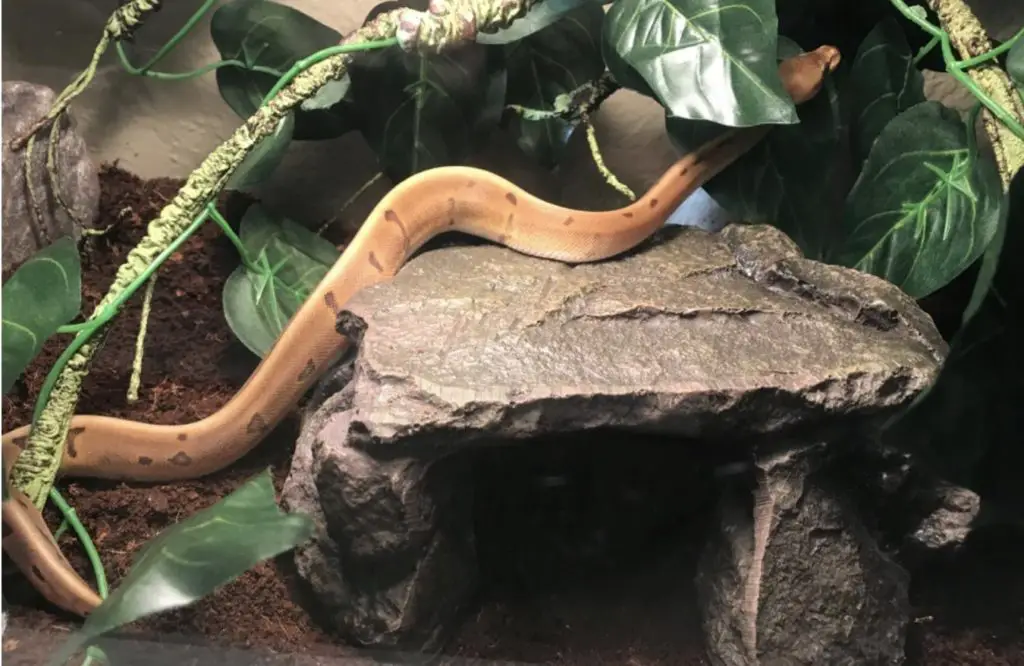 This snake hide's Features
Your snake will enjoy both hiding and basking properties given by this hideout
It offers realistic rock formation in the terrarium
The exterior is non-porous, which resists bacterial growth
Cleaning using soap and water is hassle-free
Designed for use in an arid or tropical climate
Not ideal to use in ponds
It measures 9 x 3.5 x 6.5 inches and weighs 2.4 pounds
Pros
✅A perfect medium-sized hideout for your snake and other reptiles
✅Offers surfaces for climbing, basking, and hiding
✅Adds to the terrarium's aesthetic beauty with its realistic rock appearance
✅It has a sturdy design for long-term use
✅The non-porous nature of the exterior makes it a healthy choice as it does not support bacterial growth
 ✅Easy to clean
Cons
❌May arrive broken after shipping
❌The paint may flake off and may have strong paint odor at the beginning
Exo Terra Snake Cave Large
Last update on 2022-12-29 / Affiliate links / Images from Amazon Product Advertising API
It is a perfect hideout and nesting place for different types of snakes. The structure of this Exo Terra product makes it possible for your pet snake to slip into the interior when the exterior environment is not conducive.
It has a sturdy design that offers a natural look found in the typical environment. The hideout also comes in small, medium, and large sizes to fit the size of your pet snake. It cannot easily tip as it has a robust design.
Exo Terra offers this hideout together with natural moss that you can dampen to form a moist hide or nesting box for different species of snakes. 
It has a 4.2-star rating on Amazon after 295 customer ratings. You can purchase one for $27.45 for the large-sized cave, and you enjoy free shipping since its price is above $25. The small and medium-sized caves cost $20.15 and $22.99 + shipping, respectively.
Features
The large cave measures 7.1 x 8.8 x 10.6 inches
It weighs 3.15 pounds with a shipping weight of 3.8 pounds
If you are outside the United States, the product is not eligible for shipping
 Provides a secure hiding place and prevents stress for your snake
Its stability prevents tipping even if you have a large snake
Cleaning is easy and natural-looking, making it ideal for incorporating into a desert or tropical terrarium
Pros
✅ Different sizes ideal for your snake's specific size, whether large or small
✅ The moist moss offers the perfect space for your snake to shed properly
✅ Highly recommended by customer reviews on Amazon for ball pythons, corn snakes and other types of snakes
✅ Easy to clean
✅ Cannot be tipped easily making it safe for your pet snake to use
✅ You can also use it as a hatching space for eggs
Cons
❌There is an old and new version, and you may receive the wrong version. You can return and get an exchange.
❌The product may arrive broken
Zilla Vertical Rock Cave
Last update on 2022-12-30 / Affiliate links / Images from Amazon Product Advertising API
Pet snakes come in different species, which means their needs also differ. One type of snakes is the arboreal. These are snakes that enjoy perching up in the trees in the natural environment. Similarly, when in captivity, you need to give them the same feeling.
The Zilla vertical rock cave gives you this ability. Its design makes it possible for secure attachment on the walls of your terrarium through its suction cup. It has a natural look, and the attached moss enhances the appearance.
High-quality material has been used to make it, which improves its durability. It is easily transferable due to its lightweight. Your arboreal snake will enjoy climbing its branch and getting into the cave.
It is rated 4.3 stars from 71 customer ratings. Currently, it sits on the 20th position in the reptile and amphibian habitat hideouts on Amazon, and 7th in the aquarium décor rocks category. You can purchase one on Amazon at 25.99, and enjoy the free shipping for products above $25.
Features
The cave is perfect for arboreal pet snakes and is suitable for use in tall terrariums
It measures 6.5 x 9.5 x 8 inches and weighs 1 pound with a shipping weight of 1.3 pounds
Comes with a suction cup that enables attaching to a glass wall
Since it is lightweight, it can be moved easily and lasts long
Natural-looking, which adds to the enclosure's beauty
Pros
✅ Inexpensive for such a high quality, sturdy and long-lasting product
✅ Useful for the arboreal snakes, which are not well catered for by other forms of hideouts
✅ Ideal for small-sized snakes
✅ Enables additional use of your glass space in the cage
✅ Aesthetically appealing and adds to the natural look of your cage
Cons
❌It lacks drain holes, so regular cleaning is needed after your snake pees in it
Zoo Med Habba Hut
Last update on 2022-12-29 / Affiliate links / Images from Amazon Product Advertising API
You can also get a natural, extra-large den from Zoo Med. Unlike the other options, which are naturalistic looking, Zoo Med uses real wood as opposed to plastic and resin. 
Zoo Med makes this snake hide by halving and hollowing out a log complete with the bark on the exterior part. Some reviewers say that since it is entirely natural, it makes the best hide for your snake.
Its size is 11 x 9.5 x 5.5 inches, which gives your snake ample room to sit and hide inside. Some smaller and cheaper versions of the cage also exist per your snake's needs.
Being a natural cage, it will blend brilliantly into your cage and other decors. Nonetheless, it is more difficult to clean than natural enclosures. It has a 3.6-star rating on Amazon from 630 customer ratings. You can purchase one at $19.99.
Features
It is made from real wood
Available in five different sizes to suit your snake's needs
Supports the addition of terrarium moss to increase humidity
Can be used by your snake when shedding or as a hatchling site
It is also popular to use for other types of reptile pets
Weighs 11.7 ounces, and has 4.2 pounds shipping weight
Pros
✅ All-natural material adds to the aesthetics of the cage
✅ It can accommodate a wide variety of snake species and other reptiles
✅ Creative and sturdy design will ensure that it lasts for long
✅ Different sizes are available to fit the needs of your cage and pet snake
✅ They do not peel or get moldy unless immersed in water
Cons
❌As a natural product, it may carry some mites and pests, but baking it for 20 minutes at 300 degrees should kill them
❌Dimensions might be slightly off
Zoo Med Reptile Shelter 3 in 1 Cave
Last update on 2022-12-29 / Affiliate links / Images from Amazon Product Advertising API
Zoo Med's makes a reptile hide that is designed to look like a rock. It has a natural look even though it is not as realistic as the one made by Zilla. With an opening on the side. It has a dark grey color, which is brushed with brown.
On the inside, the cave is made from a soft plastic material. The enclosure is simple. The snake hide has a top that can be removed to access the interior for ease of cleaning and substrate change.
This snake hide is available in three sizes, depending on the size of your snake. It makes an ideal hide where humidity can be added for the comfort of your pet snake. As such, it is perfect when your snake is shedding. Some snakes can also use it for basking.
You can purchase it at $50.53 and $29.11 for the large and medium sizes, respectively. It is rated four stars on Amazon after 450 customer ratings, and it is ranked 81 in reptile and amphibian habitat hideouts.
Features
Available in three different sizes; large, medium, and small
Its interior is made from plastic material
The large, medium and small sizes measure 8 x 8 x 4 inches, 10 x 8 x 6 inches, and 12 x 8 x 8 inches, respectively
Pros
✅ Ideal for shedding, egg-laying and hiding for the snakes
✅ Made from durable resin
✅ Easy to clean and sterilize by removing the lid
✅ You can use it for your snake and other reptiles
✅ Depending on your pet's size, there are three options from which to select.
Cons
❌Some clients review stating that they received product made from ceramic instead of resin
Exo Terra Primate Skull Terrarium D
Last update on 2022-12-29 / Affiliate links / Images from Amazon Product Advertising API
This great snake hide comes in the shape of a primate skull. It is a realistically looking skull without the lower jaw. Furthermore, the texture also looks real and not plastic. Its appearance is much like the skull has been pulled from the ground after hundreds of years.
It has three holes in the eyes and nose sections that serve as front openings for your pet snake to crawl. On the back of the head, there is also a bigger hole. The hideaway measures about six inches tall and six inches wide.
Unfortunately, it does not come in different sizes, but it is large enough to accommodate most snakes. According to customer reviews, it makes an excellent hideout for an adult corn snake. It has an appealing appearance that adds to the aesthetics of your snake's cage.
Exo Terra also makes other designs of skull hideaways including one designed as a T-Rex skull, and another that looks like a crocodile skull. The pricing is also low enough compared to other available alternatives in the market. It sells for $12.84 plus shipping. It is rated 4.4 stars out of 5 from 387 customer ratings.
Features
Its dimensions are 6.3 x 6.3 x 5.7 inches
Only available in a single size
Rated number 3 on the best reptile and amphibian habitat hideouts on Amazon
The weight of the hideout is 10.2 ounces and has a shipping weight of 11.2 ounces
Makes an ideal hideout for desert or tropical setups
Four entrances for ease of access
Pros
✅ It has a natural and realistic appearance
✅ Ideal for use in different environmental setups including desert and tropical
✅ Can be used for different reptiles and amphibians
✅ Inexpensive product compared to other alternatives
✅ Highly rated on Amazon by customers
Cons
❌Might come with sharp edges on the openings that need sanding before use
❌Through shipping, it may arrive broken
Conclusion
Deciding the ideal hideout for your pet snake requires understanding the ideal needs. While different options are outlined, you need to consider the needs of your snake. Depending on its size, select a snake hide that fits appropriately.
You may also add some substrate in the cage to retain moisture and cool off the snake. Snakes also prefer these cages for them to shed, and humid moss will make the process easier for them.
List of best snake hides we mentioned:
Last update on 2022-12-29 / Affiliate links / Images from Amazon Product Advertising API