Axolotls are cute salamander species that many hobbyists keep as a pet. They require special care to stay healthy and active.
However, as a beginner axolotl owner, you may be wondering if "Can You Keep Axolotl In A Plastic Tub?" instead of an aquarium.
Yes, you can keep axolotls in a plastic tub at home. You will need to ensure that the plastic tub you use is of the right size and your axolotls will not have issues living there.
This article will help shed light on how you can keep axolotls in a plastic tub, from the suitable plastic to use to the pros and cons of keeping axolotls in a plastic tub.
Can You Keep Axolotl in a Plastic Tub?
Yes, you can keep axolotls in a plastic tub if you can create an ideal habitat and ensure it is the right size.
Some people use plastic tubs as a temporary tank for their axolotls. For instance, some owners use plastic tubs when taking their pets on vacation.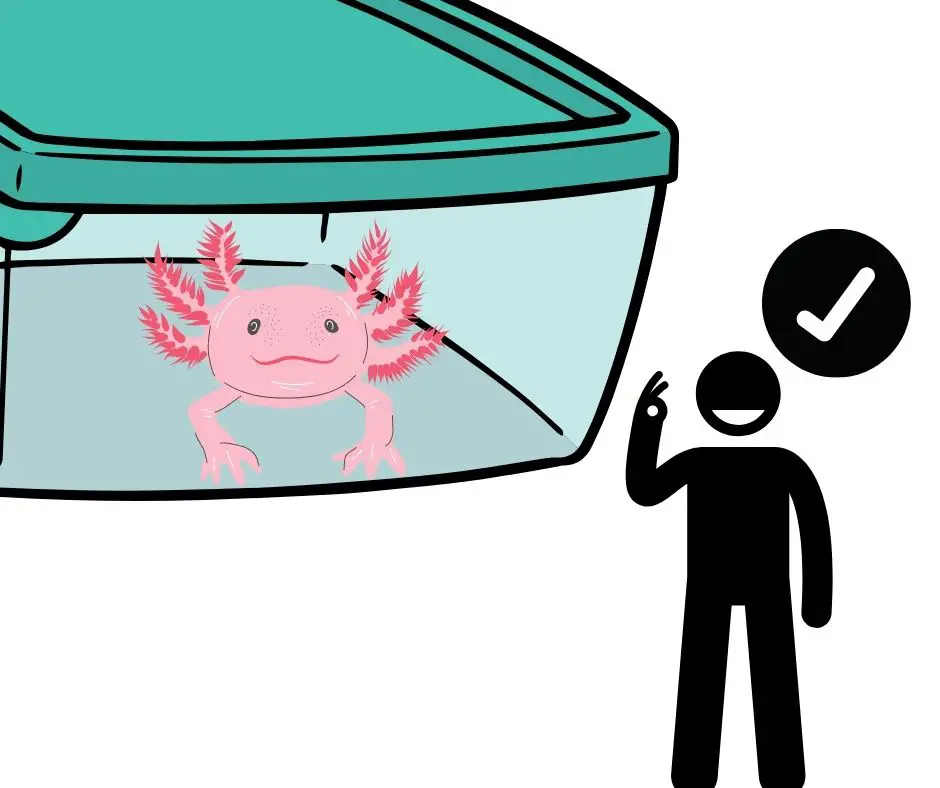 Can You Use a Plastic Tank for All Axolotls?
Yes, you can use a plastic tank for all axolotls if the tub is large enough. Some of the common reasons why axolotl owners keep their pet in a plastic tank are:
For housing growing larvae or juveniles
For housing your axolotls during tank cycling
For housing a sick/injured axolotl
For transporting an axolotl during a trip to the vet or on vacation
For housing a special-needs axolotl permanently.
For holding axolotls during feeding, water changes, or emergencies.
What is the Best Tubing for Axolotls?
The best tubing for your axolotl will depend on its size. However, it is recommended to buy a wide tub, large enough for your axolotl to move around comfortably. You can buy a 20-gallon long plastic tub for your axolotl.
IRIS USA 46.6 Quart Weathertight Plastic
IRIS USA 46.6 Quart WEATHERPRO Plastic Storage Box with Durable Lid and Seal and Secure Latching Buckles, Weathertight, Clear with Black Buckles, 2 Pack
WEATHERTIGHT – IRIS USA WeatherPro Heavy Duty Plastic Storage Bin Tote Organizing Container with Durable Lid and Seal and Secure Latching Buckles has high quality heavy duty seals in the lids to preserve and protect valuables and important documents. The heavy duty storage bin creates a vacuum-like environment within the storage container tote blocking out moisture, dust, and insects.
BUCKLE UP LATCHING – The heavy duty multi-buckle box latches strongly and securely onto the durable lid, separating the inside and outside. Perfect for clothes storage, document storage, food storage, hunting gear storage, camping gear storage, tool storage, truck storage and other large items.
STACK THEM UP – Heavy Duty Plastic Storage Container Bin Tote has grooves on the lid and body to create a secure stacking experience. IRIS USA heavy duty lid-body construction ensures stability to stack securely for easy moving and save space in your house, apartment, condo, and in your car and truck.
GREEN CIRCLE CERTIFIED and BPA FREE PLASTIC – Certified by Green Circle for environmentally friendly plastic heavy duty storage container. It is also BPA-Free plastic. Great use for organizing the pantry by storing and protecting rice, flour, canned goods, spices, seasonings, snacks, pasta, pet food, and etc.
MADE IN USA with GLOBAL MATERIALS - IRIS USA's heavy duty plastic Buckled Lidded Storage Bin Tote is a perfect storage organizer that can fit all your items safely with durable, heavy duty polypropylene material manufactured in the USA. Also check out our full selection for maximum storage and organization: 16, 26.5, 30, 44, 60, and 70 Quart.
Last update on 2022-12-29 / Affiliate links / Images from Amazon Product Advertising API
You can add décor to the plastic tub to make it unique. However, there should be enough space for your axolotls to move around. You will also need to cover the tub to help prevent your axolotls from jumping out of the tank.
However, putting a cover can affect the level of oxygen in the tank. You will need to choose a cover that allows moderate airflow in and out of the tank.
Although there are many low-quality plastic products out there, a suitable plastic tub for axolotl is food-grade plastic because they do not have toxic contaminants.
You need to avoid any plastic that smells as it indicates it is not safe for your axolotls.
Aside from your plastic tub being food-grade, it should also be transparent. This will help to ensure that you can see your axolotls easily.
Some of the common plastics that are considered food-safe are:
Plastic #1 (PETE)
Plastic #2 (HDPE)
Plastic #4 (LDPE)
Plastic #5 (PP)
How To Tub Your Axolotls
Tubbing axolotls is quite easy as filling a plastic container with dechlorinated water. Some of the things that you will need when tubbing your axolotls are:
Water conditioner
Food-safe plastic tubs are large enough for your axolotls to move comfortably.
Thermometer
A soft sponge
Here are the steps to follow
Fill the plastic container with cold, dechlorinated water (you can use a water conditioner to remove chlorine from the water)
Transfer your axolotl to the tub using a net.
Make the tank homely by adding hides and some plants into the plastic tub.
Put a lid on the plastic tub to help ensure your axolotls don't jump out.
Note: Like when housing your axolotls in a tank, it is important that the tub is clean all the time.
You will need to do a 100% water change at least every other day, and you will also need to spot clean their poop with a turkey baster when cleaning the tub.
Pros and Cons of Keeping Axolotl in Plastic Tub
Here are some advantages and disadvantages of keeping axolotls in a plastic tub.
Pros
It is cheap
It helps in saving space
Very portable
Easy to clean and handle than a glass tank
You can watch your axolotls whenever you want.
A great option if you want to isolate a sick axolotl for treatment.
It is safe as you can use it during aquarium emergencies like aquarium leaks or contamination of the aquarium.
Cons
Your axolotl can become scared or depressed because you remove them from their comfortable environment.
There is a rapid accumulation of ammonia which you are trying to avoid.
You will need to maintain the tub regularly.
Can You House Baby Axolotls in a Plastic Tub?
Yes, you can use plastic tubs to house adult and baby axolotls. All you need is to ensure that the tub has enough space for your axolotls to move around even after they reach full size.
You will also need to monitor the water conditions in the tank and change the water regularly.
Wrapping Up
You can easily keep axolotls in a plastic tub, and your pet will be fine if you buy the right plastic. The good thing is that it is quite easy to clean the tub, and you can even carry it anywhere you want.
We hope this article provides everything you need to know about keeping axolotls in a plastic tub. You can message us in the comment section below if you have any question or comment about keeping axolotls in a plastic tub.