As you venture through your life as an axolotl owner, you will realize that there is much to learn about these cute little creatures. Among the various practices common in raising axolotls is axolotl tubbing.
There will be circumstances where you will need to tub an axolotl; thus, you genuinely need to know how to go about it.
Don't scratch your head about it anymore if you don't know how to tub an axolotl or the term is foreign to you. You will find everything involving axolotl tubbing further in the article.
When Should I Tub My Axolotl?
There are many situations when you may want to tub an axolotl. For instance, tubbing is necessary when isolating an axolotl for treatment.
You can tub an axolotl during an aquarium emergency, which comes about if the main tank breaks or is damaged. Tubbing also provides a temporary tank for your axolotl when waiting for its new tank to cycle.
Owners can use a tub to transport their axolotl when making a trip with them. Another occasion when you need to tub your axie is after making the purchase, and you want to carry it home.
A tub provides a suitable place to house growing larvae and juvenile axolotls. All you need is an ideal tub with adequate space and where the axolotl can express all its natural behaviors freely.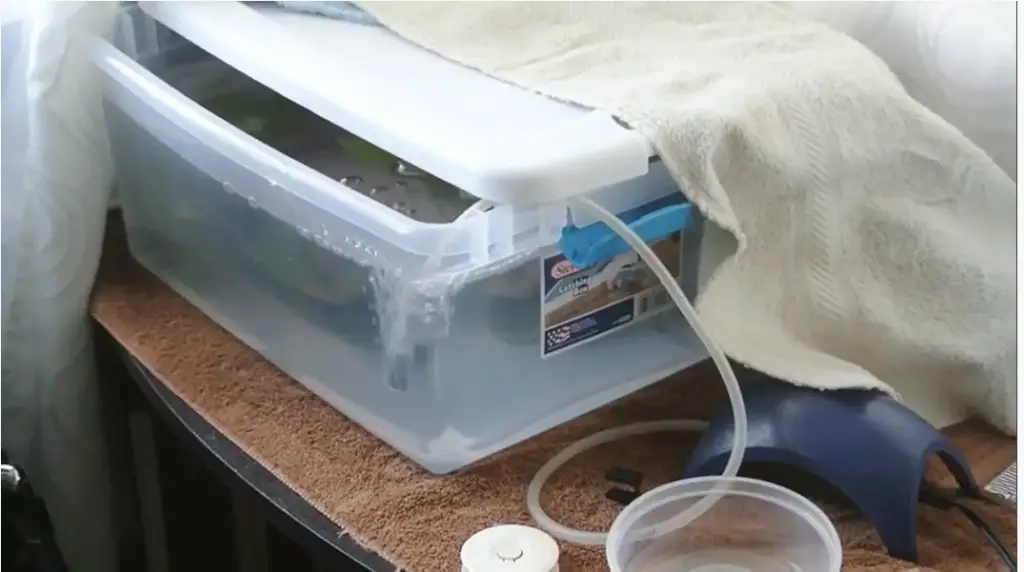 How to Tub an Axolotl
Tubbing an axolotl doesn't have to be stressful for you or your axolotl if you have the proper knowledge and guidance.
An axolotl tubbing conditions need not be different from the water parameters in the original setup, and you shouldn't ignore this because of your pet's health.
While tubbing is eligible for many uses, the practice itself is the same. You will need a clean tub (plastic container of choice), and fill it with cold & clean dechlorinated water.
You can be sure to use a soft net big enough to hold your axolotl when transferring it from a tank to a tub and also from a tub to a tank. It's good to use the lid on the tub to avoid your axolotl from jumping.
You should care for your axie in the tub like you would care for it in the tank. You must change the water daily during tubbing. Let's see step by step guide on how to tub an axolotl.
Prepare Tools
Consider buying a large tub for your little friend to move around comfortably. Anything that would stress your axolotl is not ideal.
Two food-safe plastic containers can play the task well. Since space matters, plan to find a minimum tub size of 32L.
However, if you're dealing with babies and juveniles, two 10 liters of plastic tubs will house them comfortably. You will also need a fine net and clean dechlorinated water.
Really Useful Clear Transparent Plastic Storage Box, 64 Liters
Last update on 2022-12-29 / Affiliate links / Images from Amazon Product Advertising API
Prepare Water and Setting Tub
The most important thing to remember when setting up a tub is to use cool and clean dechlorinated water. The water in the tub should cover your axie.
Don't forget that the tub conditions need to correspond to the water parameters in the tank. This is something to take seriously because axolotls will not survive in just any conditions.
Avoid compromising their water temperature, nitrogen cycle, pH, aeration, etc. It's also essential to include some filters, plants, accessories, and other axolotl decorations to make the tub more comfortable for your pet.
Set at least one piece of floating decor to provide shade and prevent the axolotl from jumping. The filter is essential to disperse water flow evenly to avoid strong flow that can harm your pet.
Whether you need a tub to carry your axie to a vet, go for a trip while deep cleaning the tank, or wait for a new tank to cycle, the procedure for tubbing is the same. Also important, limit the light that gets into the tub.
Seachem Prime Fresh
Sale
Seachem Prime Fresh and Saltwater Conditioner - Chemical Remover and Detoxifier 500 ml
POWERFUL TREATMENT: Seachem Prime is a complete and concentrated conditioner for both freshwater and saltwater fish tanks, working hard to remove chlorine and chloramine.
REMOVER: Seachem Prime immediately and permanently removes chlorine and chloramine, successfully allowing the bio filter to remove ammonia, nitrite, and nitrate while they are detoxified for 48 hours.
DETOXIFIER: Seachem Prime effectively detoxifies ammonia, nitrite, and heavy metals found in the tap water at typical concentration levels, providing a ideal environment for your betta, tetra, or other fish.
USE: Use 1 capful (5 mL) of Seachem Prime for each 200 L (50 US gallons) of new or replacement water. For best results, add Seachem Prime to new water first. For exceptionally high chloramine concentrations, a double dose may be used safely. For smaller volumes, use 2 drops per gallon.
SAFETY: In case of an emergency, the 5x dose of Seachem Prime may be used for both ammonia and nitrite. Use a ½ dose if the water temperature is > 30°C (86°F) and chlorine or ammonia levels are low.
Last update on 2022-12-30 / Affiliate links / Images from Amazon Product Advertising API
Transfer Axolotl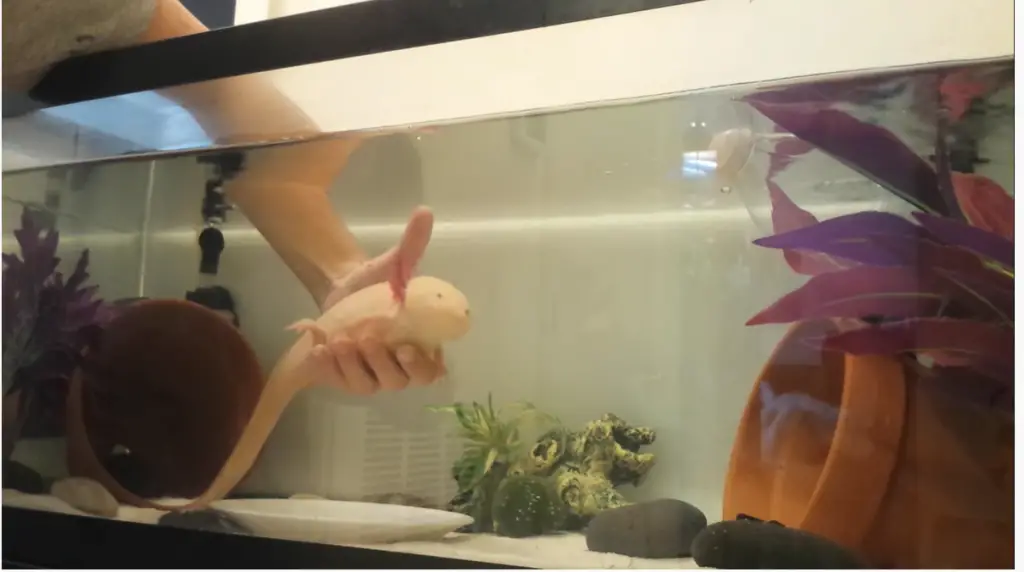 After preparing the tub and it's ready, you can now transfer the axolotl. With the help of a fine net, gently remove your axie from the tank. It would be great to gently cup your hand under the axie for support and comfort.
Then, bring the net to the tub with clean dechlorinated water and allow the axolotl to find its way out with a little assistance from you.
Hey! Never upturn the net to drop the axolotl. You can seriously injure your axie in the name of tubbing it. Furthermore, ensure to have a lid but don't cover the tub entirely to allow some oxygen into the tub.
Poking some holes in the lid can be a good way for oxygen flow. Axolotls can jump, but the cover will prevent them from jumping. You should change the water in the tub daily, and this is why you need a second tub.
PENN-PLAX Quick-Net Aquarium Fish Nets 
Sale
PENN-PLAX Quick-Net Aquarium Fish Net – Durable, Strong, and Safe – Color May Vary (Blue or Green) – 2" x 1.75" Net – 10" Handle
ESSENTIAL TOOL FOR FISHKEEPING: It's always good to have an extra fish net for your aquarium! In addition to cleaning up some extra fish food that was accidently poured, it becomes a handy tool when you need to quickly handle fish, and transfer them between tanks. They're safe to use with both freshwater and saltwater fish, and come in various sizes!
DURABLE, STRONG, AND SAFE: Each fish net features a vinyl covered, two-part braided handle that provides for an ergonomic grip, ensuring reliable operation with its strong design. Our aquarium fish nets won't bend or become distorted over time, even with repetitive use. The mesh netting is appropriate for almost any type of aquarium fish, both freshwater and saltwater.
MEASUREMENTS: The QN2 model of our Quick-Net line features a 2" x 1.75" net, with a handle length of 10"
COLOR MAY VARY: Please be advised that our fish nets come in various shades of blue and green. We will ship based on availability. But rest assured, your fish won't mind the difference in color, as long as they're safely transported.
SHOP PENN-PLAX FOR ALL YOUR PET'S NEEDS: PENN-PLAX is a manufacturer and distributor of top quality pet supplies, who specialize in creating excellent pet products for animals, both great and small.
Last update on 2022-12-29 / Affiliate links / Images from Amazon Product Advertising API
Behavior Observation
Observing how it behaves is imperative after successfully transferring your axolotl to the tub. Check for any signs of stress, temperature shock, or water shock.
If all conditions are fine, the axolotl will behave normally, but you should expect some weird behaviors if you missed anything.
Bear in mind to keep the tubbed axolotl away from loud noises and heavy stomping. These animals are sensitive to vibrations, and it dramatically bothers them.
How Long Can an Axolotl Stay in a Tub?
Your axolotl can continue staying in a tub for as long as the habitat is ideal with optimal conditions.
Though the tub and tank conditions correlate, axolotls will be much happier having the floor space of their tank. It is stressful for most axolotls to dwell in a tub.
Therefore, only tub an axolotl when you really have to, and immediately you're done with what you're doing, ensure to return the axolotl to its original habitat.
If, for instance, you want to tub your axie for the long term, you need tubs over 100L. Changing the tub water will be a daily requirement, which is a real challenge.
How to Care for Axolotl in a Plastic Tub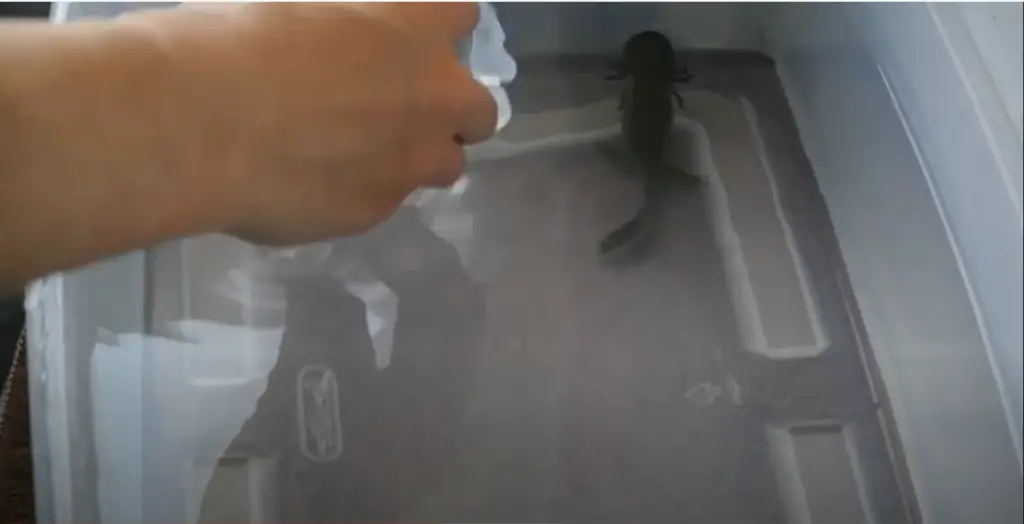 Feeding and caring for an axolotl in a plastic tub vary depending on the tub's purpose and the axolotl's age
Although the attention and the care that is given to baby axolotls and the adults are not much different, the frequency of feeding and type of food are not the same.
Baby axolotls need to feed daily while the adults require about a day to digest their food before the next feeding. Be careful about the amount of food you provide your friend because axolotls can easily be overfed.
There are some caveats if you tub an axolotl for fridging or a tea/salt bath. For instance, ensure the fridge doesn't get too cold and avoid using too much salt.
Some people use Indian almond leaf extract in tubs where axolotls have health issues, which is okay because it boosts healing.
On the contrary, temporarily holding the axolotl in a tub will be different. Plan to change 80% water at least every other day; twice daily is ideal. A turkey baster will be viable to spot clean the poop between cleanings.
To clean a tub, you should carefully transfer your axie to another tub or bucket, clean the tub and refill it with cool, dechlorinated water, and any treatments if necessary.
How to Clean a Tub
Don't keep your axolotl in the same tub for a long time because the waste and uneaten food causes ammonia to build up. When ammonia shoots up, it can make the axolotl sick, sustain burns, and may even cause death.
The sure way to keep the pet happy and healthy in the tub is to provide a safe environment. The tub and the water need to be clean always. See how you can clean an axolotl's tub below.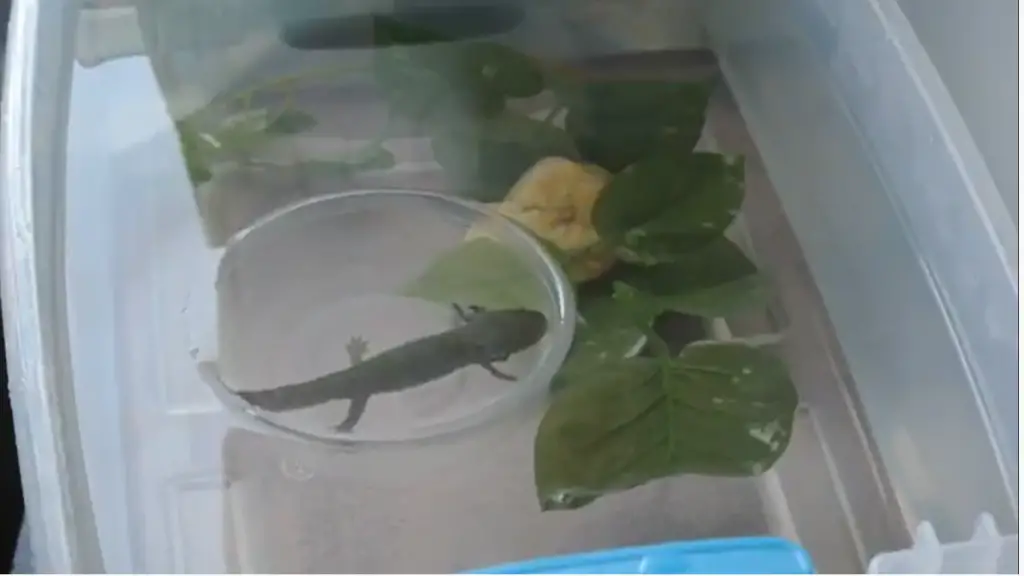 Step 1: Feeding the Axolotl
When you want to transfer your axolotl from a previous tub to a new clean tub, give the axolotl food and let it first.
At first, the axolotl requires some time to adjust to the new tub, and it's likely to refuse to eat during such moments. Feeding the axolotl before the transfer process helps to reduce stress.
Step 2: Set Up a Second Tub
The last thing you want is to keep your axolotl outside water until you finish cleaning its tub. That's not different from exposing the pet to danger.
Prepare the tub in the same manner you did with the first tub, using dechlorinated water.
If needed, add water condition for dichlorination purposes—SeaChem prime works best for that information. Ensure the water is cold and the tub is clean.
Homz 3441CLGRDC.02 Clear storage container with lid
Homz 3441CLGRDC.02 Clear storage container with lid, 64 Quart (2 Pack), Grey, 2 Count , Gray
Large- 64 quart storage capacity ideal for storing shoes, clothes, seasonal holiday decorations, personal items and more
Bins are made from durable see-through clear plastic that withstands ongoing use - allows you to see contents without opening the container
Large ergonomic latches lock to secure lid in place and make for a comfortable grip and handle when moving or storing the container. Stacking and modular design for best use of space. Bins nest into one another when not in use.
Exterior dimensions with Lid at widest point: 28. 75 in. x 16 in. x 10. 625 in. Interior dimensions at most narrow point: 23. 4 in. x 14. 04 in. x 9. 8 in.
Set includes 2 clear plastic bins and 2 clear plastic lids. Made in the USA
Last update on 2022-12-29 / Affiliate links / Images from Amazon Product Advertising API
Step 3: Transfer the Axolotl
Once the axie is done eating and the water temperature from both tubs is roughly the same, you can do the transfer.
Use a net to remove the axie from its current tub and place it in the tub with fresh water. Handle the pet gently to avoid any injuries.
Step 4: Clean the Old Tub
Remove any decorations from the tub and set them aside. Then, remove any axolotl poop present with a turkey baster and throw away the dirty water.
Once the tub is empty, scrub it out using hot water, mild soap, and a scrub sponge or a piece of washing cloth.
Avoid using harsh soaps because they can leave residues that will make the axolotl sick. Likewise, clean all the decors.
Norpro Plastic Nylon Baster, 1 EA, Black
Norpro Plastic Nylon Baster, 1 EA, Black
Measures: 10.5" x 2" x 2" / 26.5cm x 5cm x 5cm. Capacity: 1.5oz
The secret to beautiful roasted poultry, served moist and golden brown, is constant basting. But basting isn't just for turkeys!  Master this technique for better scallops, pork chops, chicken, a pot roast or fish!
Basting is used to keep meats moist during the cooking process and also to apply or enhance flavor.
This tool creates powerful suction to retrieve succulent juices from the pan, melted butter, a marinade, or other sauces you want drizzled over the meat.
Heat resistant nylon to 450˚F/230˚C.
Last update on 2022-12-29 / Affiliate links / Images from Amazon Product Advertising API
Step 5: Rinse the Tub
Rinse the tub thoroughly with cold water, and then be sure to allow it to air dry. Air drying is better than using a dish towel because the towel can harbor bacteria and contaminate the tub.
Moreover, it would be best if you air-dried all the decorations. Once the container is dry, you can refill it with water and use it for tomorrow's water change.
Final Words
Tubbing an axolotl serves many purposes. You can travel with your axolotl anytime you wish as long as it's in the tub. Also, the tub makes it easy to carry your axolotl to the vet without having challenges.
Likewise, axolotls heal faster in a tub, especially when fridging is involved. The good thing about a tub is that it's lighter, and you can carry it wherever you want to go.
It's easy to tub an axolotl, and axolotls have no problem being in these containers, but all you need to do is keep the tub conditions optimal.
Also, buy a container that gives ample space, and your axolotl will be fine. You will also require to change the water more frequently.