In caring for axolotls as pets, one of the key considerations is how to keep them happy and healthy.
One aspect of their care that pops up in conversations about these pet amphibians is their need for DIY axolotl hides. 
Given their personalities and fear of harsh lighting, these are crucial objects that are a necessity in axolotl tanks.
This article explores the fun aspect of designing your own DIY axolotl hides, what to expect in the process, and some pros and cons of doing them yourself.
You will be able to make an informed decision on whether to pop into the next pet store to buy an axolotl hide, or to get busy at home and design one yourself.
3 Things to Remember When DIY Axolotl Hides
Hides for axolotls come with a number of benefits for the pet salamanders. Key amongst these benefits is providing shelter from high intensity lighting.
Axolotls are sensitive to high intensity light, and when they are exposed to it, they are greatly stressed. Hides therefore act as a barrier between them and the light.
Secondly, hides provide a sense of security, given the fact that they also tend to be shy amphibians.
They are mostly nocturnal pets, being active at night and rather dormant during the day. When they have hides to shield them from activities outside the tank, they are likely to be more comfortable. 
Axolotl hides also work to enhance the aesthetics of the aquarium. Depending on the materials they are made of and their designs, hides can greatly enhance the visual appeal of your room. 
Also read: 6 Best Axolotl Accessories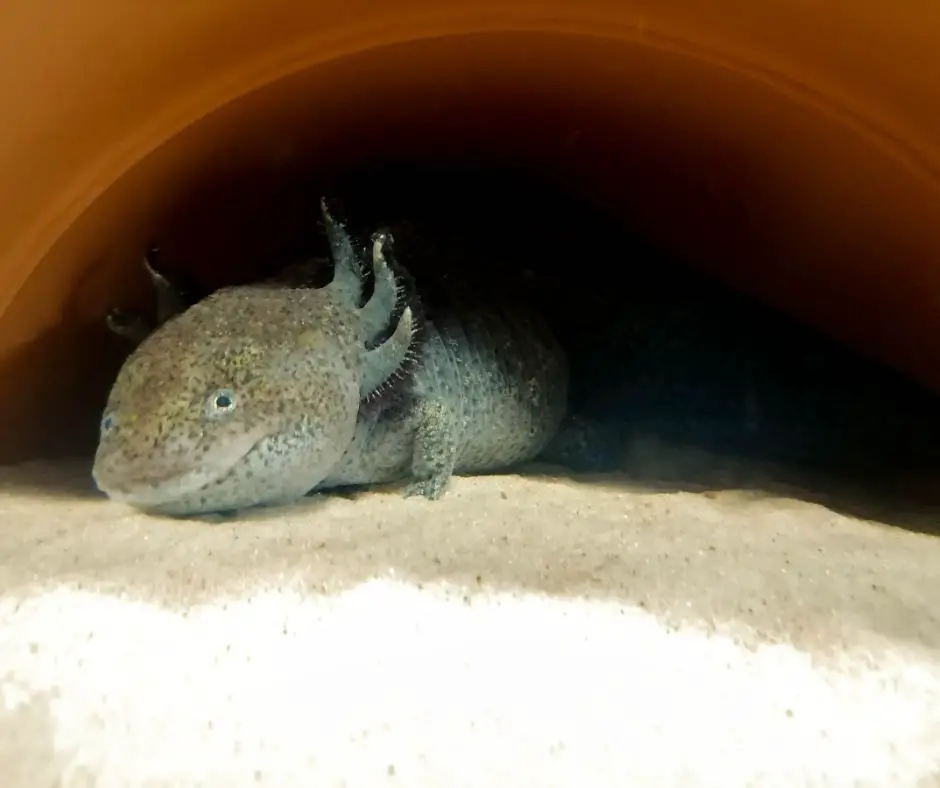 Pros of DIY Axolotl Hides
One obvious advantage of DIY axolotl hides includes the ability to customize the design to meet your needs. This means that you could even craft it to complement your aquarium's external look. 
Unlike hides purchased from pet stores, DIY axolotl hides come with the freedom of choosing the materials to use.
Coconut shells, PVC materials and terracotta clay are some of the materials that can be used in this regard. 
Another benefit of personally designing the axolotl hide is the obvious savings you make in terms of cost factors.
You can easily be creative with the materials available around you, as long as they do not contain any toxic matter. This also helps utilize and enhance your creativity as an individual.
World 9.99 Mall Reptile Rock Hide Cave Reptile Rock Hide Habitat
MM PET SUPPLIES Reptile Rock Hide Cave - World 9.99 Mall Reptile Rock Hide Habitat Decoration|Natural,Non-Toxic, Made of Resin | Hideout for Small Lizards, Turtles, Reptiles, Amphibians,Fish
VARIOUS SIZE- 7.1''*6.7''*4.3'' Please see the size picture directly to choose a suitable home for your lovely pet in case your pet can not climb into and get out.
COMFORTABLE HOME - Reptile Cave is a perfect hideout for your pet. Its all-natural, eco-friendly material helps recreate the look and feel of their natural habitats, making them happier and healthier.
PERFECT DESIGN - Foster a greater sense of privacy and security, making pet more confident, better rested.Special color and crafted texture creates realistic rock;Easy to clean soapy water
IDEAL BREEDING GROUND - Provide your pet with a home, a hangout, a playground and a hideaway - all in one. They will feel more secure, less stress and stronger immune systems
WARRANTY-Come with a 100% Satisfaction Guarantee and your satisfaction is what is most important to us.If the bed do not meet your expectations then you will receive a full refund or a replacement.
Last update on 2022-12-29 / Affiliate links / Images from Amazon Product Advertising API
Cons of DIY Axolotl Hides
One drawback of using axolotl hides is the obvious time and effort that it takes to set them up. The hides found in shops come ready-made, and only need to be installed into the aquarium.
Furthermore, the safety of materials used to make them may not be guaranteed.
Many pet owners may not have the ability to test these materials for safety and general adequacy. This may pose a risk to the health of the pet amphibians.
Additionally, the safety of a design may not be guaranteed, especially if the fabricator of an axolotl hide is a newbie to axolotl keeping.
Sharp edges and rough grains may compromise the pets' ability to utilize the hides for utmost comfort.
Zilla Shale Rock Den One size
Sale
Zilla Reptile Habitat Décor Shale Rock Den, Medium
Rock formations that appear realistic inside the terrarium
Satisfy your pet's desire to find a place to hide and cool down
Provides and elevated platform for your pet to bask and warm up
Non-porous exterior resists bacterial growth
Easy to clean with warm, soapy water and rinse
Last update on 2022-12-29 / Affiliate links / Images from Amazon Product Advertising API
Safety Rules to DIY Axolotl Hides
It is important to ensure that the DIY hide is big enough to offer easy entry and exit from within it.
If this is compromised, the pets may not really enjoy hiding away in them, and might get hurt in the process of their exploration. 
In addition to this, the hide should have smooth edges and surface to prevent any hurt or injury resulting from scrapes or cuts to the pet's sensitive skin.
With a fairly smooth surface, the hide will likely be easy to clean. This is an important quality as a clean axolotl hide helps in the maintenance of a healthy water pH.
Probably the most important quality is that the materials used to make the hide should not be toxic.
If the toxic substances leak into the water, the pet salamanders will be at risk of poisoning which can be fatal.
4 DIY Axolotl Hides Ideas
There are 4 main materials that offer convenient, affordable, easy and quick options for fabrication into DIY hides for axolotls.
Terracotta, coconut shells, PVC piping and plastic containers, as well as stones are the main materials in this regard.
Depending on your imagination and creativity, these 4 materials can be fabricated into different styles to offer diverse hides in terms of both aesthetics and functionality.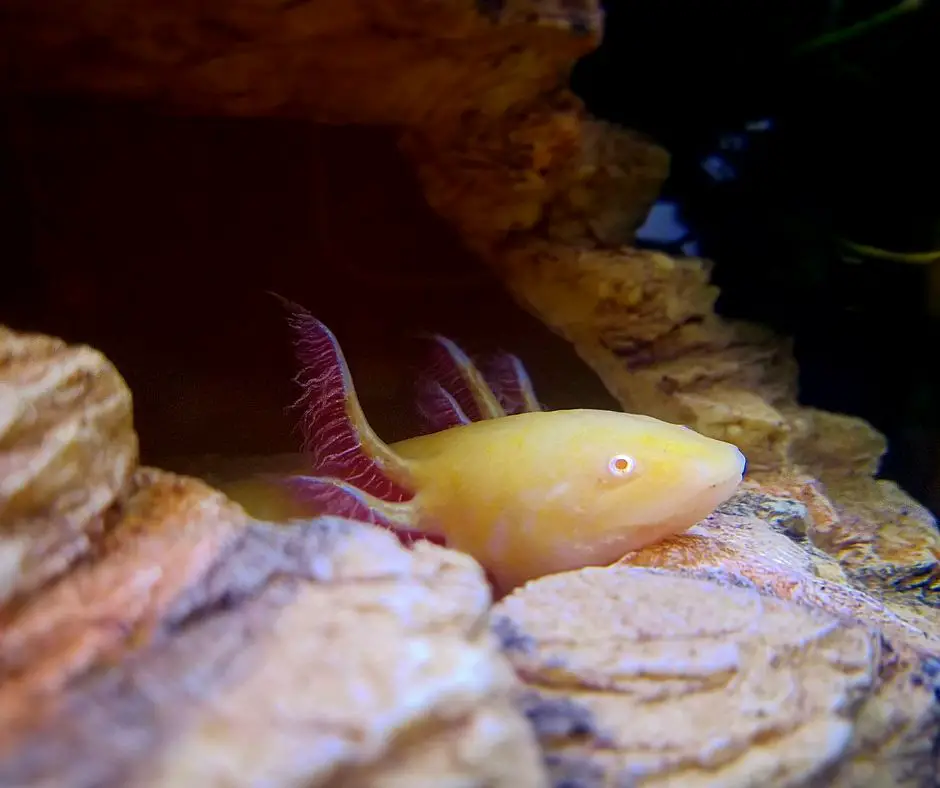 Terracotta Pot Hides
Terracotta pots offer one of the easiest and most affordable options for DIY hides.
To craft the hide yourself, you will need to have the pot itself, a small mallet, sandpaper, and a tool to make incisions on it. Ideally, a small grinder should suffice.
Steps
Position the pot bottom-up on a steady worktop and cut a line of weakness around the circumference of the base of the pot using the grinder. Be careful not to hive off a big chunk of the pot's bottom
Using the mallet, gently tap at the bottom of the pot to dislodge the portion targeted
If you're looking for an open cylinder, you may simply need to smooth off the edges and your hide will be ready
If you need a more elaborate hide, place the pot on its hollow bottom on the worktop
Hold the grinder across the top circumference, taking care to cut off one quarter of the pot sideways
Move the grinder vertically downwards until you reach the base
Using the mallet, gently tap the targeted portion to dislodge it from the pot
Once you have the desired shape, smooth out the sharp edges using sandpaper
Place it in the tank with the longer, cutout part facing downwards
Coconut Shell Hides
Coconuts from the grocery store nearby could also provide a creative and innovative DIY hide. You will need a small hacksaw, meat cleaver or chef's knife to pry it open.
A sandpaper will also come in handy in smoothing its surface to make it safer for use by axolotls.
Steps 
Using a kitchen knife, husk the coconut to remove the fibrous material and reveal the nut
Drill a hole into the side of shell to drain out the coconut water
Use the hacksaw to cut across the circumference of the nut and hack away along this line till you reach the flesh inside
Use a smaller sized kitchen knife to pry it open and remove the flesh from the nut
Sand the exterior of both shells using sandpapers of varying grits  
Cut out shapes from the shells depending on the desired style of axolotl hides. Ensure that the cut-out shapes are large enough to let axolotls inside
Sand the edges of the newly cut-out areas to ensure that they are smooth
Place the shells into a dry, well-aerated place to get as much moisture as possible from them. This may take a couple of days. Avoid drying them in a very hot location as this may cause the shells to be warped in shape under intense heat
Once the shells are dried and smooth, introduce them into the axolotl tank.
PVC Piping Hides or Plastic Containers
You will need a PVC pipe or other plastic container of an appropriate size, a hacksaw or grinder for cutting and sandpaper for smoothing it. 
You may also need a marker pen and ruler. Consider the size of your pets before selecting the container.
Steps
Measure the container and put markings on it on the sections to be cut
Firmly hold the container or piping towards the edge of the worktable
Carefully cut through the container using the grinder or hacksaw
Smooth the edges of the plastic using sandpaper
You may use aquarium silicone to glue smooth river stones to the hide to prevent it from floating to the top of the tank
Once the adhesive sets, your PVC hide is ready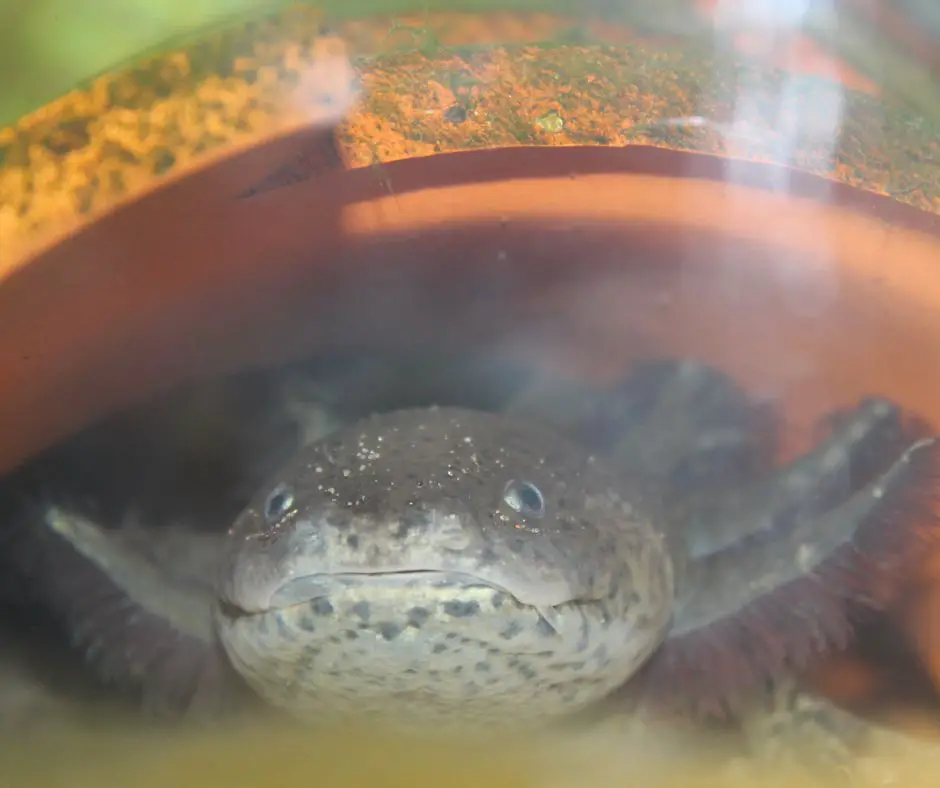 Stone Axolotl Hide
You will need river stones which you can gather yourself or buy from a pet or decor store. You will also need aquarium silicone adhesive to glue the stones together.
Steps
Clean the river stones thoroughly either by hand or in a dishwasher
Arrange the first layer of stones next to each other in a semicircle
Apply adhesive to the top of the stones before piling another layer 
Set a bowl into the semicircle that has formed to support the increasing pile of stones
Continue gluing the stones as you pile new layers on top till the cave is a decent size
Using the bowl for support, glue more stones projecting outwards as you near its top
Allow the adhesive silicone to set before introducing the hide into the tank
Alternatives To DIY Axolotl Hides
Given the few drawbacks that fabricating your own axolotl hides may come with, there are good alternatives that you could buy ready-made from a pet store.
One such example is the non-toxic, hide cave available on Amazon on World 9.99 Mall Reptile Rock Hide Cave Reptile Rock Hide Habitat.
Another ready-made alternative to DIY axolotl hides is the Zilla Shale Rock Den One size which offers a realistic design that almost mimics underwater caves in the wild. 
You may also consider a hide made in the style of natural drift-wood which not only adds a visual aesthetic to the tank, but does not interfere with the water's pH.
The Marina Naturals Malaysian 1/2 Log Driftwood with Plants offers a driftwood-like hide which looks almost natural.
Marina Naturals Malaysian 1/2 Log Driftwood with Plants
Sale
Last update on 2022-12-29 / Affiliate links / Images from Amazon Product Advertising API
Conclusion
DIY axolotl hides offer convenient and cheap means to entertain your pet salamanders and make them more comfy in their tanks.
Terracota pots, PVC pipes, and coconut shells are all good examples of possible DIY materials that can be used in this regard. 
With sufficient precautions to ensure use of non-toxic materials, you can find an outlet for your creative mindset to the advantage of your beloved pets.
As long as the hide is smooth with the right-sized windows for their entry and exit, you will have saved a few coins that would have gone towards purchase of ready-made hides.