Axolotl is a cold-water animal and does not do well in warm water. They do best in a tank with a temperature between 64-70oF.
Many owners living in warm climates with temperature spikes during certain months find it hard to cool an axolotl aquarium. Then, how do you keep your axolotl tank always cool?
In this article, we will help highlight everything you need to know about how to keep axolotl tank cool. You will learn the ideal temperature suitable for your axolotl and 8 ways that you can keep an axolotl tank cold.
Why Do Axolotls Need Cool Tanks?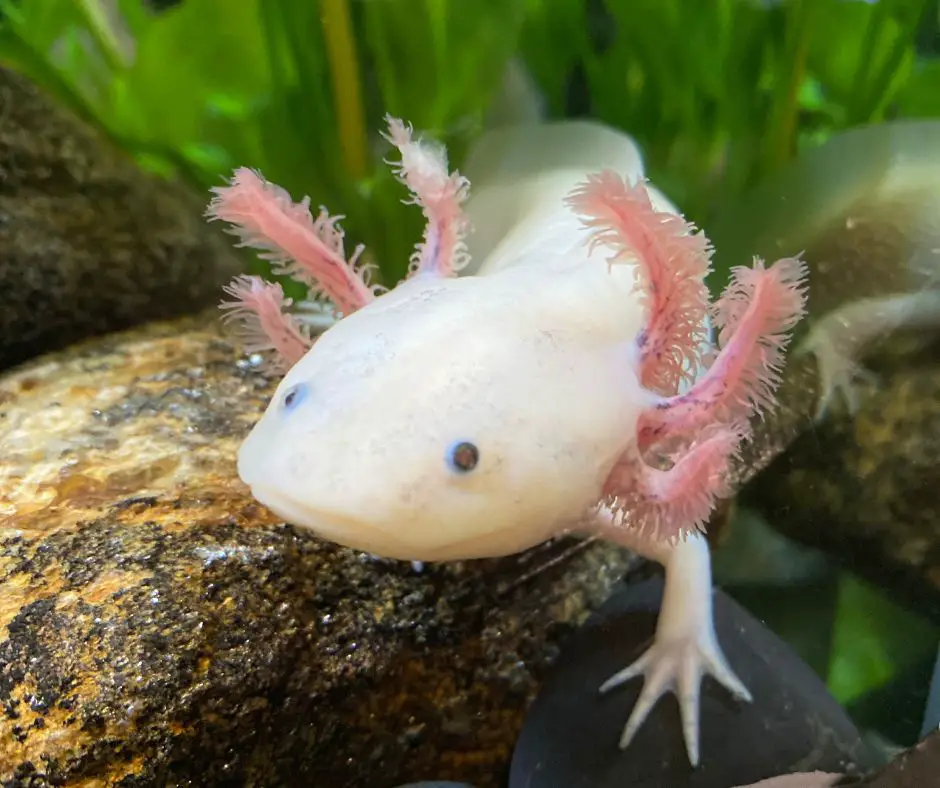 Axolotls usually do better in cold water conditions than in warm water conditions. They do best in a tank that is about 64oF. However, your axolotl will become stressed and at risk of a health problem if their tank is too hot.
Axolotls can also have behavioural changes, decreased metabolic rate, and sluggishness if their tank is too cold. This is why axolotl owners must ensure there is no sudden temperature change in their cage.
Also read: Understanding Your Pet: 12 Common Axolotl Behaviors
How to Keep Axolotl Tank Cool
As stated before, the ideal tank temperature for axolotl is 64oF or 18oC. Axolotl owners must create a water condition that resembles their water condition in the wild to keep them happy and healthy.
Now that we have established that axolotl requires a cold tank, some of the ways to keep an axolotl tank cold are stated below.
There are several ways to keep your axolotl tank cool: using air-conditioning, installing a dedicated cooling system, keeping the tank in a cold room, or increasing evaporation. You can also use ice bottles, jugs, or cubes to create additional cooling.
Using Air-Conditioning
Using air conditioning is efficient to keep an axolotl tank temperature cold. You can either install the air conditioner in the house or just in the room where you keep your axolotl.
However, water cools down slower than air, and you have to determine the suitable temperature for your air conditioning system to help efficiently cool the water in the tank.
You can invest in an aquarium thermometer to help determine the suitable temperature that works for your axolotl's tank.
Also read: How to Tell If Your Axolotl Is Happy
Use A Cooling Fan/Aquarium Fan
Fans are a good way of keeping an axolotl tank cool. You will be surprised by how circulating air in your axolotl's tank can help reduce the temperature in their tank. With a fan, you can reduce the temperature in your axolotl tank by 4-6 degrees lower.
The best thing about using a fan is that you can go for the big flat fan at the store. However, this can be a bit noisy, and you may even opt for an aquarium-specific fan.
LONDAFISH Aquarium Chillers Aquarium Fan Fish Tank Cooling Fan Marine 2 Fan
LONDAFISH Aquarium Chillers Aquarium Fan Fish Tank Cooling Fan Marine 2 Fan
NOTE: Fits Tank Rim up to:12mm thickness (adjustable) /Suggestions:2 fan fit for 40cm fish tank /Two-speed wind control,according to the indoor temperature,reduce water temperature and drop up to 2 ~ 3℃
Adjustable jaws can clamp the the cylinder wall that the thickness within 1.2cm,meet the daily use of fish tanks
Great cooling fans 12V safe voltage,with high security standards and ensure the safety of the fan
Angle adjustable:Adjustable width of fan and bracket up to 100°,practical and easy to install and move
Safety Packing With Wonderful After Sale Service: We provide with 90 days return and refund service and all the emails will be replied within 24 hour. We provide lifetime technique support, if you have any question, please feel free to contact us.
Last update on 2022-12-30 / Affiliate links / Images from Amazon Product Advertising API
Installing A Dedicated Cooling System
Opting for an aquarium cooling system may be the best option for your axolotl aquarium if you don't want an air conditioning system but want to regulate their tank temperature.
There are two aquarium cooling systems that you can buy, namely refrigerated aquarium chillers and thermoelectric aquarium chillers.
A refrigerated aquarium chiller will help to remove heat from your axolotl tank and then transfer it somewhere else. A thermoelectric cooler will help to absorb heat through a probe in the tank, and it will then be transferred into a heat sink located above the tank.
A refrigerated aquarium chiller is usually very efficient but is more expensive than a thermoelectric cooler. However, thermoelectric coolers are cheaper but are efficient in tanks of about 10 gallons.
Location: Keeping The Tank In A Cold Room
The location where you place your axolotl tank will determine how cold or hot it will be. This is why you should consider this whenever you are placing a tank in a room to help avoid the accumulation of excess heat.
You can easily keep an axolotl tank cold by placing it in a cool room or basement. Another way to keep the tank cold is by placing the tank close to the floor instead of raising the tank from the floor.
You should also ensure the tank is not exposed to light because it can heat up the water.
It is also recommended that you avoid turning on the tank light, especially during the hottest hours of the day, to help keep the temperature lower.
You can also keep the axolotl tank cold by opening the windows at night for a cool breeze to enter the room.
Keep Tank Away From Electronics That Create Warmth
A great way to ensure your axolotl tank is cold is by removing any appliances that give off excess heat away from the room. Another thing is to replace appliances that give off heat like incandescent lights for an appliance that does not like led lights.
It is also possible to reduce the heat in your axolotl tank by simply installing lights high above the aquarium.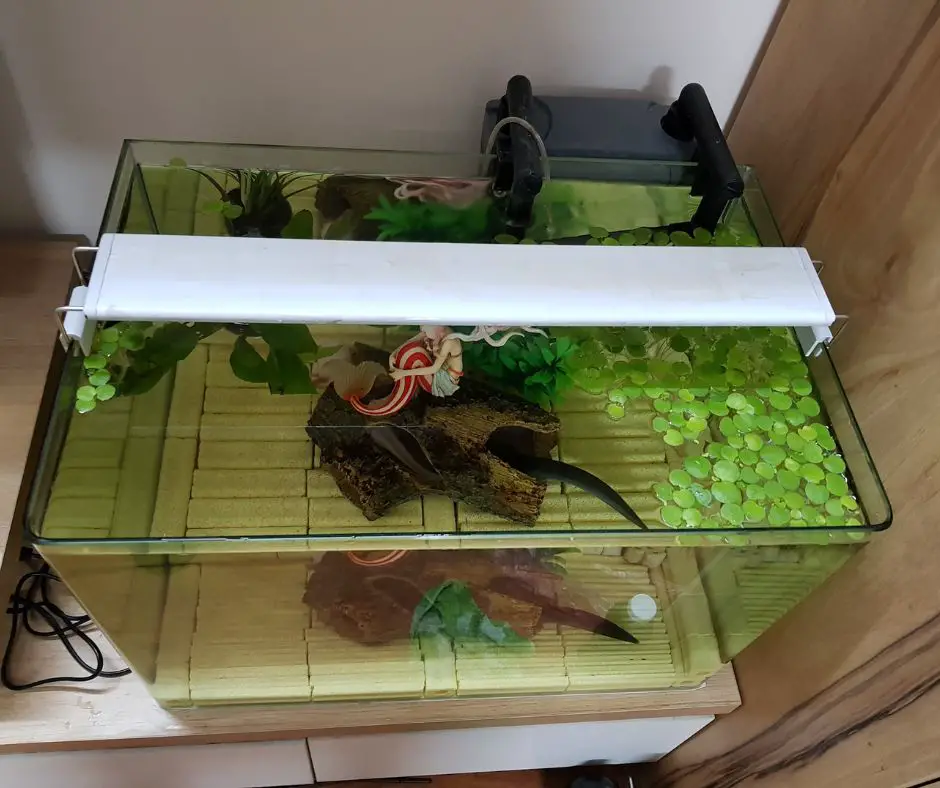 Using Ice Bottles, Jugs, or Ice Cubes
Although this is a popular method used to reduce heat, it is regarded as the least effective method. However, you can use this method during heat waves or when transporting your axolotl.
Ice cubes and ice bottles will help reduce the temperature in their tank to a few degrees.
When using ice cubes, it is best that you prepare the cube with dechlorinated water and add it at night when you have removed some water from the tank.
It is also recommended that you use dechlorinated water for ice bottles or jugs in case the water leaks into your axolotl's tank.
When using an ice bottle, you will submerge the bottle partially in the aquarium and keep an extra bottle in the freezer for switching the bottles.
However, you should monitor the water temperature closely when using ice bottles or ice cubes to help avoid any sudden changes.
Increasing Evaporation
By aiding evaporation, axolotl owners can also lower the water temperature in their axolotl's tank for around 2oF. You can simply use an aquarium hood or screen top to reduce the temperature.
Furthermore, placing an air stone in the tank or a filter with a spray bar can help reduce the water temperature.
You can simply use this method with a fan blowing on the towel wrapped around the tank to help reduce the tank temperature.
Poafamx Aquarium Chiller 79Gal 1/3 HP Water Chiller for Hydroponics System Home Use Axolotl Fish Coral Shrimp 110V with Pump and Pipe
Poafamx Aquarium Chiller 79Gal 1/3 HP Water Chiller for Hydroponics System Home Use Axolotl Fish Coral Shrimp 110V with Pump and Pipe
[INSTRUCTIONS AND TEMPERATURE CONTROLLER UPGRADED] We have upgraded the instructions and temperature controller based on previous after-sales problems, more precise temperature control and convenient temperature setting are provided
[HIGH-EFFICIENCY ENERGY-SAVING COMPRESSOR TO MAKE FAST AND ACCURATE CYCLE] Built-in high-efficiency energy saving compressor, which can support automatic constant temperature function and circulation refrigeration technology
[ONE WATER PIPE CUT INTO 2 PIECES] Aquarium water chiller is equipped with a 3m/118 inch long water pipe, and you need to cut it into two pieces while installation
[FISH TANK AND HYDROPONICS SUITABLE] Widely used in fresh water and saltwater fish tanks or hydroponics systems for homes, hotels, aquariums, fish farms, and other fields. Suitable for aquatic creature, aquaculture, axolotl, fish, crystal shrimp, coral and jellyfish
[ONE YEAR WARRANTY] Our stores provides one-year warranty for this 79gal water chiller, we will give you a satisfactory solutions if any problems encountered. You can contact us via email and we will reply within 24 hours
Last update on 2022-12-29 / Affiliate links / Images from Amazon Product Advertising API
Insulating The Aquarium
Generally, the insulating of an aquarium cannot really help to reduce an axolotl tank's temperature.
However, insulating the sides of the tank coupled with the several cooling methods stated above will help increase the efficiency of keeping the axolotl tank cold.
Tip: Use a thermometer to monitor temperature
One of the most important instruments you need to keep an axolotl tank cold is using a thermometer. This will help you determine the exact temperature in your axolotl's tank and the suitable adjustment you will need to make.
You should opt for a thermometer that can simultaneously measure the air and water temperature.
Some of the best thermometer that you can use are:
JW pet company fusion smarttemp thermometer
Zacro LCD Digital Aquarium Thermometer Fish Tank Water Terrarium Temperature
In Conclusion
Axolotls are among the most fascinating and thrilling animals you can keep as a pet. However, they require special care and enjoy a cold tank to stay healthy and happy.
This means you should be ready to keep the water in their tank cold all the time.
We hope this article provides you with enough information that you need to keep your axolotl tank cold. You can message us in the comment section below if you have any questions or comment about keeping an axolotl tank cold.