Leopard geckos are lovely pets suitable for all kinds of hobbyists. When it comes to picking a name for your pet leopard geckos, there are lots of interesting and original names that you can choose.
However, it is quite harder to select a single name from the plethora of names available.
This article is a perfect one for you if you are looking for names for your leopard geckos.
My team had came up with these names after doing extensive research on the name ideas available out there.
Leopard Gecko Color Morph and Other Fun Names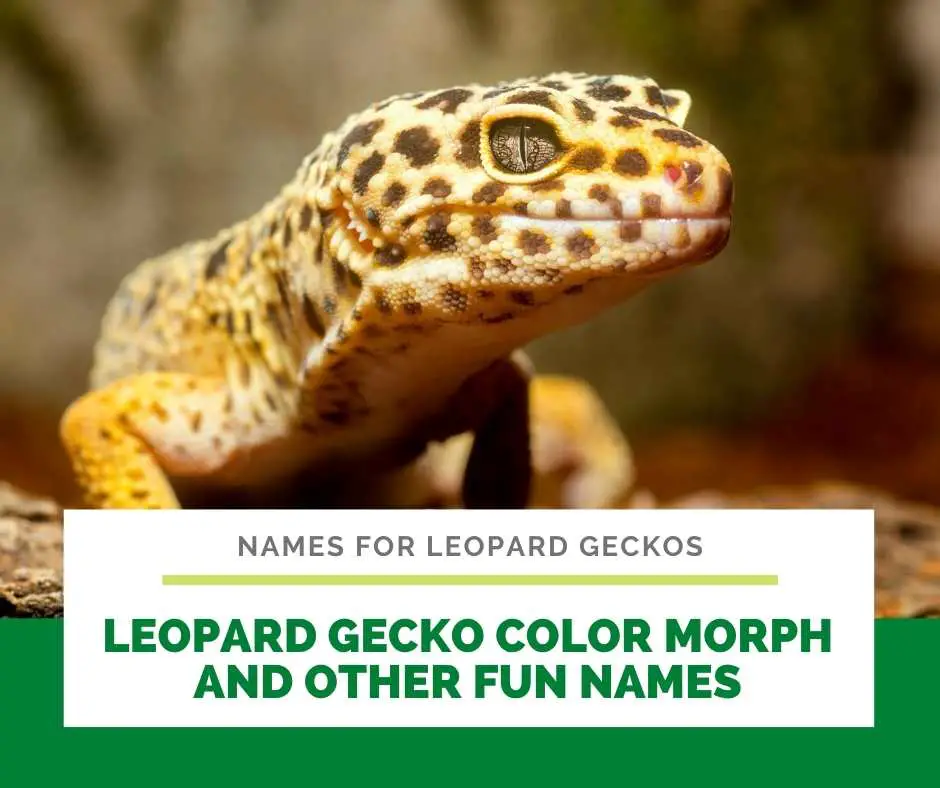 Here are some of the name ideas for your gecko if you want to name them based on their body color.
Apricot
Aurora
Blaze
Bubbles
Cactus
Carrot
Caviar
Cheesecake
Cloud
Coral
Cream
Daffodil
Ferrari
Flame
Fringy
Frosty
Goldenrod
Granola
Knight
Lavender
Lemon
Leo
Luna
Maple
Marigold
Marshmallow
Melon
Neon
Nitro
Orange
Peach
Pepper
Pickle
Popcorn
Poppy
Raspberry
Saffron
Slate
Snow White
Sunny
Sunrise
Sunset
Spike
Tabasco
Tango
Tiger
Titanium white
Trickster
Yolk
Zen
Leopard Gecko Male Names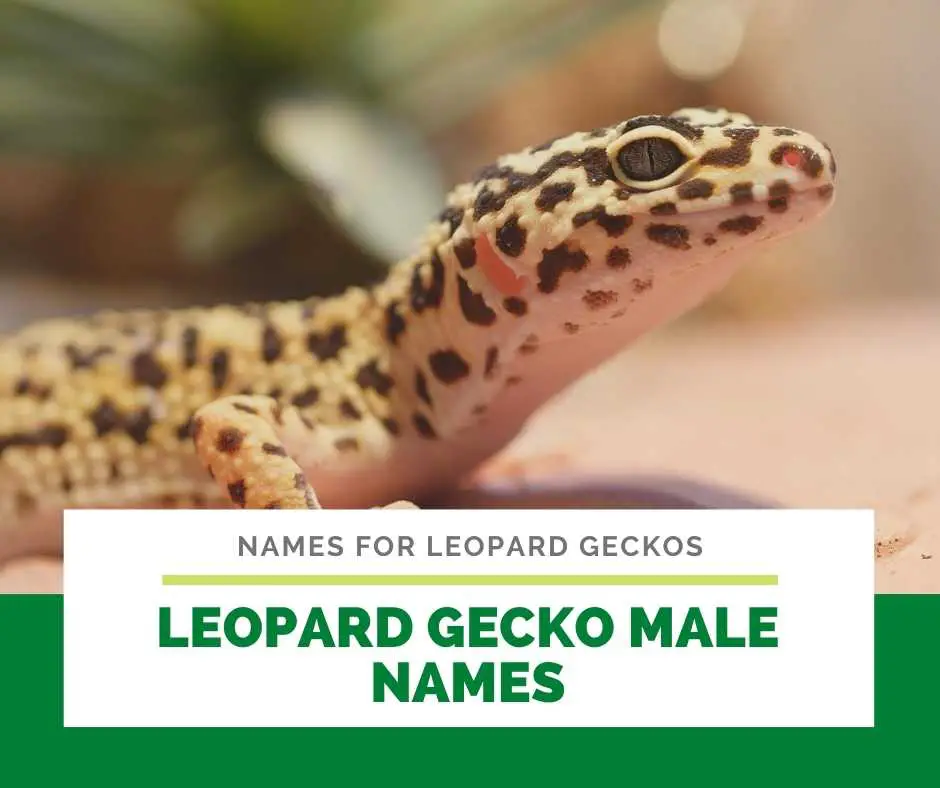 You can name your leopard gecko based on their sex. This is a list of creating and popular male names suitable for your leopard gecko.
Abe
Acid
Adams
Astro
Avery
Bandit
Blade
Bronx
Buzz
Cayce
Coco
Cosmo
Dante
Dracula
Dred
Dune
Edison
Espresso
Falcon
Franklin
Gladius
Goku
Hamilton
Hancock
Hazard
Hunter
Invictus
Lux
Machete
Mercury
Mufasa
Needle
Ranger
Rebel
Revere
Rock
Shadow
Skull
Smasher
Tank
Tesla
Terminator
Tron
Tyrone
Vader
Washington
Whisky
Wright
Zeus
Zippy
Leopard Gecko Female Names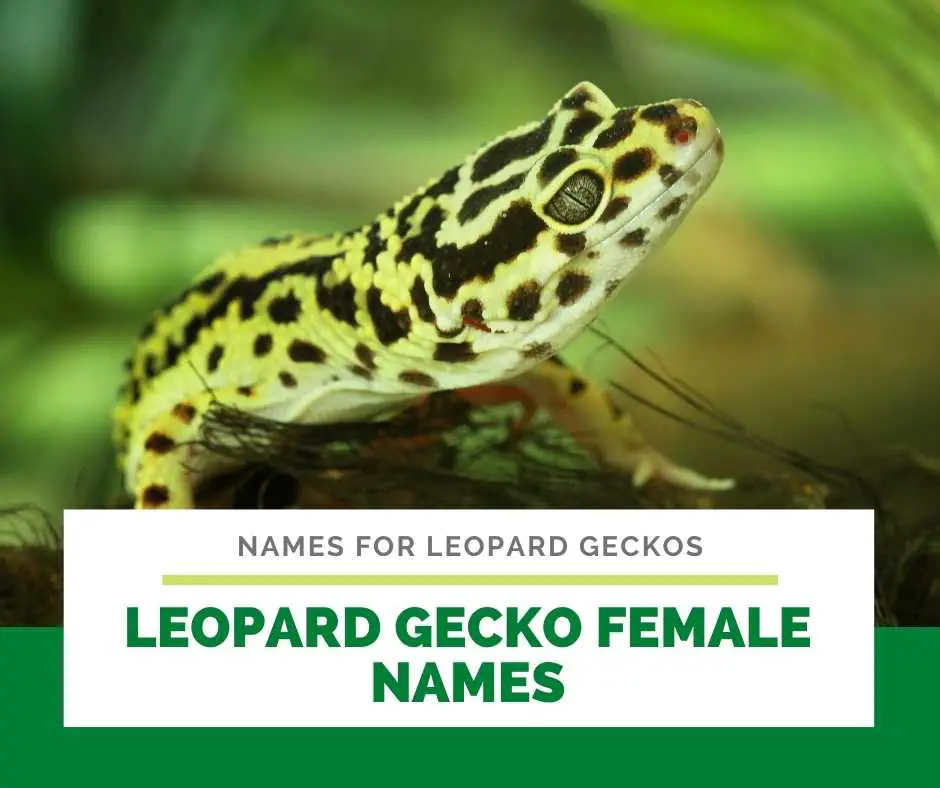 You need a unique name to match the personality of your female leopard gecko. Here are some of the interesting and popular names suitable for your female leopard gecko.
Amelia
Ariel
Athena
Austen
Bella
Beulah
Bird
Breedlove
Clara
Curie
Daisy
Diamond
Duchess
Emilie
Faith
Fanny
Frenzy
Fry
Gabriela
Geisha
Ginger
Gracie
Henie
Isabella
Latte
Laura
Liberty
Liz
Martina
Mirage
Molly
Nightingale
Penelope
Pocahontas
Princess
Rosa
Ruby
Siena
Siren
Stella
Tally
Trixie
Theodora
Ursa
Venus
Xena
Zarrabi
Zelda
Zilly
Zora
Leopard Gecko Unisex Names
You may not want to use a gender-specific name for your leopard geckos if you have a hatchling or juvenile because you cannot know their sex until they are older. However, there are lots of cute unisex names that you can name your leopard gecko suitable for both males and females.
Angel
Beamer
Booger
Bumps
Chatty
Checkers
Cheesy
Cookie
Crunch
Dash
Data
Deuce
Doodle
Dot
Duckie
Fidget
Flow
Froggie
Gecky
Goosebumps
Happy
Indigo
Jumpy
Kiwi
Loki
Looney
Lotus
Lucky
Mint
Monkey
Nexus
Nico
Nod
Nugget
Pazzi
Pepe
Pixel
Pompeii
Reese
Smiley
Snoopy
Speckles
Spots
Sprinkle
Sprite
Techno
Tiny
Twilight
Winky
Zip
Princes Leopard Gecko Names
Here are some of the royal names that you can name your leopard geckos.
Albert
Alexander
Ali
Andrew
Antonio
Arthur
Atticus
Bruce
Carlos
Caspian
Cedric
Charles
Christian
Claude
Cornelius
Cosmos
Dante
Diego
Dmitri
Douglas
Dylan
Edward
Elliot
Ernest
Francis
Frederick
Felix
Gabriel
George
Giuseppe
Griffin
Hector
Henry
Hugo
Jeremy
John
Louis
Milan
Norbert
Patrick
Pendragon
Prince
Roger
Sebastian
Smith
Sultan
Tiberius
Thor
Tristan
Xavier
Human/ Celebrity names
You may also decide to name your leopard gecko with celebrity names. Some of the celebrity names that you can use are stated below.
50 Cents
Adele
Arya
Aretha
Avicii
Avril
Bach
Brad Pitt
Beyonce
Britney
Burton
Celine
Curie
Cher
Daenerys
Dani
Demi
Drake
Elton
Elvis
Federer
Gustav
Hamilton
Jay Z
John Legend
Justin
Katy
Lady Gaga
Larry
Lebron
Mabel
Madonna
Mariah
Mayweather
Merlin
Mozart
Perry
Phelps
Pink
Rihanna
Sebastian
Selena
Serena
Steve
Swift
Tom Cruise
Tyler
Tyson
Whitney
Wolfgang
Food-Related Names
There are different criteria that you can use to name your leopard gecko. One popular and unique name is to name them after your favorite food. Here are some of the name ideas for your gecko using food names.
Apple
Avocados
Banana
Barbecues
Biscuits
Blackberries
Cake
Cheddar
Chips
Chocolate
Cola
Coconut
Cucumbers
Curry
Dates
Doughnuts
Eggroll
Falafel
Flakes
Grapes
Gyro
Hamburgers
Hobnobs
Honey
Kebab
Mango
Melon
Noodles
Orange
Oreo
Pancakes
Papaya
Peaches
Pepsi
Pie
Pineapple
Pizza
Potato
Pudding
Pumpkin
Sandwich
Shawarma
Snickers
Strawberries
Sushi
Tacos
Tofu
Tomato
Twix
Watermelon
Footballer Names
If you are a football fan, you can name your leopard geckos using footballer names. Here are some popular footballer names that you can use.
Aguero
Alisson
Arnold
Aubameyang
Benzema
Casemiro
C. Ronaldo
Coutinho
De Bruyne
Dembele
Ederson
Figo
Firmino
Giroud
Haaland
Jesus
Kane
Kante
Kroos
Laporte
Lewandowski
Luiz
Mane
Maradona
Mbappe
Messi
Modric
Muller
Neymar
Pele
Pulisic
Rashford
Ribery
Robben
Robertson
Ronaldo
Rooney
Salah
Sanchez
Sancho
Sterling
Suarez
Terry
Thiago
Tierney
Van Dijk
Van Persie
Walcott
Wilshere
Zidane