Being a dog lover is not easy; after every two steps, choices of pets vary from one person to another person. Small long haired dog breeds look so beautiful as a pet. Although, this type of dog breed requires extra grooming and brushing.
You might get confused while choosing the best suited long-haired dog breed because they range from Irish Setters to terriers to sheepdogs.
If you are interested in petting small long haired dogs, you will find the best of them right here. Explore our list of top 10 small long haired dog breeds. And learn about their temperament, prices, and ways to take care of a particular dog breed.
What Are Small Long Haired Dog Breeds?
Long haired breeds of dogs have long coats. Some are silky and fine, while others are thick and dense. Their long haired dogs have long, luscious locks that require grooming to make them look and feel good. Many long haired dogs are considered hypoallergenic.
As you know, long hair dogs need extra brushing, grooming, and care; the hair length of the dogs can be chopped or trimmed to any length. You can cut their hair from long to medium-length to ultra-short as you like.
In this article, we have listed the top 10 dogs that have long hair; and are small in size. We have picked up dogs with sizes 9 inches to 20 inches. They have long and dense coats with a compact size.
Top 10 Small Long Haired Dog Breeds
Take a look at the list of best-haired dogs that are small in size. It will help you to select the one dog, which is perfect for you.
| | | | |
| --- | --- | --- | --- |
| Dog Breed  | Size | Life Expectancy | Cost  |
| Coton de Tulear | 9 inches to 11 inches | 14 years to 16 years | $1,300 to $2,000 |
| Maltese | 7 inches to 12 inches | 12 years to 15 years | $1,000 to $3,000 |
| Bolognese | 10 inches to 12 inches  | 10 years to 14 years  | $1,200 to $2,000 |
| Japanese Chin | 6 inches to 13 inches | 12 years to 14 years  | $900 to $1,500 |
| Tibetan Terriers | 14 inches to 16 inches | 12 years to 15 years  | $1,000 to $2,500 |
| Yorkshire Terrier | 8 inches to 9 inches | 13 years to 16 years | $800 to $1,500 |
| Lhasa Apso | 10 inches to 11 inches | 12 years to 14 years | $900 to $1,300 |
| Pekingese | 6 inches to 9 inches | 12 years to 14 years | $700 to $6,000 |
| Shih Tzu | 9 inches to 10.5 inches | 10 years to 16 years | $500 to $1,600 |
| Afghan Hound | 20 inches to 24 inches  | 14 years to 16 years  | $1,000 to $1,500 |
Size, lifespan, and price comparison of small long haired dog breeds
Coton de Tulear
The Coton de Tuléar name was kept in the name of the city of Tuléar in Madagascar. It has been said that this breed originated from the small white dog's group, which swam across the Malagasy channel following a shipwreck.
Coton de Tulear is best known for long hair and cotton-like coats. Their dense coat is soft and supple with a cotton texture. They have white, gray, tri-colored, or black markings over their body.
Coton de Tulear is famous as Madagascar's Royal Dog. They are charming by look and human-friendly by nature. 
The life purpose of Coton is to be a loyal companion so they can't tolerate loneliness. They are prone to separation and hate to be left alone for many hours. As an owner, you must groom them and brush their coats regularly.  
The Coton de Tulear dog stands for 9 inches to 11 inches. You can easily buy a puppy between $1,300 to $2,000.
Maltese
The Maltese breed originated in south-central Europe. This breed doesn't have any relation to the island of Malta.
The Maltese have glossy, shiny, dense, silky, and long coats. Their long and beautiful hair needs to be combed a minimum of twice a week.
The Maltese dog has a happy, lively personality, and is an easy-to-train breed. It is a playful breed, human-friendly, and replies to positive reinforcements. Maltese puppies of good temperaments are ready to address people, curious and playful.
The Maltese have long coats that need regular brushing, and also they like to play and walk regularly. They are active and don't need a heavy exercise routine.
The height of Maltese can be 7 inches to 12 inches. You can buy this breed from $1,000 to $3,000. Of course, it's a high-maintenance breed but a great choice for petting.
Bolognese
The Bolognese is a bichon-type dog breed, which originated in Italy. Bolognese name refers to the city of Bologna.
The Bolognese have fluffy, soft, and long white coats. The best part is their coats shed less. 
This dog is a calm, faithful, and sweet-tempered lapdog. They like to get attention plus make the best-suited pets. You don't need to work hard in teaching them to socialize because they are good at socializing with other dogs.
To prevent their long coats, brush them regularly and bathe them once in 15 days. Also, you can use a hair clip to manage their hair.
This breed stands for 10 inches to 12 inches. The cost of a puppy is $1,200 to $2,000.
Japanese Chin
The Japanese Chins originated in China, and it is an ancient dog breed. These are the Chinese imperial court's prized members.
Most dogs usually have two different types of hair, such as an overcoat. The Japanese Chin has the only overcoat. They have beautiful long hair. 
This breed is known for being intelligent, independent, and alert. They require less walking or exercise. It is a lazy breed so training could be difficult. Japanese Chin can live in an apartment or indoors, and they are a good companion. Before buying, remember that they can't live without people.
The Japanese Chin's stands for 8 inches to 11 inches. The price of a Japanese Chin puppy could be $900 to $1,500.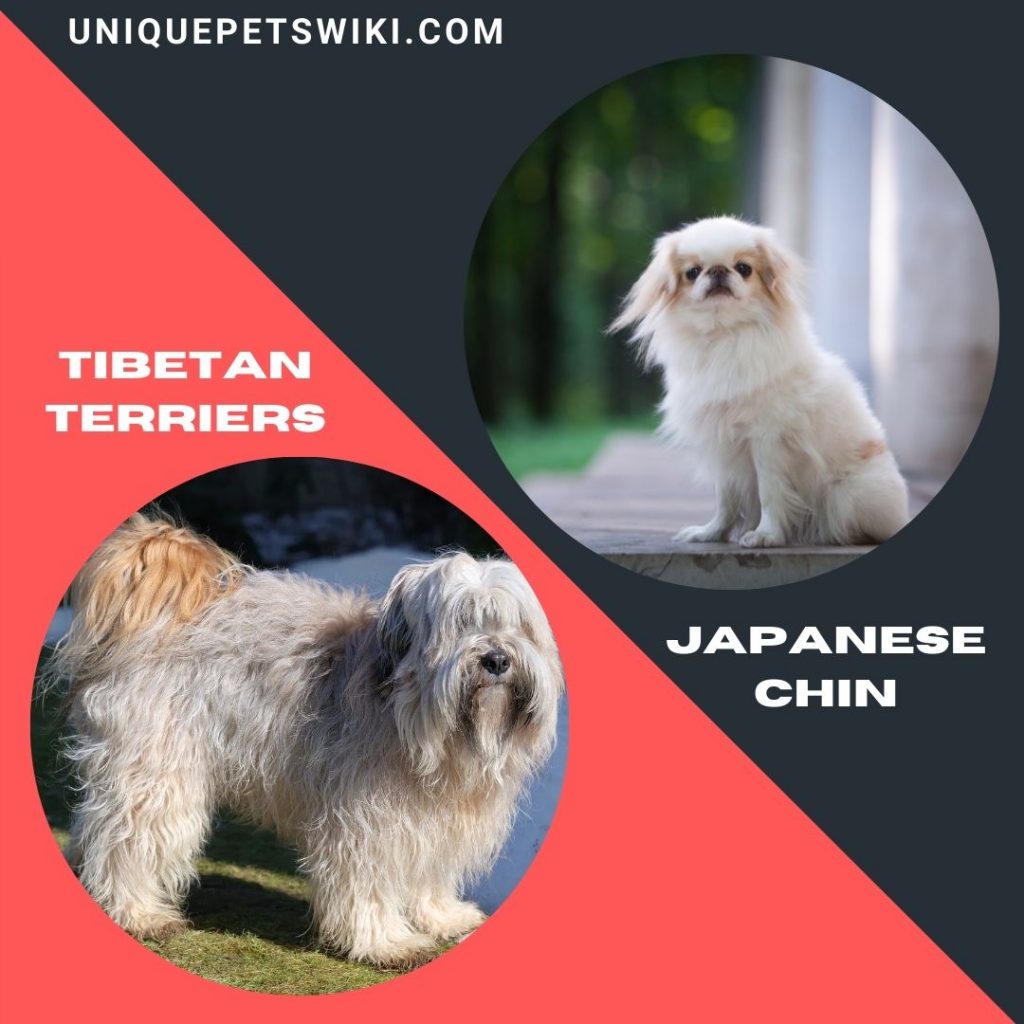 Tibetan Terriers
The Tibetan Terrier is a Tibet-originated dog breed. Actually, it's not a member of the terrier group, but European travelers gave this name because it resembled the terrier breed.
It is known as the "Holy Dog of Tibet" and has long coats. The protective double coat includes a fine outer coat that is neither wooly nor silky and a soft undercoat.
It is one of the most attractive dog breeds. They are sensitive to their masters, gentle with children, and affectionate family dogs when introduced.
If you are petting Tibetan Terrier, then brush their coats at least thrice a week. Also, keep their hair trimmed or short.
A Tibetan Terrier stands for 14 inches to 17 inches. Their price starts from $1,000 to $2,500.
Yorkshire Terrier
In the 19th century, the Yorkshire Terrier originated in England, Yorkshire. It is popular for being the small dog breed.
They have smooth and shiny long coats. Yorkshire Terrier has a tan, black, and grey color coat.
They are energetic, playful, and friendly dogs. Yorkshire Terriers have separation stress, so don't leave them alone in the home. They need your efforts, love, and care.
The dog stands from s 8 inches to 9 inches. A puppy price starts from $800 and can be up to $1500. It is a good indoor pet dog with such features.
Lhasa Apso
The Lhasa Apso dog is known as a non-sporting and Tibet-originated dog breed. People used to keep them as guard dogs. This name was kept based on, Apso is a Tibetan word, and Lhasa is a Tibetan city.
They have long coats, and the texture is heavy, straight, hard, and straight. Their coats are neither wooly nor silky. They have a variety of colors, such as black, white, red, and gold, with different shadings.
Lhasas are comedians with a confident, complex, and smart nature. Remember, they are non-familiar with strangers. They need a cold temperature to survive. You should comb their coat at least twice a week.
They stand for 10 inches to 11 inches approx. You can buy a Lhasa Apso puppy from $900 to $1300.
Pekingese
The Pekingese is a small and oldest dog breed. It was said, this breed lived in China for 2,000+ years. The name Pekingese was kept after the Peking (Beijing).
They consist of long and thick coats. Their coat mats easily, especially in friction points, such as within the rubs and the collar rubs.
If you're a fan of small friendly dog breeds, then you'll love the Pekingese dog breed. Pekingese is a playful, friendly, and affectionate dog breed. These dogs are adaptive to small houses or apartments.
They like to exercise or walk regularly. With a small nose, this breed is heat sensitive. You should provide them a cold living temperature.
Their size is between 6 inches to 9 inches. A puppy can cost $2400 to $6000.
Shih Tzu
The Shih Tzu is a Tibet-originated dog breed. The Asian toy dog breed is popular for its small size, round eyes, short snout, and furry hair. From The word lion (Chinese language word) the name Shih Tzu was formulated. It was said that this breed resembled the lion.
The Shih Tzu dog breed has long furry coats over the body. It was necessary to brush their hair at least once in seven days.
This small dog breeds likes to have a walk, play, and have fun. They are calm by nature and human-friendly.
The Shih Tzu needs at least 20 minutes to walk every day. They can adapt to the weather conditions of every city. Still, you should keep them in a cold room.
They stand between 9 inches to 10.5 inches. You can purchase a puppy between $500 to $1600, but usually, you can find it at $850.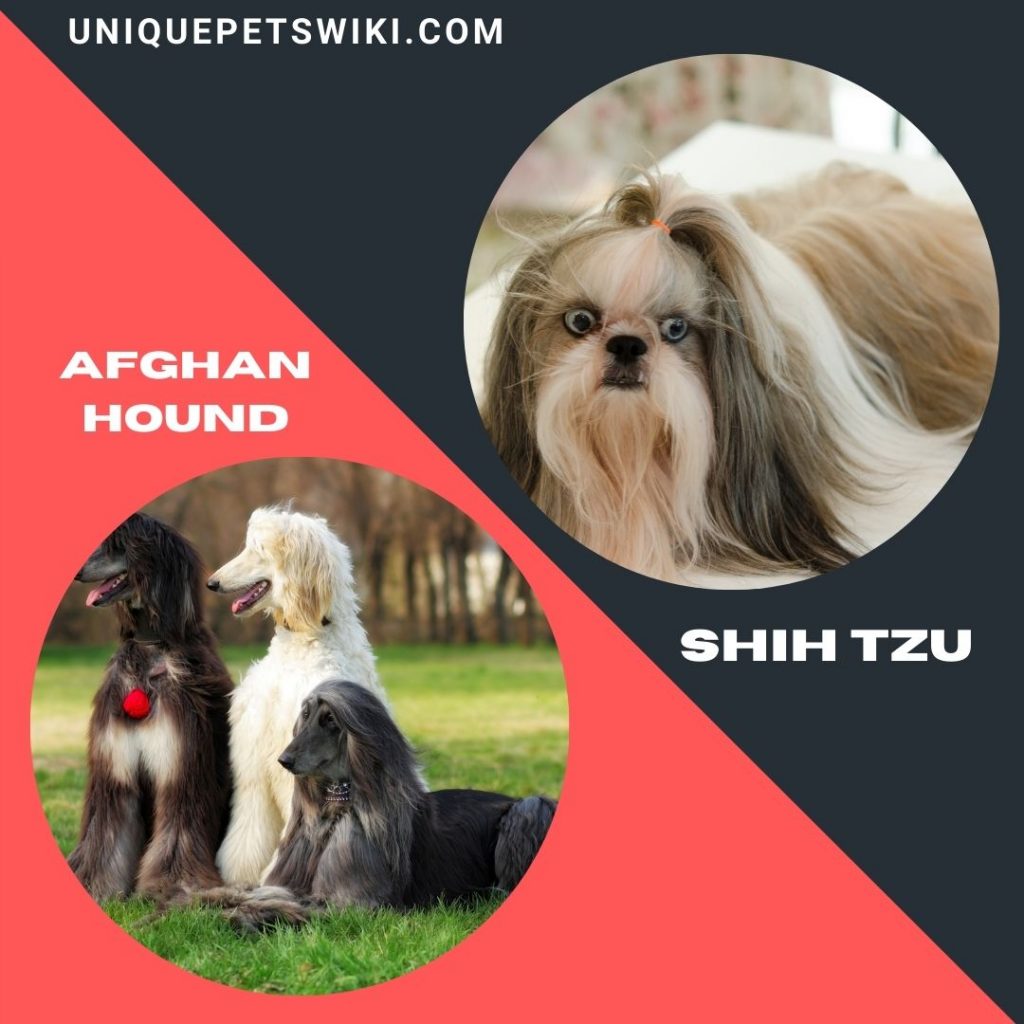 Afghan Hound
Afghan Hound originated from the cold mountains of Afghanistan. Despite this name, it has some local names such as Sag-e Tāzī or Tāžī Spay. People of a society believe that it is the oldest dog breed.
The Afghan Hound dogs have long and silky coats over their body. Their thick coats help them to prevent the climate of Eastern mountains, where they have originated.
Remember, it is an independent, strong-willed, self-confident, and aloof breed of dog. In a study, it is said that the Afghan Hound is a fiercely brave, sometimes lazy, and quite kind of dog.
You should have time to take care of the long coats of the Afghan Hound. Routine bathing, applying shampoo and conditioner, plus regular brushing is necessary.
The height of the Afghan Hound is approx 20 to 25 inches. You can buy a puppy at $1,000 to $1,500. 
Tips To Take Care Of Your Long Haired Dog 
Say bye-bye to the coarse and dull hair of your dog!
Caring for a small long haired dog is not challenging as long as they get continued maintenance. To make the coat look clean and maintained, the dogs need:
Brushing.
Routine Grooming: With oneisall Dog Shaver Clippers Low Noise Rechargeable Cordless Electric Quiet Hair Clippers Set, grooming your long haired dog just got easier.
Protected and clean environment .
Bathing: One of the many challenges many long haired dog breed owners have is how to properly manage their dogs without having a bad smell.
There are no two ways about it. If you don't regularly bathe, wipe and spray your long haired dog, then you should be prepared to have a dog with a bad smell.
Fortunately, maintaining a pleasant smell in your dog is much easier than you would think. to achieve a seamless bathe and a nice smelling dog, we recommend Oxyfresh Premium Pet Dental Care Solution.
This product is proven to eliminate bad breath in both dogs and cats, fights tartar and plaque. To use it, just add it to water.
Wipes and sprays.
Good food.
Nutrients.
Communicate with your dog to strengthen the bond.
Last update on 2022-12-29 / Affiliate links / Images from Amazon Product Advertising API
Wrapping Up 
When you are searching for a perfect pet, it is necessary to read well about every breed. Don't make a mistake with your dog because pet choice varies from one person to another.
Make sure to check the breed's information, price, temperament, size, and care level, which is required to keep them healthy.
This article might have given you enough information about the top 10 small long haired dog breeds.
Which one is your favorite breed, and what breed are you going to buy? Do let us know in the comment section.
Alternatively, if small long haired dog breeds don't appeal to your taste, your can read about other small dog breeds such as small short hair dog breeds and small fluffy dog breeds.