Sulcata vs. leopard tortoise, which makes a better pet? Choosing one over the other can be stressful for any beginner. And, even more, if you knew nothing about them.
And, if we picked one for you without explanation, it would even confuse you further. For this reason, we came up with this article to tell you everything about these wonderful pets. 
By the end of this article, you will be able to choose which between the two would make a better pet and know what it takes to help them thrive in captivity.
Sulcata vs. Leopard Tortoise as Pets
Sulcata and leopard tortoises have common characteristics such as care, origin, and lifespan. They are both African natives though from different regions. 
While sulcata's natural habitat is Southern Saharan, Leopard tortoises are from South Africa, Ethiopia, and Somalia.
Leopard tortoises are known for their good looks, while sulcatas are popular for adopting different living conditions. 
I know it makes you curious which of either would make better pets. If you want to satisfy your curiosity, keep reading this article to know more.
Sulcata vs. Leopard Tortoise: Full Comparison
We all love beautiful pets. But, we also know caring for those pets can be challenging without prior preparation. 
Therefore, factors such as personality, habitat, cost, size, lifespan, and diet are critical when deciding on your perfect pet. 
Let's compare leopard and sulcata tortoises using these and other factors.
Lifespan
Sulcata and leopard tortoises have long lifespans. These pets can live longer than you can. 
Sulcata and leopard tortoises can live for more than 100 years. Therefore, before owning one of these tortoises, you must prepare to live with them throughout your life and even arrange their stay after you are gone. 
However, sulcata and leopard tortoises can live for that long only under proper care.
Habitat
Sulcata tortoises are natives of the South Saharan deserts. They occupy deserts in Chad, Mauritania, Niger, Senegal, and Sudan. Therefore, sulcata tortoises are found in most of the West and Central African deserts.
The climate in those areas is pretty harsh. Sulcata tortoises spend most of their entire life hiding from harsh climates in tunnels.
On the other hand, leopard tortoise's natural habitat in South Africa, Ethiopia, and Somalia. Somalia and Ethiopia are East African countries. 
Leopard tortoises live in the Savanna areas. The climate in those areas is also harsh and almost similar to sulcata habitats.
Size
Sulcata tortoises are the third largest tortoises in the wild. And Leopard tortoises are the fourth largest.
Even though they sound so close in their sizes, there is a major difference between the two in terms of size.
Sulcata tortoises are almost twice bigger than leopard tortoises. The average length of sulcata tortoises is 25-30 inches.
Contrarily, leopard tortoises are only 10-18 inches.
Weight
Size and weight go hand in hand. Therefore, sulcata tortoises are twice heavier than leopards. 
The average total weight of an adult sulcata is 80-110 pounds. Some sulcata species even weigh more than 200 pounds.
On the other hand, leopard tortoises weigh approximately 40-50 pounds. 
Looks 
In terms of looks, leopard tortoises beat the sulcata. However, they say, "Beauty lies in the eyes of the beholder." 
As the name suggests, leopard tortoises have a cream to yellow skin or background color. And to complement the yellow background skin, they appear with black blotches, stripes, or spots.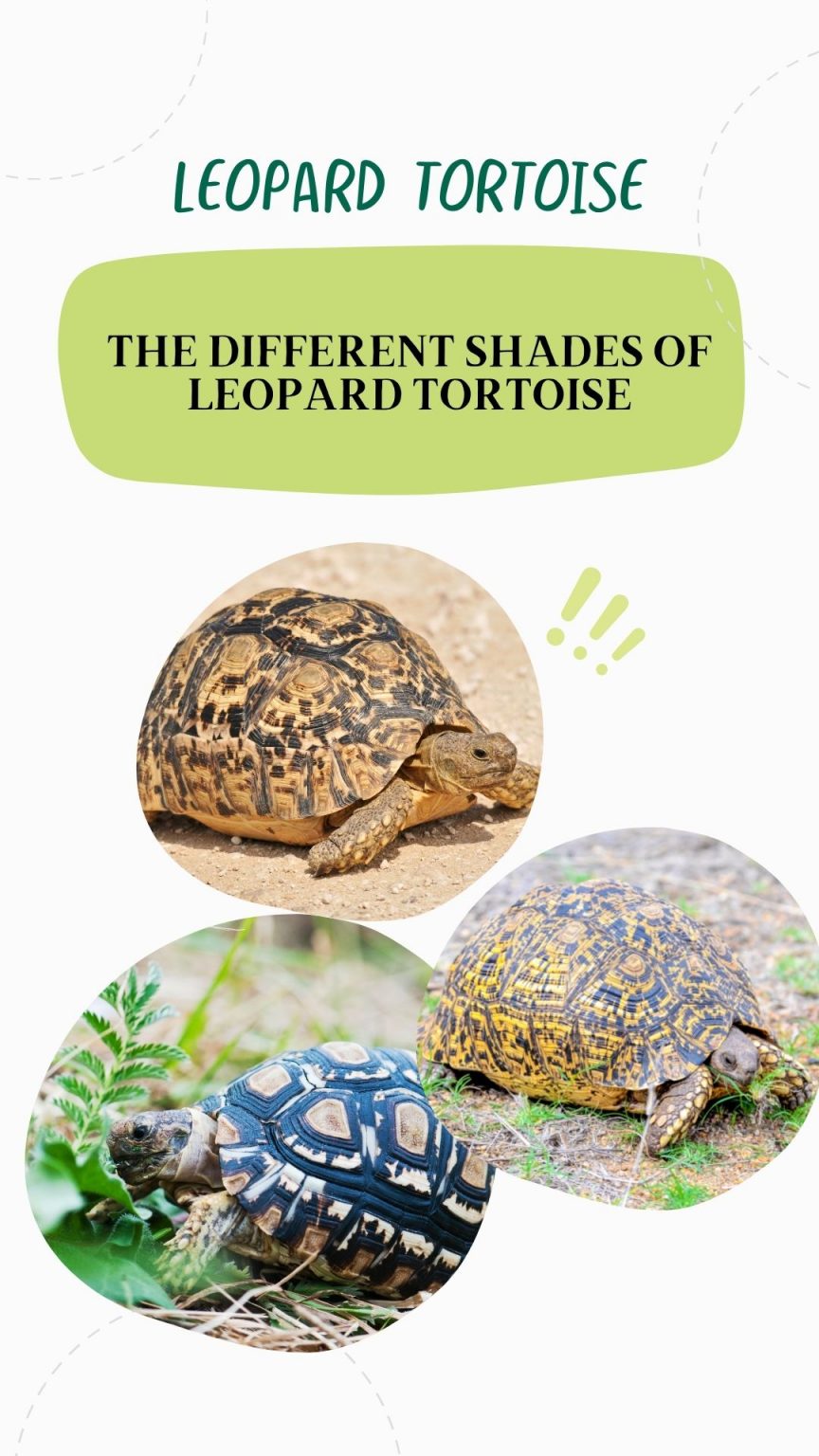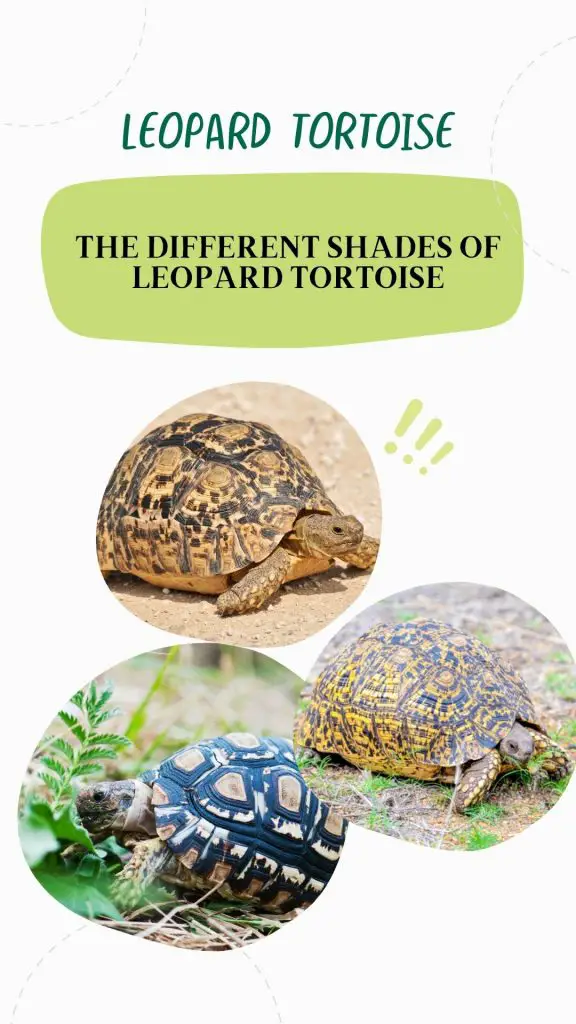 Each leopard tortoise is different from the other. None of them come in identical patterns.
Their background and carapace color and patterns resemble the leopard cats and hence the name.
Sulcata tortoises are also not ugly either. They have thick yellowish-brown skin and brown to yellow shells. 
Active Level
 Sulcata tortoises are known to be extremely active. They can dig large tunnels and even cause massive destruction.  
When they are older, it is almost impossible to keep them in an enclosure as they can easily bring it down.
Leopard tortoises are also active but not as much as the sulcatas. Leopard tortoises are more active in springs.
Diet
Saharan and Savannah deserts are almost similar. Therefore, sulcata and leopard tortoises' diets are similar. 
They both require a diet that consists of high fibre. In the wild, their primary diet is dried grass, weeds, and fruits.
In captivity, you should ensure that their diet is similar to keep them healthy. A healthy diet includes 80% fibre, 20% vegetables, and 10% fruits.
Brumation
Tortoises are ectothermic. Thus, during the cold seasons, they become dormant as they cannot reach their optimal digestive temperatures. 
During this period, they become physiologically inactive to prevent them from losing excessive weight.
However, leopard and sulcata tortoises do not brumate. Instead, they become less active and eat little during the cold seasons. 
Personality 
Sulcatas are popular for their friendly personality. Many tortoise enthusiasts love sulcatas for their ability to socialize with their owners. 
On the other hand, leopard tortoises are shy and can be against handling. Sometimes they are known to bite their owners during handling attempts.
However, each tortoise has a different personality from the others. Thus, it's also possible to find sociable leopard tortoises and shy sulcatas.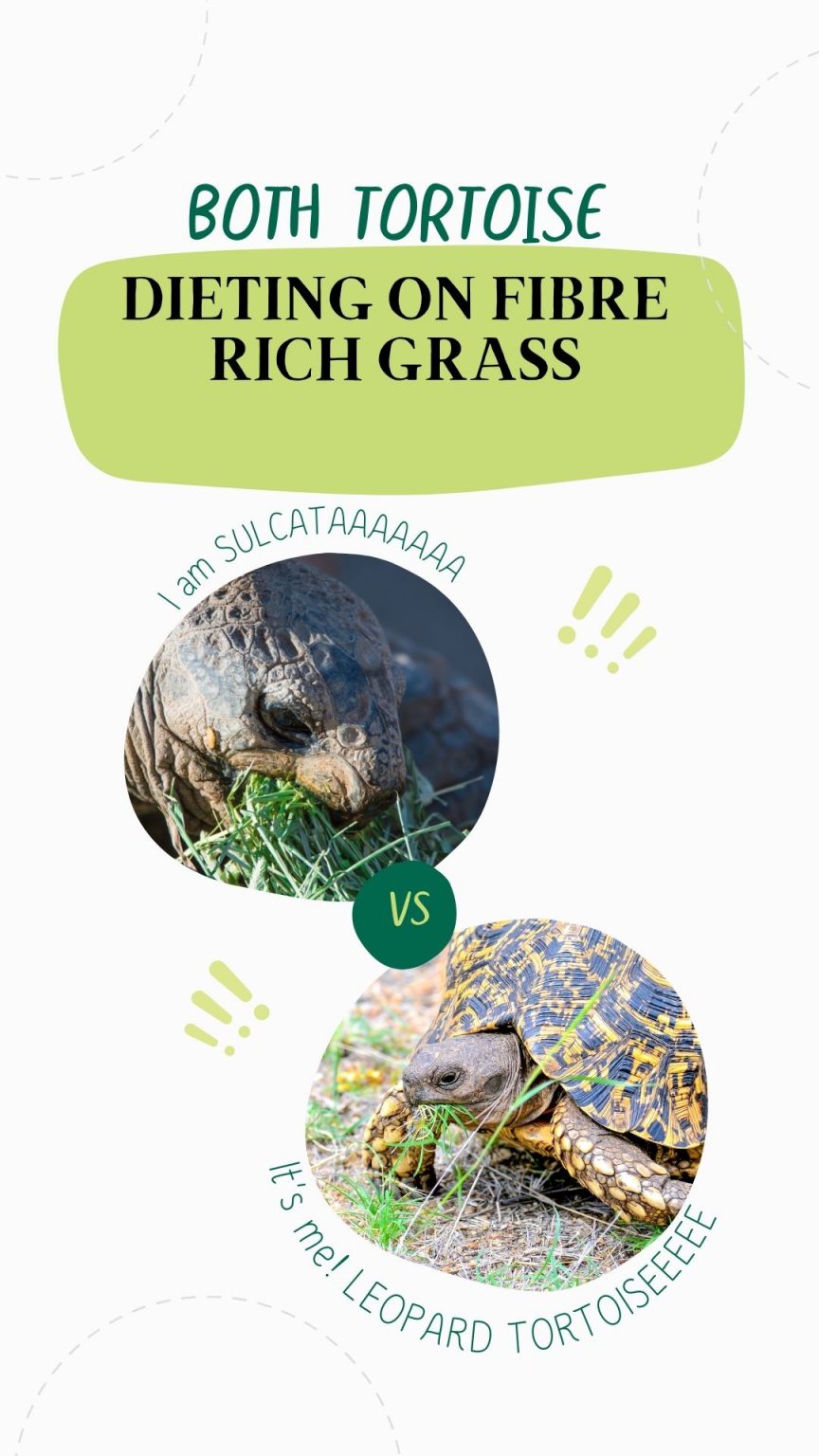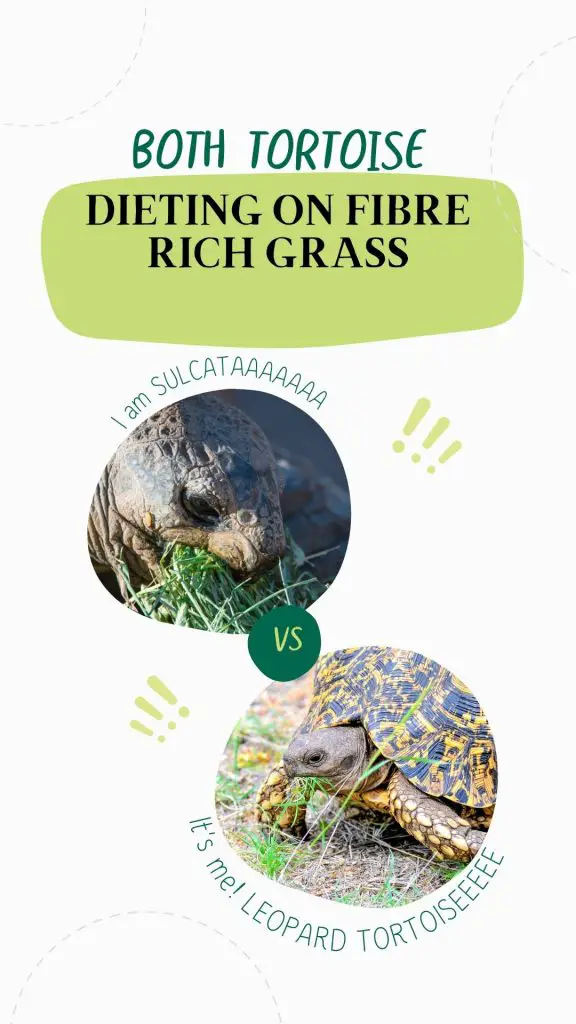 But, overall, sulcata tortoises are more outgoing than leopard tortoises.
Required Enclosures Size
Providing suitable housing for exotic pets is inevitable. When looking for a suitable enclosure, you must ensure it's comfortable enough to keep your pet happy and comfortable.
The size of the enclosure is critical to ensure easy movements and safety. As such, bigger pets require bigger enclosures. 
Regarding this, sulcata tortoises need a bigger tank than leopard tortoises. 
The ideal tank for adult sulcata should at least be 18 feet long. As for the leopard tortoises, a 6 feet tank would be enough.
Lighting, Heating, Humidity Requirements
Once you have a suitable tank for your tortoise, the next step would be providing a similar habitat to their natural environment.
Heating, lighting, and humidity are important aspects when setting up your tortoise's cage. 
Sulcata and leopard tortoise habitat requirements are almost similar. They both require UVB lighting, a thermogradient temperature, and ideal humidity.
They both need 10-12 hours of lighting, 80-900F ambient temperature, and 80% humidity for young leopard and sulcata tortoises.
However, at the basking spot, the sulcata's temperature should be higher than the leopard's basking spot.
The ideal basking spot for sulcatas should be 110-120, while leopards should range from 95-1000 F.
Suitability for Beginners
Sulcata tortoises are more tamable compared to leopard tortoises. However, their actual adult size can be a challenge for most beginners.
Additionally, leopard tortoises are not advisable for beginners. They are wonderful pets best suitable for intermediate and advanced enthusiasts. 
However, unless you are not ready to house a massive tortoise, sulcata can make perfect pets even for beginners.
Costs
Budgeting for your pet is critical to avoid unnecessary financial shock when buying your pet. 
As such, it is necessary to pick a pet that is within your budget. Unfortunately, tortoises are not cheap.
In this case, neither sulcata or leopard tortoises are cheap. The average cost of sulcata tortoise is $300-1000. 
Leopard tortoises can cost $100-2000, depending on their size and age.
Ability to Keep in Groups
Leopard tortoises are docile and sociable. Thus, they can be kept in groups with no problems. However, you must ensure you have adequate space to keep them healthy and comfortable.
Sulcata tortoises can also be kept in a group. However, since males are territorial, you can only keep females together or two females and one male.
Can You Keep Sulcata And Leopard Tortoise Together?
Sulcata and leopard tortoises have similar habitation requirements. They are both African natives and live in grasslands. 
It is possible to keep these tortoises together when they are young. However, as they get older, sulcatas become massive and can seriously harm the leopards.
Some tortoise enthusiasts even think it's possible to crossbreed sulcata and leopard tortoises.
In the wild, leopard and sulcata tortoises living in Sudan share a habitat comfortably. But, in captivity, if you have to house them together, you must provide adequate food as sulcata have a monstrous appetite.
Lack of plenty of food can lead to leopard starvation and ill health. There must also be enough space for the two tortoises to prevent territorial fights.
Additionally, always remember to isolate new torts to prevent them from spreading communicable health infections.
Wrapping Up
Leopard tortoises are almost irresistible for their beauty. Any tortoise lover will tell you leopard tortoise's beauty is breathtaking. 
Even more, they don't get massive as sulcatas. Even though they have the same habitat requirements as sulcatas, they are still not suitable for beginners.
They are suitable for intermediate and advanced tortoise enthusiasts. However, determination and passion make things possible.
Therefore, if you would still prefer getting leopard over the sulcata, you have to do a little more information digging and add it to your passion.
But, also remember that sulcatas are easier to handle than leopard tortoises. 
What's your choice?