The rising popularity of axolotl captured the interest of many. So some of you might be curious if axolotls are cold-water fish. We'll satisfy your curious mind in just a few minutes of reading. 
Taking care of this creature requires utmost care, so it is only natural to research and get to know this creature before pursuing it. Preparing for your axolotls is definitely what every aspiring axolotl owner should do.  
By the end of this article, you'll learn about axolotls' origin, water requirements, and ways to keep their tank water cold. Of course, you'll also get the answer to the big question: Are axolotls cold water fish? 
Are Axolotls Cold Water Fish? 
Axolotls are not cold-water fish because they are not fish in the first place. Axolotls are salamanders, meaning they are amphibians.
Warm water is fatal for axolotls, or their health might be compromised, so it is ideal for keeping them in water with a temperature around 16°C to 18°C. Lamps or heaters are not necessary in keeping an axolotl.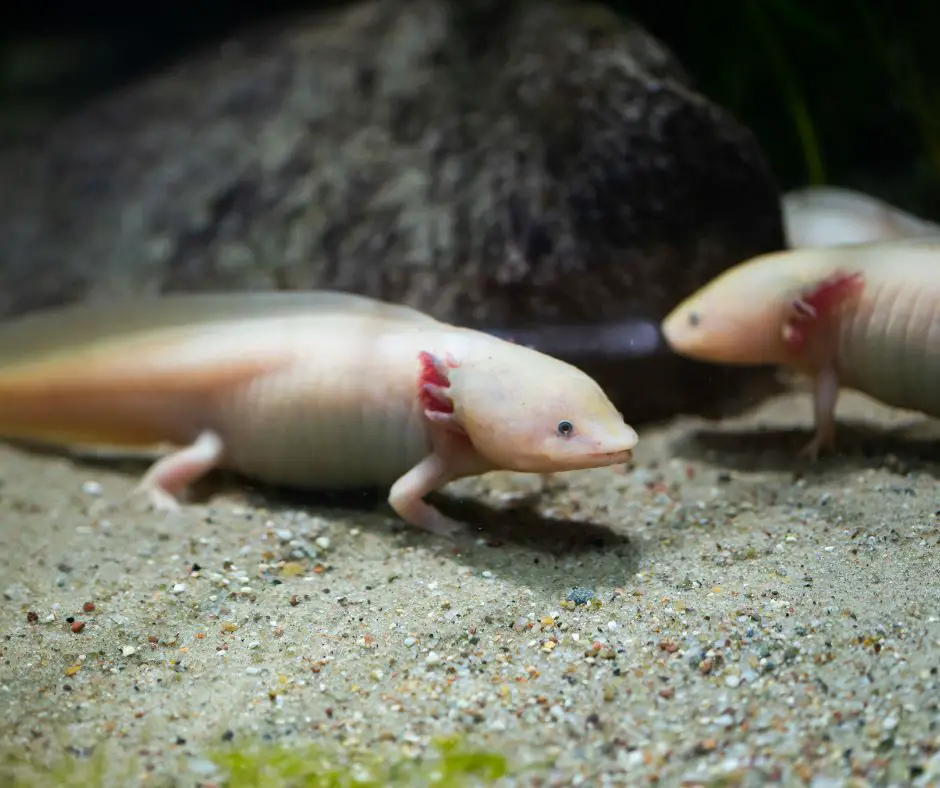 Where Were Axolotls Discovered? 
Axolotls or Ambystoma Mexicanum are rare species that reside exclusively in high-altitude freshwater lakes in Mexico, such as lake Xochimilco and Lake Chalco. Because of the high altitude, the water temperature is low, making the axolotls cold water-dwelling creatures.  
The rising popularity of these salamanders followed the introduction of axolotl in Paris in 1864. The appearance of axolotls is also different in the wild and in captivity. Wild axolotls are brown or dark-colored, while the axolotls in captivity are often white or light-colored. 
Due to urbanization and pollution, their natural habitats are compromised and degraded, causing a decline in their population. Invasive fishes such as tilapia also eat the baby salamanders, making it harder for axolotls to survive and reproduce. 
Now, wild axolotls are only found in some inland canals in Mexico. Their number continues to go down. Wild axolotls are critically endangered species.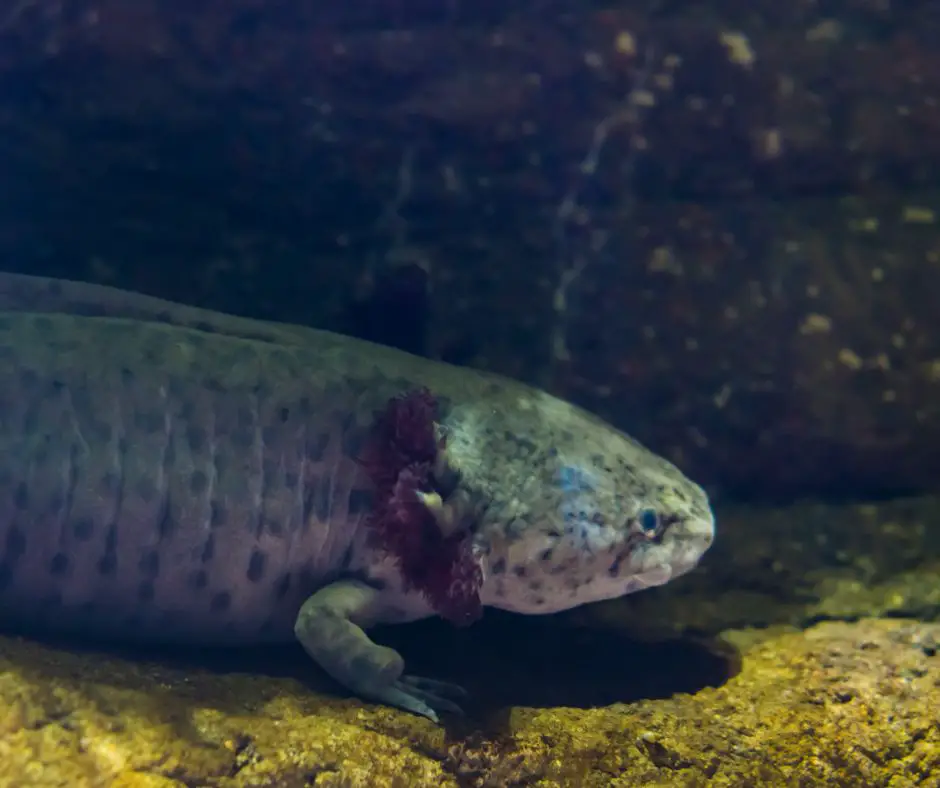 Axolotl Water Temperature Requirements 
Axolotls are cold water-dwelling creatures. So as a responsible pet owner, it would help if you made sure that the water inside your axolotl's tank is at a comfortable rate for your axolotls. The ideal temperature is around 16°C to 18°C or 60°F to 64°F. 
If you reside in a tropical country with a warm climate, you should consider installing an aquarium cooler as axolotls naturally live in cold water.  
It is essential to monitor the water temperature in an axolotls tank. They are crucial to keeping your pet happy and healthy. Inappropriate temperatures could stress your axolotls, leading to sickness or even death.  
Ensure that the water temperature will not exceed 24°C or 75°F because this is fatal for your beloved pet. Exposure to this temperature will excessively stress your axolotls and increase their metabolism and appetite.  
Exceeding the tolerable temperature for axolotl is disastrous for their health and will cause several illnesses that will eventually lead to death if not treated immediately. 
It is best to have an aquarium thermometer to monitor the water temperature in your axolotl's aquarium. To learn more about how you can give the best care for your pet in terms of their water temperature requirement, read: axolotl temperature control.
Marina Floating Thermometer with Suction Cup
Last update on 2022-12-29 / Affiliate links / Images from Amazon Product Advertising API
How Do You Keep Your Axolotl Tank Water Cold?
Keeping the temperature at an appropriate level is one of the most important things that an axolotl owner should know. Knowing the repercussions of the wrong water temperature is essential for your pet's well-being. 
A temporary solution to keep the tank water cold is ice cubes and ice bottles. Just make sure that the ice cubes are made of freshwater as it will also be bad for your pet if you use different water.  
Also, keep appliances or things that can be a source of heat, such as televisions, computers, or even the lights, away from your axolotl's tank. Axolotls are also very sensitive to light, so you should reduce the light in their tanks by covering it with a cloth. 
As axolotl needs cold water for survival, you can install an air conditioner or place the tank in a room with an air conditioner. If the surrounding is cold, the tank water will also be cool enough and comfortable for your axolotl. 
If an air conditioner is not possible, you can install an aquarium cooling system such as water coolers. Check out water cooler for axolotl to find the best cooling system for your pet.
LONDAFISH Aquarium Chillers Aquarium Fan Fish Tank Cooling Fan Marine
LONDAFISH Aquarium Chillers Aquarium Fan Fish Tank Cooling Fan Marine 2 Fan
NOTE: Fits Tank Rim up to:12mm thickness (adjustable) /Suggestions:2 fan fit for 40cm fish tank /Two-speed wind control,according to the indoor temperature,reduce water temperature and drop up to 2 ~ 3℃
Adjustable jaws can clamp the the cylinder wall that the thickness within 1.2cm,meet the daily use of fish tanks
Great cooling fans 12V safe voltage,with high security standards and ensure the safety of the fan
Angle adjustable:Adjustable width of fan and bracket up to 100°,practical and easy to install and move
Safety Packing With Wonderful After Sale Service: We provide with 90 days return and refund service and all the emails will be replied within 24 hour. We provide lifetime technique support, if you have any question, please feel free to contact us.
Last update on 2022-12-30 / Affiliate links / Images from Amazon Product Advertising API
Conclusion
So, axolotls are not cold water fish, but they are cold-water species Axolotls are not fishes because they are salamanders, making them amphibians. 
One of the most important things to keep in mind if you are an axolotl owner is their water temperature requirement. The temperature should not exceed 24°C, and it should not go lower than 10°C; the ideal water temperature for axolotls is around 16°C to 18° C.  
You should continuously monitor the tank water temperature and find ways to keep it cool. Installing an air conditioner or an aquarium cooler is one of the approaches you could take to keep your axolotl's tank water cold.