For many people that keep axolotls in home aquariums, keeping the water temperature cool is a huge difficulty.
The ability to keep your tank water at a consistent temperature is a vital but frequently ignored part of axolotl management.
After choosing the proper tank size, the most essential step is axolotl temperature control. It never hurts to learn more about your pet's health in this area. 
After reading this article, you will have a better understanding of what temperature your pet's tank should be, what happens if it's too hot or too cold, how to solve these problems, and much more. Let's get into it!
What Temperature is Safe for Axolotl?
Axolotls prefer water temperatures between 16 to 18 degrees celsius (60 and 64°F). As a result, they should never be exposed to direct sunlight.
Additionally, axolotls' eyes are extremely sensitive to bright light due to their lack of eyelids. So it is recommended that they be kept in dim light. 
Any temperature greater than the maximum of 18 degrees Celsius (64 degrees Fahrenheit). Axolotls face significant difficulties.
Not only will they be extremely uncomfortable, but the health risks associated with being too hot are enormous and potentially fatal for these creatures.
Axolotls, on the other hand, can survive in water temperatures as low as 10 degrees Celsius (50 degrees Fahrenheit). 
It is critical not to allow temperatures to fall below 10 degrees Celsius over time, although this is much less likely to occur in households where temperatures rarely fall below that level.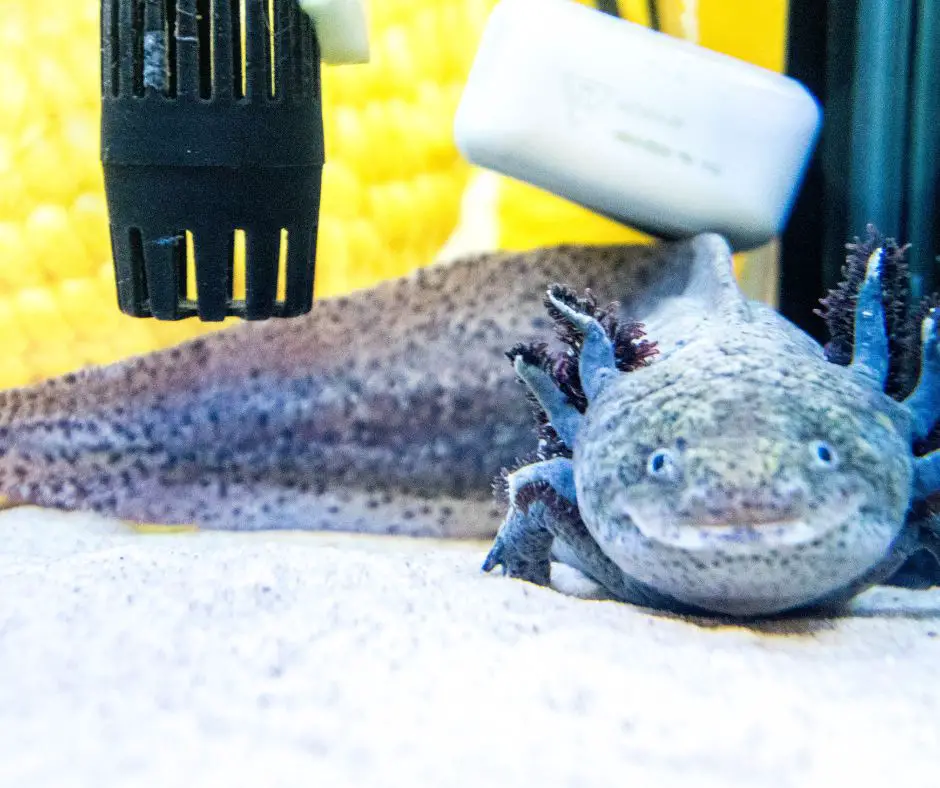 Also read: Axolotl Temperature (Tips to Maintain an Ideal Temperature)
How to Keep Axolotl Temperature Control
Temperatures greater than 18 °C (64 °F) are too hot for Axolotls and can cause extreme stress in your pets.
A rise in metabolism (the pace at which the body "works") results in an increase in hunger as a result of these temperatures. 
Additionally, keep in mind that prolonged exposure to these temperatures, even for just a few days, can quickly result in illness and death. 
In axolotls, the earliest indicators of heat stress include food refusal, lethargy, and/or the development of pale patches of mucus-like material on the skin.
Therefore, if you live in a warmer environment, or even in an area with relatively mild autumns, springs, and summers, you'll need to find a technique to keep or chill the tank.
This is crucial for the axolotl's health, and as such, you must employ an efficient and dependable procedure.
Here are some of the greatest advice we can provide for maintaining a cool axolotl aquarium. 
In a nutshell, you can install air conditioning, purchase an aquarium cooling system, place the tank in a cold area, utilize ice bottles, jugs, or cubes, and many more!
Check out for more information here on How To Keep An Axolotl Tank Cold
LONDAFISH Aquarium Chillers Aquarium Fan
LONDAFISH Aquarium Chillers Aquarium Fan Fish Tank Cooling Fan Marine 2 Fan
NOTE: Fits Tank Rim up to:12mm thickness (adjustable) /Suggestions:2 fan fit for 40cm fish tank /Two-speed wind control,according to the indoor temperature,reduce water temperature and drop up to 2 ~ 3℃
Adjustable jaws can clamp the the cylinder wall that the thickness within 1.2cm,meet the daily use of fish tanks
Great cooling fans 12V safe voltage,with high security standards and ensure the safety of the fan
Angle adjustable:Adjustable width of fan and bracket up to 100°,practical and easy to install and move
Safety Packing With Wonderful After Sale Service: We provide with 90 days return and refund service and all the emails will be replied within 24 hour. We provide lifetime technique support, if you have any question, please feel free to contact us.
Last update on 2022-12-30 / Affiliate links / Images from Amazon Product Advertising API
How to Increase Temperature for Axolotl Tank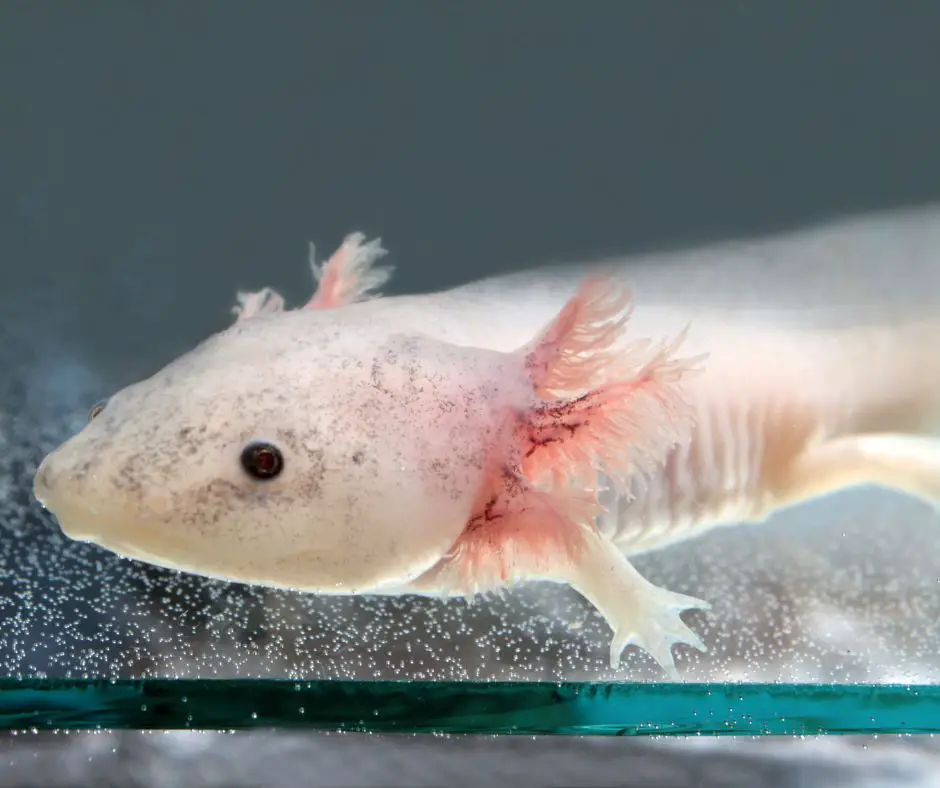 Anything below 10 degrees Celsius for an extended period of time is considered too cold for your Axolotl.
Although they will be fine as long as their water is not frozen, they will die if kept at 4°C for more than 20 days.
"What happens if an axolotl gets too cold?" you may be wondering. To answer the question, if the axolotl becomes too cold, it can cause changes in behavior, lethargy, and a decline in metabolic rate.
The first thing to remember is to recognize the signs that your Axolotl is becoming overly cold.
Reduced appetite, eating and pooping less, not moving much, and being lethargic are some of the symptoms.
One of the ways to increase the temperature of your Axolotl Tank is by Relocating it. The location of your tank can significantly affect the temperature of your axolotl's aquarium.
Certain locations in your house are significantly hotter than others, for a variety of reasons. Doing this can help boost the temperature in the aquarium.
You can also remove your Aquarium fan or chiller, as these are some of the reasons why your Axolotl tank's water temperature is dropping.
Finally, you can place it near a source of heat or light. These are two other potential heat sources. 
Also read: 3 Best Axolotl Aquarium Setup Ideas
Zacro LCD Digital Aquarium Thermometer
Sale
Zacro LCD Digital Aquarium Thermometer Fish Tank Water Terrarium Temperature
Submerge probe into fish tank to measure water temperature (Submerge probe only, do not submerge thermometer in water)
Easy to apply suction cup and easy to read LCD screen; Temperature readings to within 0.1 degree
Large, easy to read LCD display. Compact design for discrete use
Temperature range -50 degree Celsius~ + 70 degree Celsius; Operating temperature -10degree Celsius~ +50degree Celsius
Powered by one LR44 button cell (included)
Last update on 2022-12-29 / Affiliate links / Images from Amazon Product Advertising API
Wrapping Up
Because axolotls prefer colder water, you must be prepared to maintain the water in the aquarium from overheating if the temperature in your home rises.
Maintaining the right temperature in an axolotl tank is a little more challenging, but it is still feasible with enough knowledge and practice.
We hope the techniques presented in this article about cooling axolotl aquarium water will help you keep your axolotls comfortable, safe and sound when temps rise.