Axolotls are loveable creatures and can thrive alone in a tank. However, having their natural species to live with may help axolotls cope with the stress of being alone.
As a result, the owners of axolotls wish to add other little critters to the tank. So, Can Axolotl and Snails Live Together?
The introduction of unsuitable species to the axolotl's tank can be hazardous. Although certain worms, snails, and insects are harmless to axolotls, they can cause a variety of health concerns.
As a result, organisms that can survive better with axolotls must be added.
The purpose of this article is to inform readers about the snails that can be kept with axolotls. The post will also explain the disadvantages of keeping axolotls and large snails together.
So, read the entire post until the end to help axolotls live a happier life with snails.
Can Axolotl and Snails Live Together?
Yes, however axolotls aren't compatible with all snails. Axolotls are carnivores who enjoy eating meat. As a result, when they come upon snails, they try to swallow them whole.
Some snails, such as adult apple snails, are too big for an axolotl to eat or swallow. So, adult apple snails are safe and can live with axolotl.
Ramshorn snails have a soft skeleton, so when an axolotl tries to eat them, it does not get any harm.
The possibility of impaction from swallowing a snail is frequently the most concerning aspect of snails for axolotl owners. While impaction is a serious problem,  snails are usually not much of an issue if you keep an eye on their size.
If your axolotl eats a snail, it should be able to digest it without difficulty as long as the snail is small. If you think a snail in your tank could cause impaction, you should remove it, but when they are tiny, they pose very little danger.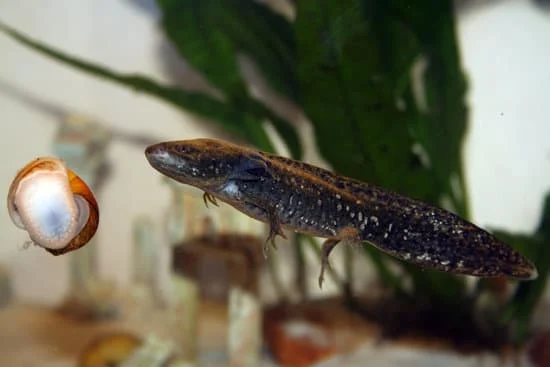 Benefits of Keeping Axolotl and Snails Together
Snails are herbivores. They feed on plants, food residues, and the debris of other organisms. Axolotls, on the other hand, are carnivores, thus maintaining axolotls and snails is advantageous. 
Axolotls eat snails as their natural diet in the wild. As a result of their poor vision, axolotls consume snails by detecting their movement in the water. 
Snails eat small algae and plants in the tank, acting as a natural water filter. Besides that, snails make the tank attractive.
Risks of Keeping Axolotl and Snails Together
There is not any evidence of disease transfer from snails to axolotls. Snails provide protein to axolotls, but due to their hard exoskeleton, it can lead to risks.
A huge snail can get stuck in an axolotl's throat, harming the axolotls' mouth cavity. As a result, large and hard-shell snails should not be kept with axolotls.
Also, overpopulation of snails can be disadvantageous. Because snails like to attach to the axolotl's body and lick the slime-filled outer layer of skin.
The outer layer of the axolotl's skin becomes irritated and inflamed as a result of excessive licking. Snail populations can be reduced by utilizing snail-killing chemicals. Alternatively, if the tank is overcrowded with snails, you can change it.
Best Snails for Axolotl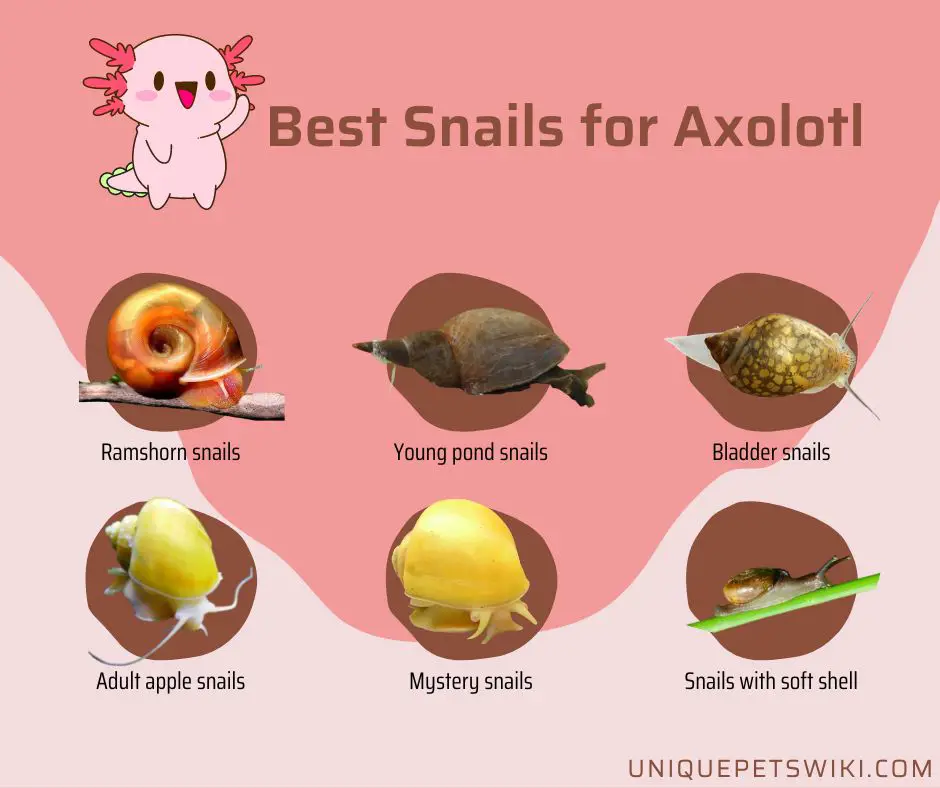 As mentioned above, small and soft-shell snails are better to keep with axolotls. Because if an axolotl tries to eat them, it will not harm them or cause any health issues. So, here is the list of snails which you can keep with your axolotls.
Ramshorn snails
Young pond snails
Bladder snails
Adult apple snails
Mystery snails
Large snails or small snails with soft shell
What Can Live with Axolotls?
Axolotls can live better and stress-free with some species such as other axolotls, shrimps, snails, and guppies. Axolotls prefer to dwell alongside other axolotls when there is enough space in the tank.
Shrimps and axolotls can also help to produce an ideal aquarium environment. Shrimps, like axolotls, are herbivores and gentle ground feeders.
Guppies can live better with the axolotls. Guppies and axolotls have nearly identical life requirements. Guppies prefer to swim in the middle of the water, whilst axolotls prefer to feed on the ground.
Even when they meet in the middle or bottom of the water, axolotls are calm creatures, therefore there is no risk of a fight.
Aqueon Shrimp Food Pellets, 6.5 Ounce
Sale
Last update on 2022-12-30 / Affiliate links / Images from Amazon Product Advertising API
Summary
The presence of snails with axolotls in a tank makes an ideal natural habitat. It is, however, vital to keep snails that are not harmful to the axolotls.
Some snails possess a hard exoskeleton, which can be dangerous if an axolotl tries to eat the snail. Because axolotls' vision is blurred, they try to eat whole foods without crushing them.
The life requirements of the two species in a tank should be the same. For example, keeping an axolotl in a tank with other axolotls is great.
Snails, on the other hand, do not require much attention and can assist in keeping the substrate clean. Another advantage is that snails and axolotls have different eating requirements, which means they don't fight for food.