It's common to hear new reptile pet enthusiasts and even long time breeders ask- what best heater do I need for my pet blue tongue skinks? Is there any heater perfect to give my skinks the required heating they need? Is specified heating for indoor reptile enclosures required?
If you fall into any of these categories, it's not absurd to seek concrete and reliable information before proceeding to get your skink as a newbie or change your heating sources as a long time breeder.
To give your pet blue tongue skinks a home away from the wild requires good heaters for all heating needs. Considering that there are a lot of brands out there with different heaters, how do you get the best that'll just be perfect for your skinks? Need not answer.
A good heater (heating lamp) for blue tongue skinks is one that can maintain the temperature in a skink enclosure within the ideal temperature range of the skink's species.
In this article, I'll take you through 8 best heaters for blue tongue skinks and reptiles as a whole, what's great about them, what may be a challenge, and recommendation on the best bet you can trust.
Buyer's Guide – What To Look For In A Good Heater For Blue Tongue Skinks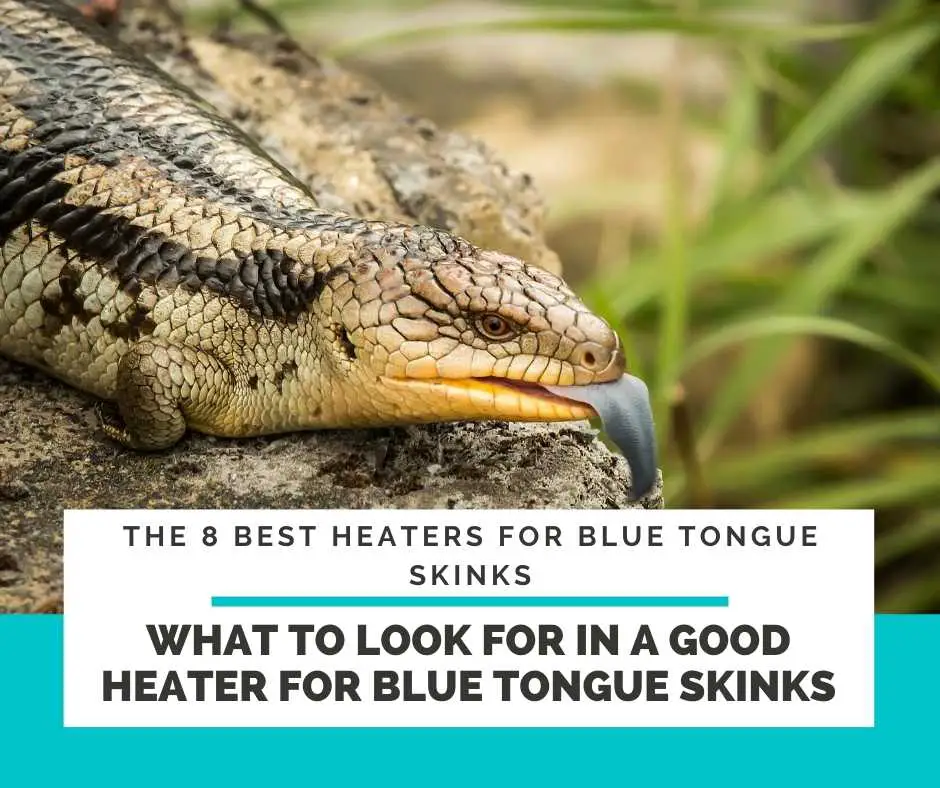 The essence of having to heat your skinks' enclosures is to provide them a home comfortable as their natural habitat. But for you to know what to look for in a heater, you must first understand what their natural habitat is like.
In the wild, blue tongue skinks aside from foraging spend a greater part of their day basking under the direct rays of sunlight to produce vitamin D3, digest food, and regulate their body temperatures.
This is because they are mostly active during the day and are endothermic.
From the foregoing, you should realize that heating will constitute a greater part of their enclosure as diurnal pets.
As a blue tongue skink owner, knowing the best heater and the right temperatures at which you must maintain is why you must read this article till the end.
These are key factors you must look for or consider in any heater for captive blue tongue skinks to be in the know-how.
Natural Habitat
I did mention earlier that skinks are day-active animals and that in the wild, they spent a greater part (about 12 hours) of their day basking on the sun's direct rays. They don't just bask under the sun for fun but for a reason.
You should try to match your pets' captive environment to what they would get in the natural habitat.
Therefore, the best heater should be a heater that can provide optimum unwavering heating for 12 hours during the day and with less supervision.
Wattage Capacity
This factor will vary greatly depending on the species of skinks that you have. Blue tongue skinks come from two separate climatic zones.
The Australian blue tongue skinks belong to the temperate zone where the climate is relatively hot.
In contrast, the Indonesian blue tongue skinks come from the tropical climatic zone where the temperature isn't as hot as the temperate region.
That being said, Australian skinks will require much heating from high wattage heaters.
On the other hand, the Indonesian blue tongue skinks need a lower wattage heating source or a well-decorated enclosure to shade the heat if you're using high wattage bulbs.
Size Of Enclosure
The size of your enclosure will determine the kind of heater you would get. That is why it is best that you get your pets' enclosures first before making attempts to get other fixtures.
Because the enclosure size will determine the size of every other fixture you get. The minimum sized enclosure of 36 "L x 36 "W x 12H will require a 40-watt capacity heater.
Your Location And The Location Of Your Skinks' Enclosures
No two heaters are the same or work the same. Some heaters are made specifically for a certain climate zone or weather condition. This makes up part of the important factors to consider before buying a heater for your pet skinks.
Is where your home is located naturally hot or not? Are your Skinks' enclosures located within the house near a window or exposed to filtered natural light? Or are the enclosures kept in the darkroom with little natural light?
If you can accurately give answers to these questions, this will help you to know what to purchase.
The less natural heating your environment provides, the more need to choose a heater made for such environments.
Look For A Built-in Thermostat For Easy Temperature Control
It's not enough to know that blue tongue skinks being cold-blooded needs external heat, knowing the exact range of temperature they need and being able to regulate that heat is crucial.
A heater with a built-in thermostat will allow you to control both the heater and the enclosure temperatures. Your ideal heater must match the temperature needs of your pet skinks. Now let's delve into reviewing the best 8 heaters for captive blue tongue skinks in 2020.
Review Of Best 8 Heaters Of 2020 For Pet Blue Tongue Skinks
Blue tongue skinks have specific requirements when it comes to their heating. They need a heating source that will reach approximately 40°C and a UV light to mimic sunlight.
Without these two, they will not be able to digest food properly and absorb nutrients, especially calcium from their diet.
This section I'llwill throw more light on the different types of heating sources and why our top 8 heaters are picked from these heating sources.
Ceramic Heat Emitters
This type of heaters is specifically built to provide only heat without producing any light efficiently. They are very effective at heating enclosures and can be used as a 24-hour heat source.
Ceramic Heat Emitters are effective, safe, and economical when it comes to providing blue tongue skinks with a much-needed heat source. This class of heaters is ideal for blue tongue skinks that need a constant 24-hour heat source. Best brand of heaters in this category include:
Zacro Reptile Heat Lamp 100W With 1 Digital Thermometer, Infrared Ceramic Heating Non-light Lamp Emitter. 110v.
Last update on 2022-12-29 / Affiliate links / Images from Amazon Product Advertising API
This reptile heat lamp by Zacro is a quality heater that supplies an ideal 24-hour heat with 99% high thermal efficiency for your skinks. Being that it's only a heating source with no lights emitted, you won't have to worry about it disturbing your pets' sleep.
The heater is built with reptile safety in mind because the filament providing heat is completely enclosed in ceramic such that if broken will just stop working without causing any hazard to your skinks.
These are what you will get upon purchase. The heater is sold for $11.99
– 1 x Zacro heat lamp.
– 1 x Zacro thermometer.
– 1 x LR44 Battery.
– 24 hours quick response.
Specifications/Features
Its flat-faced design makes it more efficient and lasts longer than conical designs, which only build up excess heat.
Perfect 24-hour heat source.
Ideal for all sizes of enclosures.
Made of high-quality material with good heat radiation and durable design.
Never disturbs animals' sleep.
Small size, large function.
18 months of product warranty.
99% of high thermal efficiency.
Note that this product is to be used with a ceramic socket only as a plastic socket will melt and pose a fire hazard to your skinks.
Moreover, while fixing it to your skinks' enclosures, ensure that you place the heater 10 to 40cm away from your pets.
Pros – What We Like
Great value for money
High energy efficiency
Fast and stable heating.
Thermostat accuracy.
Long-lasting heat balance.
Small size but large function.
Excellent customer service and technical support team.
Cons
Can overheat to a very high temperature.
Zoo Med ReptiCare Ceramic Infrared Heat Emitter 100W, 30-40 gallon
Last update on 2022-12-29 / Affiliate links / Images from Amazon Product Advertising API
ReptiCare ceramic infrared heat emitter is made with porcelain heating materials to be screwed into a standard porcelain incandescent socket. The heater is designed to emit intense muscle-penetrating infrared heat without giving off any light.
With its flat surface, it provides more efficient and long-lasting heat than conical design heaters.
Features
Water-resistant.
Lasts up to 5 years.
Made in different sizes and different wattage capacities for different sizes of enclosures.
60W – 10-20 gallons.
100W – 30-40 gallons.
150W – 50-100 gallon.
250W – over 100 gallons.
Pros
High quality. It delivers on the promise.
Cons
Tends to overheat. If left unmonitored may cause a burn.
Quite expensive for just one heat emitter.
New to blue tongue skink? Check out the blue tongue skink care sheet now! We had listed out all the things you need to know about blue tongue skinks as pets. Check it now!
Red Heat Lamps:
These types of heaters provide much-needed warmth for captive blue tongue skinks and other reptile lizards by emitting infrared heat waves.
The bulb's special filament emits the Infrared waves through red glass.
The reddish light does not disrupt skinks' normal day and night activities.
This feature makes this category of heaters an excellent 24-hour source of heat.
These types of lamps increase the whole air temperature (humidity levels) in pets' enclosures and provide heat, which is essential for activity and digestion. Our top picks in this category are:
Fluker's 22800 Red Heat Bulb For Reptiles 40W
Last update on 2022-12-29 / Affiliate links / Images from Amazon Product Advertising API
Fluker's incandescent red heat bulb is one of the best Heaters that provide the right infrared heat that blue tongue skinks need.
They are built with details to provide your skinks with a suitable environmental temperature range perfect for basking.
Since no visible light is emitted, you can easily monitor your pet skinks during night hours without disturbing their sleep. Respectively, the heater is made in various sizes of 40, 60, 75, and 100 watts.
The lowest wattage capacity of 40W is sold for $5.99 and is suitable for a 10-20 gallon tank.
Pros
Great price for value. The heater is quite inexpensive.
Good enough to provide high degrees of heat as required.
Cons
Not durable. The heater burns out with a short time of usage. However, one of the reasons this will occur is if used with a fixture of incorrect wattage capacity.
Zilla Reptile Terrarium Heat Lamps Mini Halogen Bulb 50W
Being a halogen heat bulb, this heater produces more efficient heat than incandescent bulbs. It is durable, economical, more energy-saving, and with a long lifespan.
This 50 Watt mini halogen bulb from Zillia is equivalent to 100 to 150-watt incandescent bulbs in terms of power output. It produces up to 250% more efficient heat than incandescent bulbs.
The heater is designed with a thicker glass and stronger filaments that work over 1,000 hours on average.
Besides, it provides essential warmth for your pet skinks with the less disruptive nighttime glow.
For optimum results, it is best used with Zilla fixtures- Halogen Mini Dome.
Pros
Energy saving
Amazing output. Small in size but emits powerful heat.
Safe and effective.
Comes in a super great packaging.
Inexpensive. You wouldn't believe it is sold for just $2.81.
Cons
So far I have used this product for months, I haven't had any issues with it nor have other blue tongue skinks owners that I know.
Reptile Heat Pads:
They are also called heat mats. They provide heat right where your skinks need it. Reptile heat pads or heat mats are usually placed under the skinks' enclosures to heat specific enclosure areas.
Heat pads are just like warm rocks obtainable in the wild where your pet blue tongue skinks can use to bask. What it does is that it heats up the substrates and encourages burrowing.
These kinds of heaters are adequately built to regulate temperatures for your safety and that of your pets. Our top picks in this category are:
Aiicioo Digital Thermostat Reptile Heating Pad With Temperature Control
Last update on 2022-12-29 / Affiliate links / Images from Amazon Product Advertising API
The Aiicioo under tank heater is a product of much research and development to produce a heater that contains a high-level nichrome heating wire and great PVC material that will not melt or separate from its adhesive. 
This upgraded version heater is designed specifically for the bottom of enclosures, although it can be used on the sides as well.
With its high degrees of hotness, it can penetrate through enclosures with heavy substrates. Thus it can be used both as the primary and secondary heating source.
To ensure safety, this heater comes with a digital thermostat for temperature control and a set of rubber feet to make sure that the pad doesn't rest directly against the enclosure base. This will allow for the free flow of air and the escape of excess heat.
Aiicioo under tank heaters like with every other type of heater comes in various sizes with different wattage capacities for different sizes of enclosures. We have:
Mini: 4″x5″ (10x13cm) 4W – 1-5 gallon
Small: 6″x8″ (15x20cm) 8W – 10-20 gallon
Medium: 8″x12″ (20x30cm) 16W – 30-40 gallon
Large: 8″x18″ (20x45cm) 24W – above 40 gallon.
How It Works
This heater by Aiicioo is designed to slowly heat your pet's enclosure and then the air inside the enclosure. It'll take approximately 6-hours for the heater to heat up first before an accurate temperature reading can be obtained in the terrarium.
Since the heater is relatively hot, you wouldn't have issues with your skinks not having enough heat.
However, if after purchase, you notice that your pet skinks spend much of their time near the heater, it simply means that there is not enough heat in the cage. In that case, a supplemental heat should be provided.
Features
Upgraded Adhesive: This heater ensures that the pad sticks permanently to your enclosure, forming a solid bond for optimum heat transfer.
Easy temperature control range: 68-108°F and temperature display range of 32 -140°F: With its built-in digital thermostat, it's easy to set your desired temperatures. The thermostat works based on the probe temperatures.
For accurate temperature readings, the thermostat turns the pad off and on to stay or maintain the temperatures at which you set.
Great Value For Cost: The Aiicioo under tank heater is a great choice when it comes to quality at a much reasonable price. Upon purchase, you'll get 2 full heat pads for $23.99 at Amazon with a 1-year warranty.
Pros – What We Like
Upgraded product.
Easy to Install.
2-for-1 deal.
Easy to Set Up.
Comes with rubber feet for bottom install but can be applied to sides as well.
Extra sticky.
Cons
It can be very hot if left unmonitored.
iPower 8″ x12″ 16W Under Tank Heat Pad And Digital Thermostat Combo
Last update on 2022-12-29 / Affiliate links / Images from Amazon Product Advertising API
This heat pad with a digital thermostat by iPower is specially built with a new proprietary heating film technology that allows the pad to reach desired temperatures within a short time.
Its new and improved digital thermostat provides accurate constant customized temperatures for optimal heating.
One other beautiful thing about this heater from the iPower is that it comes in various sizes and wattage capacities for use on different enclosures' sizes. Our pick for this review (8″ x 12″ Watt: 16W) is sold on Amazon for $16.99.
Specifications
(8″x 12″ Watt: 16W) / 1 – Digital Thermostat (120 Volts / 8.3 Amps Max /60 HZ)
Small : 4″x7″ 4 watt — 1-5 Gallon
Medium : 6″x8″ 8 watt — 10-20 Gallon
Large : 8″x 12″ 16 watt — 30-40 Gallon
Extra large (XL) : 8″x18″ 24 watt — 50-60 Gallon.
You'll have to choose the heater size and wattage capacity based on the size of your enclosure.
Features
Improved Design: Comes with new heating film and insulation that increases the overall heat transfer across the mat to reach desired temperatures within minutes.
Sticks Properly: Designed to provide a strong grip to the .q area and stays exactly where you want it.
Efficient Energy: Heater reaches desired temperatures in a short time while consuming less power and saves energy.
Flexibility: It has a wide range of temperatures of 40°F – 108°F (5-42°C) that you can set from. 
Accurate: The heater's built-in thermostat controller is rigorously tested to give accurate readings and ensure your pet blue tongue skinks' safety.
Pros- What We Like
3m adhesive paper.
Great heat distribution.
Safe and energy serving.
Fahrenheit and Celcius readout.
New, improved technology.
Great for small animals like skinks.
1-year product warranty.
Long power cord.
Easy to use.
Waterproof.
Friendly and reliable customer and technical support team.
Good value price.
Cons
The built-in thermostat isn't 100% accurate and thus unreliable. So if you go for this, I would advise you to get a good temperature gun for temperature control.
Extra sticky. Once you stick it, you may not be able to remove it in case you want to change its position.
Heat Cable:
These are flexible and water-resistant cable heaters.
They are another set of economical heaters that can be used in breeder racks to heat many enclosures at the same time.
They feature double silicone insulation that ensures total safety both for you and your captive skinks. In this category our top picks are:
Zoo Med ReptiHeat Cable 23ft Long (50W)
Last update on 2023-01-02 / Affiliate links / Images from Amazon Product Advertising API
Zoo Med is a reptile and amphibian brand known for quality and safety.
This heat cable from Zoo Med is designed with a 6.5-foot cold lead that only allows the cable to achieve temperature gradients inside the enclosure. 
As a result, this cable is best used as a secondary heat source for desert dwelling reptiles.
However, it can work as a primary heat source for some tropical species that doesn't require much heating. This heat cable, like with other heaters, comes in different wattage capacities.
Before purchasing it, you'll need to check how long you'll need the heated section to be to avoid being disappointed after buying because not all parts of the cable emit heat that would be needed by your skinks.
Pros
Maintain a consistent temperature gradient in the enclosure.
Water-resistant.
Flexible and easy to install.
Cons
Not the cheapest in the market compared to the heat it emits. The 14″ is sold for $22.51 while the 23ft 50W is sold for $22.95.
Only about 8 inches of the 14 inches cable to heat up. This makes it not ideal for big enclosures or more than one enclosures.
Not the hottest in the market.
Exo Terra Heater Cable 12ft, 15W
Last update on 2022-12-29 / Affiliate links / Images from Amazon Product Advertising API
This quality heat cable by Exo Terra features double silicone insulation that ensures the total safety of your skinks.
The heating cable can be used underneath the enclosure and also around the tank to provide heat right where it is needed.
It can be used in breeder racks to heat multiple enclosures.
This heater also comes in different sizes and wattage capacities at different prices. The 15.5ft 25W of this heating cable is sold for $48.99.
New to blue tongue skink? Check out the blue tongue skink care sheet now! We had listed out all the things you need to know about blue tongue skinks as pets. Check it now!
Although you might find the actual cable size after purchase to be misleading, it's worthy of note that it would be dangerous to have the entire cable heated to the wall plug or power strip.
It's, therefore, necessary to have a lead of non-heated cable.
So you'll need to check for the length of the heated section if it'll suffice for your tank size before buying.
Specifications/Features
Features double silicone insulation that ensures safety.
It's flexible, durable, and water-resistant.
It can be used underneath to heat specific spots on the terrarium floor.
Optimal heat supply for blue tongue skinks and other reptiles.
3.5 m (11.5 ft.) in size with a wattage capacity of 15W. It's pretty long enough to be used with up to a 20-gallon tank.
Pros – What We Like
Heat up to 99° F
Emit effective heat to achieve temperature gradient inside the enclosure.
Durable, flexible, waterproof, and easy to Install.
Can be used in a heat rack to heat multiple enclosures.
Cons
Misleading cable size. The heated section most of the time wouldn't be able to heat a big enclosure.
Quite expensive
Basking Bulbs:
The basking bulbs in your skinks' enclosures are another source of heat for your pet blue tongue skinks.
Basking bulbs are heaters that provide heat through a radiant heat source, usually an incandescent or halogen bulb.
Replicating the sun's warming rays as in the wild, basking bulbs provide pet blue tongue skinks with the warmth they need to digest food and maintain ideal activity levels.
There are varieties of different basking bulbs you'll find in the market, but these 2 are our top picks.
Zoo Med Repti Basking Spot Lamp 75W
Last update on 2022-12-30 / Affiliate links / Images from Amazon Product Advertising API
Zoo Med has wow many cold-blooded reptile owners with this special 2 bulb value pack basking spot lamp.
The bulb is uniquely designed with a patterned double reflector that focuses over 35% of the heat and light in a tight beam, therefore giving reptiles enough heat to bask in.
This heat bulb is best for blue tongue skinks and other diurnal or desert species of reptiles that thermoregulate their body temperatures by basking.
One more beautiful thing about this basking spot bulb that I found interesting is that it's a value pack of two quality bulbs for a price as low as $13.89.
The bulbs are of various wattage capacities for different sizes of enclosures.
Pros – What We Like
Two for one pack.
Great price for value.
Intense heating via a focused beam.
Perfect for blue tongue skinks.
Cons
I've not had issues using it.
Exo Terra Sunray Metal Halide Bulb 50W
Just before I proceed into details of this basking bulb, it's important to note that metal halide bulbs are also one of the best sources of heat for captive reptiles.
These kinds of bulbs are designed to combine optimal UVA levels, UVB, visible light, and heat to give reptiles just the kind environment they need.
That being said, the Exo Terra sunray metal halide bulbs are multi-purpose bulbs that combine high light output and heat radiation with optimum levels of UVA and UVB to provide a consistent spectrum of heat for the well-being of your reptiles.
This combination matches that of their natural habitat that enables captive blue tongue skinks to produce their vitamin D3 which will help them absorb calcium. 
Features
Optimal levels of visible light, heat, and UVA, and UVB.
Metal Halide Fixture with ballast and bulb.
Contributes to reptiles' overall wellbeing.
110 volts.
Intensifies the natural coloration of reptiles.
Stylish design.
Easy to install and fully adjustable.
Closely approximates natural sunlight.
Can be safely used on smaller terrariums.
Pros
High energy efficiency.
Long-lasting heat balance.
Durable.
Contributes to reptiles' overall wellbeing.
Extra sticky, stylish design and can be fixed on any side of the enclosure.
Easy to install.
Intensifies natural coloration of reptiles
Cons
Way too pricey. The 50W of this bulb is sold for $200. That's like a fortune. 
Reptile Heat Rocks:
Reptile heat rocks are a great way to provide under-belly heat to your pet skinks.
However, we DO NOT recommend the use of heat rocks for beginners because they can get too hot to the point of burning the belly of your skinks.
No matter what review you find on the internet about heat rocks, the fact remains that they are prone to malfunction, and can also put an electrical hazard in your skinks' enclosures anytime.
Being that there would always be water in your skinks' enclosures, running to an electrically powered heat rock after getting wet wouldn't be a nice idea because heat and water are not a good combination.
For this reason, we wouldn't recommend you using it as a newbie except you can monitor it properly, but that will be too stressful.
Best Heaters for Blue Tongue Skinks' Frequently Asked Questions (FAQs)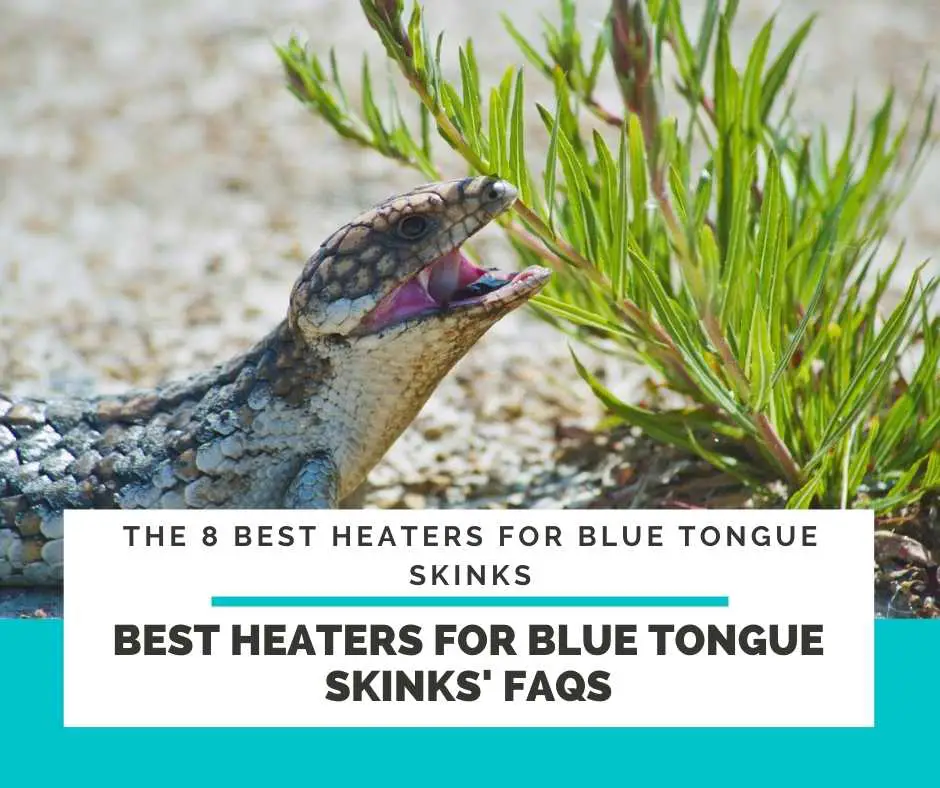 Final Notes
Of all the different categories of heating sources discussed in detail in this article, these two stand out- ceramic heaters and halogen bulbs.
If only reptiles could talk, they'd gratefully endorse the satisfying heat output of Ceramic Heat Emitters. Ceramic heat lamps are the most efficient heat lamps since no light is emitted, thus channeling all the lamps' energy to converted heat through infrared light.
Halogen lamps on one end tend to have a much longer life than tungsten filament globes and are more energy-efficient than incandescent bulbs.
That being said, the best heater I would recommend for its quality, efficiency, accuracy, and safety is the Zacro reptile heat lamp with a digital thermometer.
I would strongly recommend the Zillia reptile terrarium heat lamp mini halogen bulb for a much reasonable $2.81.