Just the way the right flooring promptly changes the appearance and vibe of the room, similarly, the right bedding (also called the substrate) has a promising impact on the health and mood of your bearded dragon. 
If the word "substrate" is new to you, then this refers to the form of covering on the floor of your bearded dragon habitat.
There are many options when it comes to the substrate for bearded dragons. It can get very confusing to select one if you are not an experienced reptile owner.
But guess what? The misery is over! We are here to help you break through this riddle by only talking about the best loose substrate options for your bearded dragon.
In the next few minutes, this article will empower you with insightful knowledge that will simplify the decision-making process for you. Your beardie will tell you how amazing of an owner you are when you will:
Realize the benefits of loose substrate
Become cognizant of Best loose Substrate Available
Understand the pros and cons of each substrate with reviews
Master the art of cleaning Bearded Dragon Substrate
And that's exactly what we are covering up for you in this article on "Best Loose Substrate for Bearded Dragons."
What is a Loose Substrate?
 There are two basic categories of substrate for all reptiles in general:
Loose Substrate
Non-Particle Substrate
Loose substrates are substrates composed of several different bits of different components. Some common examples of substrates with loose particles include:
Reptile sand and gravel
Granulated alfalfa
Crumbled walnut shells
Coconut Fiber
Millet
Clay
Wood pellets/wood shavings/sawdust
Mulch
Vermiculite
Moss
Arguments are rolling all over the internet and questions have been raised regarding the safe use of the loose substrate. In simple words, some forms of the loose substrate such as indigestible loose particles like sand can be a threat to the health of a bearded dragon.  
Even though bearded dragons live in deserts and deal with sand but with the freedom of moving away from it when they want to.
Bearded dragons love to lick things around them, and in a close environment with indigestible substrate particles, they are at a constant health risk.
But that's where digestible loose substrate comes to the rescue.
Benefits of Loose Substrate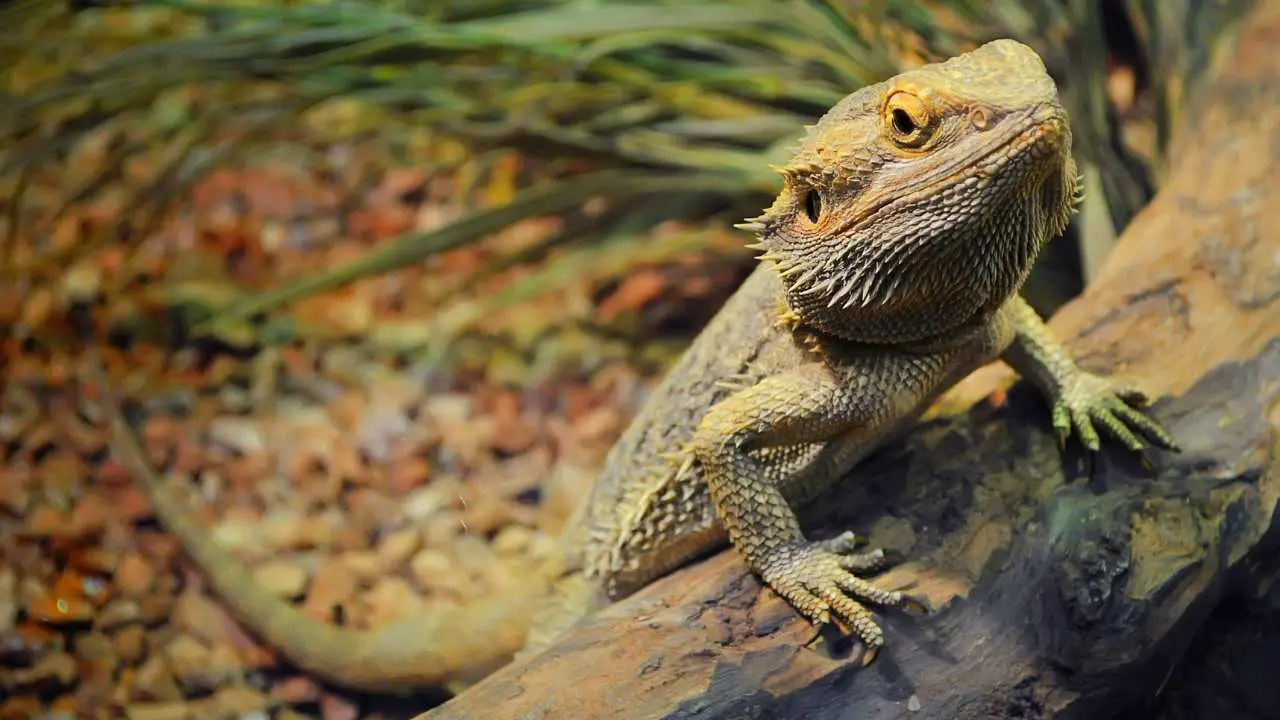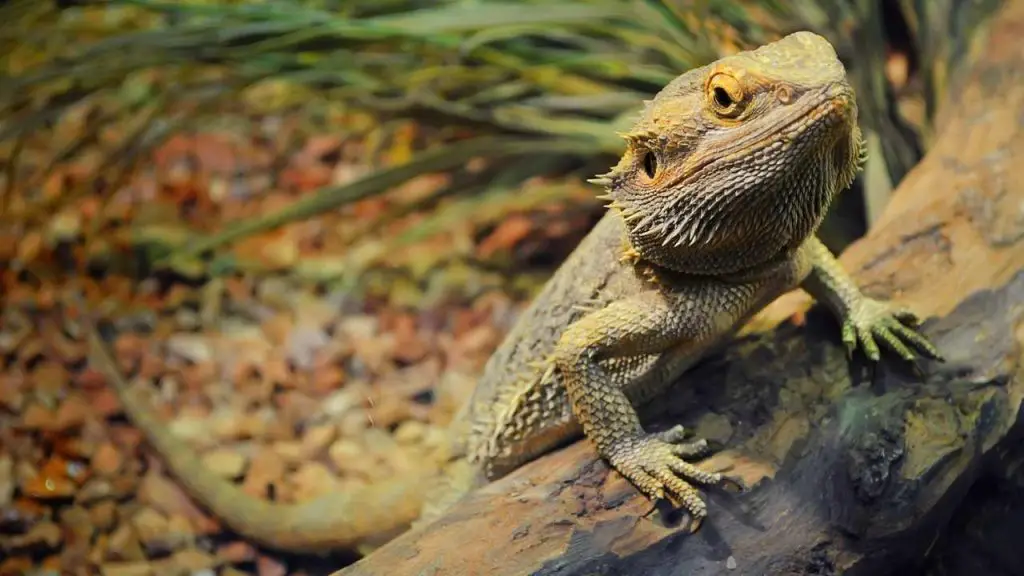 Despite all the controversies over the years, loose substrate continues to be the most popular choice of owners. The substrate is a significant part of the surroundings and plays a vital role in deciding the environment your bearded dragon will dwell.
Therefore it is essential to consider all aspects before choosing the best substrate for your bearded dragon. Let' take a look into some factors that kept loose substrate on top of consumers' choice:
Provides Cozy Environment
Comfort is when nothing is bothering or threatening you. For bearded dragons, this pertains substantially to the nature of the substrate. It primarily corresponds to the shape and size of the substrate particle.
Loose substrates are produced with ideal size particles since fine substrate particles threaten to clog the nose and irritate eyes, while medium-sized particles induce the risk of choking.
Similarly, sharp edges of the substrate particle can scratch skin open and pose a constant threat for sensitive parts.
With that being said, loose substrate particles with a soft round texture and big enough size for bearded dragons to eat are the perfect flooring options for you.
Effortless Cleaning:
Cleaning is certainly the toughest part to deal with when you have a bearded dragon to take care of. Without regular cleaning and maintenance, the substrate will produce dangerous products like bacteria and mold in humid conditions.
This can potentially transmit diseases and damage your bearded dragon. But we have good news for people having no time to do the cleaning. Reusable substrates are environmental-friendly and are super easy to clean.
With the option of cleaning using the screening method, all you need to do is find the right substrate size for the screening method and you are good to go.   
Closer to nature:
The feeling of being home after a long trip feels like a warm bed after working on a freezing cold day. That implies for bearded dragons just like that.
They live mostly in sub-tropical woodlands and deserts and face trouble adapting to the environment of their vivarium. That's when loose substrate brings back happiness to their lives by recreating their natural habitat.
While coconut fiber retains moisture and keeps the humidity constant and optimum to bring back the warmth of subtropical woodlands, the smooth and soft texture of calcium sand provides the coziness of desert sand for the bearded dragons.
Pure chemical free natural substrates are your go-to option to stimulate the comfort of the natural habitat in your vivarium.
Best Loose Substrate for Bearded Dragons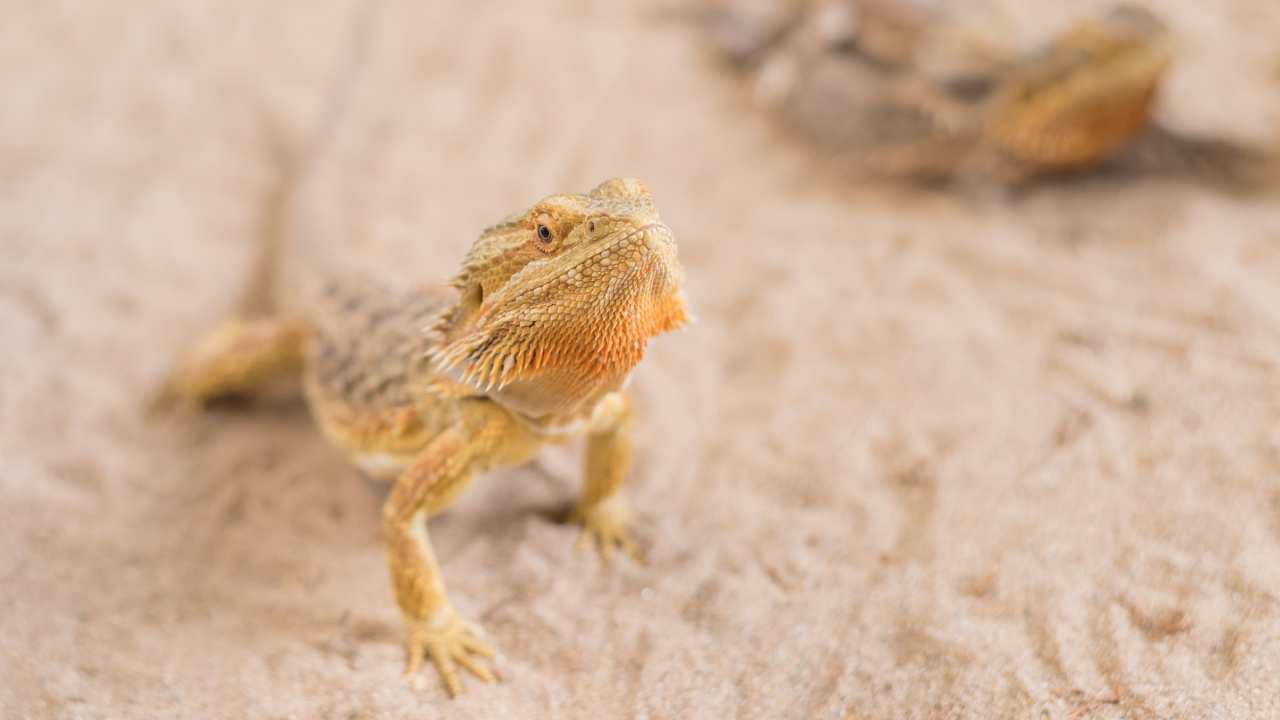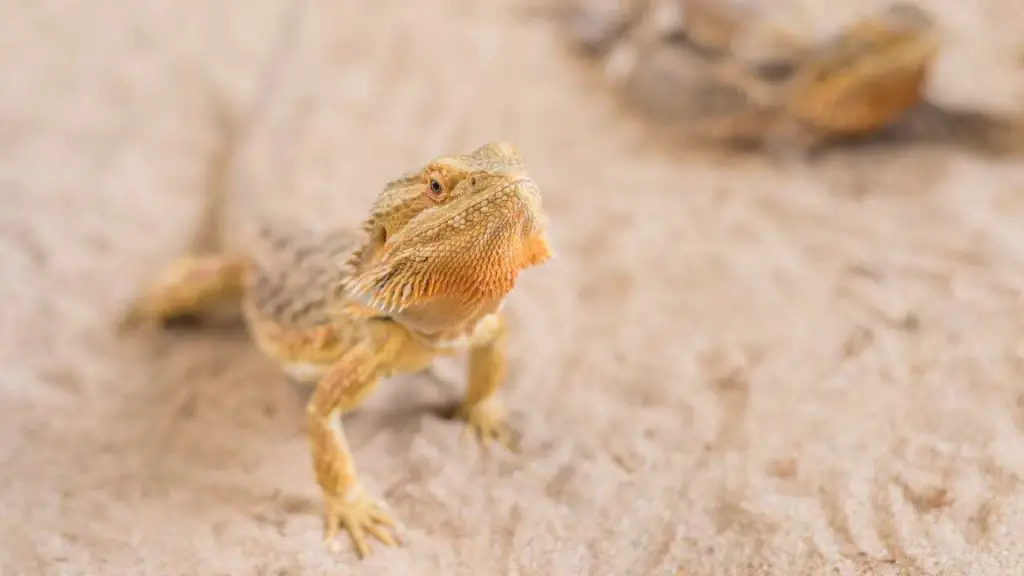 Now that you have learned about the elements to consider when hunting for the best substrate, we have prepared a list of the best loose substrates for bearded dragons.
The list includes various types of substrate materials, each with their pros and cons and consumer reviews. They cover the considerations for all the elements we have discussed earlier.
So without further ado, let us jump straight into it our list of Best Loose Substrate for Bearded Dragons:
1-Reptile Sciences Terrarium Sand
Last update on 2022-12-29 / Affiliate links / Images from Amazon Product Advertising API
Reptile Sciences Terrarium Sand is an ideal product as it offers the best natural environment for the bearded dragons.
This product is composed of pure calcium carbonate that is an organic compound found in the Earth's crust. It surely actuates an aura where a bearded dragon feels like home.
The natural characteristic of calcium carbonate to act as a filter helps clean air. Fine blunt particles of this product are perfect against any scratch, cut, or injury in case of contact with eyes or nose.
The best thing about this product is the safety it offers with fine blunt particles of the substrate that are harmless in case of ingestion. Moreover, it works as a dietary supplement to account for calcium and mineral intake for bearded dragons and fight against indigestion.
Many people buy this product for their bearded dragons, and he loves it. He plays and enjoys it, and despite understanding the risk of infection which sand may cause in a bearded dragon's terrarium, people tend to be carefree as this product is 100% digestible.
People having bearded dragons for years have used all types of substrates but this one is the best by far for them. It absorbs well and does not smell with regular cleaning.
Reptile Sciences Terrarium Sand Pros and Cons
Pros
Cons
Digestible
Calcium Carbonate
Prevents Internal and External Bruises 
Natural Orbicular Grains
Silica & Phosphate-Free 
Lowers Risk of injuries in Reptiles
Contains dietary supplements
Natural Odor
Neutralizer to keep environment clean
Easy to clean.
Acidity in case of excessive consumption
Comes in small bags.
2-Loose Coconut Fiber Substrate
Last update on 2022-12-29 / Affiliate links / Images from Amazon Product Advertising API
Zoo Med Eco Earth Loose Coconut Fiber Substrate is entirely composed of natural components. It absorbs water and cancels out the stinking smell. 
Zoo Med has excelled in the substrate sector and provided high-quality products at cheap price tags.
Since the product is soft, it reduces the chances of abrasion or injury. It is considered as one of the best loose substrates for bearded dragons available in the market with an exceptional rating and thousands of sales.
Coconut Fiber Substrate is easy to clean and demands regular replacement of substrate as required to avoid odor prevailing in the surroundings. Moreover, you will need to entirely change the substrate at least every six months to ensure hygienic conditions.
Reviews
The package arrived and was in flawless form. The bedding is very soft and earthy. With larger fibers, people wish it to be a little more fibrous, but still very pleased with what they have got. The box it comes in is damp and not dry, just what people expect it to be.
People found this product amazing. For their bearded dragons, they've tried several kinds of bedding, and this one is their favorite.
You will need to find something else to close the package after usage or a different container to insert it in, as the box is not re-sealable.
Loose Coconut Fiber Substrate Pros and Cons
Pros
Cons
Great absorbent of water to stimulate humid conditions.
Cheap reliable products.
Soft nature with outstanding feedback.
Comes in different size options to cater individual needs.
Activates the digging ability of breaded dragons. 
Regular replacement of substrate.
Rots if kept in high humid conditions for long.
3-Rubber Shelf Liner
Last update on 2022-12-29 / Affiliate links / Images from Amazon Product Advertising API
One of the most convenient choices when looking for a substrate is Duck Brand Smooth Top Easy Liner. These indoor-outdoor liners come in rolls that you can cut just the size you need.
Don't worry about the odor in the presence of enzymes that disintegrate smell causing elements immediately. Easy liners are a soft, non-abrasive, and water-absorbent product that makes it the best combo under a very convenient price tag.
It may not look natural to your eyes but trust us, your bearded dragon is having a good time at home enjoying the features this substrate offers.
Liner is the safest substrate available especially for a baby bearded dragon since it is inedible and indigestible.
Shop now at Amazon
Reviews
This sort of thing is a perfect option for people. It's good dense padding that's textured so it doesn't slip along the bottom. Soft and smooth, the top is easy to clean.
Almost everyone is happy with the decision of ordering this product. They are simple to wash, simple to set up, firm grip for slippage, and looks great. People would buy more, but they're all over the surfaces of their house already!
You don't have to bother to trim this stuff, instead, you can place it in the vivarium and let the excess lining bend up around the edges creating a little bumper around your bearded dragon's home.
Duck Brand Smooth Top Easy Liner Pros and Cons
Pros
Cons
Cost efficient and low maintenance.
Soft nature and harmless characteristics.
Inedible and indigestible.
Easy to use and maintain. 
Regular cleaning required to avoid smell and bacteria growth.
Gentle scrubbing and soaking may be required at the time of cleaning.
4-Zoo Med Excavator Clay Burrowing Substrate
Last update on 2022-12-29 / Affiliate links / Images from Amazon Product Advertising API
It is a dream come true for your bearded dragons to enjoy burrowing facilities in its vivarium. Their love for digging is not hidden from anyone and Clay Burrowing Substrate by Zoo Med recreates that experience for them.
The most powerful feature of this product is that it enables the bearded dragons to design tunnels that can stand tall without collapsing. This stimulates a natural surrounding while living with their multi-story artistic tunnels.
This substrate is 100% pure and free from paints, chemicals, and colorings. Before placing it in the tank, you have to mix it with water, so that it can harden quickly. Your bearded dragon will not be able to swallow it once the clay becomes solid.
It is the best loose substrate in long run and serves purpose unless stench lingers even after spot cleaning.
Shop now at Amazon
Reviews
Excavator mud retains tunnels incredibly well, allowing reptiles to work on the impulses of regular digging.
It is compressed and has very few loose grains once soaked and dried, therefore reduces the risk of impact or accidental ingestion of this clay.
Zoo Med Excavator Clay Burrowing Substrate Pros and Cons
Pros
Cons
Enables burrowing facilities.
Firm tunnels.
Soft and indigestible.
Harmless characteristics. 

Labor-intensive to clean.
Can dry out in the presence of heat lamp if not monitored efficiently.
5- Wood chips or Wood shavings
Last update on 2022-12-29 / Affiliate links / Images from Amazon Product Advertising API
Small bits of wood are processed to shape into a light, durable and absorbent substrate. They are not as popular currently as they once used to be but still, they are an option to consider.
If your bearded dragon is from tropical rainforests, then this is the most suitable substrate with amazing moisture retention ability.
However, avoid using artificially altered wood as a substrate to avoid the intake of toxic chemicals in your bearded dragon's diet. Also, keep a vigilant eye because bearded dragons can swallow these chips and get themselves into grave danger.
A prominent option in this tier is Zoo Med Repti Chips with affordable prices and quality products.
Review
People think that this substrate is not always healthy for bearded dragons, who may unintentionally ingest it along with their food.
Wood chips/Wood shavings Pros and Cons
Pros
Cons
Moisture retention
Light and durable
Not indigestible
May contain toxic elements
Stinks easily
How to clean a bearded dragon substrate?
It is important to consider the feasibility of cleaning while choosing the best substrate for your bearded dragon. Each type of substrate has a specific technique that is easy and efficient:
For liner substrate, use a non-toxic cleaner such as Better Life to kill bacteria effectively with a water-diluted solution.
For the rest of the loose substrate products, the scooping method is the most appropriate and quick way to remove waste and litter. Use a scooper to remove waste and replace it with a fresh substrate.
In the best-case scenario, you should entirely replace the substrate after every 3 months to avoid stinking and bacterial problems.
Conclusion
Loose substrate significantly contributes to simulating a natural environment which essentially promotes the growth and sustenance for bearded dragons. This accounts for their happiness and contentment but their health concerns are to be strictly considered as well.
Now that you have a comprehensive overview of all the options you have, you can choose what will be the best loose substrate for you and your friend.
Keep in mind two things before making your final choice:
What conditions your bearded dragon prefers?
How much cleaning time can you offer daily?
The answers will lead you to the best-suited product from the list above.
We hope this article guided you in your quest to uncover the best loose substrate for bearded dragons. 
Wishing you and your friend many amazing years of fun and prosperity together!