Mice are some of the cutest and intelligent pets available. They experience and express complex emotions. They make great pets for anyone willing to take the chance with them. Furthermore, taking care of mice is not a complicated endeavor if you have the right equipment. Here are our 5 best mice cages you should choose from
As social animals, mice enjoy living together as a group. Whereas a duo would be an ideal start as a pet keeper, we recommend that you have a trio as a minimum. Among the important considerations for you as a mice keeper is the cage. There are numerous cages to consider and different factors as well.
When conducting this research, the focus was on available mice cages on Amazon, considering their pros and cons. We looked at more than 20 mice cages, and presented what we consider to be the best available cages. Among the factors considered included price, material and ratings from other consumers.
Want QUICKLY? HERE are OUR TOP PICKS
Our Reviews Detail for Best Mice Cages
The best cage for mice has three things: it's long and tall, has several levels with a plastic floor and lots of space for the rodent to run around. All these cage features ensure that your pet mice are always busy and will live longer.
1. Savic Extra Large Hamster Cages Reviews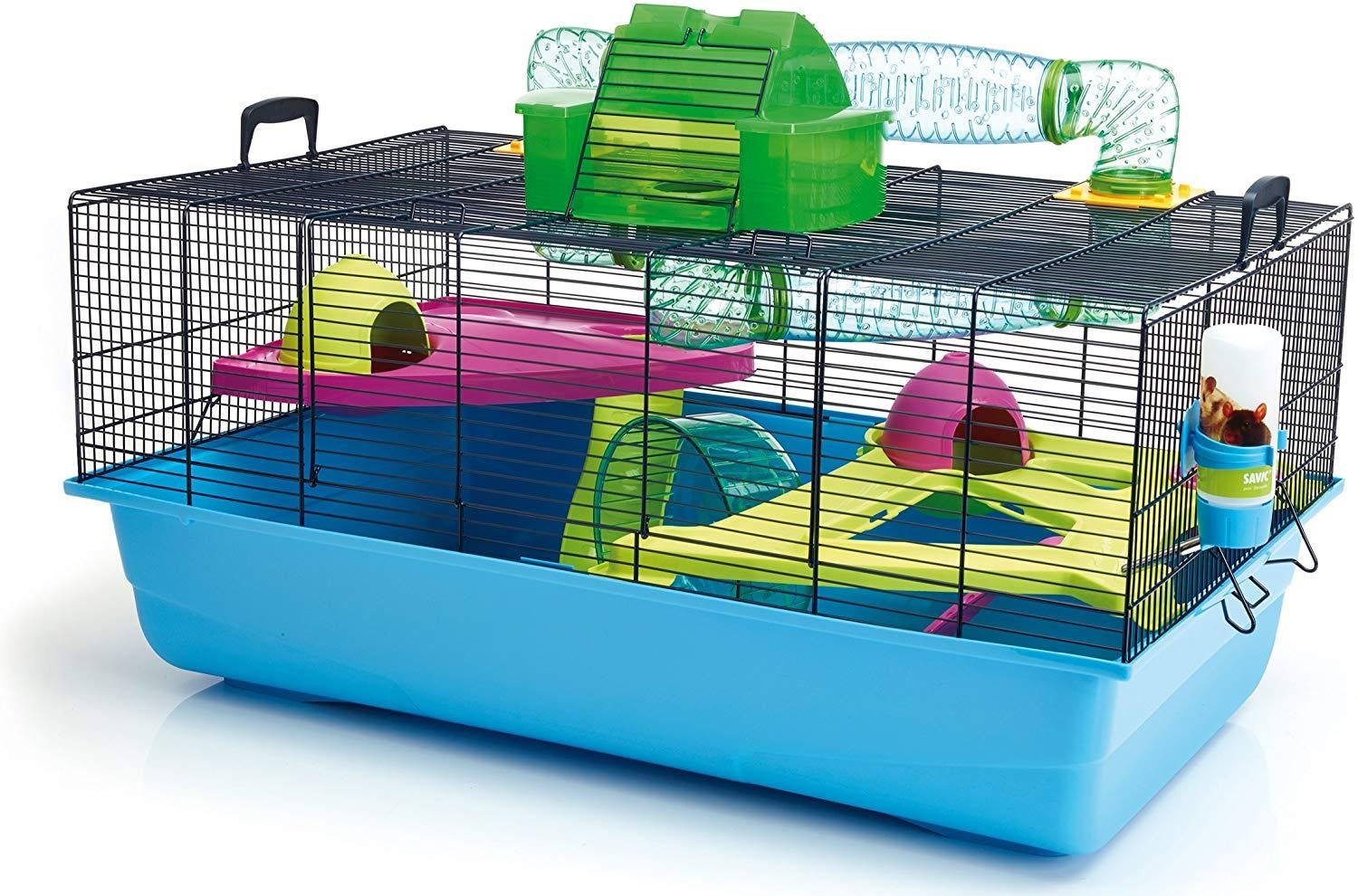 This is a cage that offers numerous sections for your pet to hide and play. It has multiple tunnels and ledges and small covered areas to improve privacy for your mice when they sleep. Making your mice happy includes getting them a stimulating environment, and this cage offers exactly that.
While looking at the picture the cage might seem a little bit compact, it is actually bigger than it seems. It has ample room for your mice duo to live comfortably. It has private areas for each and enough space to roam.
It is difficult to get the right balance for spacing bars. They need to be narrow enough such that they do not allow the mice to escape. However, they must also be wide enough to allow proper ventilation into the cage. With this cage, the cage strikes a balance between making your pet comfortable and ensuring its safety from harm.
Whereas mice are social, they also need their space. As such, rather than having a cage with two different floors for each, the manufacturer developed two separate ledges. They are a fair distance from one another, and it enables each mouse to sleep on separate sections of the cage.
Nonetheless, the cage still has ample space in between that the mice can use a communal area for playing and other forms of socializing. The cage has a tube that protrudes upwards from the mesh. It enables your pet mouse to get around in a fun way. However, it cannot support a lot of weight.
As such, take caution if your mouse is heavy than normal as the tube may collapse harming the animal. It might have been better to have the tube only inside the cage rather than jutting externally.
This item has a 4 star rating out of 5 after reviewing by 206 customers. The price of each of these cages on Amazon is $131.66 before shipping.
Features
Its dimensions are 31.5 x 20 x 20 in
Weighs 12.17 lbs. and has a shipping weight of 20.9 lbs.
Made from plastic materials
Includes a bottle
Interconnected tubes
Multiple colors
Pros
✅Easy to assemble
✅Two separate ledges
✅Bar spacing
✅Interestingly stimulating environment
✅Ample space within the cage
Cons
❌It has a tube that may pose some dangers to the pet
Check The Latest Price On Amazon
2. Chew Proof High Rise Pet Cage for Small Pets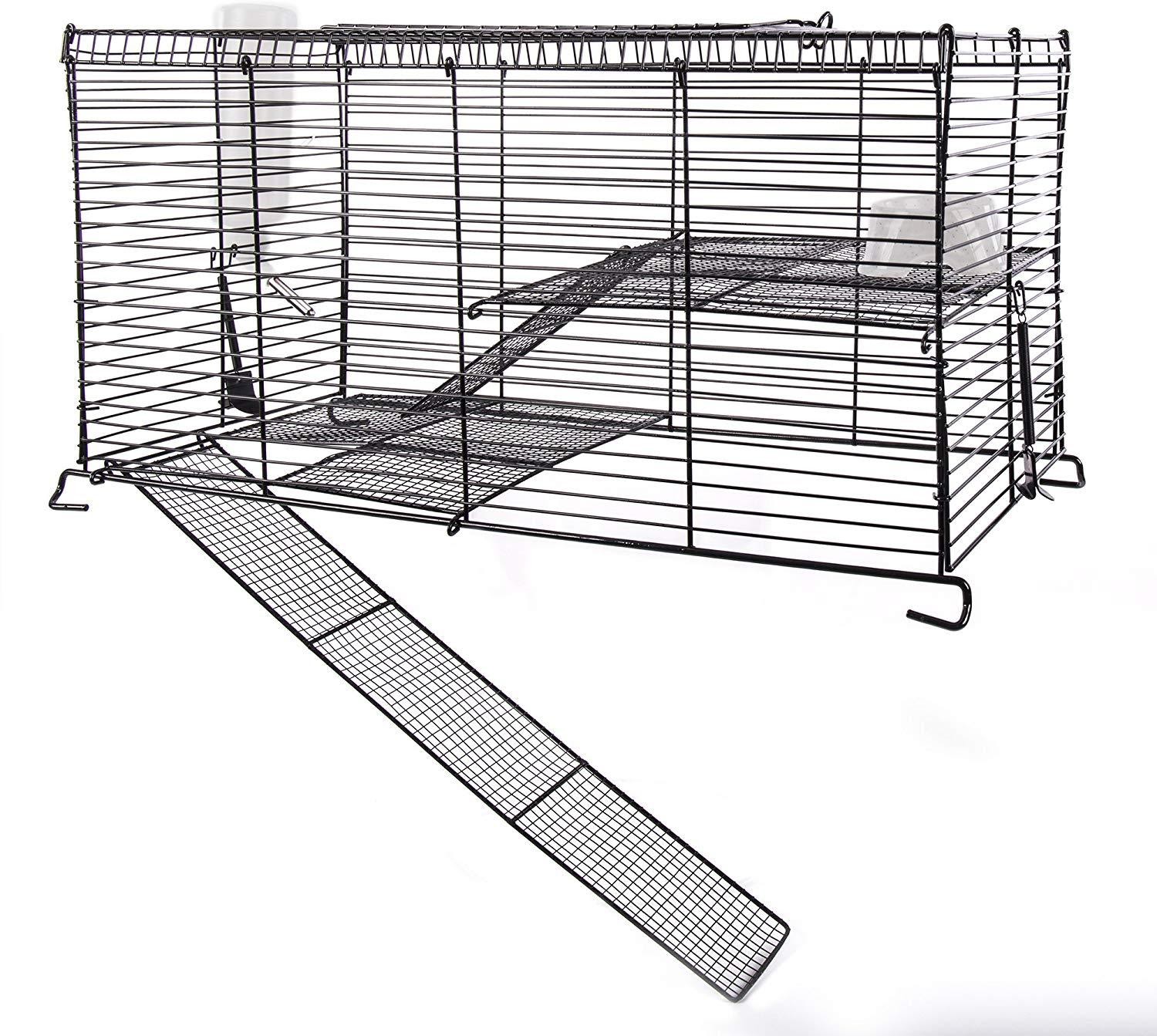 Among the activities that mice enjoy most is climbing. The wire mesh provides the exact service to meet this need. Furthermore, the cage also has to be vertically large. This cage will allow your mice the luxury of climbing three stories. They can access each of the stories with ease and they can rest on each too.
The multistory design is ideal for enabling your pet to choose from multiple areas of play. It is also necessary to ensure your pet has required accessories for feeding, and this cage comes with a water bottle and a food bowl. It is a factor that increases the value for the money paid.
Its wires are chew proof, which is not only perfect for the cage's durability, but also for the protection of your pet. Chewing on these products may be toxic for your pet as well. The cage comes with powder coated wires, which protect it.
The powder makes chewing unpleasant as it has a bitter taste for the mice. You may notice your mice chewing on it initially, but soon they learn not to do it.
On the pricing of the product, it most definitely prices lower than the Lexit Metro Cage by more than $90. However, you cannot compare based on the price only since it also lacks most of the cool features. Nonetheless, it offers satisfactory features if you are working on a tight budget.
As in most cases, cheaper options are never as good in terms of service delivery compared to expensive options. However, it is notable that even at a price of $40.99 on Amazon, this product is still great.
The entire cage is made of a grate floor made from wire mesh, and none of the surfaces contains a flat or solid surface. It might be a disadvantage as you mice may contract bumblefoot. Bumblefoot is an infection that causes feet swells if the mice walk on wire mesh for a long time. Therefore, it is recommended that you invest in some bedding to prevent this from happening.
This cage can be combined with a 10 gallon aquarium to give your mice high rise living quarters. It has a 4-star rating from 667 customer reviews.
Features
Comes with three floors
Has shelves and ramps, which are pet-safe
It has a durable powder coated chew wire
It includes a water bottle and a food dish
Ample space in the 3 floors for the pet to roam
It has rooftop access for easy cleaning
Dimensions are 11 x 19.5 x 10.5 inches, and 3.7lbs.
The shipping weight is 4lbs.
Pros
✅Multiple floors
✅Comes with additional accessories
✅Wires are chew proof due to powder coating
✅It is inexpensive
Cons
❌Its grate floor may result in bumblefoot for your pets
Check The Latest Price On Amazon
3. Prevue Pet Products Three-Story Hamster & Gerbil Cage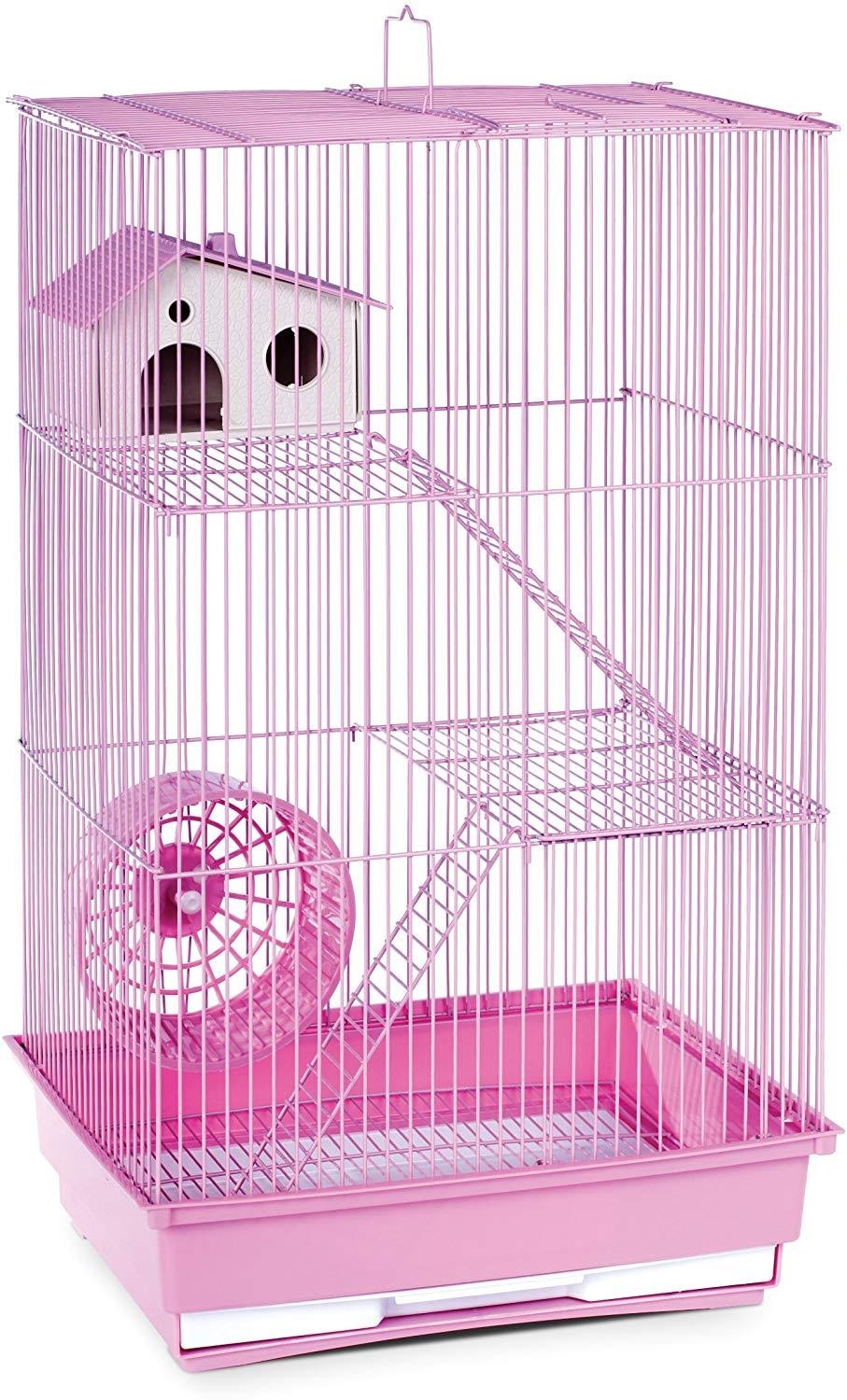 When you talk about roof top doors for pet cages and their ease of access, it sounds like the best idea. In some cases it is a nuisance due to the ease of escape they offer mice. However, in the case of this cage, it is too high for the mice to escape. The cage can be opened without any worry on the pet escaping.
This cage comes in multiple bright colors including pink, green, blue, orange, light blue, mint-green, yellow, and purple. These colors are especially appealing to young children, and since taking care of mice can be done by children, the cage is perfect choice.
Whereas these colors are multiple and diverse, it is interesting to note that the cage's pricing is based more on the color with a range from $27.37 to $53.14. Blue and green are the most expensive, light blue is the cheapest, orange and purple cost $48.05, and mint green and pink cost $34.15.
However, note that due to the nature of the material and construction design of the product, it can result in bumblefoot. This can be dealt with through the use of bedding and plastic sheets on the floor of the cage for your mice to step on. These additions may make the cage less appealing.
You also need to keep an eye on the mice regularly as the bars may be a little pliable resulting in stubborn mice squeezing through. Focus on the comfort, safety and security of your pet before aesthetics. Once this is in place, there is no need to worry about the pets' comfort.
Customer rating on Amazon from 350 reviewers gave it 3 stars out of 5.
Features
Comes with an exercise wheel, a house, 2 ladders and 2 platforms
A wide variety of bright colors to choose from 
Roof top door for easy access
Three stories of space
Cleans easily as a result of the removable grille and pullout tray
Measures 14.5 x 11.2 x 22 inches  and weighs 4.5 pounds, with 6.5 pounds shipping weight
Pros
✅It has a wide color selection for you to choose
✅Relatively inexpensive
✅The door is narrow hence pets cannot escape through it
Cons
❌There is a risk of bumble foot
❌The bars are pliable
Check The Latest Price On Amazon
4. Pico Pink & Purple – Hamster & Small Animal Home/Cage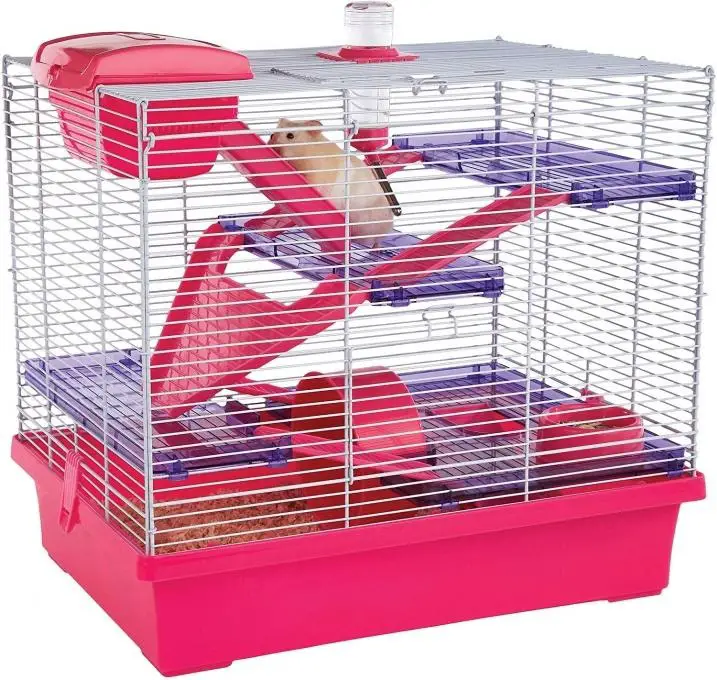 This is a cage with three levels that are connected with ramps that enable your pet to climb with ease. The cage has enough space that allows free movement of the pet, and it is also enough to house more than two mice.
It comes with a water bottle, an exercise wheel, and a food bowl. It also includes a petting zone where you can interact with your pet. The same petting zone may also be used as a shelter for your mouse as well.
The cage's structure is made from study wire and high quality plastic to make sure that it remains durable. It has a door on the front side of the cage for ease of access to feed, clean and maintenance. The plastic bottom enables free tunneling through the bedding.
It is also possible to detach the base easily for cleaning. Furthermore, a shelter exists at the nesting area where your pet can hide when resting or whenever it requires some privacy.
Narrowly spaced bars add to the escape proof nature of the cage. Even small mice cannot fit between the cage bars. Furthermore, other pets, such as, cats and dogs in the house cannot reach the mice. Assembling the cage is easy as it only includes snapping the parts together.
Features
Quality plastic materials
High quality design and finishing
Large space and features
Measurements 14.2 x 19.7 x 17.7 inches ; weighs 7.05 pounds with 8.6 pounds shipping weight
Pros
✅It is easy to assemble
✅Escape proof
✅Includes a petting zone
✅Spacious for several mice
✅Made from good quality materials
Cons
❌Whereas assembling it is easy, it may take time
Check The Latest Price On Amazon
5. IRIS Hamster Cage
This is a 3-level cage that makes the best habitat for your pet mice. It comes in a beautiful homely design and has a clear front side that makes viewing the pet easy. The sides are made from wires, which allow fresh air inflow for the pet to get proper aeration.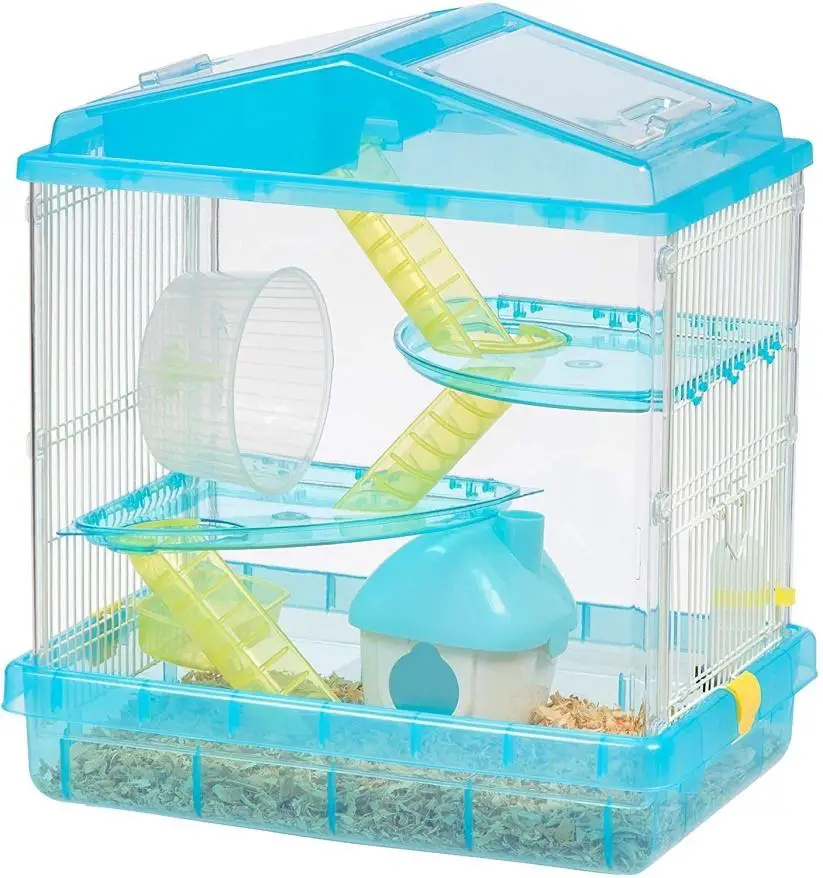 There are multiple colors that you can select for your pet and aesthetics of the house. It is also spacious enabling free roaming of your pets. The floor is connected with ramps that enable climbing with ease for your pet.
The full package comes with a food dish, a water bottle, and wheel for your pet's exercises. The comfort of your pet is well catered for in this case. It has a small plastic house that acts as a shelter for the mice. You can access the cage from the top where it has two openings. There is also another opening on the side for interaction and access to the pet.
The bottom is made from strong plastic material and it is large to allow the pet to borrow through the bedding. It is also detachable so that you can clean and disinfect the cage with ease.
The cost of this cage is $60.99 and it has been rated 4 stars by 320 customers.
Features
It has 3 levels for your pet's extra enjoyment
Extra openings from the top and side for ease of access
Its dimensions are 17.7 x 12.2 x 19.3 inches; weighs 5.95 pounds with 7.6 pounds shipping weight.
Durable plastic material
Comes with a wheel, food bowl and water bottle
Pros
✅Ease of access to the pet and for cleaning
✅It has a beautiful design
✅Roomy with 3 levels
✅Includes additional accessories
✅Comes in a variety of colors
Cons
❌Due to the huge number of items, it takes time to assemble
Check The Latest Price On Amazon
Conclusion
It is not difficult to make a choice from these cages. You need to consider what size you need and the price of the same. As you make your choice, consider the number of mice that you wish to keep in the cage. It needs to be able to handle them comfortably. Please also consider how often you wish to interact with your pet.