Axolotls are mind-blowing creatures and owning them offers a rewarding experience.
They are not only amazing pets, but they also have fascinating characteristics and can regenerate part of their body.
One of the things to consider is how much does axolotl cost before you decide to buy an axolotl.
Axolotls are among the most affordable exotic creatures you can keep as a pet. A common axolotl can cost around $20-$80, but a rare axolotl morph can cost up to $1500.
Furthermore, the cost of buying an adult axolotl is quite more expensive than a young axolotl.
In this article, we have helped highlight everything you need to know about the cost of an axolotl, like how much they cost upfront to their cost in the long run.
Is It Legal to Own an Axolotl?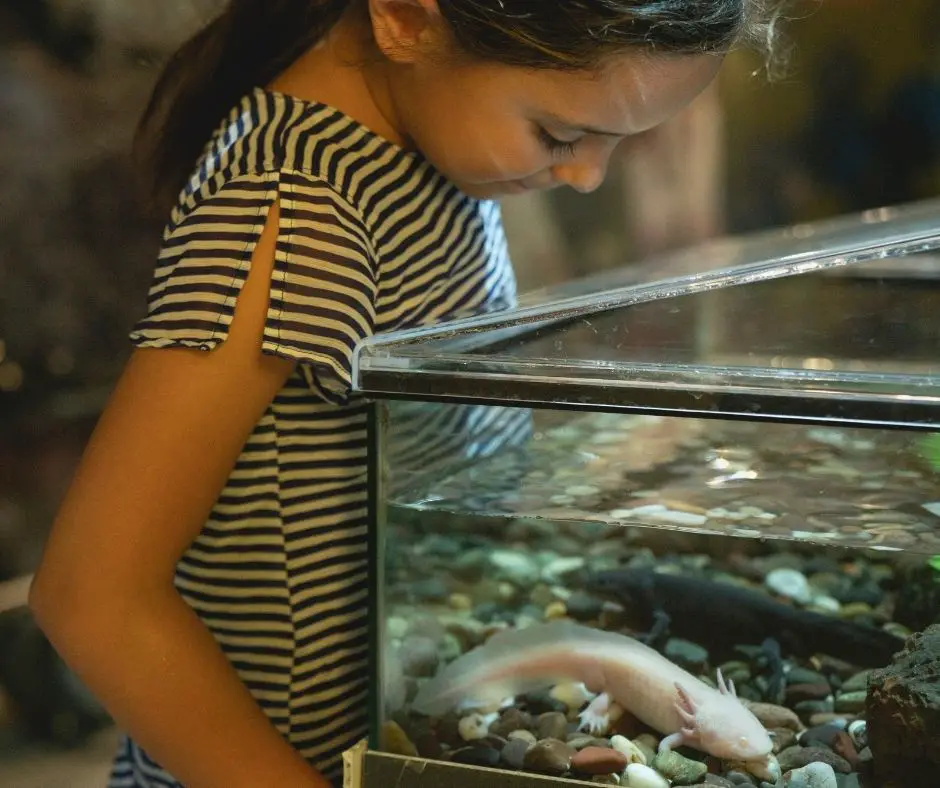 It is best that you research whether your state or local community allows keeping axolotl as a pet before you try to buy one.
You need to contact your local authority to ask whether owning an axolotl is legal or not to avoid facing any legal charges.
In the United States, certain states like California, New Jersey, Maine, and Virginia do not allow keeping axolotl as a pet.
However, residents of New Mexico can keep axolotls as a pet but cannot import them from other states.
Axolotl is legal to own axolotls in most parts of Canada. However, owning them is illegal in some provinces of Canada like New Brunswick, Prince Edward Island, British Columbia, and in Winnipeg.
Furthermore, you will need a special permit before you can keep axolotl as pets in Nova Scotia.
It is legal to keep axolotl as a pet in Europe but there may be restrictions regarding importing and exporting of the animal.
It is recommended that you check the law before you decide to import an axolotl while in Europe.
Furthermore, it is legal to own axolotl in Australia if you are not importing or exporting them from overseas.
The two main reasons why axolotls are illegal in some states are:
Some states believe axolotls are critically endangered species, and hunting and owning wild axolotls is punishable by law.
Some states considered owning axolotls illegal because they can disrupt their natural ecosystem. This is because owners can release axolotls in the wild internationally or accidentally, which may affect the natural flow of the wildlife. They can then turn into invasive species and can interbreed with the native salamanders.
How Much Does Axolotl Cost?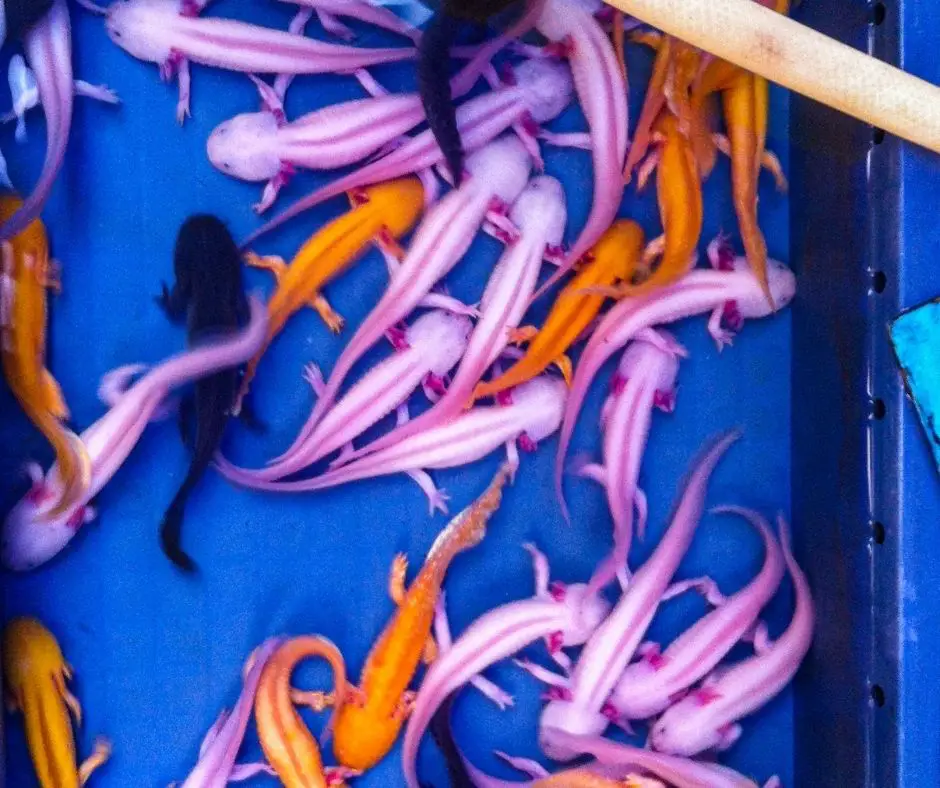 Buying an axolotl is quite cheap, but the price of housing this unique amphibian can be expensive at first.
The price of an axolotl is usually different from one species to another. An axolotl's healthy and common morph can cost around $30-$75.
However, a rare axolotl morph like the Enigma axolotl can cost around $1500.
Furthermore, a baby axolotl usually costs less than an adult axolotl. Another thing to consider when buying an axolotl is the delivery fees.
Axolotls are not a common pet that you can buy from pet stores, and you may need to buy them from an online vendor.
In cases where you are buying them online, you will need to budget around $40-$60 for shipping them to your location.
| | | | |
| --- | --- | --- | --- |
| No | Color or Type of Axolotl | Availability | Average Price (around) |
| 1 | Wild Axolotl | Common  | $40 |
| 2 | White Albino Axolotl | Common | $40 |
| 3 | Leucistic Axolotl | Common | $45 |
| 4 | Speckled Leucistic Axolotl | Common | $50 |
| 5 | Golden Albino Axolotl | Uncommon | $50 |
| 6 | Green Fluorescent Protein Axolotl | Uncommon | $55 |
| 7 | Black Melanoid Axolotl | Uncommon | $65 |
| 8 | Heavily-Marked Melanoid Axolotl | Uncommon | $75 |
| 9 | Copper Axolotl | Uncommon | $100 |
| 10 | Lavender Axolotl | Rare | $115 |
| 11 | Firefly Axolotl | Rare | $250 |
| 12 | Piebald Axolotl | Rare | $300 |
| 13 | Enigma Axolotl | Rare | $1500 |
| 14 | Mosaic Axolotl | Very Rare | Not sold |
| 15 | Chimera Axolotl | Very Rare | Not sold |
Price of axolotl per color or type
Factors Affecting The Price Of An Axolotl
Generally, the axolotl is not an expensive pet to buy. However, no two axolotls are the same, and the price varies from one another.
There are some factors that can affect the cost of an axolotl: morph rarity, age, health conditions, and location.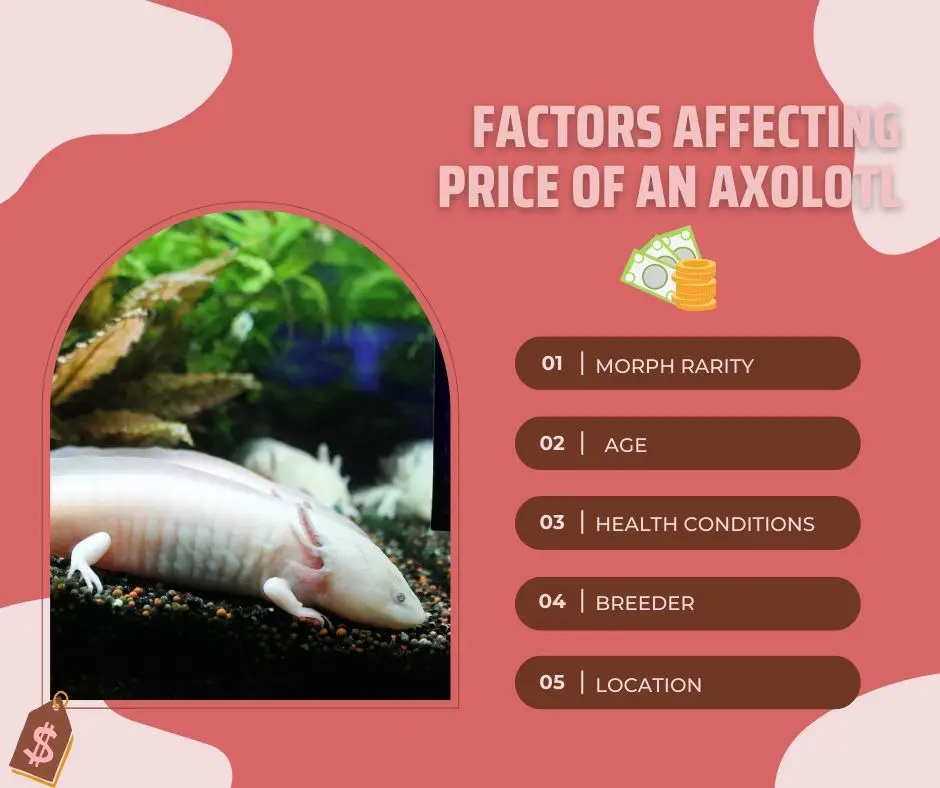 Morph Rarity
The price of an axolotl usually depends on how rare the color/morph is. This is because axolotls are available in a wide range of colors, and some are rarer than the others, hence the high price.
For instance, a common or basic axolotl morph is not expensive, and you can find them in pet stores.
However, rare axolotl morphs are very expensive, and you may only find them from a reputable breeder.
Age
The age of an axolotl is also a common factor determining the price of an axolotl.
For instance, an adult axolotl is usually costlier than a juvenile or baby axolotl. This is because it is quite easy to care for a mature axolotl, and they are friendly.
However, young axolotls require more effort to take care of them.
Health Conditions
There are times when the same axolotl morph can sell at a low cost than some others.
This usually occurs if an axolotl is suffering from a health condition. A healthy axolotl will cost more than those in poor condition.
This is why you should try to inspect the axolotl you want before purchasing. A sure sign that an axolotl is unhealthy is if it is unresponsive and lethargic.
Breeder
The price of an axolotl usually varies from one breeder to another. Some breeders may charge normal rates for a basic morph, while some can charge higher because of the brand name or reputation.
However, you will surely find a reputable breeder that sells quality axolotl for a low price by searching diligently.
Location
Your location can also affect the price of an axolotl. Buying an axolotl from your local pet store close to you can be cheaper than when you are buying online.
This is because you will have to pay for delivery fees coupled with the price of the axolotl.
Where Can I Find An Axolotl?
It is advisable to buy your axolotl from a reputable seller that you can trust.
Before buying an axolotl, you should do thorough research to know the history, health condition, age, and other things about the axolotl.
First, you can check out your local pet store if they have the axolotl morph you want. This will help to check the axolotl physically for any signs of health problems and behavior.
However, if it is not available at the local pet store, you can buy them from a reputable breeder.
Before you buy from the breeder, you can ask what are the options available and if they will replace the axolotl or refund your money if the axolotl is dead on delivery.
Other Costs When Keeping Axolotls as Pets
Purchasing an axolotl is usually the cheapest part of owning an axolotl.
You need to consider additional costs, like the cost of a new tank, filtration system, food, and other essential items to make them comfortable and safe.
The initial cost of owning an axolotl can be between $200-$690, while the recurring cost can be around $35-$65.
Here are some of the main items you will need before you bring your axolotl home.
Tank
Axolotls are amphibians but spend their entire lives in the water. This means you will need to keep it in a tank or an aquarium. The required tank size for a single axolotl is 20 gallons.
You will then need to double the size of a tank to help provide enough space if you want to house two axolotls. A quality 20-gallon tank usually costs between $100-$120.
Also read: 3 Axolotl Aquarium Setup Ideas
Tetra Aquarium 20 Gallon Fish Tank Kit
Tetra ColorFusion Aquarium 20 Gallon Fish Tank Kit, Includes LED Lighting and Decor
Let the LED light transform your aquarium with each color change. Pause the cycle on any color to fully customize your aquarium
The anemones sway with your filter current and give your fish a place to hide and relax
Tetra plants come to life under the glow of Color Fusion LED
The Tetra ColorFusion Kit includes: one 20 Glass gallon Aquarium, one aquarium hood, one UL Heater, one Tetra Whisper 20 Filter, one Color Fusion Universal Color Changing LED, two Wonderland Plant Multipacks, one Blooming White Anemone
Aquarium Dimensions:24.2" L x 12.4" W x 16.7" H
Last update on 2022-12-29 / Affiliate links / Images from Amazon Product Advertising API
Lighting
Axolotls don't need excess light in their tank. Axolotls can become uncomfortable and become stressed if you house them in a tank with excessive light.
However, you can provide lighting in your axolotl tank if you place natural plants that require light in their tank.
Suitable lighting that you can use in this situation is LED light bars that will provide lights for the plants but will not be too bright for your axolotl.
A quality and adjustable LED light bar can cost about $50.
Aqueon Freshwater Aquarium Clip-On LED Light One Size
Sale
Aqueon Clip-On LED Light Freshwater One Size
Easily mounts on framed or frameless aquariums using the versatile mounting screw
21 bright LEDs for shimmering illumination
Elegant super thin design keeps the focus on your aquarium
Ideal for freshwater aquariums up to 20 gallons
2-way soft-touch LED control (on/off)
Last update on 2022-12-29 / Affiliate links / Images from Amazon Product Advertising API
Filtration Systems
It is important that axolotl water is always clean as they can suffer from health problems if you house them in a poor water quality tank.
A great way to remove dirt and other impurities from an axolotl tank is to use a filtration system. A quality water filter for axolotl can cost about $30-$200.
Also read: Full Requirements & Water Conditions for Axolotl in Captivity
Water Conditioner
You can also use a water conditioner with a filter to neutralize the harmful chemicals in your axolotl water.
The water conditioner can be used every time you change the water in their tank to help ensure it is safe.
A water conditioner can cost about $10-$15.
Also read: Is Tetra Aquasafe Safe For Axolotls?
Water Tester
Axolotls cannot survive in water with a high level of ammonia and nitrate. They can also die if you keep them in water above or below 6.5-8.0 pH level.
This is why you will need a water tester kit to determine the level of acidity, basicity, nitrate, and ammonia present in your axolotl tank.
A water tester kit can cost around $10-$34 and last you for a year.
Also read: How To Clean Axolotl Poop: 3 Basic Ways
API Water Test Kit
Sale
API FRESHWATER MASTER TEST KIT 800-Test Freshwater Aquarium Water Master Test Kit, White, Single, Multi-colored
Contains one (1) API FRESHWATER MASTER TEST KIT 800-Test Freshwater Aquarium Water Master Test Kit, including 7 bottles of testing solutions, 1 color card and 4 glass tubes with cap
Helps monitor water quality and prevent invisible water problems that can be harmful to fish and cause fish loss
Accurately monitors 5 most vital water parameters levels in freshwater aquariums: pH, high range pH, ammonia, nitrite, nitrate
Designed for use in freshwater aquariums only
Use for weekly monitoring and when water or fish problems appear
Last update on 2022-12-30 / Affiliate links / Images from Amazon Product Advertising API
Aquarium Cooler or Water-Cooling Machine
Axolotls require a cold temperature between 16-18 C or 60-64F to stay healthy and active.
They can easily become stressed if you house them in a hot tank and can develop health problems if left for a long time.
You can use an aquarium cooler to help ensure the water in their tank is at optimal temperature. An aquarium cooler will cost about $30-$300 based on your priority.
Also read:
How To Keep An Axolotl Tank Cold
Substrate
​Axolotl tanks also need a substrate for holding decorations in place, trap waste, and help your axolotl move comfortably along the bottom of their tank.
A suitable substrate for your axolotl tank is the aquarium sand.
You can easily get a bag of aquarium sand for about $10. You should avoid buying substrates like small pebbles because your axolotl may try to eat them, leading to impaction
Accessories
You will need to add decorations in your axolotl tank to help make it interesting and provide natural scenery. You can use plants and rock-like structures to decorate Axolotl's tank.
You can either buy live or fake plants to decorate your aquarium. You can opt for fake plants as they don't require supplemental lighting and will not cost you more than $30.
You can also buy stone or wood-like hide where your axolotl can hide for about $10-$15.
Also read: 20 Best Plants for Axolot
Penn Plax Spongebob Squarepants Pineapple House
Sale
Penn-Plax Spongebob Squarepants Officially Licensed Aquarium Ornament – Spongebob's Pineapple House – Medium
OFFICIALLY LICENSED: This aquarium ornament is great for anyone who loves the hit Nickelodeon show, SpongeBob! Enjoy the magical world of Bikini Bottom within your fish tank..Saltwater & Freshwater Safe
MADE OF SAFE AND DURABLE RESIN: Our aquarium ornaments are inspected with your fish's safety in mind. The material used is safe for both freshwater and saltwater aquariums. Each decoration has a sturdy base. There's no need to worry about it floating around once you place it underwater.
SUPER SIMPLE TO CLEAN: Simply wipe down and rinse off the aquarium ornament with warm water when you are cleaning out your tank. Never use soap, as the residual soap particles can harm your fish.
BRING THE WORLD OF SPONGEBOB HOME: Perfect for adults and children! This fun aquarium decoration will instantly add magic to your tank! Most small and medium fish can fit inside, allowing them to swim in and around it. This helps reduce fish boredom!
MEASUREMENTS: SpongeBob's Pineapple House measures approximately 3" (Dia) x 5.25" (H). It will fit easily in almost any fish tank sitting at home. It's designed to be the perfect accent to any aquarium, regardless of size. Get creative!
Last update on 2022-12-29 / Affiliate links / Images from Amazon Product Advertising API
Cost of Caring Monthly
Generally, the monthly cost of keeping an axolotl is usually spent on their food supplies, vet visits, and replacing broken items in their tank.
Cost of Food/Accessories
Axolotls are carnivorous animals and usually feed on live and dead food. You will need to feed your axolotl every day until they reach maturity.
The most nutritional food source for axolotls are worms such as blackworms, red wigglers, earthworms, or bait worms.
However, you will need to pre-kill the red wigglers before offering them to your axolotl because they excrete bitter substances for defense. You can also feed your axolotl with bloodworms.
A 1/4-lb bloodworm will cost about $19, while 10-gram of blackworms can cost $11.
You can also feed axolotls with axolotl pellets which cost between $4-$8 for 100g. You should also consider giving your axolotl a brine shrimp as treats at least once a week.
A 4-oz pack for frozen brine shrimp will cost around $8.
Also read: What Can Axolotl Eat?
Cost Of Vet Care
Axolotls are hardy creatures and will stay healthy and happy if you keep their aquarium clean and feed them with a quality diet.
However, you will still need to have an exotic vet where you can do routine checkups for your axolotls.
You should budget between $40-$60 for a routine checkup with a vet, and you will need $100 or more if you take your axolotl to the vet for emergency care.
Cost For Tank Mates
You may even decide to house your axolotls with other tank mates. If that is the case, you will need to budget for a larger tank and more food that will go around for everybody in the tank.
Also read: 6 Best Axolotl Tank Mates
How Much Does An Axolotl Cost With All The Supplies?
The total cost for housing an axolotl is around $200 to over $690 based on different factors like the quality of devices and ingredients you buy, the electricity consumed, the type of food you are using, etc.
The electricity consumed will determine the type of chiller you use because some chillers consume lots of electricity.
Wrapping Up
Axolotls are a cheap pet to buy, but they may look expensive, especially for new owners who need to buy an aquarium and other accessories.
However, the cost for keeping an axolotl is very affordable after the initial purchase.
The initial cost for keeping an axolotl is between $200 to over $690 based on the quality of the tank, food, and accessories that you buy.