Turtles are slow, quiet, and unique pets. Because of its peaceful nature, some attributes of turtles might come off as unusual for most new owners, such as why a snapping turtle pees whenever it's picked up.
As a new owner, this action could raise worry. You might wonder if your pet is sick or if you did something incredibly wrong.
The snapping turtles peeing whenever you pick it up can also be troublesome for some owners.  
But don't fret, as this article will ease your worries. We'll tell you why snapping turtles pee when you pick them up.
You'll also know what to do if your pet pee when they are held. We'll also provide tips to stop the turtle from peeing in your hand. 
This article has been reviewed by Dr. Gospel. Read more about our knowledge control process here.
Do Turtle Pee?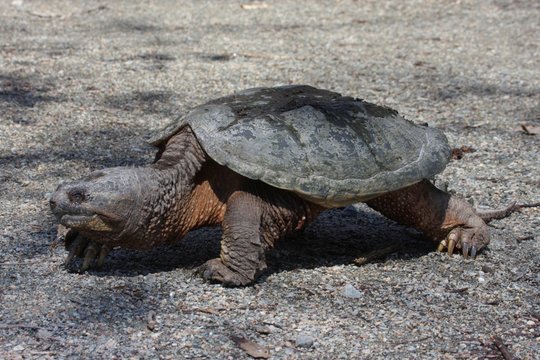 Of course, turtles also pee. Because most of the time they are in the water, this activity might not be visible to most people.
But turtles pee through their cloaca, which is an opening where turtles urinate, defecate, and also where they breathe underwater. 
A turtle pee in small quantities, so it is not noticeable if they are in their tank. A turtle's pee ranges from clear to pale yellow.
Sometimes their pee will have white, semi-solid lumps called urates. 
Why Does The Snapping Turtles peeing whenever you pick it up?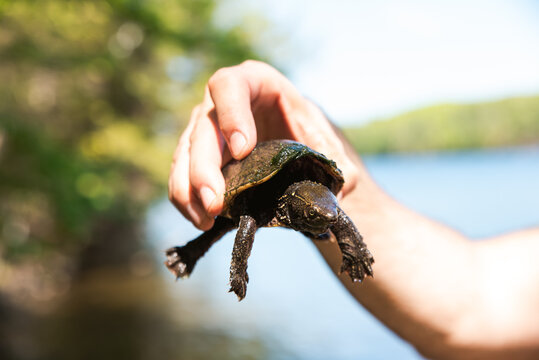 Snapping Turtles pee when you pick them up because, like most turtles, peeing themselves is a defense mechanism to repel predators.
Your turtle will think that you are a predator and that you are trying to eat it.
Because urine has an odor, a lot of predators have a very sensible smell and based on the smell of their prey they can decide if it's a good meal or not.
Picking up the snapping turtle is a terrifying experience for them, so they will most likely pee out of fear.
This can happen often when you are a new owner, so you'll need time and patience to gain your pet's trust.
What Should You Do When Snapping Turtles Pee?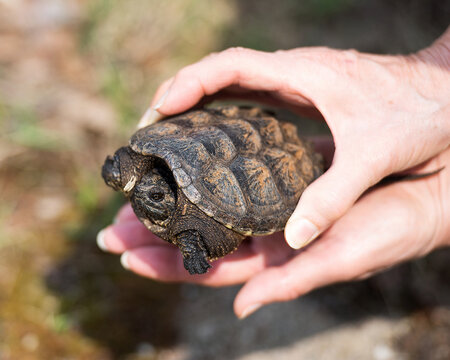 Turtles pee when you pick them up as a defense mechanism. They can be scared, especially when they are new, so you will need time to get their trust. 
Minimize picking them up as much as possible and quickly complete your purpose for picking them up. Make sure to interact with them a lot so they will be less scared in time.
Don't shout at your turtle or throw them away or exhibit any violent behavior as this will only scare your turtle more, and chances are they will constantly pee when you pick them up because you have frightened them.
As pee is dirty, it is essential to rinse the area quickly to avoid infections or skin complications. Rinse the area immediately and also sanitize with alcohol if you can.
AMOSIJOY Turtle Tank Reptile Terrariums
AMOSIJOY Glass Turtle Tank Aquarium Reptile Tortoise Habitat Turtle Basking Platform with Pump, Filter and Filter Layer Design, Prevent from Escaping (Large)
【HEIGHTENED GLASSES】The protective layer of the AMOSIJOY turtle tank is composed of 7.2 inches high glass, which can effectively prevent the turtle from crawling out.
【THREE LAYERS DESIGN】This turtle tank adapts separated design, easy to clean and change water, saving time and energy at a large extent. Just by lifting the filter layer, the food residue and excreta will sink into the water in the bottom layer. And then pour out the dirty water and add clean water, water changing accomplished. There are also pump and filter hidden under the filter layer, reducing 2/3 times of changing water.
【MULTIPLE FUNCTIONAL AREAS】According to the living habits of amphibians, multiple functional areas are designed to better meet the needs of them in daily activities by simulating their real living environment, including feeding area, basking area, anti-slip climbing area, diving and swimming area, hatching/green area. This tortoise tank will be their ideal residence.
【PREMIUM MATERIAL】Ultra clear glass is selected for this tank, which the four pieces of thickened 5mm glass tank walls are made from, featuring of higher light transmission, better ornamental, higher toughness and hardness, further prolonging service life. It also provides you with 360° panoramic view to observe the condition of your pets, without dead angle.
【WIDE APPLICATION】Dimension: 23.6''×14.1''×10.4'', ideal home fits for water turtles, hermit crabs, little turtle, little tortoises, crayfish, fish, small amphibians and small amphibious creatures within 3 inches.
Last update on 2022-12-29 / Affiliate links / Images from Amazon Product Advertising API
How to Avoid Snapping Turtles Pee on Hand 
You will need to be gentle. If the turtle is not used to being touched, it will most likely pee or defecate on you.
It is recommended to handle them as rarely as possible. Only hold your turtle for a few seconds. 
Make your turtle feel secure. A way to do this is to ensure that their feet are touching a surface instead of hanging in the air, as it terrifies them. 
You can use your hands or arms as a platform for their feet so they can feel that they are on solid ground, and this will make them feel more secure and less scared.
If you want to handle your pet for a long time, doing it while they are in the water is a good option. Your turtle will feel more comfortable if you do this. 
Over time, your pet will become accustomed to you and not repel touch as much as before.
To do this, you will need time and patience to gain its trust. Gradual and gentle interactions are ways to form a bond with your pet. 
COOSPIDER Turtle Tank Filter Low Water Level
COOSPIDER Turtle Tank Filter Low Water Level Whisper Aquarium Filter 10-20 Gallon Bio Filter Cartridge for Small Fish Tank Turtle Amphibian Frog Crab Tank Clean and Clear 80GPH
🐸 【Crystal Clear】 Make the cloudy turtle tank clean and crystal clear. This aquarium filter does a wonderful job of keeping the water clean and clear. This filter can reduce the number of water changes in your turtle aquarium, forming a filtration cycle system.
🐢【Easy to Assemble】 This whisper filter includes a filter body, filter sponge*1, activated carbon filter plate*1. Suitable for 10-25 gallon aquarium, 80GPH. if you can't install it, please contact the mailbox on the box! We will reply within 24 hours.
🐸 【Bio Filter Cartridge】 This turtle filter helps water cycling, the Activated carbon cartridges and bio ball help clean water,absorbs odors and discoloration, provide a healthy water for your aquarium.
🐢【Quite Working】 This turtle water filter is very quiet when it is working, the sound of the engine is less tha0n 40 decibels when it is working, and only the sound of water flowing can be heard.
💌【1 Year Warranty】 We offer you a 12-month warranty and friendly customer service. After you receive the turtle tank filter (filtro para pecera), if you are not satisfied with our turtle tank accessories in any way, please contact the email on the box. We will provide a satisfactory solution for you.
Last update on 2022-12-29 / Affiliate links / Images from Amazon Product Advertising API
Wrapping Up 
To conclude, turtles pee when they are scared as a defense mechanism. They are sensitive creatures, and most turtles don't like being held.
Picking them up can frighten the turtles a lot as they will think they are about to be eaten.
It is essential to build a bond with your pet to make it accustomed to being touched. Gentle and gradual interactions would help in your predicant.
This can be a slow process, so you need patience and time as you cannot force your turtle because they will get more scared. 
When your turtle gets used to being touched or held, it will no longer pee when you pick it up. You need to ensure that you interact with it while also making them feel secure to gain their trust.