Are you planning to go on a vacation? As a responsible pet owner, you may get nervous about leaving your bearded dragon behind.
When going for a vacation, it's always important to ensure that your pet is in safe hands. It is a good way to make sure that your buddy is cared for properly even if you aren't around. 
Get ready to learn what to do with your bearded dragon when you go on a vacation and more. Everything you need to know is right here in our discussion. 
What Should You Do with Your Bearded Dragon When Going on a Vacation?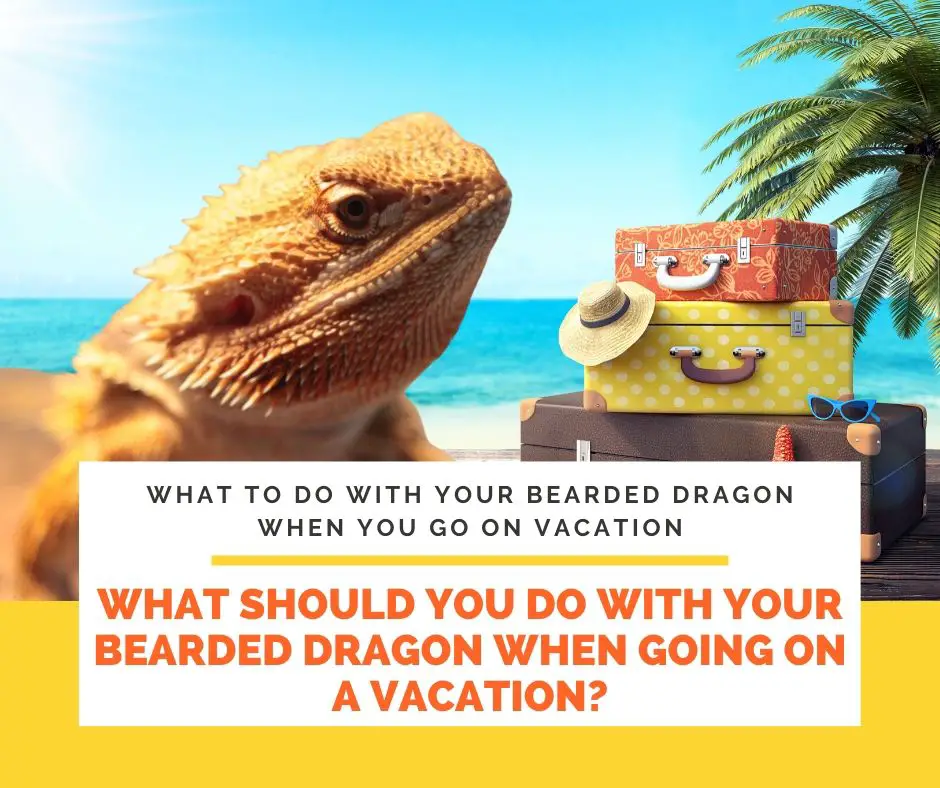 An exciting vocation is where you can relax and have fun freely; it should be a life with no responsibility. But always keep in mind that your reptile pet relies on you for its provision.
Thinking about your buddy even when taking a break from the usual duties is paramount. 
Bearded dragons, like any other reptile, require you to take good care of them regularly. So, you need to plan all things and know what to do with your beardie while on holiday. 
Below are several options on what to do with your bearded dragon when you go on vacation.
Look for a Pet Sitter
If you have a family member who is much into lizards and can be available to care for your best friend, consider choosing him/her.
You must be lucky to have such a person because he already knows how you manage your beardie and they will be well protected. 
But if you don't have any family member or friend who can assist you while on vacation, there's still another way out. You will want to have a pet sitter to look after your bearded dragon.
Note that pet sitters tend to be costly. How often a pet sitter comes to check on your dragon will depend on the amount of money you can afford to pay him.
If you can manage to pay someone who will be coming once every day to look after your pet the better. 
Some pet sitters will, on the other hand, prefer to visit your beardie once in a week which may be good, but it's not always recommended for a beardie. Now, how can you get a responsible pet sitter? Here is what you can do.
New to bearded dragon? Check out the bearded dragon care sheet now! We had listed out all the things you need to know about bearded dragons as pets. Check it now!
Ask Your Reptile Vet
Reptile vets are connected people, and they can help you to find someone that is skilful in handling bearded dragons. Getting a person recommended by a vet can be an excellent option if you can get one. 
Talk to the Local Pet Store
You may be lucky enough to be near a pet store dealing with bearded dragons. You can visit the place, and they will help you. The pet stores mostly have records of people who handle the beardies for other people, and you can be lucky to get one. 
The good thing about the pet stores is that there is a high chance that they will assist you on how to make a list of instructions for the pet sitter. 
Check out Care.com
If you don't get help even after trying the above options, you can visit care.com. It helps you to compare various pet sitters based on their ratings and choose the most qualified one.
The ratings come from people who have received service from these pet sitters previously. 
What to Do When Leaving Your Bearded Dragon with a Pet Sitter
Now that you have a pet sitter, you will need to show him/her the way you care for your beardie. Allow him to join you in feeding and other activities so that he can learn your way for some days before you go. 
It is also good to make a list of instructions on how the sitter will be caring for your bearded dragon.
Include the food given and how to feed, when to put the lights on and off, ensure you have a spare light bulb just in case your UVB burns, provide a misting bottle, etc. 
Make sure all the necessary food for your pet is available at home and in a place where the pet sitter can access them easily. If it is vegetables which need to be fresh, you can prepare and pack them into small plastic containers. 
Also, give your reptile's vet contact to the pet sitter, it is always important. You can write the contact on the instructions list where the sitter references. 
Boarding Programs for Reptiles
A boarding program is another option where you can have your beardie protected. Some boarding facilities keep a variety of pets; you can see animal hospitals boarding exotic pets.
This is the best method to go for if you don't feel safe someone coming to your home. 
You can also talk to your vet to help you identify an appropriate boarding facility. Typically, boarding programs require you to bring your beardie with its enclosure and the food.
Be sure to provide spare light bulbs and your reptile vet contacts in case of anything. 
Start by making a call or going to the facility and inquire of what they need and cost. You can as well provide an instruction list if the program has not dealt with lizards before or if it's your first time to work with them. 
There are trained staff in these facilities that provide various services daily. The services include; daily feeding, medication, misting, administration, soakings, and other special requirements. 
Leaving your bearded dragon in a boarding facility tends to be cheaper compared to having a pet sitter. 
Taking the Bearded Dragon with You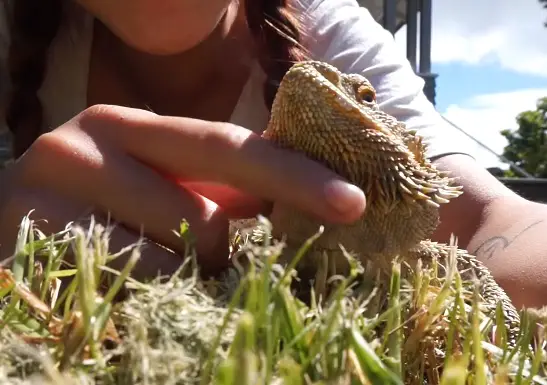 Choosing to go with your pet might be the most significant option because it is still under your care. However, it is a suitable method only to people who own a vehicle, and sometimes maybe practical or not depending on the size of the tank. 
Also, maintaining a consistent temperature in the enclosure while travelling can be challenging. The standard ambient temperature for a bearded dragon tank is 90℉, but the majority of the cars don't maintain the temperature. 
You will only need to carry your pet if you are going to a place with electricity. But if your vacation includes outdoor places where there are no places to plug the UV lamp, please leave the pet behind.
Incorrect temperatures in the enclosure are just a way to kill the beardie. Taking your pet with you means that you have to carry its food and all other materials needed. 
Using an Automatic Feeder
Using an automatic feeder is somewhat cheap and is effective when you are not comfortable having a pet sitter or leaving your beardie in boarding facilities.
If you look forward to using this method, you need to train your beardie to use an automatic feeder from an early age. 
Purchasing an automatic feeder might be quite expensive, but it is something that will serve you for many years under proper care.
You can have a feeder where live insects can fall off automatically or that which is suitable for dry foods. 
New to bearded dragon? Check out the bearded dragon care sheet now! We had listed out all the things you need to know about bearded dragons as pets. Check it now!
Another crucial thing to know is that you may need to train your beardie to eat dry food. When planning to leave, fill your automatic feeder with food, and provide water.
You can get an automatic drinker like this one that can hold large volumes of water. 
An automatic feeder is effective if you are going for a short vacation. But it is recommended to have a person who can come and check your beardie, especially when you will be away for about a week. 
If you are away anywhere from 1-3 days, you can provide sufficient food in a food bowl, and your pet will be fine for a while.
Be sure to give enough water. You don't need someone to look at your pet if that is the case. 
Last update on 2022-12-29 / Affiliate links / Images from Amazon Product Advertising API
Suitable Foods for Bearded Dragons While on Vacation
Generally, bearded dragons are omnivores; they feed on insects, veggies, fruits and greens. There is a wide range of foods that are safe and edible to bearded dragons, but I'm going to talk about the most appropriate vacation foods. 
Insects are favorable meals to the beardies, especially the live ones. While on vacation, it is best to provide a diet rich in greens. Greens provide greater satiety and also have plenty of water.
They can also stay good longer, and the beardie tends to poop less if they eat greens. 
Giving vegetables as vocation foods might not be a good option because the veggies tend to dry out and become hard. 
When people go on vacation, it is good to leave the beardie with greens; the beardie will have food for several days because the greens will not get moldy. They will not harm within the few days you are away. 
Bearded dragons are hardy creatures and can survive for several weeks without food and remain healthy.
There's no problem if you don't provide food for a few days, but it's good to leave them with greens to ensure they have enough food for the few days. 
Greens are part of the bearded dragon daily diet, and feeding them is not cruel at all. They will not damage your pet even if you are gone for a week. 
Below is the list of some greens and herbs that you can buy for your beardie when going on vacation
Grape leaves.
Dandelion.
Maple leaves.
Clover.
Evening primrose.
Bolivian jew.
Bindweed.
Purslane.
Hazel leaves.
Mallow.
Daisy.
Chamomile.
Violet.
Shepherd's purse.
Rosemary 
Savory
Cress
Conclusion
I hope you now know what to do with your bearded dragon when you go on a vacation. 
Don't panic or worry that your beardie will be unsafe; there are many options to ensure that it's under good care even when you are gone. 
I know the last thing you want is having your beardie suffering when you are away. It is, therefore, necessary to ensure that your pet is at good hands and healthy at all times. 
To be on the safe side, bring your pet to a vet for a check-up every time you are leaving to ensure it is in good health. Regular check-up is important even when you are around.