The axolotl is a paedomorphic salamander that eats worms, small fish, insects, and of course, pellets.
More and more people keep axolotls as pets because these exotic amphibians are very easy to care for. They are not picky eaters, so feeding them is relatively easy. 
Many axolotl owners wonder whether they should invest in feeding dishes for axolotls. Just like other aquatic animals, axolotls don't need feeding dishes.
However, when keeping an axolotl as a pet, there are some benefits of keeping a feeding dish in the tank. 
If you are interested in learning about axolotl feeding dishes, keep reading.
In this post, we will help you choose the right feeding dish for your little dragon, and answer some frequently asked questions about axolotls' dietary habits. 
Do Axolotls Need a Food Dish?
Not necessarily. You can hand-feed your axolotl, or use chopsticks. However, there are several benefits of using a food dish. 
First, by keeping a food dish in the tank, you teach your axolotl where to go to eat. Second, you can see if and when your axolotl is eating.
And third, when hungry, your little friend does not have to search around the tank; it can just chill around the dish. Finally, food will stay in one place, which is cleaner.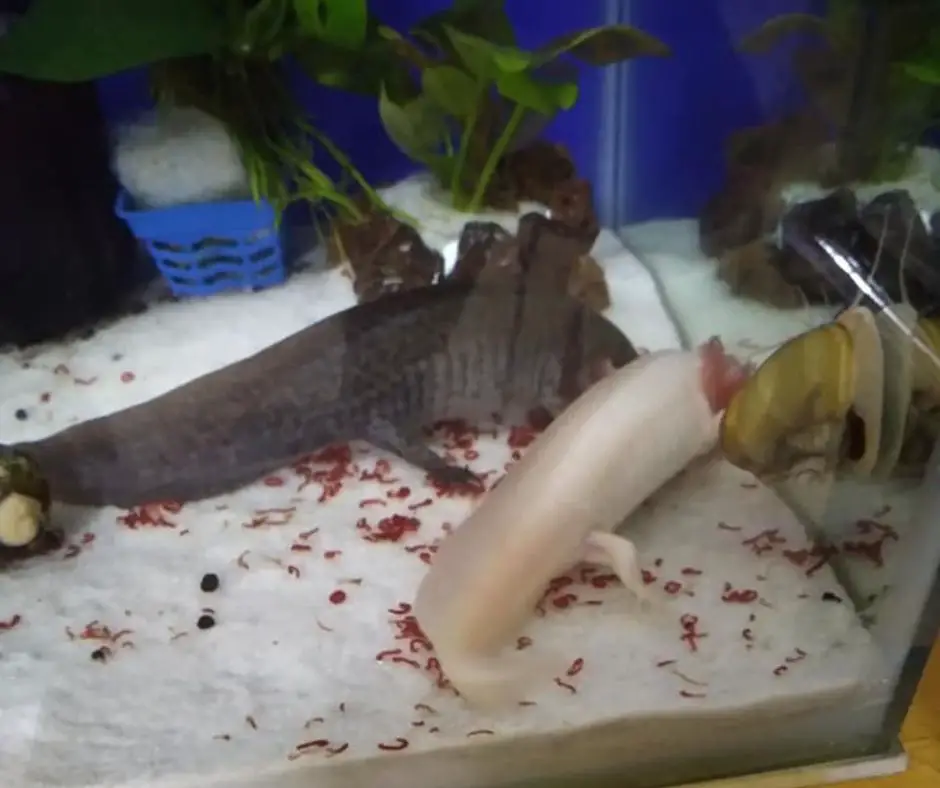 2 Best Axolotl Feeding Dishes
For bottom feeding aquatic animals, there are not many feeding dishes on the market. However, while there are some options, most of them are unsuitable for axolotls.
We have reviewed the products and found two of them that, in our view, are perfect for axolotls. Here are our top two picks. 
Alfie Pet –  Dexter Clear Glass Feeding Tube with Dish
This feeding dish comes with a tube—both made from high-quality glass. As a result, they will blend perfectly in your axolotl tank.
The bell-mounting streamline design makes it easy to feed your little dragon without spilling the food all over and polluting the tank water. 
Thanks to the sturdy nail fixation, the tube can be tightly fixed to the tank. This part is removable.
Apart from axolotls, this feeding dish is also suitable for crabs, shrimps, clams, and other small aquatic animals. The plate measures 2.35″L x 1″H and the tube is exactly a foot long. 
If you plan to feed mysis shrimp cubes, frozen blood worms, or any other pellets, you will find this feeding dish very convenient. 
The best thing about this product is the tube, making it easy to place food on the dish even when there is current in the tank.
The food does not scatter all over, and therefore the water does not get cloudy or polluted. 
A client has reported that the suction cup came deformed, but that might be just an accident. It is to be noted here that the tube may not be long enough for large and deep tanks.
So, measure your axolotl tank before you order this product. 
Alfie Pet –  Dexter Clear Glass Feeding Tube with Dish Pros and Cons:
Pros
Cons
– Made of high-quality glass
– Makes feeding super easy
– Easy to clean
The tube is not wide enough for large pellets to pass through
Fragile
Alfie Pet –  Dexter Clear Glass Feeding Tube with Dish Pros and Cons:
Alfie Pet - Dexter 2-Piece Set Clear Glass Shrimp or Axolotl Feeding Tube with Dish - Size: 30 cm
The tube measures 12"L. Plate measures 2.35"L x 1"H.
Made of high quality glass, clear enough to perfectly blend in your aquarium or fish tank.
Bell-mouthing streamline design, easy for feeding without spilling all over to avoid polluting water.
With double sucker nail fixation to hold the tube in aquarium, reliable and removable.
Suitable for benthic animal feeding use, like axolotl, shrimps, crabs, clams and so on.
Last update on 2022-12-29 / Affiliate links / Images from Amazon Product Advertising API
---
Food Bowl Worm Dish Mini
Made from high-density ceramic, this nicely glazed feeding bowl is suitable for axolotls and reptiles such as snakes, geckos, spiders, lizards, chameleons, centipedes, iguanas, and corn snakes. 
The bowl's interior surface is smooth, and the walls are inwardly curved. As a result, worms can't escape the bowl.
The sterile, stain-resistant surface does not allow the growth of harmful bacteria. The bowls are available in two sizes: small and medium. The medium size is perfect for axolotls. 
Because the bowl is made from ceramic, it will nicely sit at the bottom of your axolotl tank. It will not tilt even if your little dragon pushes it, or if there is current in the tank.
The product is also healthy for axolotls, because ceramic does not affect tank water negatively. 
Food Bowl Worm Dish Mini Pros and Cons: 
Pros 
Cons
– Safe for axolotls
– Easy to clean
– Sturdy and durable
– No tube included
– Packaging is not very good
Food Bowl Worm Dish Mini Pros and Cons: 
2PCS Terrarium Bowls Reptile Food Bowl Worm Dish Mini Reptile Food Ceramics Water Bowl for Lizard Anoles Bearded Dragons Crested Gecko Hermit Crabs Triangular (Small)
HIGH QUALITY: Reptile feeding bowl is nicely glazed, high-density ceramic and harmless.
SIZE: Outside Diameter 2.75in/7cm, Height 0.78in/2cm; Internal Diameter 2.36in/6cm, Height 0.39in/1cm.
PREVENT ESCAPE FEATURE: Features Smooth Interior Surface and Inwardly Curved Walls, the Worms Make Difficult To Escape.
TARGET AUDIENCE: Ceramic worm dish is suitable for geckos, snakes, lizards, spiders, centipedes, chameleons, corn snakes, iguanas and other reptiles.
STAIN RESISTANT: Nonporous, smooth surface, does not breed harmful bacteria.
Last update on 2022-12-29 / Affiliate links / Images from Amazon Product Advertising API
---
How Do You Feed An Axolotl With a Dish or Bowl?
Axolotls do not chew or tear up food; they swallow food. With their swallow teeth, they grip down on food and then swallow it.
That's why axolotls have a hard time eating large pellets. Here's how you feed your axolotl with a dish or bowl:
For this, you will need a turkey baster. The first of the two products we have reviewed above comes with a tube, which serves as a turkey baster.
Pick up food with this tool and then place the food into your axolotl's dish. If there is a bubbler in the tank, keep it switched off when serving food. 
And once your little friend has finished eating, use the turkey baster again to remove the leftover food.
It may not be possible to remove 100% of the leftover food, but the dish or bowl should be kept as clean as possible.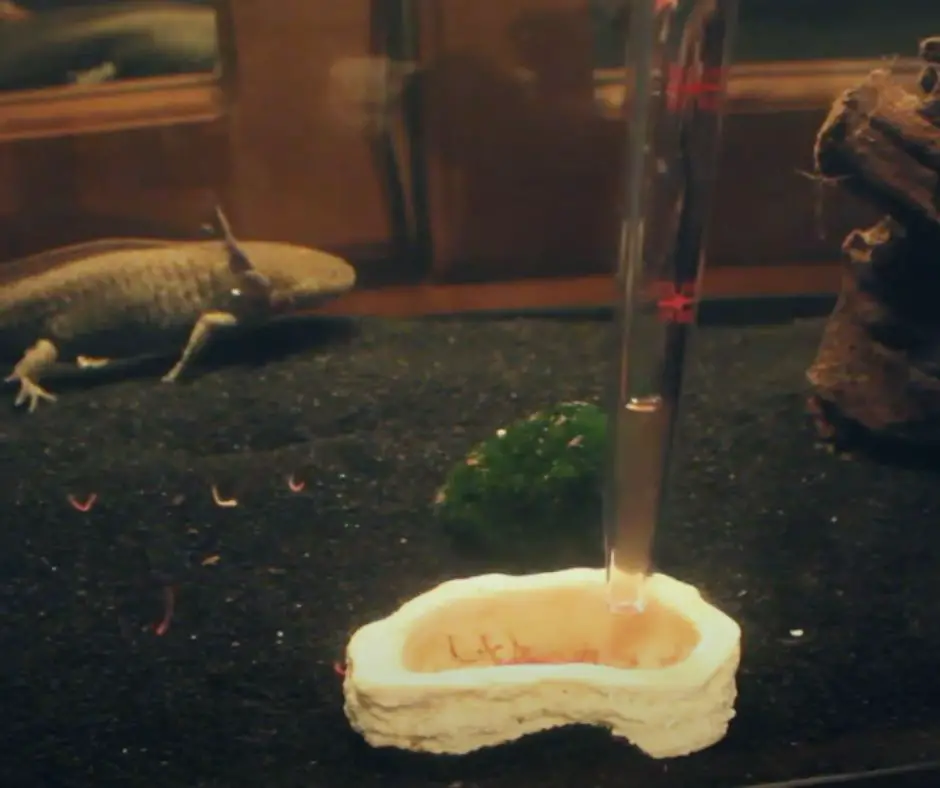 What Is The Best Way to Feed an Axolotl?
Hand Feeding with blunt tweezers, or tongs. We recommend using blunt tweezers because they don't have sharp edges, so your axolotl won't get injured.
The second best method is to use a turkey baster—we have already discussed the process. 
If you use a feeding dish or bowl, your axolotl will quickly learn that there is a specific place where food is always available.
Therefore, the animal will not look for food elsewhere. A dish or bowl is suitable for feeding most types of pellets, including frozen bloodworms. 
Also read: 5 Best Axolotl Commercial Food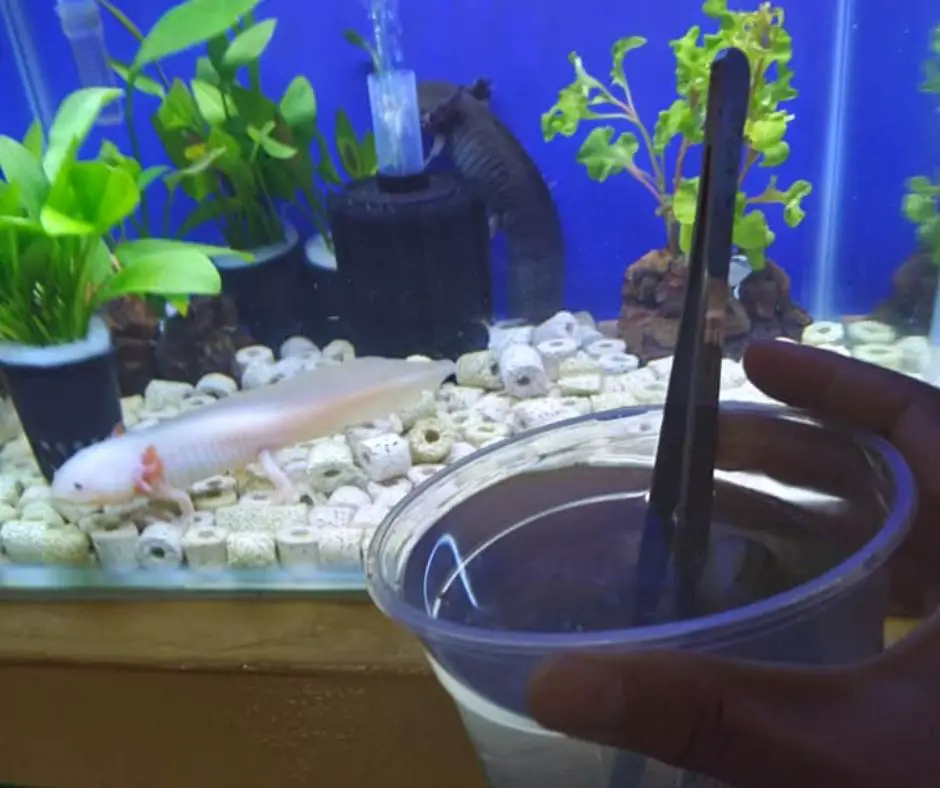 Conclusion
Axolotls have a pretty strong sense of smell, and therefore they don't actually need feeding dishes or bowls.
However, a feeding dish can help keep the tank water clean, and that's a good reason to invest in one. It will also make finding food easier for your axolotl. 
We have reviewed the top two axolotl feeding dishes available on the market.
The first one, Alfie Pet, comes with a tube, so we particularly recommend this one. We hope a feeding dish will make it easier for you to care for your axolotl.