A concerned axolotl owner once recounted "My female axolotl spawned over 700 eggs all over the plants in her tank.
While I was still confused on what to do and how best to care for such a number of babies when they hatch, I realized the eggs were reducing in number". 
What happened? Could the older axolotls have been eating the eggs? Do axolotls eat their eggs and babies? If this sounds like you then this article is your must read. 
Axolotls are carnivorous animals that will eat anything placed before them as long as it is slightly smaller than their head.
These include worms, larvae, and even their eggs and babies. They tend to be this cannibalistic when they are much younger and especially when they are hungry. 
That said, when next you have your female axolotl spawn some eggs you can either decide to raise them or sell them out to someone who can raise them. 
But why do axolotls eat their eggs and babies? Read on to learn more!
Do Axolotls Eat their Eggs and Babies?
Yes, axolotls do eat their eggs and babies. This is because they do not have the capacity to feel emotions and do not care for their young ones.
Axolotls are carnivores, and those under the size of 6 inches are known to be cannibalistic. But adults that are over 6 inches long can be kept together.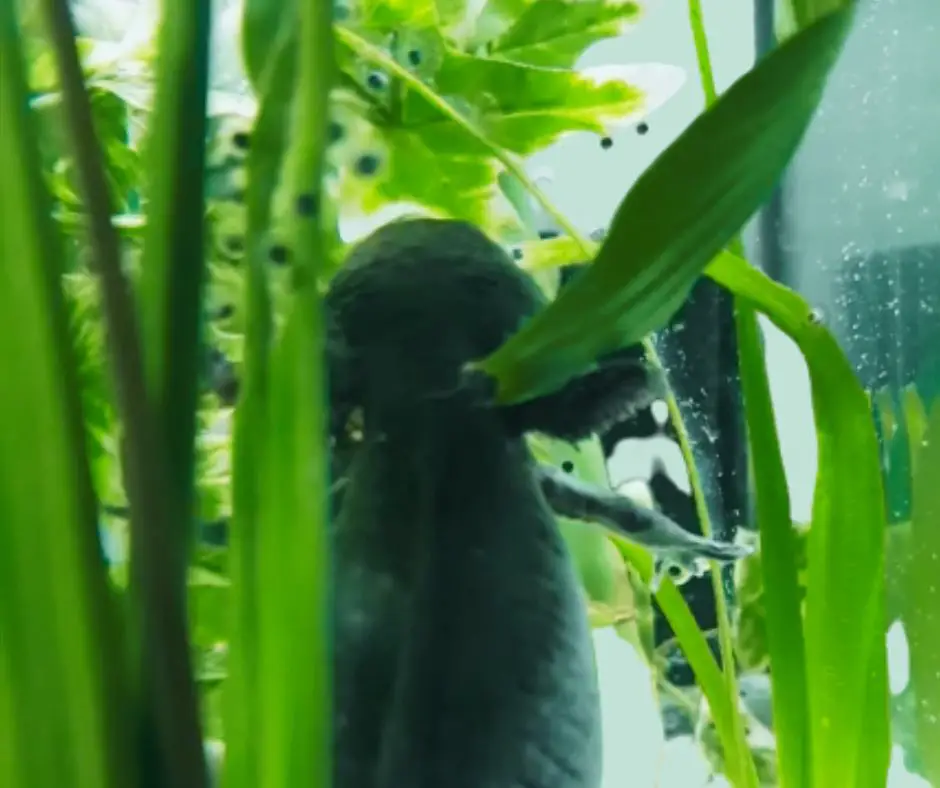 Why do Axolotls Eat their Eggs and Babies?
Several factors account for why axolotls eat their eggs and babies, and one of these is the fact that they are carnivores.
Axolotls will eat anything you put in front of them as long as it's an animal that is slightly smaller than them. 
Another reason why axolotls eat their eggs and babies is that in the wild, they are hatched into large families (habitats) with lots of space where food is scarce.
As a result, they often will eat the limbs of their siblings for sustenance. 
Also, axolotls have poor vision, making it difficult for them to distinguish between their eggs/babies and the larvae of other animals.
So this confusion makes them eat their eggs and babies. This means that as an owner, you can help save axolotl eggs and babies by separating them from their parents in a different tank/habitat.
Check out: How To Remove Axolotl Eggs From Tank
What Should You Do With Axolotl Eggs?
Two things you can do with axolotl eggs – either raise them or dispose of them (that is sell them to other owners).
Also, if you don't want to keep or breed the eggs, you can leave them in the tank. The older axolotls will quickly make them disappear even before they get the chance to hatch.
However, should you choose to raise them, you'll need to either set up a barrier in the aquarium or set up a separate tank for the eggs.
Setting up a barrier in the aquarium isn't usually ideal as it is determined by what tank size your older axolotls are housed. Setting up a separate tank is always the best thing to do.
Once you have the new tank ready, fill the container to a third with water and keep it at 72 degrees Fahrenheit (22 degrees Celsius).
Using a Turkey baster, suck the eggs from the other tank (where they were laid) into the new tank you've created for the eggs. 
Make sure the eggs are kept in a cool, dark place where they will not be exposed to sunlight. The eggs will hatch in 15 days at this temperature.
Check out: Raising Axolotl Eggs: Complete Guide for Beginners
What to do With Axolotl Babies?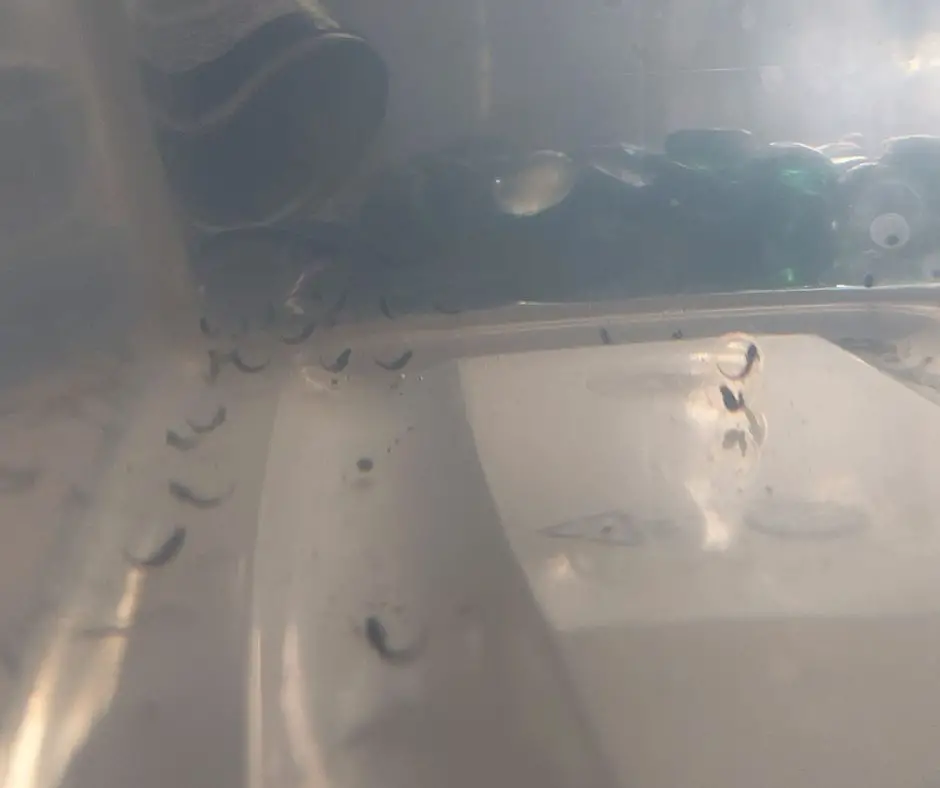 You might be wondering, is it possible for adult and baby axolotls to live together? The issue with this is that if you keep them all in the same tank, the adult axolotls will eat the babies. 
Even if some juveniles are larger/bigger than others, there is always the possibility that they will eat the smaller ones.
Therefore, if you want some babies, you shouldn't keep axolotl eggs in the same tank as the adults. They must be transferred to a separate tank and raised until they hatch. 
Continue to care for your axolotl eggs in their separate tank even after they have hatched. They should not be returned or kept in the same tank as the adults.
Axolotl babies must be cared for separately in separate tanks until they are more than 6 inches.  
If you notice a significant difference in their size, you'll still need to separate them according to their sizes and house them separately. This is to avoid fights and nibbling on each other's limbs. 
Once they are over 6 inches, you can pair them up in a tank but keep an eye on their behavior. 
Also read: 5 Stages In The Lifecycle Of An Axolotl
2 Pieces Aquarium Coral Feeder
2 Pieces Aquarium Coral Feeder with 2 Pieces Stainless Steel Feeding Long Tweezers Syringe Spot Coral Feeder Reptile Feeding Tools for Aquatic Plant Reef Anemones Lionfish (Blue, Black)
Aquarium feeding set: the package includes 2 pieces coral feeder tubes in different sizes, easy to fit your different needs, and 2 pieces straight and curved tweezers, nice combination for feeding your little pets in the water; The stainless steel straight and curved tweezers can both feed and clean up the mess inside the fish tank
Reliable material and easy to use: made of quality plastic and rubber material, the coral spot feeder is safe for fish and corals, clearly printed with 10ml, 15ml, 20ml, 30ml, 40ml and 50ml measurements for easy to read, ensuring that you know how much you are dispensing and prevents overfeeding; While the aquarium feeding tweezers are made of stainless steel with coating, durable and not easy to be rusted under water
Long to keeps hands dry: the size of coral feeder is approx. 11.2 inch/ 28.5 cm, and the other one is approx 17.7 inch/ 45 cm long, helping you arrive at deep and hard-to-reach area, you can feed liquid food to corals, and the tweezers are approx. 10.62 inch/ 27 cm in length, they are good and practical tools for aquarium plants or reptiles
Wide range of applications: you can feed liquid phytoplankton to corals or other aquatic animals by using coral feeder and tweezers, which is easy to control and prevents your hands from getting wet, these feeding tools can be applied in marine reef tank to feed coral, reef, anemones, lionfish, brine shrimp and so on for a long time
Warm tips: please ensure that the coral feeder tube is washed and cleaned before use; Turn off your circulation pumps when feeding your coral or fish; After using the tweezer, please remember to rinse it with water and get it dried
Last update on 2022-12-30 / Affiliate links / Images from Amazon Product Advertising API
Conclusion
Do axolotls eat their eggs and babies? The answer is YES! Axolotls eat their own eggs and babies.
You know, axolotls do not have a maternal instinct to protect their eggs, so they will eat their own eggs without thinking twice about it. There eat their eggs and babies for a few reasons:
They are carnivores. 
They often eat their young because they don't realize they are their own offspring.
So as an owner, you can help save the eggs and babies by separating them from their parents into a different tank. This way, you can even monitor how well they feed and their growth.
Tetra Aquarium 20 Gallon Fish Tank Kit
Tetra Aquarium 20 Gallon Fish Tank Kit, Includes LED Lighting and Decor
Tetra Glass Aquariums are made in the USA and are built to last with scratch resistant glass
The Tetra Aquarium comes loaded with an LED hood, that provides a natural daytime effect and a Whisper Filter that is whisper quiet while providing powerful, dependable water flow
Artificial Plants add a unique, natural ocean feel while giving your fish a place to hide which reduces fish stress
The Tetra Kit includes: one 20 Gallon Glass Aquarium, one LED hood, one Tetra Mini UL Heater, one Tetra Whisper 20 Filter, one artificial Boxwood Plant Mat, four artificial plants. Add gravel and fish to complete your aquarium
Aquarium Dimensions: 24.2" L x 12.4" W x 16.7" H
Last update on 2022-12-29 / Affiliate links / Images from Amazon Product Advertising API