Are you a new axolotl owner and eager to know how to fridge your axolotl and how to go about it?
Axolotls are interactive and friendly aquatic pets that will give you many years of fun and enjoyment.
Many things can cause stress to axolotls and eventually make them sick. If your axolotl is unwell, the idea of helping it to heal troubles the mind so much.
No one wants to imagine they can lose their beloved pets.
Does fridging help to cure an axolotl? Let's delve into this article, as I will shed more light on how to fridge an axolotl and its importance.
You will also learn the guidelines on fridging your axolotl properly. Keep in tune for more!
Benefits of Fridging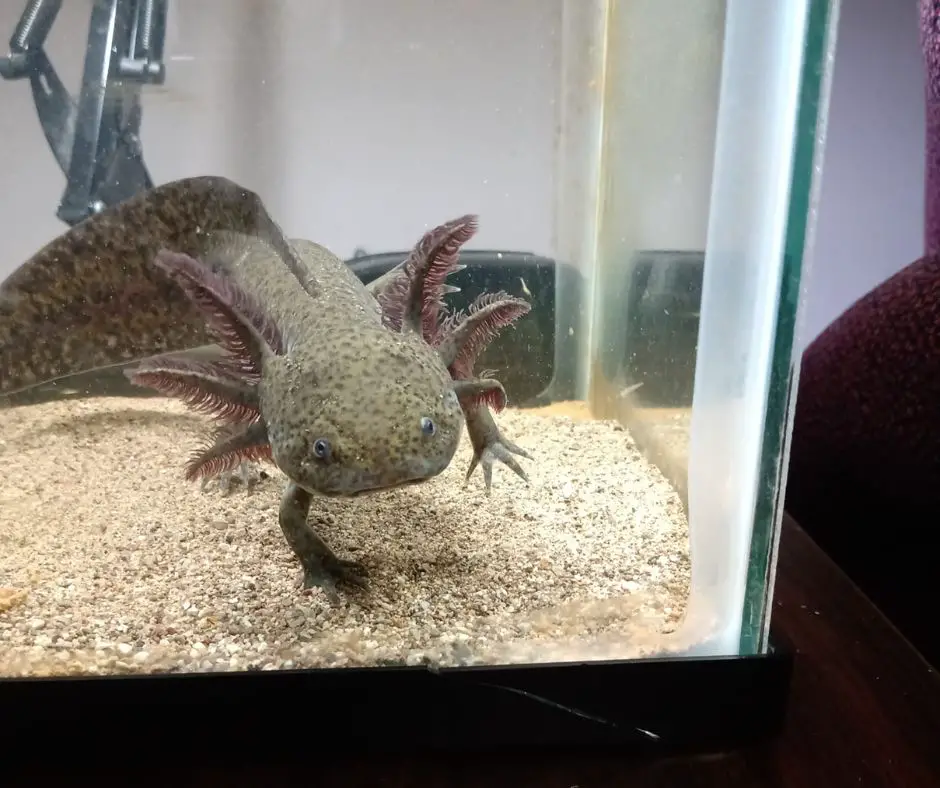 Fridging does to provide complete healing to axolotls, but it does help. It's a practice that any pet owner should be familiar with since it helps in the healing process of these animals.
Fridging is necessary for many reasons.
For instance, it helps to slow down the growth of pathogens such as viruses, bacteria, protozoa, and fungi capable of causing and transmitting diseases in axolotl.
Eventually, your axolotl will feel better healthwise.
Another good thing with fridging is its appetite suppressing ability. During fridging, your axolotl is almost hibernating where it eats less and shows less appetite for food.
Consequently, the process will, in turn, slow down the ammonia build-up.
During fridging, you should keep the axolotl somewhere dark and cool to allow it to relax. Its metabolism will slow down, and the axy goes into recovery mode, hence heals faster. 
Moreover, fridging boosts your axolotl's immune system since it works best well in cold temperatures.
This will enable your axolotl to resist and fight off pathogens causing diseases in its body. 
Fridging provides sufficient time for medication and allows time to examine the root cause of the manifesting problem, e.g., disease, stress, or compaction. 
When Should You Consider Fridging Axolotl?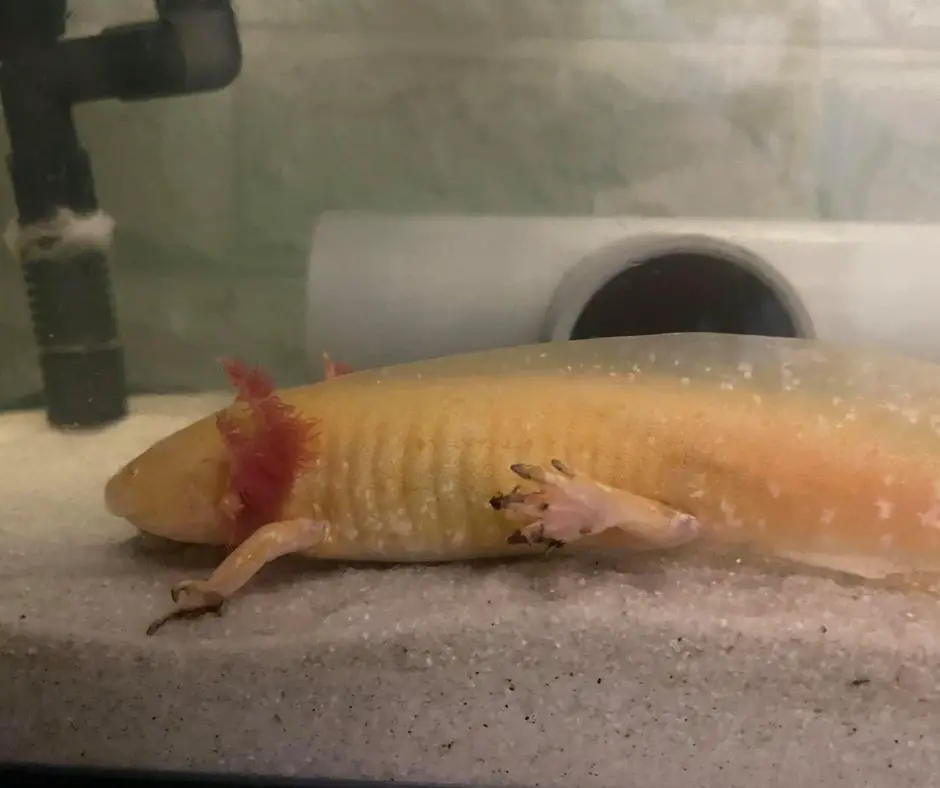 To prevent compounding stress on your axolotl, you should consider fridging but only when it is necessary. Remember, fridging is not a solution to every problem your axolotl faces.
When your axolotl is constipated, fridging will be helpful. Consider putting the axolotl in a dark, cool environment; it will help it to pass any blockage.
When giving medication for constipation/compaction treatment, fungus, or mild infections in your axolotl, cold temperatures trigger it to void its digestive system.
When your axolotl suffers from the effects of physical damage and stress from the exposure to poor water quality, which sometimes causes secondary infections in your axolotl.
Fridging will make the axolotl go into recovery mode and heals faster.
When your axolotl is in critical condition or goes downhill very fast, it will prompt you to fridge it until it recovers. 
Also read: 8 Axolotl Dying Signs (and Some Treatments)
5 Steps to Fridge an Axolotl
Fridging is a fantastic method to unblock or speed up the recovery rate of your axolotl in case it has impaction/constipation or mild to severe infections.
To successfully fridge your axolotl, you should arm yourself and understand the steps to follow and avoid causing more trouble to your axolotl or even death.
See in-depth details of the 5 steps to fridge an axolotl below.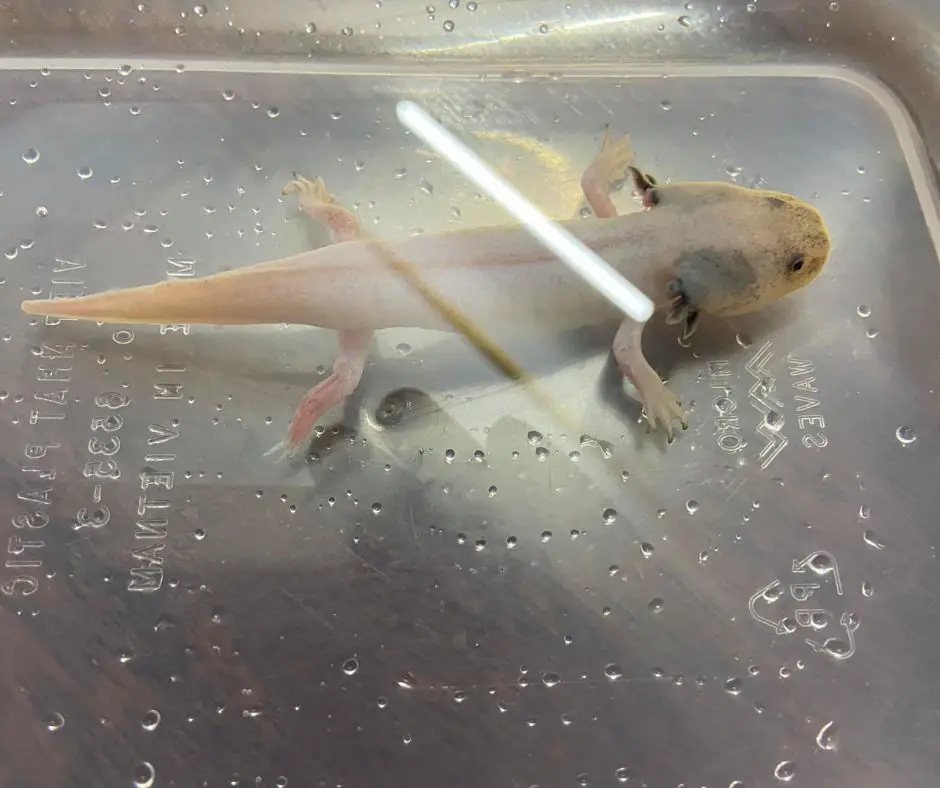 Preparing the Fridge
Set the fridge to a 5.5 – 9 degrees Celsius temperature, but it should not be lower than 5 degrees Celsius. You should test the water temperature before putting your axolotl inside the fridge to be safe.
To measure the temperature, you can prepare a cup of water in the refrigerator, then use a thermometer to measure the temperature of that cup of water. Wait for a few hours to check temperature changes.
If it is too cold, the refrigerator usually has a thermostat/or cold control or is repositioned. The thermostat will help you to adjust the temp settings.
Preparing the Axolotl for Fridging
Choose a c with enough space for the axolotl to turn around and stretch to its full length.
Fill the container with freshwater whereby more volume is better as this will help to dilute wastes while your axolotl will live in the fridge.
Leave about 2 – 3 centimeters of space between the water surface and the container's lid for your axolotl to gulp air from the surface. Ensure the bottled water is dechlorinated and fresh.
Likewise, ensure that the container selected has a lid to prevent the axolotl from jumping out. Introduce the axolotl's tub lid, and then cover the container with a tea towel to avoid light and falling objects.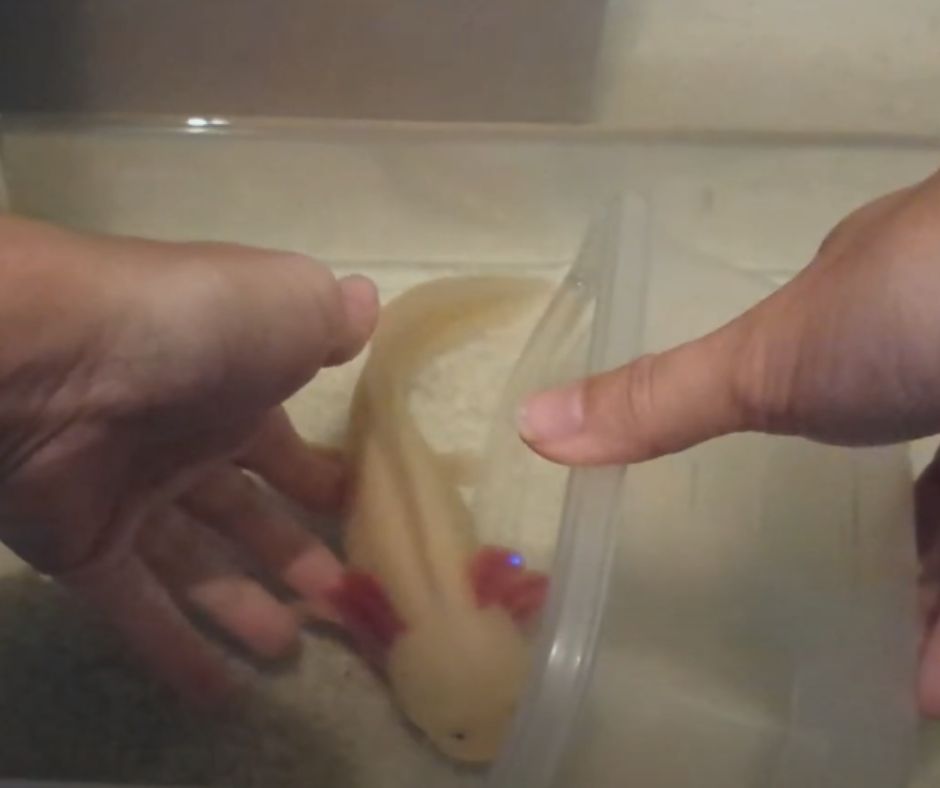 Gently Transfer the Axolotl into the Fridge
Once you have prepared the container, you can proceed and transfer the axolotl from the tank to the container. If you are afraid to seize your axolotl, then consider holding it securely in both hands.
Keep in mind that too many attempts will compound the stress on your axolotl, and it is slippery as well; hence it is easy to drop out of hand.
When transferring the axolotl, you can use a net or immerse a small container into the tank, tease the axolotl in, and then transfer it to the fridging tub. After that, put the container in the refrigerator.
Also read: How To Transfer Axolotl: 3 Tips to Prevent Temperature Shock
SimpleHouseware Refrigerator Storage Organizer
Sale
SimpleHouseware Refrigerator Storage Organizer, Assorted Set of 6
Neat and Organized: Great organizer for fridge, cabinet, pantry, shelves and more.
Easy to Carry: Cutout side handles for easy transport.
Clear Material: Easy see through what are stored inside the bin.
Durable and Sturdy: Unbreakable material is against cracks and breaks.
Outer Dimension: 2 pieces Large Container 14.8'' x 8.4'' x 3.8''; 2 pieces Long Container 13.8'' x 4.5'' x 3.8''; 1 piece Can Dispenser 14'' x 5.6'' x 4.3''; 1 piece Medium Container 12'' x 6.2'' x 3.5''
Last update on 2022-12-29 / Affiliate links / Images from Amazon Product Advertising API
Axolotl Care When Fridging
You should check your fridge daily to feed your axolotl and keep it as clean as possible. Test the ammonia level to figure out if water should be changed. Perhaps, it can be helpful to have two water tubs.
One filled with clean dechlorinated water with medicine if necessary, and you leave it in the fridge till it reaches the same temperature as the tub the axolotl is in. Keep bottles of chlorinated water ready in the refrigerator. 
Use them daily to change water for axolotl. Carefully transfer your axolotl to a clean tub when the time for water changes reaches. Please dispose of the old tub and replace it with clean, dechlorinated water. 
A full water change is necessary anywhere from 1-3 days to reduce ammonia level and your axolotl going off the food at cold temperatures. Use a turkey baster to remove solid waste/uneaten food.
You should feed your axolotl daily and remove the food within 20 minutes if it does not eat and not be left to rot under any circumstance. 
Avoid noise or disturbing axolotl. Never completely block the cold air output when the fridge is turned on. Check the temperature regularly.
Transition Process Back to Normal Tank 
When you notice your axolotl is starting to look "on the mend," this is the ripe time to prepare for moving the axolotl back into the tank. 
The water level in the cycled tank will be marked differently from the water used during the fridging procedures. It will be essential to acclimatize your axolotl to these conditions of water change slowly. 
Bear in mind that the process will need a few more days to allow your axolotl to adapt to the changes. Fill two to three bottles with water from the cycled tank and then put the bottles in the fridge. 
To avoid thermal shock and water, put tank water into the fridge to have it at the same temperature as the tub water inside the refrigerator, so you should name the bottles to avoid confusion.
Fill the water in the tub as below schedule two times a day every 10-12 hours. Your axolotl should be ready to move back to the tank the next day. Lift it gently out and transfer it to the tank.
| | | |
| --- | --- | --- |
| Water change time | fridged water | tank water |
| 1st | 75% | 25% |
| 2nd | 50% | 50% |
| 3rd | 25% | 75%  |
| 4th | 0 | 100%  |
Water change transition
How Long Can You "Fridge"?
"Fridging" should be done until your axolotl recovers; however, keeping it in the dark fridge for more than a month will probably take a toll on your axolotl's mental.
Although axolotl does not require bright light, sufficient vitamin D (natural sunlight) is critical to its life. Leave the tub inside the refrigerator for up to 2 weeks.
Typically, seven days is sufficient to determine if the tubing benefits the axolotl. 
Since you don't want your axolotl in the same fridge as your food for over two weeks, if you've no other option, you should sanitize or remove the food to another location. 
In addition, if axolotls stay in the refrigerator for too long, they will turn off the functioning of the organs. It's like falling into hibernation.
REFSAVER Fridge Storage Containers
Sale
REFSAVER Fridge Storage Containers Produce Saver Stackable Refrigerator Organizer Bins with Removable Drain Tray Fridge Organizer for Fruits and Vegetables 3 Pack
✿【Fridge Organizers and Storage 】3 Pack included. One 7L and two 2L containers with lids. Biger size is 12.4*6.4*5.7 inch, smaller size is 5.6*5.6*4.6 inch, big capacity meets your daily needs.
✿【Vegetable Storage Container with Vent:】 The vent in the lid, which allows some airflow to keep the interior from getting too moist while preventing them from drying out, which would happen if they were put into the fridge uncovered.
✿【Make Your Fruits Fresh:】 The Lettuce Keeper for Fridge comes with a Crisp Tray that you can put in the bottom of the saver. This is nice if you have something that will leak or drip so the contents in the tray will not stand in the drippings.
✿【Maximize Your Refrigerator Storage Space:】 Our Fridge Organizer can save a lot of space in the fridge and easily organize your fridge, kitchen, pantry to store foods. Perfect for most refrigerators, freezers, cupboards and drawers.
✿【Note: 】DO NOT PLACE IN DISHWASHER. Don't wash in hot water, wash in warm or cold water will beter. The lid is not airtight, it is designed for dust-proof and Keep fresh in fridge.
Last update on 2022-12-29 / Affiliate links / Images from Amazon Product Advertising API
Final Words
To wrap up, fridging is very useful for your axolotl if it has physical or health problems such as pain, stress, impaction/constipation, infections, etc. It helps speed up recovery in your axolotl. 
Fridging is highly recommended when axolotl is under critical condition. However, it should be considered the last resort after all other options have failed.
That said, refrigeration has saved many pets that would have died because it lowers the stress that the animal experiences. But fridging does not cure an axolotl.
It is a practical method for axolotls. So, ensure you follow proper procedures while considering the precautions involved.
Fridging at the right temp helps slow down the axolotl's metabolism; however, when temps drop to freezing, I'm afraid your axy won't survive.
The ideal temperature for fridging these creatures is around 5.5-9 degrees Celsius; anything below 5 degrees Celsius is too cold.