How often should I feed my axolotls? I remember asking this question when I first started keeping axolotls 5 years ago.
Most of the advice I got can be summed up in one sentence – "feed a few worms twice or thrice a week". 
But does this apply to axolotls of all ages? Interestingly not! There is no "one-size-fits-all" feeding schedule for every axolotl.
How often you should feed your axolotl depends heavily on the stage of life your axie is at. 
When your axolotl is young, it will need food every day to help with its growth and development. However, when your axolotl becomes old, it'll need a little amount of food a few times a week. 
So if you have been wondering how often do axolotls eat or you have been perplexed with how much food you can feed your axolotl in a week, this guide is your best read. 
This article seeks to answer all questions about feeding your axolotl. In the end, you should know what type of food (worm) to feed to your axolotl at each stage of its life and how much is just enough.
What Can Axolotl Eat?
Axolotls are carnivorous – meaning that they diet on protein-riched foods. Axolotls can eat any small animal/insect that can fit into their mouth whole.
These include brine shrimp, small strips of beef or liver, earthworms, bloodworms, tubifex worms, other frozen fish foods, commercial fish pellets, and even other salamanders. 
Axolotls do not need extra vitamins and mineral supplements as their food is rich enough with all the nutrients they require for growth. 
However, keep in mind that what type of food, especially worms to feed to your axolotl depends heavily on the stage of life it is at.
Therefore, to know what to feed to your axie at every stage of its life, refer to this feeding guide "What Can Axolotl Eat?"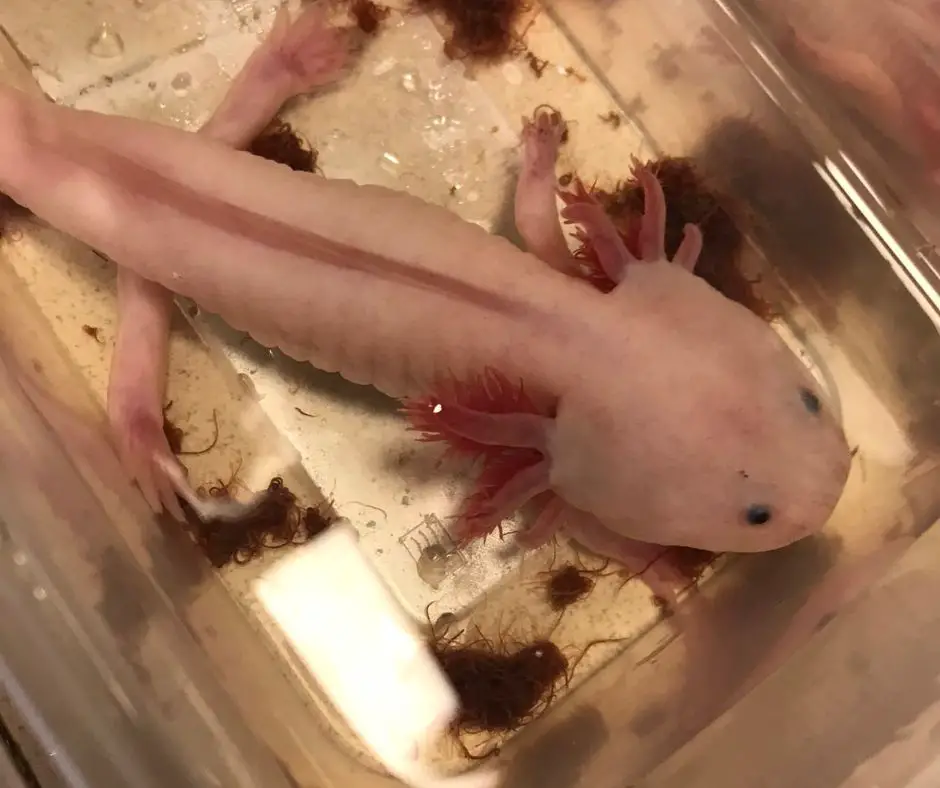 How Often Do Axolotls Eat?
The best feeding schedule for axolotls is to feed them according to their sizes and age.
Baby axolotls should be fed twice a day, juveniles should be fed once every day, and adult axolotls should be fed every 2-3 days.
When feeding your axolotls, irrespective of the age/size only feed them as much as they can eat within one-three minutes.
For Live Food
Foods you can feed live to your axolotls include worms, live daphnia, larvae, shrimp, mollusks, and small fish.
But you should understand that some of these foods are not to be given daily as stable foods. 
Baby axolotls can eat live daphnia brine shrimp daily because they need a lot of nutrients to grow. You can even put live daphnia directly in the tank so they can eat whenever they are hungry. 
But when your axolotls grow, they require a more nutritious diet and they wouldn't need food every day as in the case with babies.
Worms such as bloodworms can be offered daily to juvenile axolotls. 
For adult axolotls, feed them two fishes or shrimps 2-3 times per week. You can also feed live earthworms to adult axolotls. Feed them as much as they want to eat. 
If the live earthworms you're feeding your adult axolotls are gotten from your backyard, ensure they are free from disease, pesticides, and chemicals.
Also, ensure that they are thoroughly washed to do away with some of the dirt.
Also read: Axolotl Eating Worm: Complete Guide
Zoo Med 78065 Can O' Bloodworms
Last update on 2022-12-30 / Affiliate links / Images from Amazon Product Advertising API
Pellets
When feeding pellets to your axolotls, maintain the normal feeding schedule of "daily feeding for babies" and "2-3 times feeding a week for adults". Feed babies 1-2 pellets (may feed daily) and to adults 3-5 pellets.
Also read: 4 Best Axolotl Food Pellets
Frozen Food
When it comes to frozen foods, whether bloodworms, brine shrimp, or fish, any type can be fed to axolotls. But keep in mind that baby axolotls need live food more than they need frozen food for their growth. 
Frozen foods are the most readily available and cheap food for axolotls. They are also easier to store for future use. 
However, it is not recommended to feed frozen foods (worms) daily to your axolotls. You should always feed them in combination with live foods for a balanced diet. 
Live foods contain more nutrients than frozen foods. Also, when you have live foods in your axolotl's tank, it allows your axie to make use of its hunting instincts. 
Also read: How To Feed Axolotl Frozen Bloodworms?
How Do You Know If Your Axolotl Is Hungry?
Axolotls are not the usually active species of salamanders. But when they are hungry they become more active. 
If you have a food dish in their tank for them, you'll notice them pacing in the food dish whenever they're hungry. This behavior is common among axolotls.
They will also tap on the glass or dance around the glass when they see you approach the tank. This is because they have familiarized your presence with food.
Often times their nose will be pointed down looking for food
Also read: Understanding Your Pet: 12 Common Axolotl Behaviors
How to Feed Your Axolotl
There are various ways you can feed axolotls without messing up the tank. 
You can choose to use forceps. Simply hold or wiggle the food as you slowly drop it in the water where your axolotl can see and go for it immediately. Also, you can wiggle the food in front of your axolotl's mouth.
Using a turkey baster, suck up some worms and suspend/drop them gently in the food dish where your axolotl can eat. This works mostly for frozen/thawed worms.
Also, you can use a separate jar/container to feed your axolotl. This will work if you house many axolotls together so they wouldn't fight while eating. However, if you feel that this method will stress them, you can put the worms in their tank and ensure you clean out leftovers once they are done eating.
Best Tips to Follow: 
Always remove any uneaten scraps daily.
Do not overfeed your axolotls.
Always offer a variety of foods. Check out our feeding guide for more details.
Observe and make sure there is enough food for everyone, especially if you are housing many of them in one tank.
Do not feed diseased or infected worms to your axolotl. This is going to cause serious health issues to your axie. 
Always ensure you buy from credible vendors, and if you must source for worms locally, ensure that the area you get the worms from is free of pesticides and other harmful chemicals.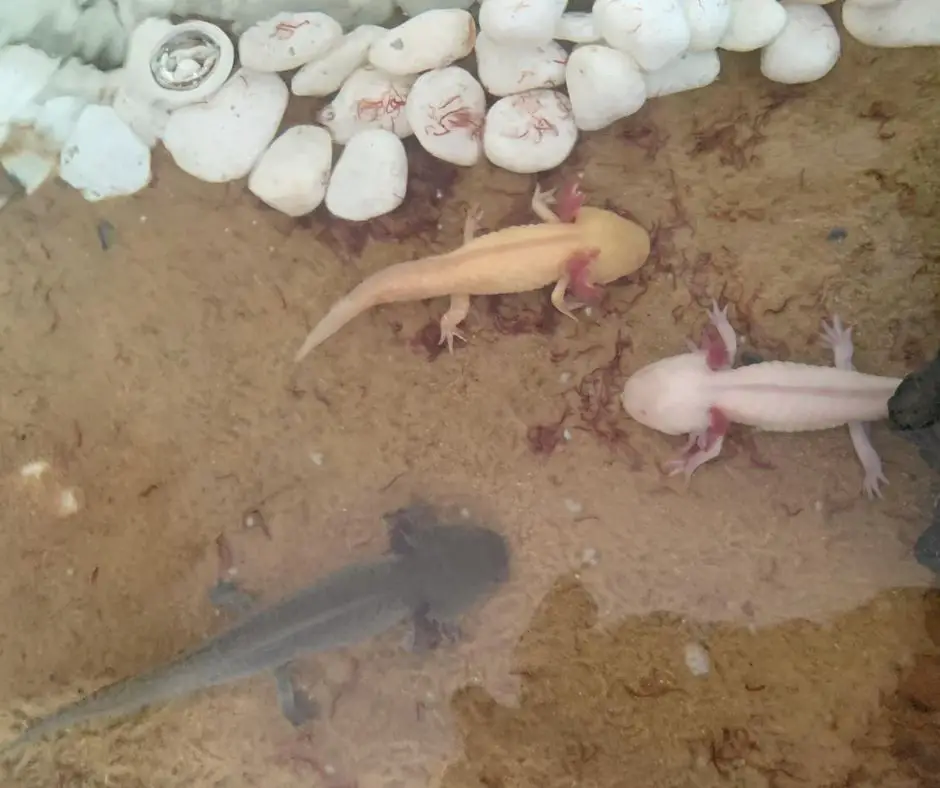 How Much Do Axolotls Eat?
Feed your axolotl as much as it can eat and as much as it wants to eat in about 1-3 minutes. Once your axolotl stops accepting the food from you, it means that it is full.
How Long Can Axolotls Go Without Food?
Depending on the age, size, health conditions, and water temperature in the tank, a health axolotl can go for up to 2 weeks without food in the wild.
In captivity, the maximum you should keep your axie without food is a half weeks. 
Note that this is only applicable to healthy axolotls that have a well-established cycled tank.
If you're running out of food and you're concerned about your pet, this article, "How long can axolotls go without food?" has answers to all your worries.
Food Dish
REPTIZOO Reptile Food Dish Terrarium Water Bowl Food Feeding Bowl for Reptile Amphibian Pets Medium(6.8" x 5" x 1.3")
This reptile food dish is made of high quality resin material, which is safe,durable and environmentally friendly; Not easily tipped over.
The smooth surface of the reptile feeding dish for easy clean.
Color of the bowl is close to the soil, it can match reptile living environment and decor.
Size of the reptile food/water dish is 6.8" x 5" x 1.3"
12 months quality warranty provided and if you have any question about our product,please contact us,we will reply and help you in 24 hours.
Last update on 2022-12-29 / Affiliate links / Images from Amazon Product Advertising API
Conclusion
Caring for an exotic pet is a huge responsibility that comes with great fulfillment if done the right way.
The moment you've decided to bring an axolotl into your home, you'll need to learn so much about the animal including how to feed it and how often to feed it. 
Feeding your axolotl is one of the most important parts of caring for this amazing creature. You need to feed your axolotl the right amount of food in 1-2 minutes and at most 3 minutes. 
If you give your axolotl too large of food, it may get stuck in its throat and it could choke.
Therefore, the ideal feeding structure is to feed your axies as much as they can eat according to their age and size.
Also read: What to Know Before Keeping Axolotl as Pets