Axolotls are unique creatures who eat whatever fits their mouth in the water. The aquarium of an axolotl in captivity contains sand, gravel, plants, food remnants, and occasionally little worms.
Axolotls may consume anything unhealthy. So, Why Is My Axolotl Eating Sand?
Axolotls do not eat sand as their native food. If an axolotl eats sand, the tank's food supply may be depleted.
People need to know the nutrients requirements of axolotls. It's also important for pet owners to be aware of the consequences of axolotls ingesting sand.
The purpose of this article is to inform readers on why axolotls eat sand. The article will also inform readers about the hazards and health risks that sand can cause.
So, to learn how to prevent axolotls from eating sand, read the article all the way to the end.
Why Are Your Axolotl Eating Sand?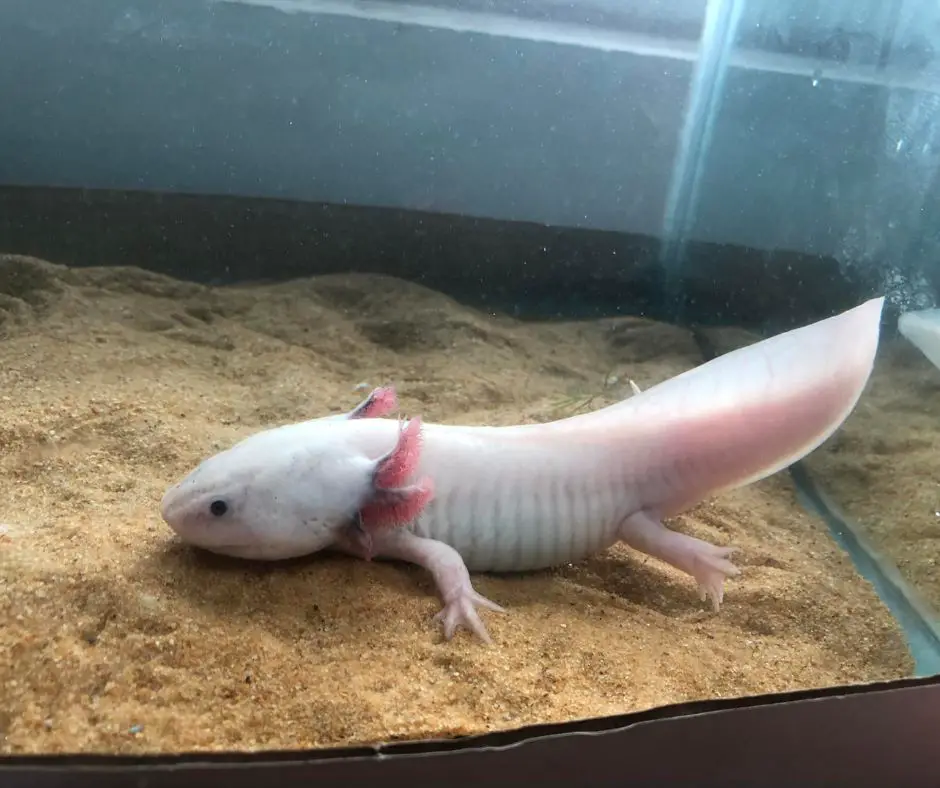 Axolotls eat sand for two reasons: they eat it accidentally when consuming food or they eat it deliberately.
They normally walk toward the bottom of the tank; thus, they enjoy walking on the smooth sand. However, they do occasionally ingest sand on purpose, which must be closely supervised.
When you put food into the tank, it resides on the sand at the bottom of the tank.
Food is also consumed by axolotls by creating suction pressure that causes food to enter their stomach. As a result, sand particles enter the stomach during food suction.
Axolotls eat whatever fits in their mouth. They can't see the objects and don't know what they're eating because their vision is blurry.
They eat sand when they are hungry and there is no food in the tank.
Also read: Understanding Your Pet: 12 Common Axolotl Behaviors
What Happens If My Axolotl Eats Sand?
Axolotls can die as a result of sand being stuck in their stomach. Axolotls can pass it through their feces since it is fine sand.
Axolotls have no trouble excreting play sand, silica sand, aquarium filter sand, and pure aquarium sand without gravel.
Gravel in the sand, on the other hand, can attach to the food in the stomach and form a bowel.
The axolotls' stomachs are impacted by this sand and food ball, and they are unable to expel it. So, if an axolotl eats sand, it's important to check its waste to see if it's defecating regularly.
Also read: 2 Best Aquarium Sand for Axolotl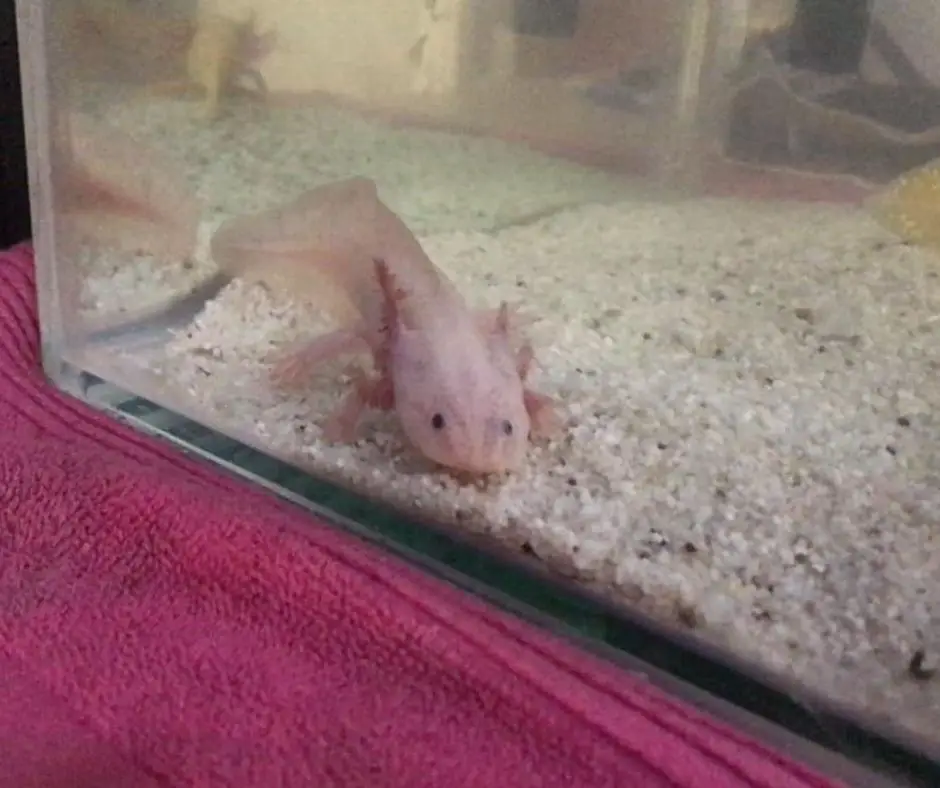 What Should You Do If Your Axolotl Eats Sand?
As previously stated, the digestive system of an axolotl may pass sand. Sand, on the other hand, can cause impaction in infant and juvenile axolotls.
If an axolotl eats sand, it's critical to keep a close eye on it to see if it's defecating.
Because sand induces constipation in the digestive tract, the axolotl does not defecate in a timely manner.
Floating, stomach swelling, refusal to eat, and lethargy are all symptoms of impaction and constipation. Stop feeding your axolotl and visit a veterinarian if you observe these symptoms.
Also read: Axolotl Constipation: 8 Symptoms and 3 Ways Treatment
Stoney River White Aquatic Sand Freshwater and Marine Aquariums
Sale
Last update on 2022-12-29 / Affiliate links / Images from Amazon Product Advertising API
Prevent Your Axolotl Eats Sand
It is vital to give the proper food and nutrients to avoid an axolotl from eating sand.
When an axolotl is hungry, it will not eat sand, if there is food available. The sand that was mistakenly consumed can be easily expelled through feces, but you must inspect its poop.
Some pet parents use bare tanks for their axolotls to prevent sand and gravel from eating.
However, because axolotls are bottom walkers, veterinarians and specialists advise against using such a tank.
The bottom beds that axolotls grab when walking are their favorite. They despise the bottom's bare and slippery surfaces.
Also read: 5 Best and Worst Axolotl Tank Substrates
UPETTOOLS Aquarium Gravel Cleaner
Sale
UPETTOOLS Aquarium Gravel Cleaner - Electric Automatic Removable Vacuum Water Changer Sand Algae Cleaner Filter Changer 110V/28W
✔【Upgraded 6 In 1 Multifunction Aquarium Gravel Cleaner】The upgraded aquarium gravel vacuum cleaner have 6 in 1 functions with water changer + sand washer + debris cleaning + water filter + water shower + water flow. Suit for freshwater and seawater and various depth fish tank.
✔【Strong Power】The 110V/28W powerful water pump motor can provide the maximum flow of 1700L/H. It only takes 0.5 hour to pump out a 180-gallon tank. At the same time, the pump flow is adjustable.
✔【Powerful Cleaning Function】It can be used for clean gravel, absorb dirt, change water, wash sand, suck the stool. Strong Power with Suction enough to change water, suck food debris & fish poop out of aquarium quickly.
✔【Easy to Install and Use】Please check the video before using. Plug in the power and turn on the switch to use.
✔【Satisfaction Guaranted】Our team of professionals is constantly working to make you happier. We provide technical support for customers 24/7, If you have any questions or issues about your purchase, please feel free to reach us directly to us and we will gladly assist you at any time!! We are confident in the quality of our product and give you LIFETIME WARRANTY and great customer support.
Last update on 2022-12-29 / Affiliate links / Images from Amazon Product Advertising API
Final Sentences
Axolotls eat sand either by mistake or on purpose when there is no food available. In axolotls, there is a very low possibility of sand impaction.
If the sand contains gravel, however, it can easily induce impaction and blockage of the digestive system.
Sand that may readily pass-through digestive tracts, such as play sand, silica sand, or aquarium sand, should be used.
You should inspect the poop if an axolotl consumes sand. Constipation can be caused by sand, therefore look for indicators of constipation.