If you're thinking of getting a ball python or you already have one, then you must be wondering how to set up its substrate that's beneficial and safe for them.
Then you come across Eco Earth and think if this can be a good substrate for your ball python.
We've been there, and in this article, we'll talk about if Eco Earth is Safe For ball pythons, as well as the best, and the worst substrate that you can use. So come on, let's not keep your pet waiting!
This article has been reviewed by Dr. Gospel. Read more about our knowledge control process here.
Is Eco Earth Safe for Ball Pythons?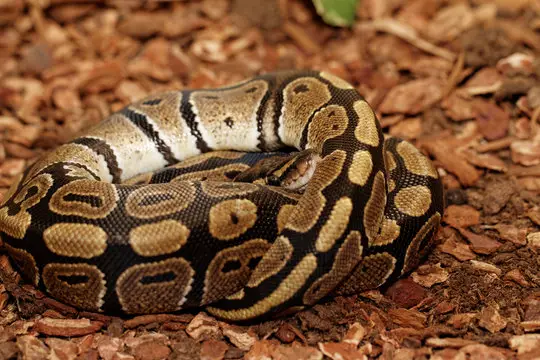 Eco Earth is safe and is considered an "okay" substrate to use for ball pythons.
You can use it, but there are better alternatives such as Aspen Bedding, or forest floor substrates, the reason for this is it's not actually safe as it can cause impaction, and is actually dusty.
It has some upsides such as it's easy to set up and is an affordable substrate and holds humidity well.
But it has a tendency to block out heat pits within the tank. If it does, it affects the humidity, and temperature and can cause health risks for ball pythons.
Also read: How To Lower Humidity In Ball Python Tank
Benefits of Eco Earth for Ball Pythons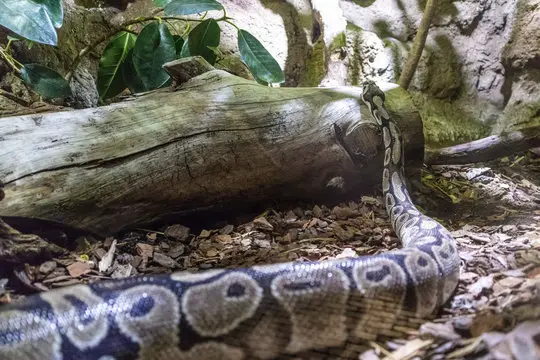 Some benefits to using Eco Earth is that some ball pythons like it according to other zookeepers and reptile enthusiasts.
It also holds humidity well, and makes it easy for ball pythons to move around in, burrow, and dig.
It's also cheaper compared to other substrates as it uses coconut husk. It may be biodegradable, but this is as far as the benefits go.
You might want to use a better bedding/substrate instead.
If you are looking for a substrate that holds humidity well, especially if you have problems with this, it is recommended to use Eco Earth. Eco earth substrates are resistant to mold growth.
Other than that, you should check for other possible substrates.
Also read: Best Snake Bedding: 10 Best Bedding For Your Snake
Risks of Eco Earth for Ball Pythons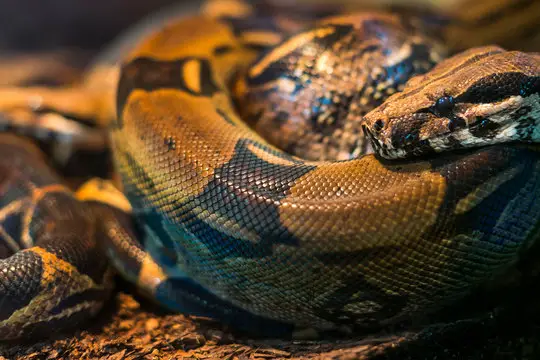 Substrates like Eco Earth are safe for Ball Pythons, which means it's "okay" to use. But as much as there are benefits to it, to risks may perhaps not be worth using it.
A risk to using Eco Earth is it's indigestible by ball pythons as the substrate is made out of coconut husk. If this happens, your friend is impacted, and complications can follow.
Eco Earth also has a tendency to block lighting, and if this does happen, making the temperature decrease, causing another health risk for your ball python.
Another risk is that not just for ball pythons but for you and your family as well as it is quite dusty to use, it's easy to inhale it and can cause health risks for your family.
Best and Worst Substrate for Ball Pythons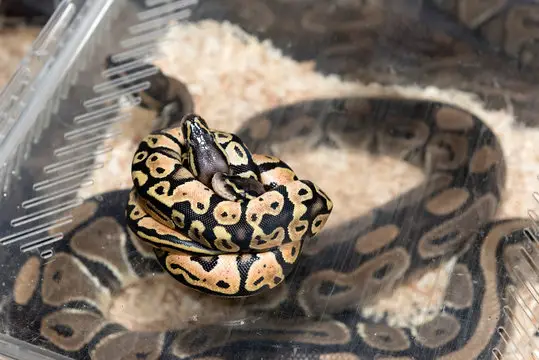 You now understand that Eco Earth has some upsides and downsides. But what if I tell you that there are some substrates that are so good that there are practically no downsides? Such as:
Zoo Med Aspen snake bedding. It's a specialized substrate made especially for ball pythons. It holds moisture, and controls odor at the same time, and is also safe to use.
Coconut Reptile Substrate. It's elegant and keeps your ball pythons clean, and mimics their natural environment so your ball python feels at home. 
Zoo Med Forest Floor Substrate.  It's made up of all-natural cypress mulch, free from oils, and all-natural which mimics the natural forest floor and is definitely a huge benefit to ball pythons.
If we have the best substrates, then we also have the worst ones. Such as:
Reptile Carpets. ball pythons can't handle this type of substrate and are very hard to clean.
Pine/Cedarwood Shavings. Very dusty, hard to maintain, contain oils, and can cause impaction.
Corncob and Carefresh. Dusty, and can't hold humidity, there is also the risk of impaction and irritation for the ball python.
If you're out on the market and looking for the best substrate, as well as what to look for, then check the article Ball Python Substrate: How To Choose The Best for more information!
Zoo Med Aspen Snake Bedding
Last update on 2022-12-29 / Affiliate links / Images from Amazon Product Advertising API
DBDPet 's Bundle with Zoomed Eco Earth
Sale
Last update on 2022-12-29 / Affiliate links / Images from Amazon Product Advertising API
Wrapping Up
Tread very carefully when you want to use Eco Earth.
Sure it is an okay substrate, but keep in mind that there are better substrates, for example, the Zoo Med Aspen Bedding, and Coconut Reptile Substrate.
It's good for the price, but it may not be that beneficial if used in the long run, as it can have health risks for your pet, and even for your family as well.
Do your own research as well when it comes to Eco Earth and other substrates.
We hope that the information in this article has been useful to you and your research for your ball python, all the best bud!