Are you thinking can axolotls and frogs live together? An axolotl is a delicate creature that requires special care and attention.
To not stress your pet axolotls, you should take caution with which animal you will place with your axolotl as its tankmate.
You probably want to give your pet axolotl a companion, and frogs are one of your options. If you plan to keep an axolotl and frog together, it is best to know why you should or should not continue that plan. 
Upon reading this article, you'll learn whether an axolotl and frog can be together. In addition, you'll also know about the species that can be kept in a tank with an axolotl.
Can Axolotls and Frogs Live Together?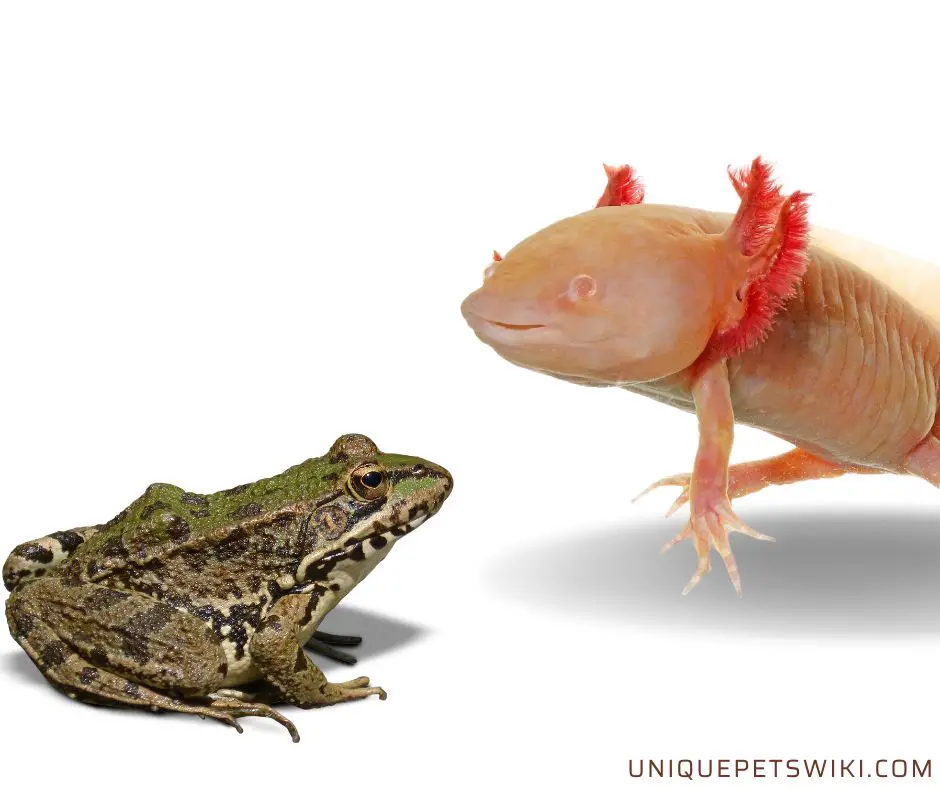 No, axolotls and frogs can't live together because they have different living requirements. If an axolotl and a frog are kept together in one tank, one or both species could be harmed by the other.
The axolotl owner should also consider the size difference of each animal.
Why You Shouldn't Keep Axolotl and Frogs Together
Most aquatic frogs are tropical creatures, whereas warm water is necessary to survive. This is the exact opposite for axolotls because they are cold water dwellers.
The difference in water temperature requirement is a massive obstacle for frogs and axolotls to live together.
The size difference between the axolotls and frogs is also a significant factor. If the frog is bigger than the axolotls, it might harm them. Likewise, if the axolotls are larger, they will also harm or eat the frog, which is unsafe for the axolotls. 
There are also cases in which frogs carry diseases such as chytrid—a dangerous aquatic fungus that could make your axolotls sick or even lead to death
What Can Live with an Axolotl?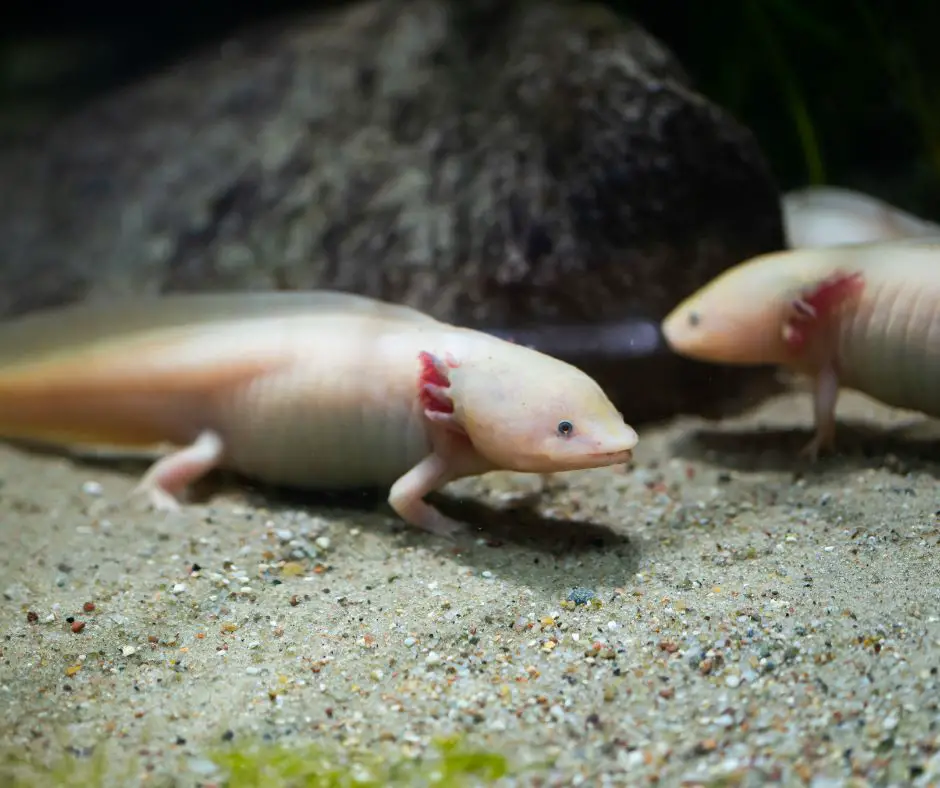 Axolotls are sensitive creatures, and finding a suitable tank mate could be challenging for axolotl owners. Another axolotl is a good tankmate for your axie as long as they are the same size.
The axolotl owner should consider several factors before deciding which fish or species you'll put with your axolotl. 
You should consider if they have the same water requirement as axolotls. The axolotls are cold water-dwelling creatures, so tropical fishes are out of the question as they will need warm water. 
The axolotl is not entirely safe from large and aggressive fishes either. While some fishes might not eat them, they will still attack and cause stress to the axolotls. 
You will need to find a fish that could also protect itself from the axolotls. As axolotls are carnivorous in nature, they will eat smaller creatures when put in the same tank or containment. 
A good companion for axolotls is creatures that are capable of cleaning the water by eating algae or dead plants. It should have soft shells or bodies and be smaller than axolotls, so it would not pose a risk when axolotls eat them. 
 Axolotls and their Tank Mates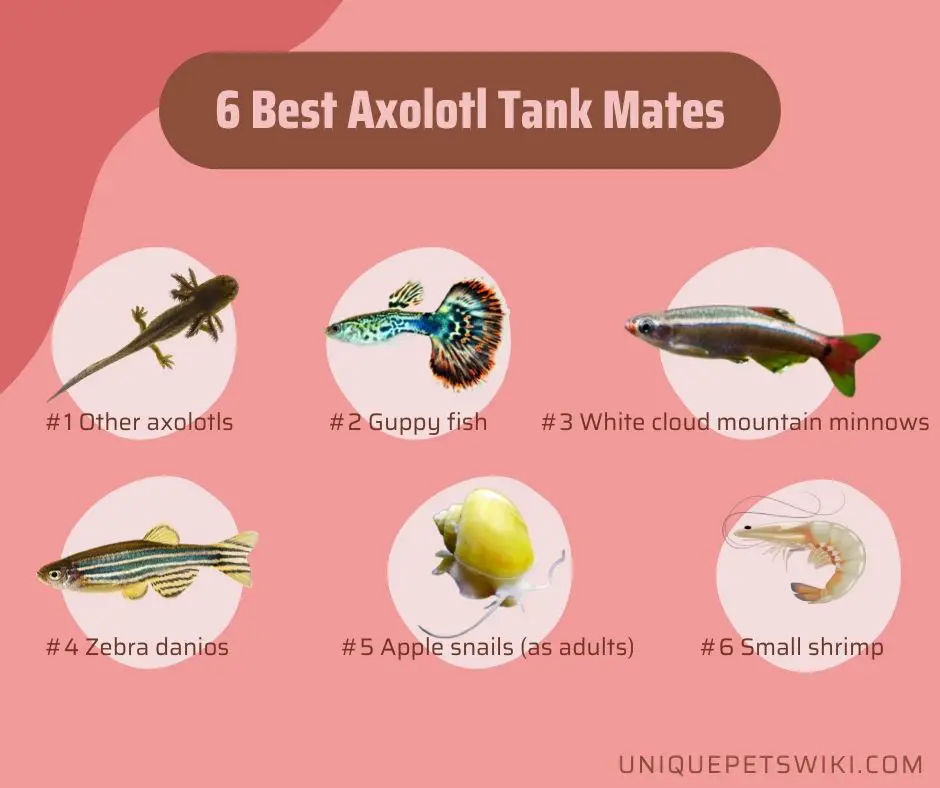 Axolotls and ghost shrimps can live together in the same tank, as ghost shrimps don't pose any risk for axolotls. Ghost shrimps are small and delicate, and they help clean the tank by eating algae and food remains. 
Axolotl and Betta fish cannot co-exist in the same tank due to water temperature variation. Betta fishes typically live in warm water, while axolotls prefer cold water. 
Both of the creatures will be stressed and uncomfortable, and due to the Betta fish's aggressive nature, it might attack the axolotls. 
Axolotl and snails may co-exist with each other to a limited extent. As axolotls are carnivorous, so swallowing a snail might be harmful to them because of the snail's hard exterior. 
However, snails that are bigger than axolotls, such as adult apple snails, are safe as it is too big for axolotls to swallow whole
Axolotls and pleco fish:
The size difference between pleco fish and Axolotls is a huge hindrance for them to living together. Pleco fish grows larger than adult Axolotls.
Pleco fish also prefer warm water, while axolotls are the opposite. Putting these two together might result in both of them being uncomfortable and stressed.
Axolotls for Beginners
Last update on 2022-12-29 / Affiliate links / Images from Amazon Product Advertising API
Conclusion
Therefore, axolotls and frogs are not suitable for living together due to the difference in their natural habitat.
Frogs also pose a risk for axolotls because of toxins and diseases that they could be carrying. Axolotls could also eat the frog if it is smaller than them.
Meanwhile, tadpoles are a nice treat for axolotls as they are a great source of protein for your pet axolotls.
But if you are planning on letting the tadpoles grow, it is not the best idea because the tadpoles would not have a chance to grow as they will get eaten by the axolotls.
However, there are still options for other tank mates that would meet the axolotl's survival requirements, such as the water temperature and food source.
A creature smaller than an axolotl, such as a ghost shrimp, is an example of an animal that could peacefully co-exist with axolotls.